After the draw 2014/15 Champions League, UEFA conducted the awards for best player in Europe for both men and women.
In the male category, three names shortlisted final vote is Ronaldo, Robben and Neuer. UEFA president Michael Platini who opened the envelope and announced the winner Ronaldo after a successful season with Real.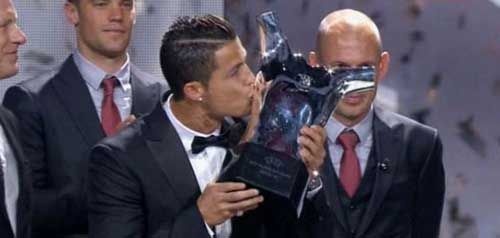 It is rewarding for CR7 after his great contribution to brace for Real in last season. Especially in the Champions League, the Portuguese superstar team Royal helped Spain finish Decima dream after 12 years of waiting. In total, Ronaldo has scored 17 goals (a record in the history of the Champions League) to put Los Blancos to the top of Europe.
Also, Ronaldo is the best striker in Europe last season while contributing 31 goals for Real in the league (with the achievement of Suarez to Liverpool in the Premiership).
So after Messi (2011), Iniesta (2012), Ribery (2013), Cristiano Ronaldo is the No. 4 player received the title of "best player in Europe."
In the female category, Nadine Kessler is the win ahead of teammate Nilla Fischer and Martina Müller at the club Wolfsburg.