Last November 2018, Zig Philippines, one of the biggest Calligraphy Team announced the upcoming Zig Calligraphy Fair 4. It's an annual gathering of Artists and aspiring artists, and last 2018 was the fourth year. I can still remember the 1st Calligraphy Fair in Greenbelt Makati last November 2015. The event was filled with Calligraphers and Aspiring ones. It was my 1st big event to attend to. (What I love about this craft is the community we had built here in the Philippines. Different kinds of people came from different places with different skills and styles). It's been my tradition to attend the annual fair, not just because of the featured Artist but also because I will get to see my virtual friends. Funny how we met people from the Internet and then became our close friend in real life right? But unfortunately, for the first time ever I wasn't able to attend last year's Zig Calligraphy Fair. *cries* As far as I recall, I am sick that day. I didn't force myself to go even though I really wanted to.
It entices me to go last year because of the awesome stuff I saw on Instagram. (As the year goes, Zig Philippines also improved and become diverse. From getting solely calligraphers. Now they included other types of Artists like, Artists who draw, paint and do fashion designing. Exciting isn't it??) Also another thing that hypes me up is the Mural collaboration project between Zig Philippines, Davies Paints, and SM North Edsa. It was called NORTH TOWERS: ART WALK.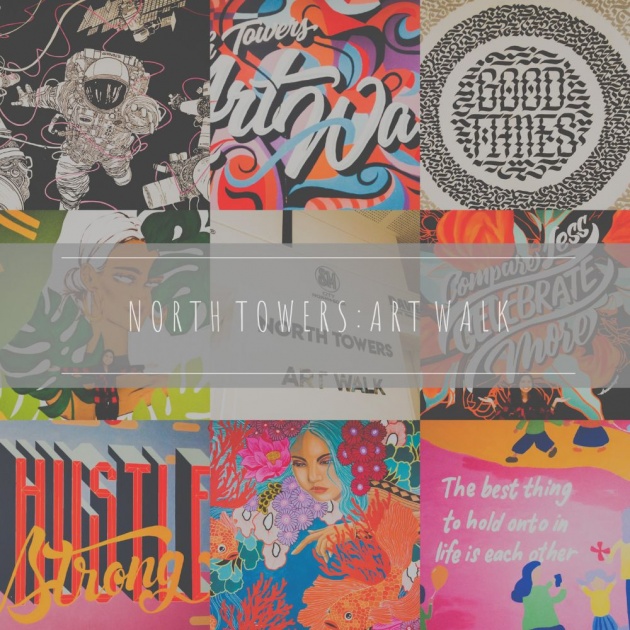 Photo Credits: Yannn via bitlanders.com
I remember being so excited upon seeing some insights and sneak peek through Zig's Instagram account. (I know I've mentioned this before but I guess I'll say it again, It is my dream to do a mural someday) So it fascinated me to see how these artists made their murals.
As I said earlier, I wasn't able to attend the Zig Caligraphy fair 4 (also the day when they launched the North Towers: Art Walk) But of course, as an art enthusiast, you don't want to miss the opportunity to see that masterpiece. So last January 27, 2019, Sunday I had an opportunity to be reunited my co-artists, Nancy and Jemima. We met in SM North around 2 pm and decided to watch a movie but before that, we ate at Samgyup Masarap. After the feast and the movie, we visited the Art Walk to take a look at having some photos with it.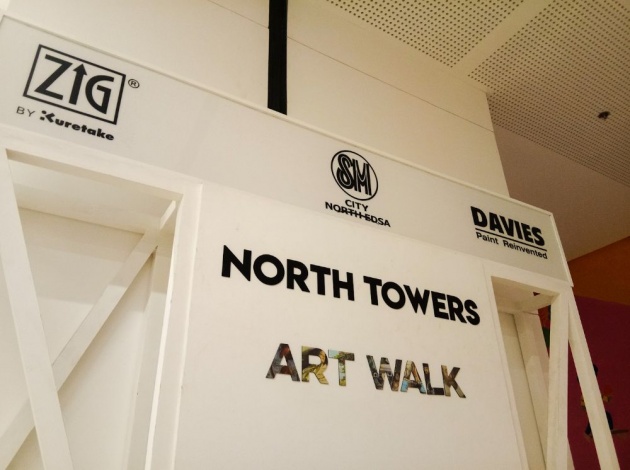 Photo Credits: Yannn via bitlanders.com
I think it a wonderful idea for Zig Philippines to team up with one of the largest malls in the metro. Also collaborating together with Davies paints is also a good thing! I happened to see live murals years ago, it was from zig as well but that time it was made in a wood stand. But this time, they took it in a higher level and painted the wall! Bet it was an awesome experience to paint in the wall where many people can witness it every day.
So allow me to show you some masterpiece in this Art Walk, I'll arrange the Murals based on my least favorite to my ultimate favorite so shall we?
GOOD TIMES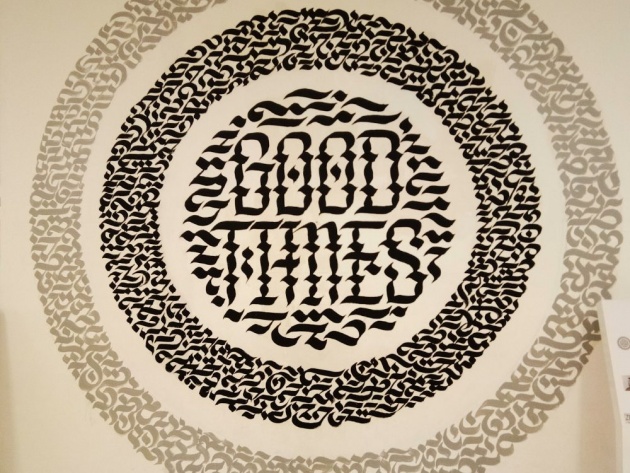 Photo Credits: Yannn via bitlanders.com
It might look simple at first sight but I'm telling you studying blackletter requires you some work, consistency, and discipline (well you also need these in studying another medium). Blackletter also is known as Gothic Calligraphy is often used in Street murals but also it can be elegant just like Engrosser script. I remember the first time I fell in love with Blackletter calligraphy, it was way back in 2016. I was so astonished by the works of Jelvin, Carl Chua and of course Jeth Torres. I am so fond of it to the point that I enrolled in a blackletter workshop held by one of my friends.
The mural "Good Times" by Jeth Torres was a mixture of Gothic Calligraphy and Arabic Calligraphy. He explained that this work is made by a circular calligram which composes of words and brush strokes. His inspiration for this piece is having a good time and just go with the flow with life. I guess it's a great reminder for us to know that though life isn't perfect, we can still be happy and just have a good time.
I hope I could go back to studying Gothic Calligraphy soon.
SEASONS OF LIFE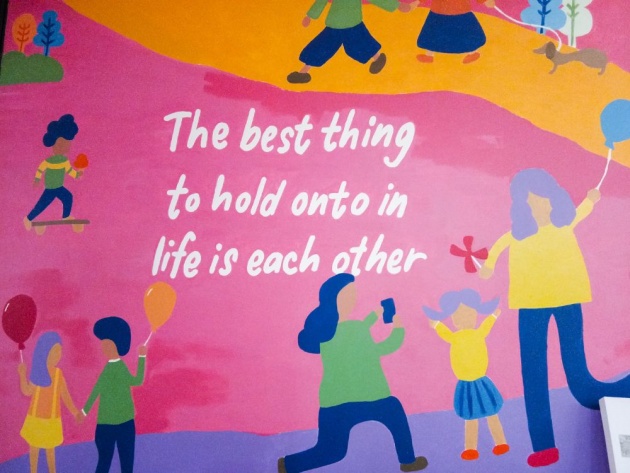 Photo Credits: Yannn via bitlanders.com
This mural was the last one that I saw, maybe because it's located at the end of the walk (it will be the last if you're from The Block section of the mall). Not to belittle the mural but people seemed to have less interest in this piece (unlike the other murals that caught's people attention). But I guess we should look deeper when we appreciate art. For some, it may be childish and simple but seeing the "quote" and the story behind it made me appreciate the art more.
I knew Ms. Gelli way back 2015, it was during the 1st annual Zig Calligraphy Fair (no we're not close, and I am pretty sure that she doesn't know me) but I had calligraphy of her on the same date. From that day, I knew that she is a wonderful person who has a positive insight into life. As you can see in her piece "Seasons of Life" she demonstrates every season of one person's life. From being a kid to being completely an adult. She said in this piece that every one of us undergoes in a different season. From having a simple crush to falling in love to entering a relationship and to getting married. We all experienced the blessing of being a single and how we journey with relationships (not just romantic relationships). We also experienced Ups and downfalls, and she reminds in her piece that we must hold on to the people we love. Cherish them and give them importance, because most of the time we neglect to give them importance.
What an awesome mural that speaks not just because of her Art but also because she speaks her heart through her Art.
NORTH TOWERS: ART WALK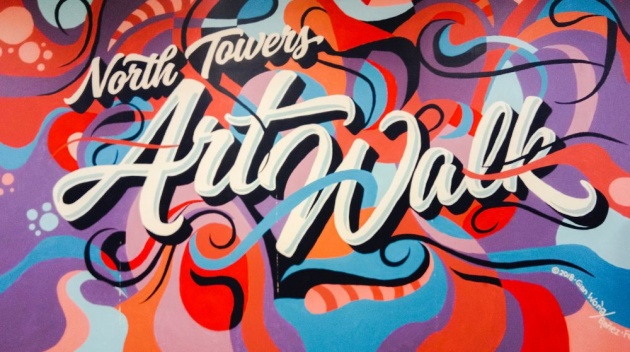 Photo Credits: Yannn via bitlanders.com
A mural entitled North Towers: Art Walk by Gian Wong. Obviously, the mural speaks for itself, and I guess this is a perfect type to start the Art Walk. I am not that familiar to the artist but I can say that he really did well in this piece. I mean just look at the details. From the freestyle font of the letters, how the shadowing gave so much life to the letters to the abstract background. The colors are well blended and don't overpower one another. I also noticed that there is a touch of pets. See the mark of paws? And the orange stripes that look like a tail of a cat? Well, I'm not certain if he really does it on purpose but I guess his creativeness struck me enough to let me see some variation of things. Hihi
If the "Seasons of Life" mural was the last one if you enter the block, this mural "North Towers: Art Walk" is the first one you will see from The Block section. So I guess it's a perfect spot for the piece.
ANG HINIRANG NI MAGWAYEN (MAGWAYEN'S CHOSEN ONE)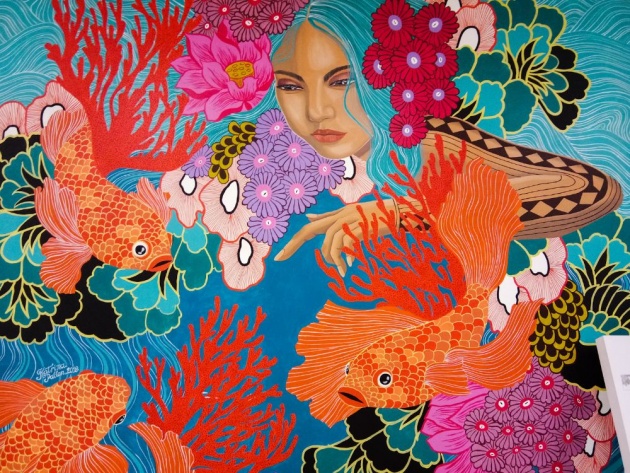 Photo Credits: Yannn via bitlanders.com
Personally, I am not aware of Magwayen's chosen one until I saw this Mural. But surely it amazes me how she comes up with the strict details of the piece. (For someone who dislikes and not used into details, It mesmerizes me to see such masterpiece). The Artist explains that "Magwayen" is a Visayan goddess of the sea. It is part of Philippine Mythology, the piece shows how her hair is made of waves with sea anemone and batik patterns.
Magwayen/Maguayan is the primordial Goddess of the Sea and the Underworld in Bisayan mythology, who along with Kaptan, God of the Sky, created the world and the first humans. She is the female aspect of creation made by Kan-laon (the Supreme God) to balance Kaptan, and she personifies the great wide ocean that covers the entire world.

-Source: hellapinay.com
The artist wanted to tell it's a viewer to treasure and take good care of our Marine Ecosystem. That as much as we wanted to enjoy and see the beauty of our Marine ecosystem we must also be responsible to take good care of it.
I wonder how long it took for her to finish this piece, from the corals to goldfish to different florals around her. And it surprises me to see how she blend and give justice to the colors of the whole piece.
HUSTLE AND HEART WILL SET YOU APART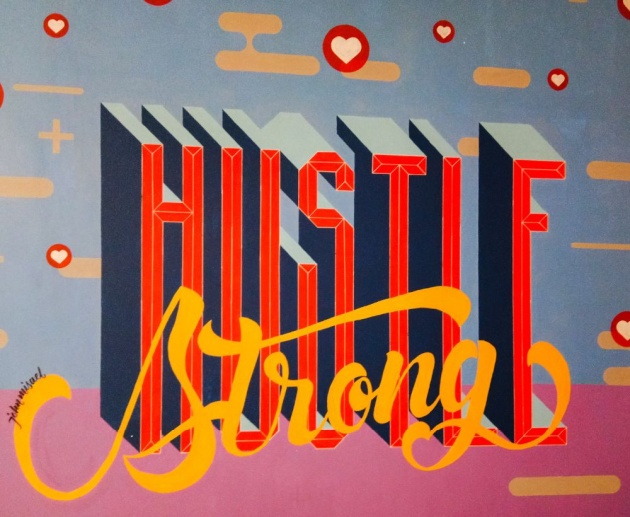 Photo Credits: @Yannn via bitlanders.com
Next on my favorite is this mural by Sir Misael called "Hustle and Heart will set you apart" or "Hustle strong!" aside from its geometric style that it shows, he is also one of the Artist I look up to. I met Sir Misael a few years ago in Zig's event as well, he used to do a live mural with the other artists. I love his simplicity and his humility as an Artist, together with his drive to Inspire other aspiring artists.
What I love about this mural is the combination of two scripts, not to the point where one overpower the other but both fonts shine and showcased their own beauty. I love the story behind this mural, it's about getting up, giving your all together with a passion in your heart. This speaks up to me not just about my art but also through my life. Because as you grow more and old, life gets tougher and tougher but you gotta hustle and give what ya got! Believe in yourself because you are your greatest encourager. Be passionate and hustle strong!!
KAGANDAHANG KAYUMANGGI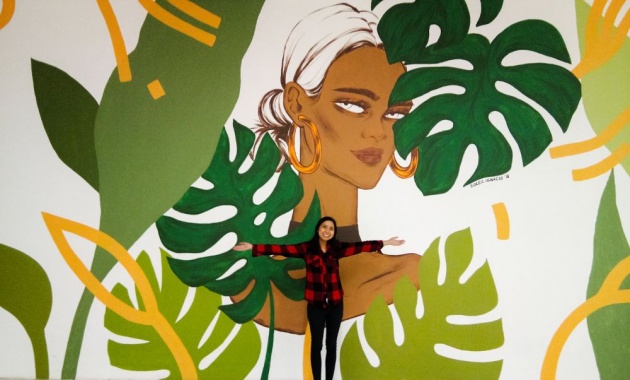 Photo Credits: Yannn via bitlanders.com
Okay so next on my favorite, is this mural entitled "Kagandahang Kayumanggi" by Soleil Ignacio. Soleil was introduced to me by one of my calligrafriend Ms. April Covacha. She's a huge admirer of Ms. Soleil because she is also an aspiring Fashion Designer. I remember last year when we went to Zig Calligraphy Fair 3 when Ms. Soleil has her mural in the event. Then last Sunday my college best friend said that she also admired Ms. Soleil (well that's not a shock to me because she used to sketch too).
This one is the largest among all mural, it's huge! As I said when I saw the piece it was "overwhelming". Overwhelming not just because it's huge but also because it is so beautiful! From how she paints the leaves as the background to how she sketches and painted that beautiful woman. Also upon reading her Inspiration, I was able to appreciate it more and more. She quoted on her Instagram post:
"Kagandahang Kayumanggi"

In a sea of whitening ads and fair skinned beautiful ladies plastered all over our malls; here is another kind of beautiful—a morena Filipina—confident, commanding, and ever-alluring, captivating everyone's eyes as they pass by.
I love how she pursue local beauty and how she confidently share her art to everyone. Showing that beauty is not based on the color of your skin, nor on the physical appearance. Beauty is within, it is how God sees and created us. Phew, isn't her Art is so amazing??
To prove it right, here's a video of Ms. Soleil about her advocacy of Empowering Women through her Art:
Video Credits: Avida via youtube.com
SPACE BETWEEN US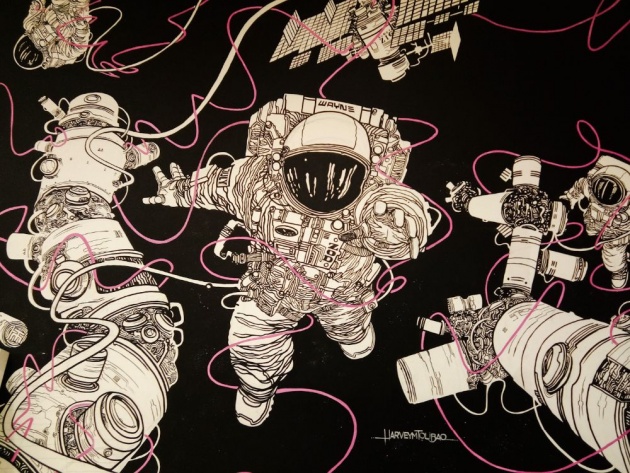 Photo Credits: Yannn via bitlanders.com
I know the first thing that comes up in your mind as you read the title is a movie entitled "Space Between us" Uhh, maybe it is one of the Inspirations of the artist as well.
We're up to my 2nd favorite among all murals in North Tower: Art Walk. I remember seeing this mural for the first time had me like "Woah, it's beautiful" and knowing who's the artist behind it made me fall in love with the piece all over again. It was Sir Harvey Tolibao. Unlike other artists that I mentioned earlier, I only knew Sir Harvey 2 years ago, it was on Zig Calligraphy fair 3. I also shared how I met him and his works in my blog 39th Manila International Book Fair Day 1. Sir Harvey is one of those big guys I admired the most (although I am not fond of Marvel Comics and other superheroes, still I am always in awe by his works).
This mural is inspired by an Astronaut's adventures and the beauty of outer space. Sir Harvey says that we all have moments that we wanted to share with everyone. And these digital ages enable us to share even with those who are far away with us. It enables us to reach out. He said that the Astronaut who's reaching out is a symbol of getting in touch. He added that wherever we are, we can always reach out and communicate with each other, no matter how far we are with each other.
COMPARE LESS, CELEBRATE MORE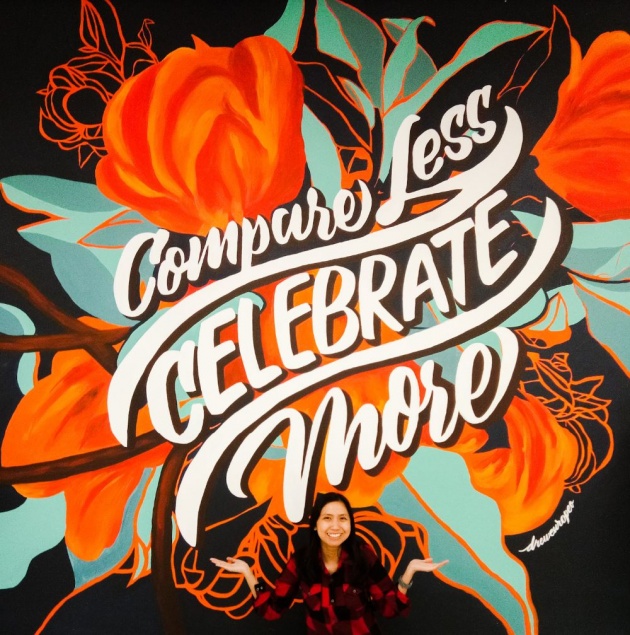 Photo Credits: Yannn via bitlanders.com
*drum roll please*
The last and my ultimate favorite mural is "Compare Less, Celebrate More" mural by Ms. Drew!! Surely if you saw all the murals you'll have your own favorite too. I'm not saying that this is the best among all, nor the most beautiful of all the works. But for me, this piece speaks straight to my soul. As if it's speaking directly to me and telling me something important.
As an Aspiring Artist who's working full time in a different field of career, I have so many, "what ifs" and insecurities. Thinking, what if I was able to pursue my passion for Art? What if I was able to study and learn about my craft years ago? Also, I often had this mindset of being "left-out", seeing some of my friends who achieve so many things in their craft while I am here stressing out about my full-time work. But seeing this piece of Ms. Drew reminded me to compare less, it reminded me that my greatest rival is myself. And that I shouldn't compare my journey to someone else's lifeline. Instead, we should look at our own achievements, even in our little victories. Instead of comparing yourself to someone, we should be grateful because there is still stuff that should be celebrated. And this is where I realized, that it's not yet my time to shine. At least I find myself striving and planning for my future. Also, I become grateful to my work (although it's really exhausting, tiring and stressful) it is also the one who gave me the funds I need. The money I'll be needing when I finally enrolled in a short course school. Yehey! Having these realizations as I saw this mural made me happy, so I guess this is the very reason why this piece is my ultimate favorite among all.
Then there you have it! What's your favorite piece? Wish to see all of the murals and witness it with your naked eyes? I encourage you all to visit SM NORTH TOWERS: ART WALK in Quezon city. Go see it for yourself!!!
Meanwhile here's a short clip what the Art Walk looks like:
Video Credits: Sarah Rejinah via youtube.com
Thank you for reading and have a great day!!!