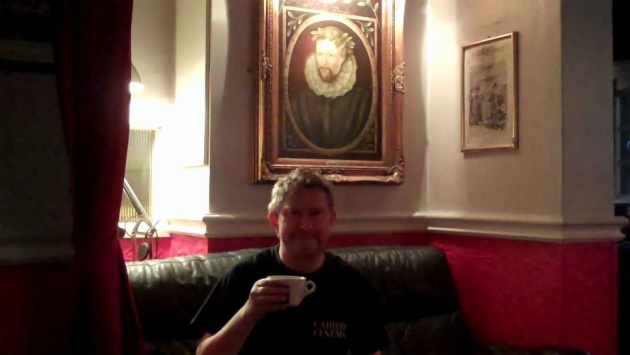 Photo: Enjoying a cup of bad Lavazza coffee at The Shakespeare, 2 Goswell Road, London EC1M 7AA. Courtesy of LO
I am a great admirer of the travel writing of Bitlanders' Jean Beltran. She reviews holiday destinations and blackouts, which is usually the time when you can't book a holiday. I am a great believer in the point of travel being the journey not the destination, mainly because I'm stuck in traffic on London buses and there's little chance of getting the destination on time. But after I met my friend P for our monthly catch up, I thought it might be of interest to record our 'not quite a pub crawl'.
What is a pub crawl?
To my international readers, I should explain that a pub crawl is a quaint English tradition like voting to leave the European Union – we're big on wanting control of end of life in the UK. It involves a group of gentlemen usually referred to as 'the lads' going on 'a bender', which refers to the buckling sensation after intense inebriation. This occurs when said lads visit one hostelry after another partaking in the local ale, which according to my man P has been left in the barrel too long – you change the barrel after four days, not ten. In between, the lads talk about stuff involving some or all of the following: the second gender, sport, rent, mortgages, miso soup, beer, unwanted non-sexual physical contact between men, London buses, Hoxton, Veg A Manger, 'Breaking Bad', breaking wind, unexpected dogs in the bedroom (don't ask), guitars, board games, James Joyce's 'Ulysses' and the quickest way to Victoria Station from Whitechapel.
Now, I know what you're thinking: what is the quickest way to Victoria Station from Whitechapel? It's difficult to answer because the District Line has been underperforming of late as much as the latest Will Ferrell film ('The House' didn't win after all). I would generally trust it. As for taxis [shakes head vigorously].
Bloomsbury Wet
We met at Russell Square station in the district known as Bloomsbury. You may have heard of the Bloomsbury set: Leonard and Virginia Woolf and the like. Famous writers whose discourse included some or all of the following: the second gender, sport... It is a short walk from Platform 9 and ¾, which is a sign at Kings Cross Station designed to disappoint fans for the Harry Potter books. Of all the fine coffee houses and purveyors of liquid refreshment, we headed for Pret A Manger for coffee and miso soup, not in the same cup. The barista served me a black coffee when I asked for a white one and after my protestation then dribbled a small amount of milk to placate me, which did little to brighten either my or the coffee's pallor. But I would not be denied. I asked another employee for a small amount of milk; she duly obliged. So if you are asked how many people it takes to make a cup of coffee at Russell Square Pret a Manger, it is two: one to get the order wrong and the other to fix it.
Unchecked crime
The Pret a Manger in Russell Square is unusual because it has two entrances, perfect for pickpockets to make discrete exits. Crime in London is on the rise. On my way to Finsbury Park Station, my gateway to Russell Square via the London Underground, I saw a moped with no number plates u-turn on the crossroads of Tollington Park and Stroud Green Road and then mount the pavement. The pillion rider was intent on stealing mobile phones. Whether the moped passenger was successful, I know not. I shouted 'watch out' and hoped that my voice carried. When I arrived at Finsbury Park, I reported the matter to a Community Police Officer who asked me what colour were their helmets. 'Black and white,' I suggested. My advice to anyone with a high value mobile phone is not to use it on open pavements. Other than that, North London has many fine attractions to recommend it.
From Russell Square we made our way to Gray's Inn Road via Coram Fields in search of a proper hostelry. At this point, the heavens opened. I always thought that this was a strange expression: there is more than one heaven? Maybe there is segregation for believers of different religions. My own experience of dying for thirteen minutes in 2011 taught me that you don't meet John Malkovich telling you that it is not your time; in fact it is rather like powering down, losing your memories. Unlike Ms Beltran I have visited the one place you don't want to go to, but sadly there is no Expedia page asking you to rate the experience. I'd give it three stars ('the tags you chose were okay').
Scandalous beer price
It rained so we took the bus, a 45, which was on diversion. We ended up in Farringdon Road and found a pub, the Crown Tavern that featured in the British film 'Notes on a Scandal'. I don't recall Cate Blanchett and Judi Dench sitting on tall bar stools with a thirteen inch seat width. The seats were designed for drinkers not to tarry. P ordered an ale, I a lager. I have no idea what Ms Blanchett and Ms Dench ordered. I should see the film again. I can tell you that the cheapest lager was £4.60 a pint, which apparently is the going rate for this part of London. The clientele were mostly young, what social commentators call 'hipsters'. These are men of the first and second gender who have formed 'start ups', businesses that offer boutique services like website design, bicycle repairs and faith-based cake decoration. They have websites that end in 'io', rather like one of the Seven Dwarves' songs or Jupiter's Moon. We lingered for one pint before venturing out into the City of London's water-laced streets, looking for the second way station.
Bardly worth a visit
This turned out to be The Shakespeare opposite Barbican Underground Station. Now I know what you're thinking: Shakespeare used the tube? No, you're not thinking that. The hostelry was decorated with paintings of Shakespeare and his contemporaries. I wonder if Shakespeare ever saw his own portrait and how he washed those frilly collars. The pub was empty. It was happy hour. It was raining. Therefore no one was happy. P, who had spoken in glowing terms of Tomato Juice being a hangover cure – he described himself as being in a post-inebriated state – wanted a cup of coffee. The friendly bartender prepared a Cappuccino for him and an Al Pacino, sorry Americano for me (£2.50 and £1.95). Both were appalling, but out of political correctness we did not complain. P found a sofa and promptly fell asleep. At this point, I should have tiptoed away, but you don't, do you? I amused myself trying to frame a selfie, to take my mind off a thoroughly misspent £4.45. The pub gradually got busier.
We made our way to the Barbican Cinema which as P would say was a proper gaff. It was also loud and popular. I rated the facilities and gave them a 'like'. But P did not want to stay. It was far too bustling and popular for him.
Poncho Notorious
After a trip to a cash dispenser near Moorgate station, I attempted to steer P towards Liverpool Street Station. He insisted on walking towards Old Street. Having crossed the road, he educated me in the crude and confrontational ways of two Essex Boys, cigarette one and polo neck two, who were propelling themselves in the same direction. We found a hostelry known as The Angel. In the doorway there was a group of young men in sombreros and ponchos – Poncho Notorious, as opposed to paucho notorious, another name for my pot belly. One of them was quite agitated. The rain had intensified. P was worried about the Essex Boys entering the pub. In the event they didn't. We entered an enjoyed a pint (P) and a half (me) of something brown and frothy. Two of the Poncho boys reappeared to wet the porcelain and sing in a forced jolly way. The pub has a distinctive chandelier – part Tesla coil. part filament. The young woman behind the bar did not know the difference between £2.15 and £2.55. This was another hostelry where the cost of a pint exceeded five pounds. Several posters advertised Monday night quiz night.
We relocated to a vegetarian offshoot of Pret A Manger near Leonard Street where P enjoyed Kale crisps and a banana (£2.00) and I a cup of 'white filter coffee' (£0.99), served perfectly. We watched the rain fall.
Indi So-So
P wanted to show me a new cinema called IndiGo which I swore was the Rich Mix. We were both right. After unsuccessfully trying to find a hostelry on the corner near IndiGo, we turned down a side street, checked out the shop Blackman ('we are not on the internet' – but on the dark net, instead, I imagined) and double-backed to Brick Lane, where we were enticed by all manner of Indian Restaurants. P nipped in to a corner shop for a veggie samosa to chase away the Kale crisps and banana. I had the chicken variety.
On a street corner, a bearded guy tried to photograph a life-size gold painted mannequin of a naked lady. A taxi blocked his view. We ambled through a side street and turned left into Commercial Road, where we saw Mr Sausage. Sadly, he wasn't sizzling. The sausage emporium was closed for the evening. We pondered whether 'Mr Sausage' would be a great safe word.
The problem with pub crawls is that they involve a lot of walking. We turned left at the end of Commercial Road and headed towards Whitechapel, where P stopped off in an Indian cafe for another veggie samosa and a vegetable role. I had a lamb samosa; Moses samosas erroneously. We ended up in the infamous Blind Beggar pub in Whitechapel, which had (according to P) zero air-con and bad beer. Interestingly, on the way to the Blind Beggar, we met an actual blind beggar, who said he was homeless but was actually clean shaven. (He probably had a hostel space.) This, I reflected, was too much of a coincidence.
The Struggle Continues
P could barely get through his pint of Peroni. We tried to determine the exact colour of the ceiling: burgundy, crimson, ruby? It matched the settees. The Beggar was frequented by student types who spent £5.84 per head and tarried on average for 48 minutes. It did not heave rather shed its customers like leaves in autumn. At around ten o'clock we strolled, unbuckled, to Whitechapel Underground Station where we took first the Hammersmith and City line one stop then a District Line to Victoria. I said my goodbyes to my eating and drinking companion and made it home before eleven pm.
29 July 2017