This spring, a beautifully-made short film captured my eyes.'Women's Surf: Summer Session 2013' is an educational short film that is innovatively made for women by women, Lava Girl Surf, which hosts events, offers surf training and education workshops. Different from other surf films, this short film zest details and craftsmanship through feminine styles with a vintage filter. Unlike other educational films, this is made for New York women who would like to surf, have fun and learn more about water and surfing. This summer I had the honor to meet the co-founder of Lava Girls Surf, Davina Grincevicius, in person and surfed was with her while pregnant at 3 months in Rockaway Beach, New York.
Davina is the kind of girl who seems kind and outgoing. A native from Melbourne, Australia, Davina relocated to New York City 7 years ago and now resides in Rockaway Beach, NY. She seemed to know everybody when we walked on the long stretch of Rockaway Beach while searching for perfect waves to surf with her baby. Davina told me, she loves Rockaway because everyone cares about the neighbourhood. It is a small community that cares about each other. Especially since Sandy in 2012, everyone in the neighborhood helped each other while being with no power for two months. She volunteered at Rockaway Beach Surf Club, which helped and hosted many people who had no home to go back to and/or no power to use. It was the tough times that made everyone united. When we sat down at Davina's neighborhood Surf Bagel and she spoke about her life, she said, "I just enjoy meeting great people, surfing and enjoying life." Davina being a film lover, is the founder of STASKA NY, a boutique film production company based in New York. STASKA NY creates online content for lifestyle, fashion brands and documenting events, travel and surfing culture. Coming from a marketing/advertising background, she has the sense of beauty, feminine spirit, and creativity that is missing in many surf films.
Since 2013, Davina and STAKSA NY have started The New York Women's Surf Film Festival, a surf film festival for women and anyone who appreciates women who surf. Each year, the festival selects notable films that celebrates the filmmakers and female wave riders who live to surf, highlighting their sense of adventure, connection to the ocean and love for their own communities and those they discover. This year, the festival is titled, Women of the Seven Seas, which shares the spirit and inspiration of the talk story of women wave riders from around the globe. The event is FREE ADMISSION at Rockaway Beach Surf Club, Rockaway Beach, NY.
If you enjoy the graceful dance of female surfers in water, or you simple just want to meet other cool surfers and win some raffles (a hand-plane from Imaginary Surf Co., a surf photography from Dylan Gordon, a surf lesson by Local Surf School, and more), you should join Lava Girl Surf on August 16, 2014.
Go to Lava Girl Surf for more info on Women of the Seven Seas, the 2nd annual New York Women's Surf Film Festival.
_____________________________________________________________________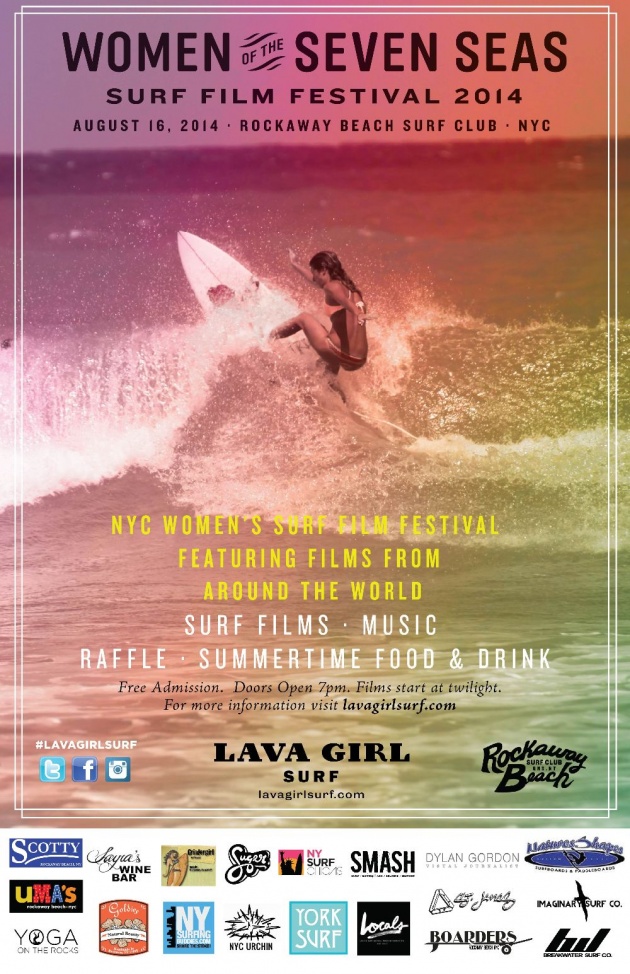 All images are originated by Surf Mei Mei or provided by Davina Grincevicius
We empower and mentor women worldwide through mind-opening experiences.
Please 'like" Surf Mei Mei on Facebook, and support Surf Mei Mei by becoming a Sponsor or Contributor.
Email us at surfmeimei@gmail.com
Instagram/Facebook/Twitter: Surf Mei Mei
Copyright: © 2014 SURFMEIMEI.COM. All rights reserved.