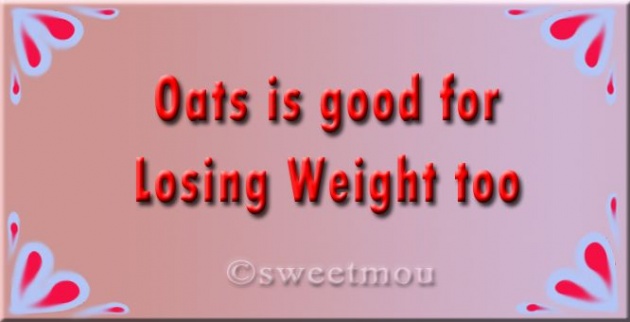 Oats is good for Losing Weight

I found something new from the past few weeks and became confirm on something which I am going to share with you all guys. Normally we have a little bit different breakfast according to our need. My daughter eats cornflakes; my husband takes Oats and myself "special corn-flakes" i.e. "K" which is especially available in India. Special 'K' does contain very less fat and sugar. So it helps us to lose fat.
But dramatically Oats work the same on my husband. It contains very less fat too (around 7% only) and maximum are minerals and fiber. We were known that Oats is good to avoid the cholesterol problem, but it works to make person slim and fit too. Automatically, it decreases the fat in the body. Thus it is good to consume in morning in enough quantity. And I am going to start this too.
Hope this info will be useful for you too. Wish you all a healthy life.
Yours, Mou
Image and article own by me. ©sweetmou