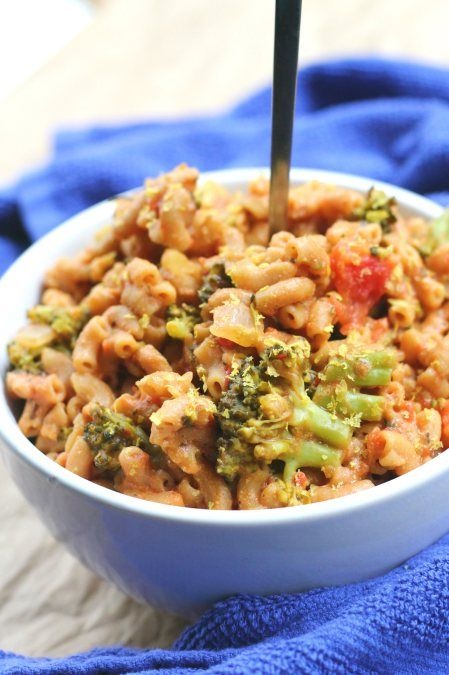 I love when meals come out of nowhere. I made this quick, simple and healthy One Pot Cheesy Tomato Pasta a couple Sundays ago for dinner. J and I had just got back from a relaxing walk and the last thing I wanted to do was cook up something elaborate. I never feel like spending hours in the kitchen on Sunday evening. Are you with me on that one?
I threw some macaroni, canned tomatoes, broccoli, spices, a bit of garlic and onions (you can even use dried if you are really lazy in a rush) in a pot… and this awesome One Pot Cheesy Tomato Pasta came to be!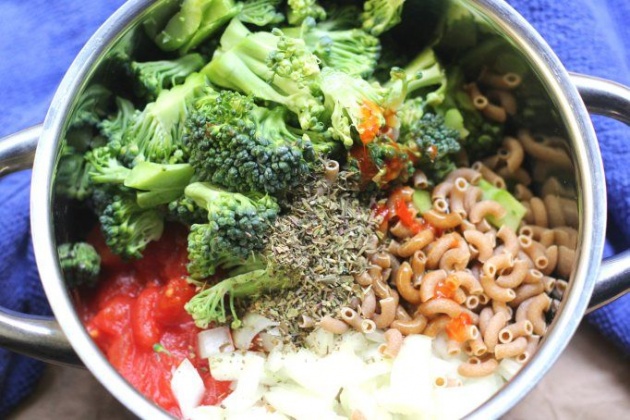 Today's post is going to be short and sweet! I am going in to defend my thesis this afternoon but didn't want to make you guys wait for this simple and quick One Pot Cheesy Tomato Macaroni any longer. I teased you guys with this quick and easy dish on Instagram and Facebook and was planing on sharing it with you later that week but my exam schedule and thesis defense got the best of me! Forgive me?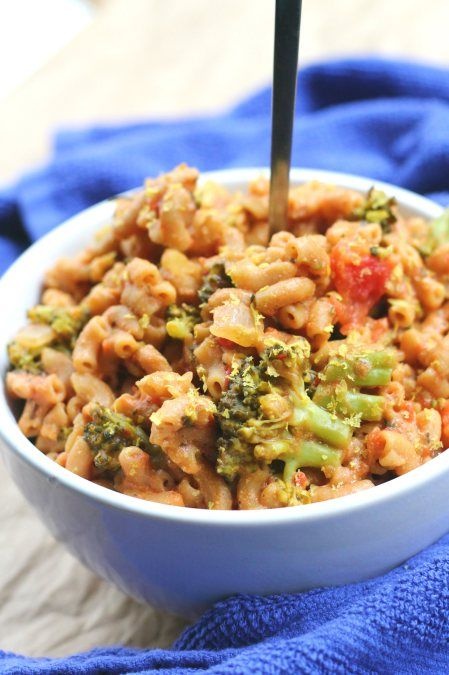 Guys, this One Pot Cheesy Tomato Macaroni literally takes less than 20 minutes to throw together. And that includes serving it in a bowl and topping it off with lots of hot sauce! Throw everything in a pot, stir, wait, serve, devour.
How is this Healthy One Pot Cheesy Tomato Pasta so darn creamy? The starch created from the pasta while cooking in the vegetable broth magically makes a super creamy pasta sauce. Throwing in a bit of nutritional yeast once the pasta is ready takes the cheesiness and creaminess of this One Pot Cheesy Tomato Pasta to the next level. This meal has become a staple around here for any night I just don't feel like doin' a whole lotta cookin! Dinner is served, Yum!
I'm off to defend my thesis now, send good thoughts my way and wish me luck!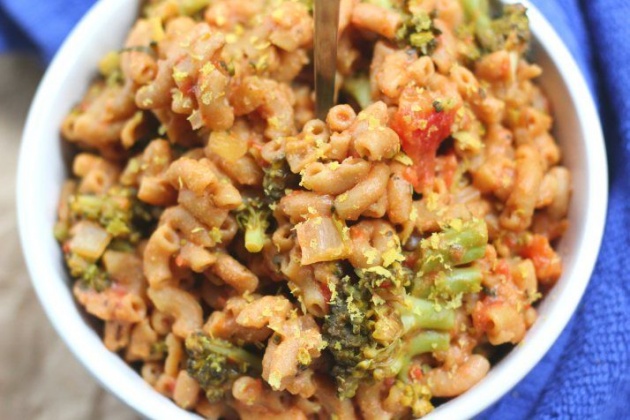 Giveaway: One last thing, make sure to come back Friday for a GIVEAWAY I'll be hosting on the blog!! I'm giving away a few packs of my favorite granola to one very lucky reader. Stay Tuned!
ONE POT CHEESY TOMATO PASTA
A super creamy, heathy and quick One Pot Cheesy Tomato Macaroni. This pasta could not be easier to make - it is cooked directly in the water with all the ingredients, creating a creamy and light pasta sauce. A staple in easy, weeknight dinners.
Author: Ceara
Recipe type: Main
Cuisine: American
Serves: 3 large or 4 smaller servings
DIRECTIONS
Dice the garlic, chop the onions and broccoli into bite size florets (see photo, or just use frozen). Add all of the ingredients except the nutritional yeast (macaroni through to vegetable broth) to a large pot (Use a pot larger than the one used in the photo so the pasta does no stick together!!).
Bring the pot to boil over medium high heat. Stir every few minutes until the macaroni is cooked through. Make sure not to overcook the macaroni. Once the macaroni is cooked to aldente add the nutritional yeast to the pasta and vegetables. Stir everything together. Note: You should not have a lot of liquid left over, the macaroni should have soaked it up up during the cooking process. A bit of liquid is fine and adds to the creaminess of the pasta. If there happens to be a lot of liquid, just drain a little bit of it out before adding the nutritional yeast.
Serve warm, garnish with additional hot sauce, nutritional yeast and chives! Best served warm right away.
NOTES
1) Substitute the herbes de provence with 2 tsp basil, 1 tsp oregano. I like this pasta equally both ways!
2) Double this recipe if serving it for a larger family but be SURE to use a larger pot so the pasta does not stick together.
3) Replace up to half the vegetable broth with plain water.