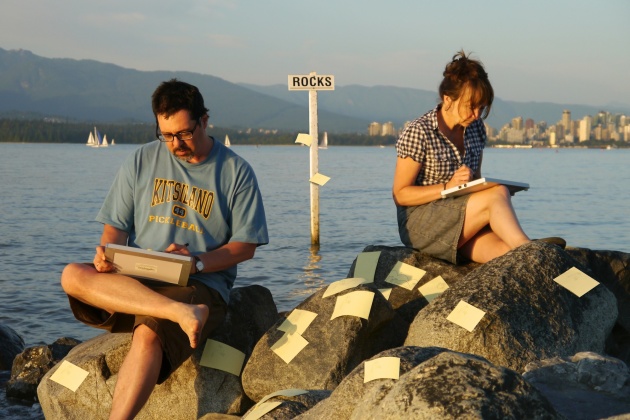 (Oscar winning animators and husband and wife, David Fine and Alison Snowden, on the rocks, animating on sticky notes for Yellow Sticky Notes | Canadian Anjiam)
With the upcoming internet launch of my 2013 animated film, Yellow Sticky Notes | Canadian Anjiam, I am presenting a blog series with interviews and profiles on some of the animators who animated segments of the anijam.
For the film, 15 of some of the biggest names in Canadian indie animation came together to create a collaborative animated film. An 'Anijam' is a collaborative animation with various animators who do individual short animated segments that link together to make one larger film.
This week in celebration of the 2014 Academy Awards, I'm featuring an interview with Oscar winning anijam animator, Alison Snowden...who collaborates with her Oscar winning husband David Fine. In true Alison and David fashion, they both worked together to animate a segment for Yellow Sticky Notes | Canadian Anjiam.
Alison Snowden studied at the Mansfield Art College, Lanchester Polytechnic and the National Film and Television School, where she met a fellow student who would become her husband and collaborator David Fine. While at the National Film and Television School, Fine worked with Alison Snowden on her student film, Second Class Mail (1984), about mail-order love. It won a number of international awards, including best first film at the International Animated Film Festival in France, and was nominated for an Oscar for best animated short.
The couple moved to Canada in the mid 1980s and went to work for the NFB. There they made George and Rosemary (1987), a short about elderly romance. The film received an Oscar nomination in addition to a Genie Award for best short, first prize at the Zagreb Animation Festival, and the Montréal World Film Festival Jury Prize for short film. George and Rosemary was followed by In and Out (1989), which won the UNICEF Award at the Berlin Film Festival and was also nominated for a Genie. Their next film together, Bob's Birthday (1993), about a middle-aged dentist who is reeling from birthday vertigo and searching for meaning in his life, won the Oscar for best animated short in 1995 and was the pilot for the animated television series Bob and Margaret (1998-2001). Snowdon voiced Margaret and wrote several episodes along with Fine. The couple produced the animated series Ricky Sprocket, Showbiz Boy.
To have both Alison and David work on a segment together for Yellow Sticky Notes | Canadian Anijam was indeed a great honour. In fact, Alison and David even let me borrow their camera stand to shoot all the thousands of Post-it Note drawings for the film. Not only are they amazing animators and filmmakers, but the are also some of the nicest people I know!
(Still from Bob and Margaret - created by Alison Snowden and David Fine)
ALISON SNOWDEN INTERVIEW:
* For the interview blog series, all the anijam animators were asked the same series of six questions.
1. What inspired you to become an animator?
AS: I always wanted to write and be a director, but I was too shy to work in live action. Animation allowed me to make films and I actually got to love creating my own characters that can perform exactly how I want them to. I still get a thrill from the magic of bringing flatly drawn characters to life. I feel like Dr. Frankenstein without the lab coat.
2. Which animated film of yours are you most proud of and why?
AS: I'm most proud of 'Bob's Birthday' because I've always wanted to be a writer and a director rather than an artist or animator. It was the first film I'd written with dialogue and lip sync and so it felt like real character acting rather than just mime.
3. What do you think makes for a successful short animated film?
AS: An original and good design is very important , but mostly a well written concept or script.
4. What advice do you have for students wanting to become animators? Any animation tips or wisdom you've learned over the years?
AS: First you have to decide if you want to be an animator for hire or an animation filmmaker because they are two different paths. If you want to work in an animation studio on movies or TV shows then you need to go to one of the top schools that specialize in classical animation and prepare you for the industry. If you want to be an animation filmmaker then you need to teach yourself to animate in an original way or go to an Art college that allows you to learn the basic techniques and experiment with them. Oh, and don't cross your legs when you animate or you'll get a bad back.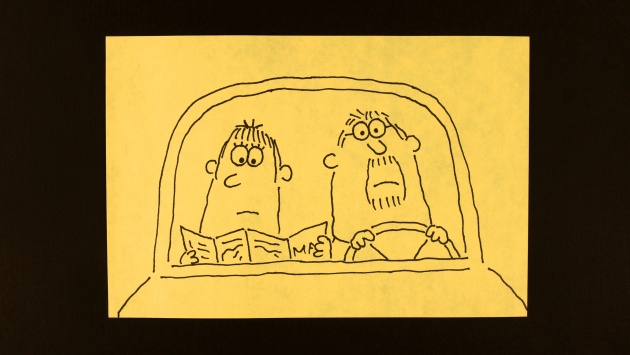 (Still from Yellow Sticky Notes | Canadian Anijam - an animated self portrait by Alison and David in their signature style)
5. The Yellow Sticky Notes Project is a foundation created as an extension of our Yellow Sticky Notes | Canadian Anijam to teach kids and youth classical animation using sticky notes and collaboration through anijams. From your experience, how do you feel animation can be used to help foster creativity and self-expression?
AS: If you're making your own animated film then it's a highly creative experience. It helps you explore both your design style as well as your own personality. Its a very energizing and cathartic experience.
6. What are you working on now and when can we expect to see it?
AS: I'm making a short film for the NFB with my life long collaborator, David Fine. We're very excited about getting back to our roots. We started out together making short films and went on to make TV shows. It's fun working with a team, but we've missed animating and writing for ourselves instead of the mainstream.
YELLOW STICKY NOTES | CANADIAN ANIJAM ARTIST STATEMENT FOR ALISON AND DAVID'S SEQUENCE:
"Our piece is about the forest devastation in British Columbia caused by the mountain pine beetle. While driving through the BC interior on our way to teach high school students animation, we couldn't help but notice the huge swaths of dead pine trees, killed by the tiny mountain pine beetle. It seemed so horrifying that such a little creature could reap such devastation, as if there had been a forest fire. It seemed frightening, so we thought we would represent our fear as a kind of fifties sci fi bug nightmare." - Alison Snowden and David Fine
Below you can watch Alison and David's animated segment from Yellow Sticky Notes | Canadian Anijam. Enjoy! Please subscribe for new blog posts in this series (many other great animators to come) and more clips from the film!