Brief Discussion of Phil-LiDAR 1 per Local Government Unit (Video Credit: MSU-IIT Geo-SAFER via youtube)
Apart from being a self-proclaim blogger, artist and a poet, I am also working full-time as a Research, Assistant in one of the prestigious university in the Philippines under the Department of Science and Technology. Our project aims to make a flood hazard map of a certain area in Mindanao only. I am assigned to the Data Processing Team in which we are tasked to extract and attribute features such as water bodies, buildings, roads, and bridges.
This has been the second project of DOST of which I am part of it. Before, there were three teams or components: Data Processing Team, Field Survey Team, and Flood Modelling Team. And now, there's an additional team, the Innovation Team. The Innovation Team is divided into two: the Drainage System Team and the Water Quality and Sedimentation Team.
Geo-SAFER Mindanao Acronym and Logo (Photo Credit: Geo-SAFER Mindanao)
I really thought I'm out of the picture in the Innovation Team, however, I was surprised when I was informed by my supervisor that we have a training for the Horiba Water Quality Parameter. Then, there are several groups of students who want to collaborate with us for their thesis tackles about sedimentation and/or water quality.
On April 10, 2018, my supervisor instructed me to assist the three students for three consecutive days starting April 12 up to April 14, 2018. We used the Horiba Multi-parameter Water Quality Meter for the Tubod River, Tubod, Iligan City. I was very excited even though I will be working under the scorching heat of the sun because I've always wanted to experience fieldwork.
The day before the fieldwork, we had a meeting since we had to locate the ten (10) points in the Google Earth Pro and then load it into the GPS. We also prepared the Horiba Multi-parameter and set the site location beforehand.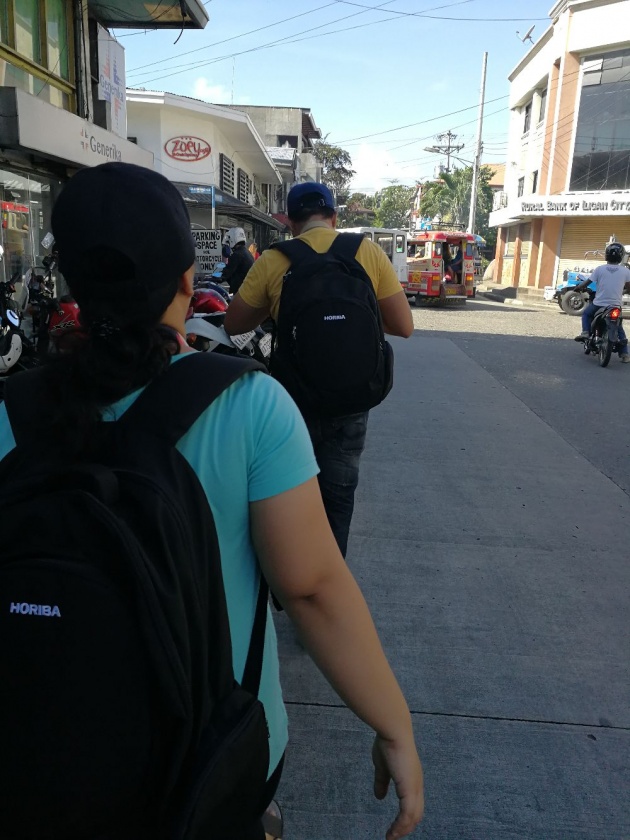 Off to our site, the Tubod River. (Photo Credit: kneelyrac via Bitlanders)
OBJECTIVES:
1. To record three flow measurements of the 10 marked points with an interval of 1 minute and duration of 5 minutes using a flow meter.
2. To measure and log the parameters of the water per points using the Horiba U-52 Multiparameter Water Quality Meter.
3. To gather 1-Liter of water sample per marked points for further analysis.
HORIBA U-52 Multiparameter Water Quality Meter
The Horiba U-52 Multiparameter Water Meter is equipped to measure and log utmost 9 parameters in a single measurement. This multiparameter consist of three parts: the sensor probe, the control unit controls, and the cable.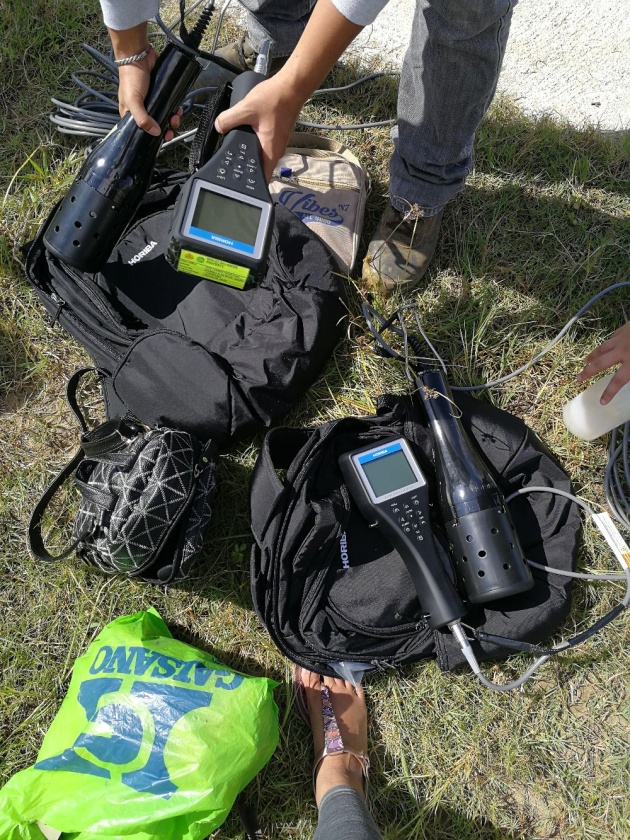 Preparing the multiparameter. (Photo Credit: kneelyrac via Bitlanders)
Sensor Probe
The probe houses multiple sensors for the measurement of 9 parameters simultaneously. It has pH and Oxidation Reduction Potential (ORP) sensor, Dissolved Oxygen sensor, Conductivity and Turbidity (LED) sensor. With the combination of the said sensors, this multiparameter can also read the following:
1. Salinity
2. Total Dissolved Solids (TDS)
3. Seawater Specific Gravity
4. Temperature
Control Unit
The Control Unit has a 320 x 240 liquid crystal display (LCD) with a black and white backlight that display the 9 parameters. It is designed for rough treatment in the field such that this control unit has a shock resistant cover. It has an auto-calibration features and has a battery life of approximately 70 hours of activity without backlight. This CU doesn't have an external data storage but has an internal data memory of 10,000 (10G). Transferring of the stored data is capable through USB communication, given that the computer has an installed software for the multiparameter. Upon purchasing, an installer for the multiparameter software is inclusive in the package.
Cable Wire
The cable wire is used to connect the probe and the control unit. It is easy to connect and disconnect the cable with its quick-connect fitting. The default length of the cable wire is 1 meter, but, our office ordered 10 meters instead.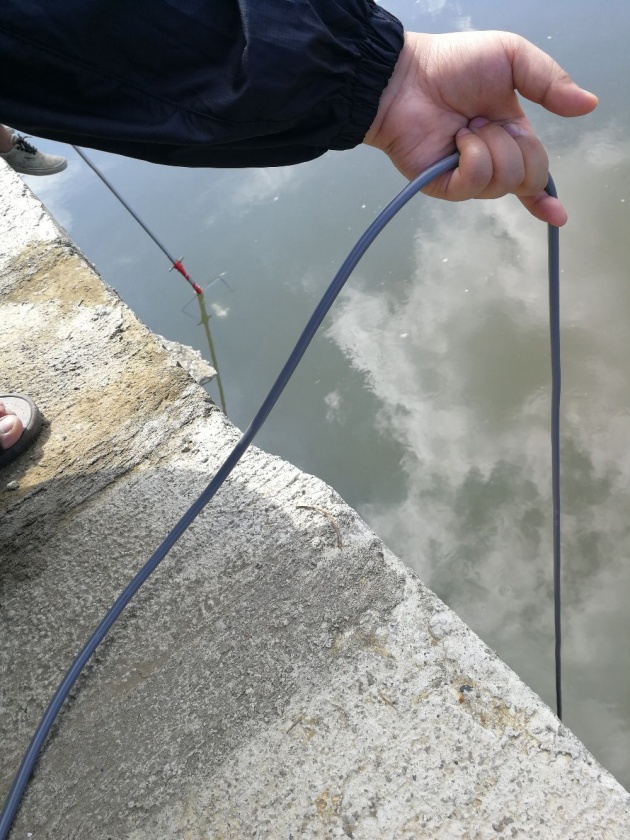 Submerging the Sensor Probe in the river for measurements. (Photo Credit: kneelyrac via Bitlanders)
Further details for the Horiba U52 Water Quality Multiparameter (Video Credits: Horiba Instruments Inc. via youtube)
BEFORE USING
Before using the Horiba U-52 Multiparameter, we did some manual calibration. We filled the medium-sized bucket with water and pour salt and coffee powder on it and waited for up to 20 minutes for its measurement. The 20-minute interval is applicable only when calibrating the Multiparameter before using it. After that, you don't need to wait for 20 minutes for the measurement, you just have to wait until it stabilizes, approximately 5 minutes.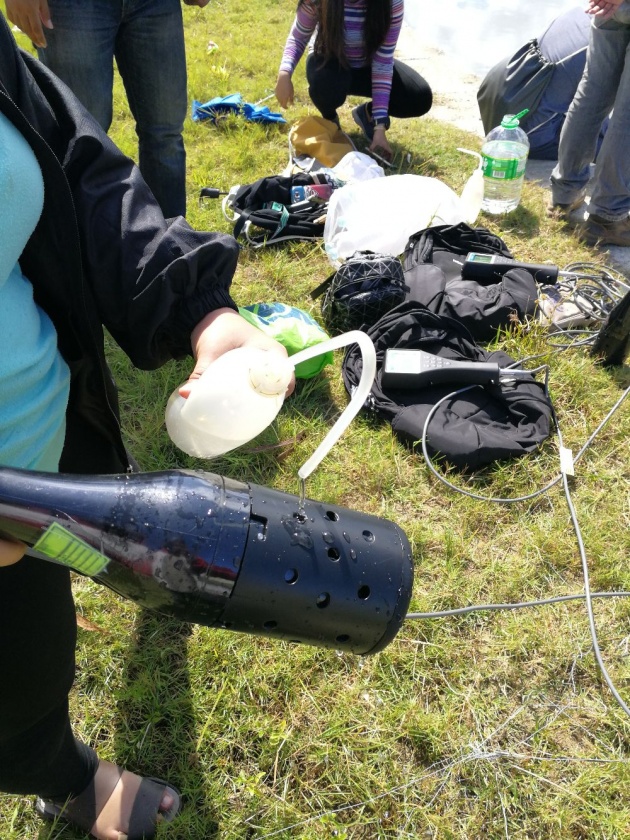 Cleaning the Sensor Probe using a non-contaminated distilled water. (Photo Credit: kneelyrac via Bitlanders)
AFTER USING
After using the Horiba U-52 Multiparameter, a bottle of distilled water must be used to clean the probe. You just don't randomly pour or soak the probe in the distilled water since it is not advisable to use a contaminated water. A water bottle with a nozzle is recommended when cleaning the probe especially the sensors. Inclusive in the package is a brush for cleaning.
DAY 1
The call time was 7:30 AM and we should be on the site and start gathering data at exactly 8:00 AM. I had to wake up 5:00 AM because I had to travel about 45 minutes to 60 minutes. Our home is a bit far from my working place. I wore leggings, a pullover, and sandals. I was expecting that my feet will be soaked in the river. I even brought cap, umbrella and a thick jacket.
However, some of the students arrived late and we started 9:00 AM, an hour late for our schedule. There were three graduating students from mining engineering and we're also three from the office, Kuya Guy from Field Survey Team, Jen from Flood Modelling Team and I from the Data Processing Team. When we arrived, it was already hot. We walked about 600 meters from the bridge and then we started preparing the equipment.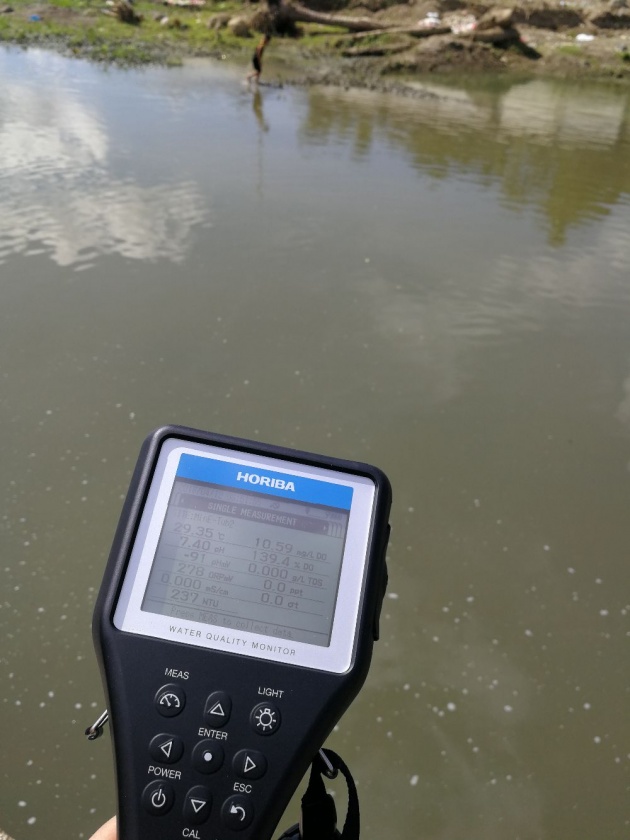 The Control Unit with the measured parameters. (Photo Credit: kneelyrac via Bitlanders)
Kuya Guy was assigned to assist Jan on how to use the flow meter. The girl in the group, Abby, was the one who will record the data gathered. They had to deploy the flow meter 3 times for 5 minutes with an interval of 1 minute. The other student, Dennis, was assigned to the Horiba Multi-parameter. We brought two multi-parameters, one for the student and one for our office.
The students also need to gather water sample for each point. They had to fill 1-Liter of an empty bottle per points. However, they were wearing shoes instead of slippers or shoes (plastic shoes), and so, they hired a child who was already swimming on the river, to gather water samples and instructed him that he should fill it on the river bed. The current of the river is not strong and it's not deep as well. So, it was safe to hire a child about 10 years of age.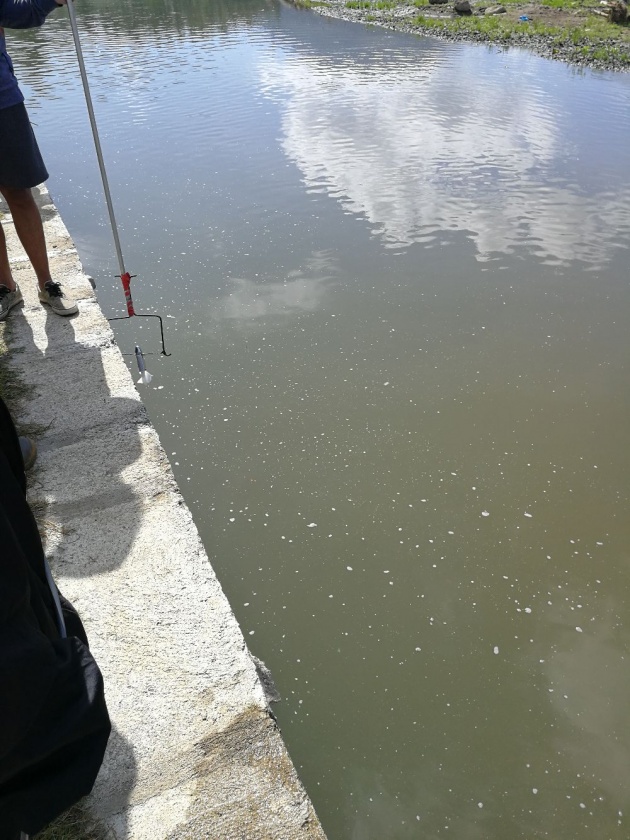 Deployed flowmeter (Photo Credit: kneelyrac via Bitlanders)
After gathering the data, we were off to the second point and unfortunately, it was towards the bridge. When using the parameter, the starting point should be from downstream to upstream. And so, we walked about 600m again near the bridge. The soil is muddy and slippery even though it was very hot.
I was sweating like crazy with the equipment on my back plus my hands were carrying something. The river is dirty. We had to walk through the river where the flow was a bit stronger. Thankfully, the water only reached my mid-thigh. I left my extra clothes in our office.
We finished at 12:45 PM and waited for the students to finish gathering their water sample. As I've said, they hired a local, a 10-year old, to do the gathering. There were 10L of water sample to be carried and it was quite heavy. Not to mention that we're already tired from gathering and collecting data under the sun.
I had a natural blush though. Thank you, Mr. Sun.
DAY 2
Our meeting place was outside the university since it was a holiday at that time. We started an hour earlier than the first day. We did the same process; 10 points and each point must have water quality readings and sample and flow meter measurements. Jen didn't go since she had some office work that must be finished as soon as possible.
With that, the Data Processing Supervisor proxied her. We only brought one Horiba Water Quality Multi-parameter, with that, I decided to wear sneakers. My supervisor was the one holding the control unit and Dennis was in the river holding the submerged probe. After recording three consecutive parameters, Dennis gave me the probe for the cleaning session and he was up to gathering water sample then. We didn't bring again the brush but we brought a 6.6L of Absolute Distilled Water and two (2) 500mL bottles with a nozzle.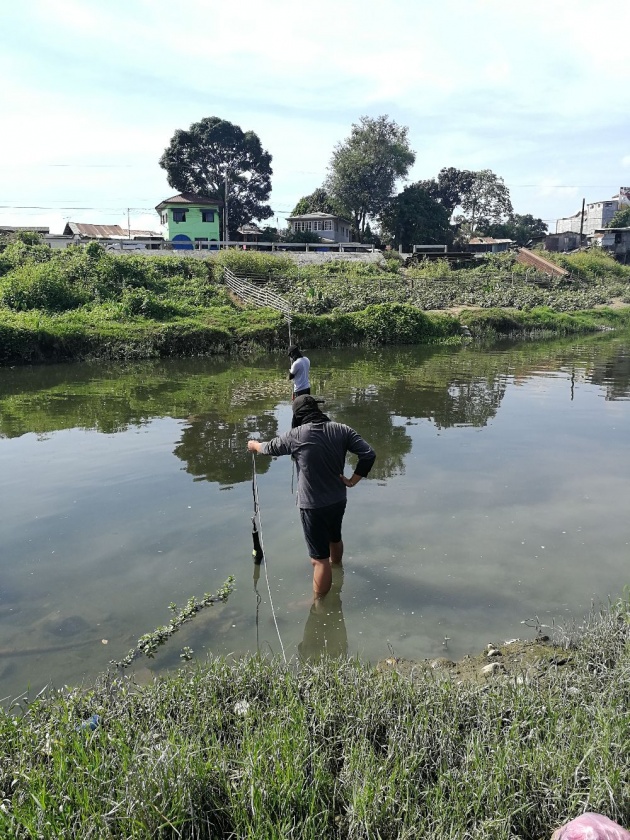 Deploying both the flowmeter and the sensor probe. (Photo Credits: kneelyrac via Bitlanders)
When we were on our point 5, our 10-meter cable was not enough to reach the desired location on the river. With the, I decided to change and wear a pair of slippers and held the control unit instead of my supervisor. He was wearing shoes and didn't bring extra slippers.
DAY 3
It was our last day for the Water Quality Sampling and Measurements and I was late for 15 minutes. When we arrive on the site, 8:15 AM, it was already extremely hot, not like on our Day 2. There was no wind which made me decide not to wear my jacket. I didn't apply a sunblock and with that, my arms had a direct hit from the sunlight. We were just preparing the equipment and I was already still sweating like crazy.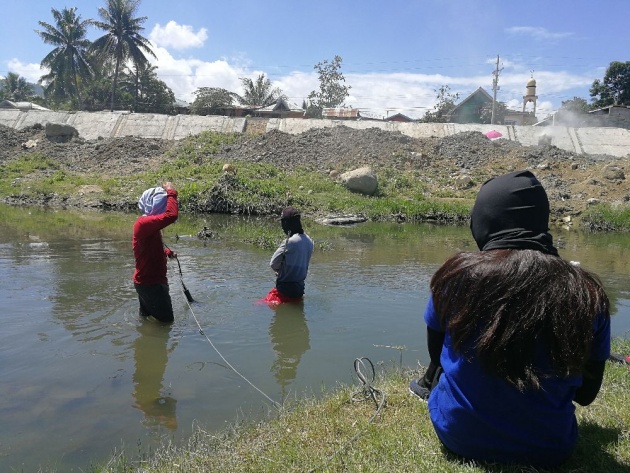 Gathering measurements and data. (Photo Credit: kneelyrac via Bitlanders)
The soil was still muddy and slippery and Abby, who was carrying our food, slipped and fell off. She stumbled down twice and managed to raise her right hand because of our food. We checked the belongings and her as well and the most important one, the burgers! When it was around 10 AM, I told the students that I'm hungry already that we should need to rest a bit. The heat of the sun plus the heavy backpack and the 6 L of water I'm carrying made my stomach to growl louder.
When I checked the food, the bottom was soft like it has been soaked in water and I also saw something green on it. But, I was really hungry that I ended up devouring the burger. Kuya Guy didn't finish his burger to avoid a stomachache, but, I was still hungry that I asked him if I can eat it instead. He was hesitant to give it so I said, I'm really hungry and my stomach is capable of digesting spoiled food. (FUN FACT: I can't recognize a spoiled food when I'm really hungry and my stomach can withstand it though.) After a short break, we continued gathering data and water sample of the remaining five (5) points.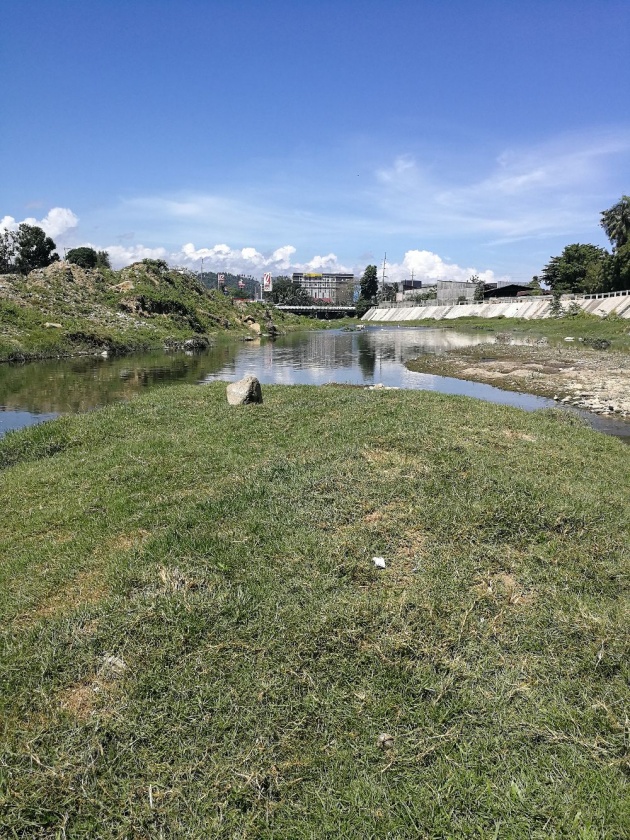 Photo Credit: kneelyrac via Bitlanders
It took us 4 hours to finish gathering measurements and the water samples. Working under the heat of the sun is not an easy job. It was half day for three consecutive days yet the exhaustion seems like I worked on a graveyard shift for a week. However, I still enjoyed the experience being on the field.