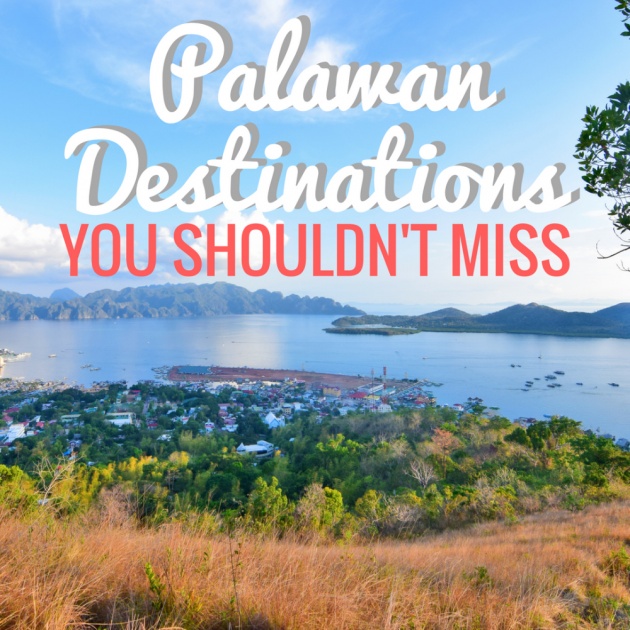 Image edited via Canva.com credits: Jean Beltran via bitLanders
I don't know why but for some reasons, I am missing Palawan. I had been to three parts of this province and I am pretty sure there are still a lot of other beautiful beaches and lagoons as well as coral gardens lying in other towns and barangays within this province.
Having been to areas of Palawan had me thinking If I should choose the places or destinations which I would like to recommend to my friends, what would it be? Last year, I had been to Coron, later 2015, I had been to Puerto Princesa and El Nido with James. I had compared both El Nido and Coron in a blog before but both of these places have their own beauty that is incomparable so for this blog, I would instead be stating the places which one should not miss when they plan on visiting Palawan base on my own experiences.
Read the related blog: El Nido or Coron?
Summer isn't over yet and if I had no issues with money or time now, I would probably go to Palawan, explore the beaches which I have never been to and surely share it with you guys so you'll also feel what I would like to feel whilst in the white sand beach of Palawan.
El Nido's 7 Commandos Island
Smiling my worries away at 7 Commandos Island. Image credits: Jean Beltran via Steemit
There may be different variations and stories as to why this island got its name from commanders to spirits lurking in the island, it doesn't change the fact that this island is my top to visit when in El Nido.
There are many options to go with when opting for an island hopping tour package but in any case, you must include the 7 Commandos Island which is included in different packages, probably Tour A and C include it so don't ever miss it.
A beautiful island with limestone monoliths in front of the beach gives you this almost paradise feeling while your feet are submerged in the powdery white sand shore. Or perhaps you are dipped into its clear tortoise sea water.
Image credits: Jean Beltran via Steemit
The island provides some activities like the volleyball, hammocks, food, and refreshments so there's nothing to worry about being stuck here. A sole inland resort will keep you accommodated too if you opt to stay for a night in this part of El Nido.
Don't forget to take a photo of yourself with the tropical trees and the huge limestone rock behind!
El Nido's Nacpan Calitang Twin Beach
Image credits: Jean Beltran via bitLanders
The issue with a well-known tourist spot is the crowd. In the small town of El Nido, the tourists are perhaps bigger in number compared to the locals. One reason why the main town had been filled with hotels, apartments, and homestays. Almost 80% of the land in Bacuit Bay is filled with island hopping boats and behind them are mostly all resorts facing the shoreline.
So if you look for a quiet and calm place away from the many tourists, you must go to Nacpan Calitang Twin Beach. With its long white sand shore stretch and almost no tourist but only locals around, you'll definitely feel the paradise vibe here.
Walking to the twin beach will take numerous minutes because of how long this beach shore is and you'll get to see other islands from the top of the mountain. Don't ever miss it just because it will take twenty minutes of drive from the main town, trust me, it is worth it!
El Nido's Taraw Peak
James and I at Taraw Peak! Image credits: Jean Beltran via bitLanders
This can only be recommended to those who are willing to sacrifice their energy and body fat in exchange to a breathtaking landscape and picturesque view of Bacuit Bay and the neighboring islands full of monoliths and limestone corals.
It may be hard to get to the top of the peak but the view will surely take away all the hardships and perhaps wounds and pains you'll get along the way. There's no proper signs or even clear path to go to get there but with a guide, you'll surely reach the top in 45 minutes to an hour time. The same will be on the way back but it would be easier than climbing up.
I personally believe that those who visit El Nido should also include conquering Taraw be part of their itineraries.
Coron's Kayangan Lake
Image credits: Jean Beltran via bitLanders
If Coron has a spot which is very famous for, that would be Kayangan Lake. This has been awarded as the cleanest and clearest lake in the entire country so it shouldn't be missed during an island hopping tour with any specific tour agency in Coron.
While the traverse going to the lake may perhaps be a little challenging, the view will be rewarding as one reaches the top of the steps before going down towards the entrance to the lake.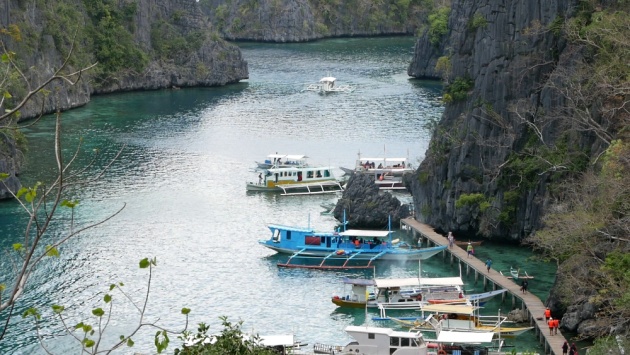 Image credits: Jean Beltran via bitLanders
The water is definitely clear and greenish because of the life underneath the water. There are however specific cases of drowning here so it is very much recommended to secure a local guide before coming.
Also, it is suggested that if you take a tour, you go to Kayangan Lake first because it has a tendency of becoming overcrowded during the midday.
Coron's Mt. Tapyas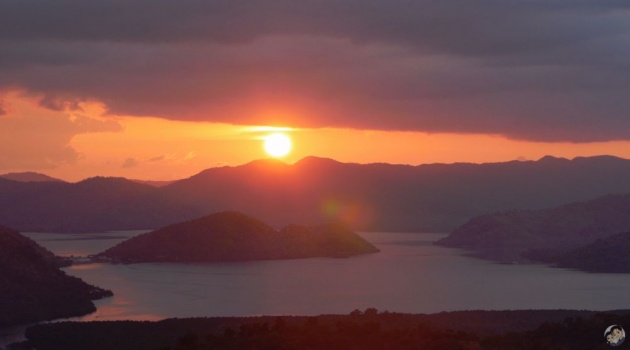 Image credits: Jean Beltran via bitLanders
Probably one of the most beautiful spots to watch the setting sun in Palawan specifically in Coron. The wonderful view of the Coron and Busuanga islands plus the magnificent view of the Lualhati Park with the monolith mountains used as the backdrop will keep you entertained for sure.
It might be tiring to walk to the top of the hill which composed of more than 700 steps up and another 700 steps going down but you'll definitely feel relieved and relaxed as you observe the beautiful sun slowly going down to its rest from the skies down beneath the sea horizons.
Busuanga's Calauit Wildlife Safari Park
Video credits: Jean Beltran via bitLanders
Of course, you won't want to miss this Wildlife Safari Park in Busuanga's Calauit Island. It is an entire island made into a wildlife adventure park with giraffes, zebras, and the endemic Calamian deer. Aside from those, there are also other animals being taken cared of inside the park.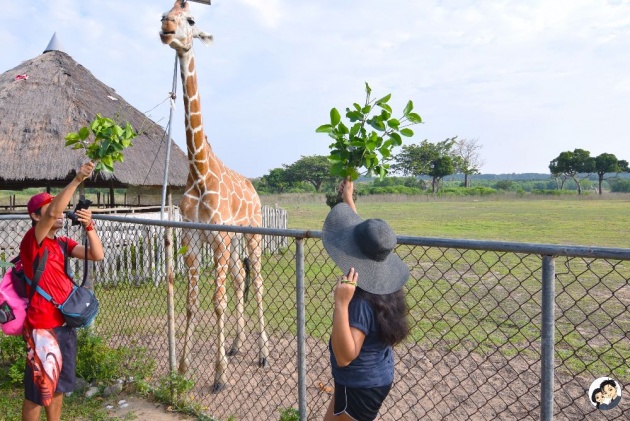 James and I feeding the giraffes. Image credits: Jean Beltran via bitLanders
Having to feed the giraffes is another experience you don't want to miss so although it may cost a little to get to this island, it is still worth visiting. Busuanga is also the home of the airport so you might want to visit it upon traveling from the airport because coming here from Coron may take a lot of time and money too!
Busuanga's Coral Gardens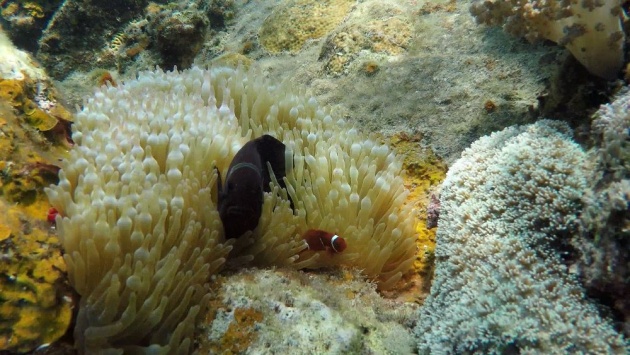 Image credits: Jean Beltran via bitLanders
While Coron has its own coral gardens, I would prefer Busuanga's. It is literally a garden full of corals and you'll get photos without photobombers too because only a few tourists get to visit Busuanga because obviously, the tourists flock in Coron.
Gladly, we had the chance to snorkel in Busuanga's beautiful coral gardens during our tour to the Calauit Island. This was included in the package and it is definitely a must visit if you want to experience the real coral garden.
The water isn't that deep and it is very near to the shore of a specific island in Busuanga although a little far from the main docking port, the coral garden full of colors and virgin coral stones will take your breath away.
Fishes of different species and vibrancy will flock to where food is available so it is very recommended that you bring some extra rice or biscuits to feed the fishes.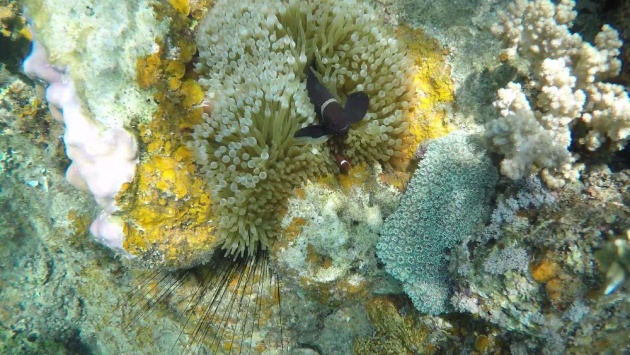 Image credits: Jean Beltran via bitLanders
The vast coral garden will definitely take most of your energy but don't worry as the tour guides are also willing to pull you if needed so you can get to swim from this point to the end of the garden. But really, there's no end to it, it will only be up to you as to until where you want to explore.
Those are my top places to check out when in Palawan, it may take a lot of time to travel from El Nido to Coron or to Puerto Princesa but the beauty will make you want to come back and explore more of its beauty. I for one would like to come back to Palawan soon, there's another spot there that is building its name for its crystal white water and clean beach so soon enough, when the right time comes, James and I will be back to Palawan. I pray that it will happen the soonest!
This blog entry was written and published by Jean Beltran-Figues for bitlanders.com.
Join me, click here to sign up.