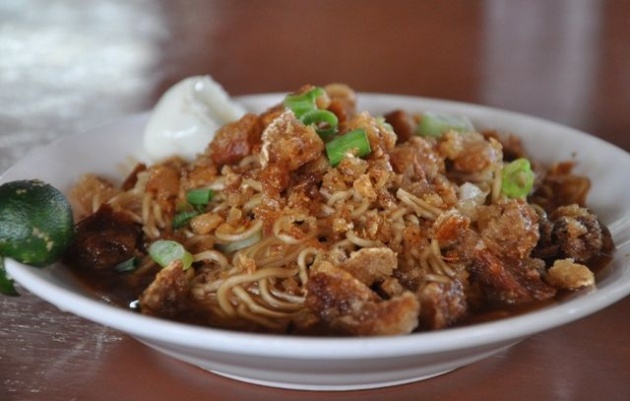 Pancit Cabagan is a dish originated in my hometown, Isabela province. Other than the usual pancit we Filipinos eat during occasions, this pansit is far different from the rest.
Ingredients
500g fresh egg noodles
200g pork belly, sliced
100g pork liver, sliced
1 cup pork chicharon, crushed
2 dozen quail eggs, hard boiled
4 cloves garlic, minced
1 onion, finely chopped
1/2 head cabbage, julienned
1 bunch French beans, julienned
1 carrot, julienned
5 cups chicken stock
1/4 cup soy sauce
1 tbsp hoisin suace
2 tbsp oyster sauce
3 tbsp cornstarch
fish sauce
freshly ground black pepper
lemon or calamansi
salt
Method
Cook fresh noodles according to packet instructions. Drain the set aside.
Season pork with salt then heat up a wok. Add oil then fry pork belly until brown and crispy, remove from wok then set aside.
In the same wok, sauté garlic and onions.
Add in the pork liver then stir fry for a minute.
Add carrots, French beans and cabbage then stir fry for 2 minutes. Remove from the wok then set aside.
Mix cornstarch with 1 cup of stock then set it aside. Pour 4 cups of chicken stock, hoisin sauce, oyster sauce and soy sauce, bring it to a boil. Once boiling pour the cornstarch mixture and simmer until sauce thickens. Flavour with fish sauce if needed then season with freshly ground black pepper.
Fold in the noodles and half of the vegetable mixture in the wok, turn of the heat then place in a plate.
Top with remaining vegetable mixture, chicharon and quail eggs then serve with lemon or calamansi on the side.
Hope you enjoy this recipe!