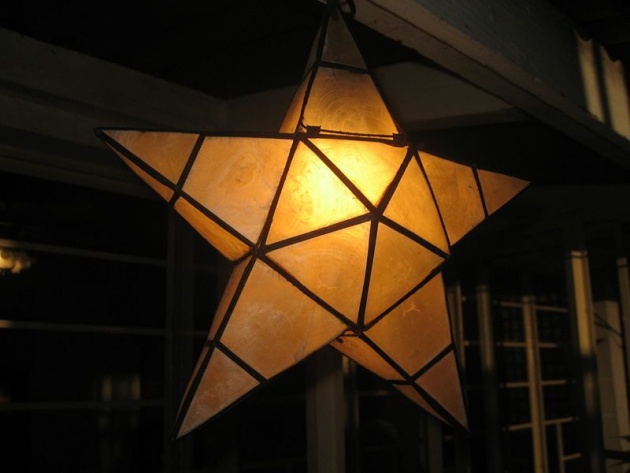 Every country has its own traditional way of celebrating Christmas though there are some countries that Christmas is just an ordinary day to them. Here in the Philippines being a country that was colonized for a long period of time by the Spaniards that brought and spread Christianity to us, Christmas is being celebrated, honoring the birth of our saviour Jesus Christ. Many of our traditions that until now, that we still practice, root back from our ancestors.
The Philippines is known for having the longest Christmas season. When the ber months starts, it signals the start of Christmas season and it ends on January in which we celebrate 3 important feast on Catholic church. The feast of Epiphany or The Three Kings, the feast of Black Nazarene (January 9) and the feast of Sto. Niño (celebrate on the the third Sunday of January).
A celebration will not be complete without the decorations. Part of the yuletide celebration are the colorful Christmas decorations. That you will find in every houses, along the streets, in malls, offices, in cities and in towns. Many people especially those that can afford they really make it as a tradition to decorate their house for Christmas, filled their houses with lots of beautiful and attractive Christmas decorations, so that other can see and in the long run it became as an attraction to some places.
When it comes to Christmas decorations or when you mention Christmas here in the Philippines, the star shaped lantern that we call as Parol has been a symbol of Christmas to us. It has been part of our tradition to hang a parol in our house to welcome the most anticipated, especially to children and celebrated season of the year. It is considered as the iconic symbol for Christmas.
History of Parol and its meaning to Filipinos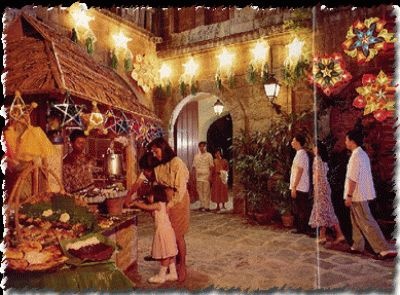 Parol comes from the Spanish word "farol" which means lantern. Catholic dominates the population of other religions here in the Philippines. As a Catholic country Christmas is important to us, it is a celebration of the birth of our Savior. The parol symbolizes the star of Bethlehem that guided the Three Kings to the manger of baby Jesus. To us Filipinos a parol is an expression of our faith and hope.
Traditionally a parol is a five pointed star which is made out of bamboo sticks, papel de hapon (Japanese paper) and crepe paper. The star shaped lantern has a two tails on its bottom that resembles to the rays of a star.
During Spanish regime, who brought us Christianity, our ancestors, particularly those who live in the barrios (rural areas) they would make a parol and put a coconut oil lamp in it, for them to carry it as their light going to church to attend the simbang gabi also known as Misa de Gallo. Simbang gabi is a novena mass, it is a Filipino tradition which is a series of 9 dawn masses, but later the church also have it during the night. As a Catholic we believe that when you finish faithfully the whole series of simbang gabi you can ask for your personal intention or favor. Simbang gabi starts from December 16 and ends on Christmas eve.
After the mass local folks would carry their parol home and hang in front their house particularly on the window. For others to see their creation. And from there the tradition carries until now. Although things has evolved, we don't have to carry a lightened parol going to church now and the traditional parol had evolved as well. From the bamboo sticks and coconut oil lamp, now parol comes in different shapes, different materials are being used like glass, wood, plastic, metal and other materials that is local to a particular region and it uses electronics lights to illuminate the parol now. But the five pointed star with two tail is still around and the famous design of a parol.
Parol Festivals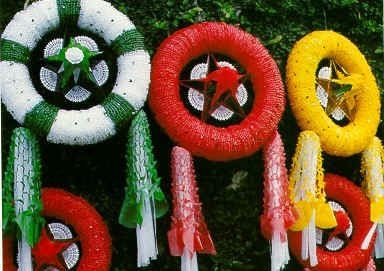 Every year Parol festivals and parade are held all over the Philippines, in schools, towns and cities. To make the festival more interesting each year they celebrate with a particular theme.
Lantern festivals showcases the craftsmanship and ingenuity of Filipino people. Also it became as an attraction to its wide variety of audience. The famous Parol festival here in the Philippines can be found in Pampanga.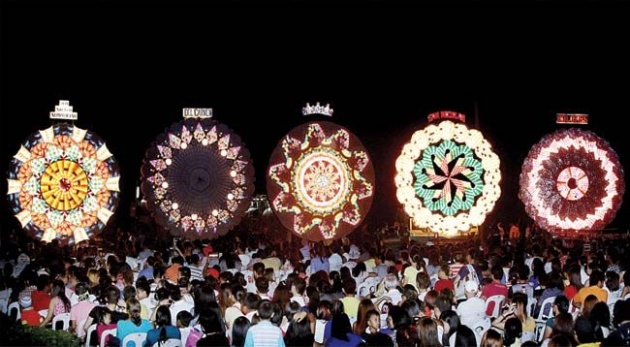 Giant lantern festival or Ligligan Parul - It is an annual festival of giant lanterns that is held in San Fernando City, Pampanga, Philippines. Thus, the province of Pampanga was given the name of the "Christmas Capital of the Philippines". Pampanga is known in the industry of Parol making.
To finish a giant parol, participants usually starts as early as January for their entry. The average breadth of a giant parol is 40 feet and is made from native materials such as abaca, capiz, they also use japanese paper, metal, wood, fiberglass and other materials that can be used to make a parol. While the average weight of a giant parol is 1 ton. To make a huge parol it requires a minimum of 50 people to build one.
Giant lantern festival in Pampanga has been a tourist attraction to many. The participants are the Barangays in San Fernando Pampanga. The huge lantern with colorful dancing lights, intricate designs, showcases the creativity of a Filipino. This kind of festival is helping their community as well, in promoting their crafts.
Ligligan Parul 2014 "Giant Lantern Festival"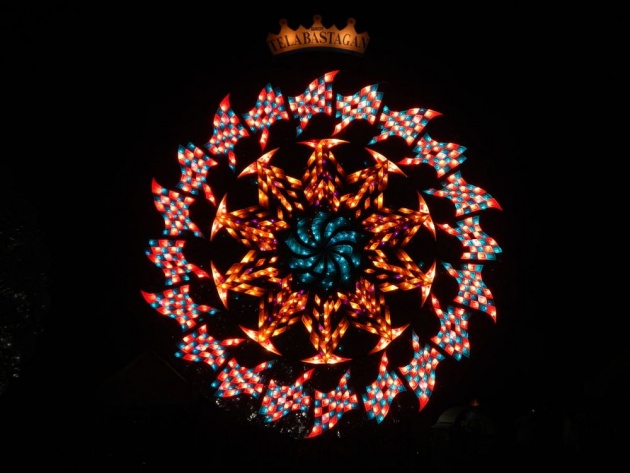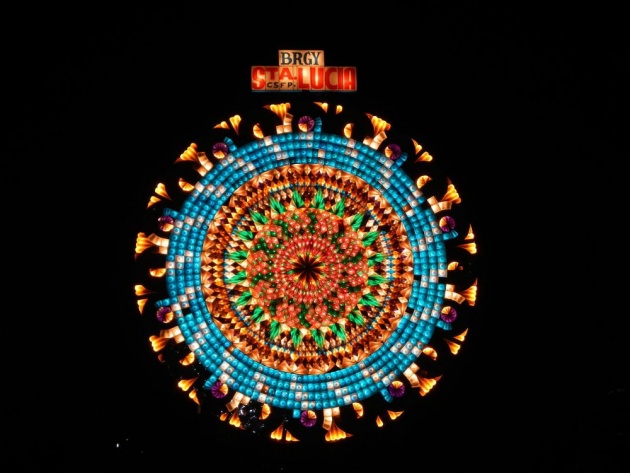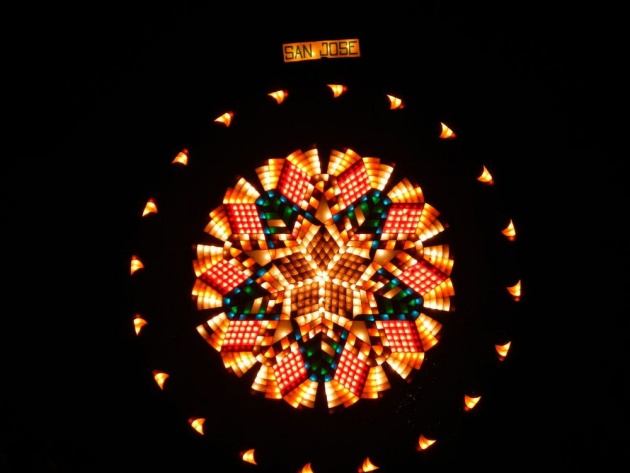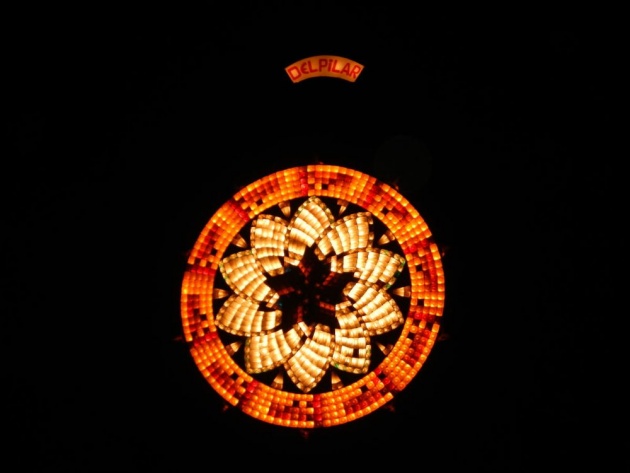 Giant lantern of Brgy. Dolores, Grand Prize winner 2014
Parol Lantern Festival and Parade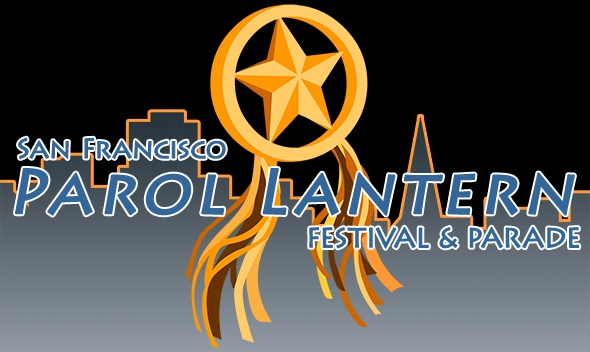 Parol Lantern Festival and Parade is held annually in San Francisco, California, USA. The Filipino community in San Francisco has their Filipino way of celebrating Christmas even they are far from home and to their loved ones. Their parol festival this coming December 2015 will be their 13th year on parading parol in the streets of San Francisco.
This year their theme is Giving Light to the Future. The organization also offers workshops on how to make a parol, they also sell parol kits and to those who want to be help and be a volunteer on their coming event can also join.
To know more about this you can check out their website http://www.bayanihancc.org/parol/
Filipino Christmas will not be complete without making a parol or hanging a parol on his house and wherever his feet takes him, his culture and tradition will always be in his heart.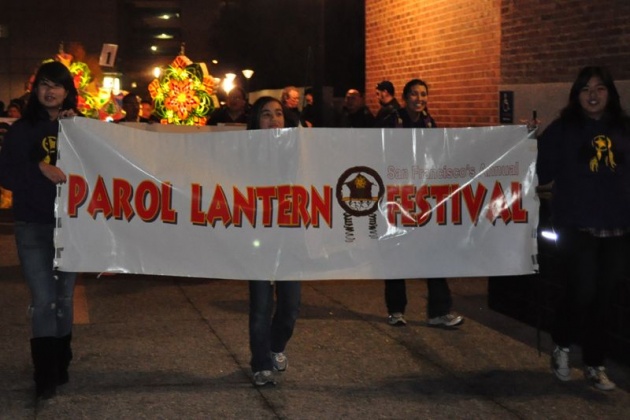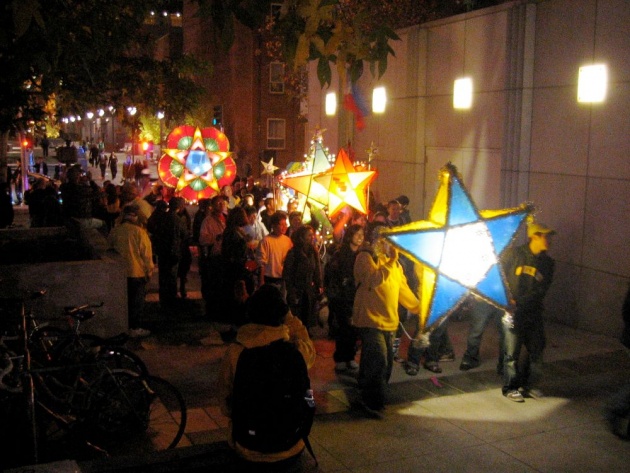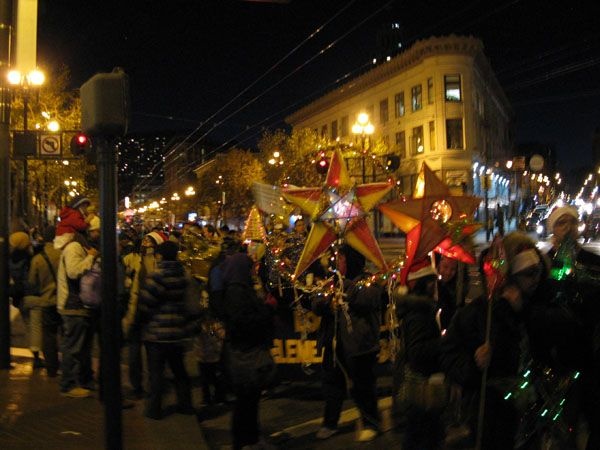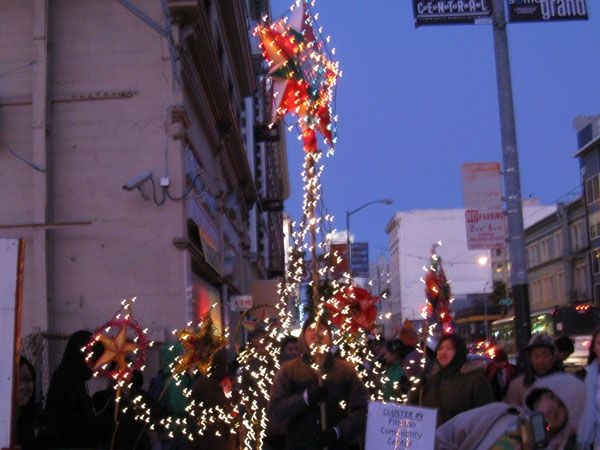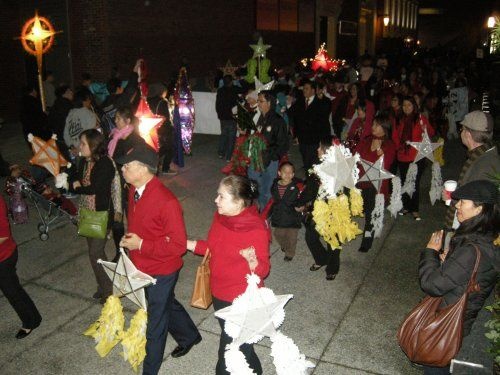 Parol making a livelihood to many Filipinos
Parol industry during Christmas season is at their best peak. Parol making is a livelihood to many Filipinos and same with those who are selling parols.

Parol making has been passed on from generations to generations. The old tradition of making parol which uses bamboo is still alive in Las Piñas. This has become a livelihood to many residents of the said city.
The simple traditional design that is made from bamboo sticks that formed into a shaped of a star and wrapped with colorful japanese paper or crepe paper has evolved as time goes by. You will find a lot of different designs of parol that is being sold. From the simple and traditional design the parol makers learn to make different designs of parol.
When "Ber" starts, you will see stores selling parols already. These parols comes in different sizes, shapes, designs ranging from simple to the most expensive design that you can find. Along Metro Manila, they start selling parols as early as September. There are early shoppers during this month that starts finding Christmas decorations for their house.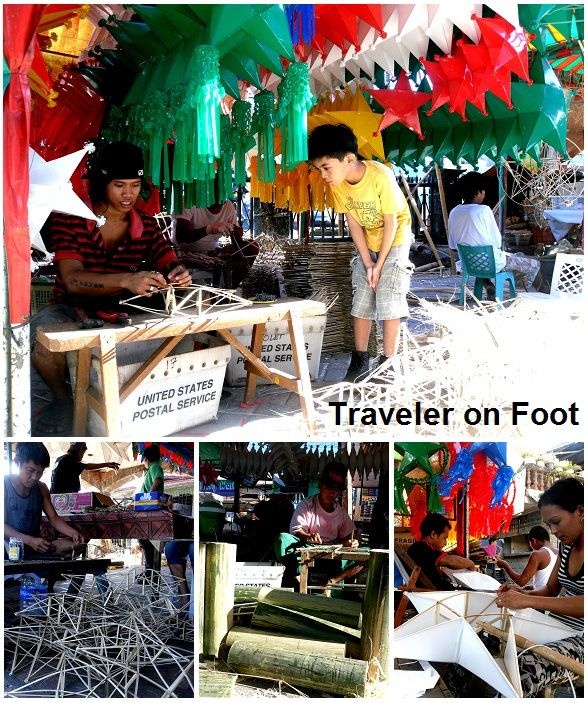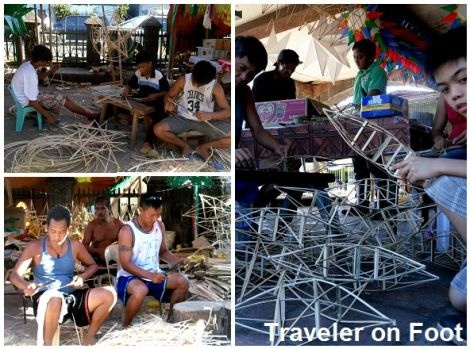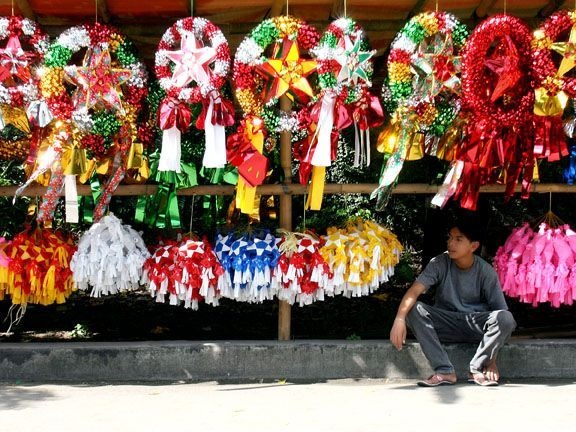 How to make a Parol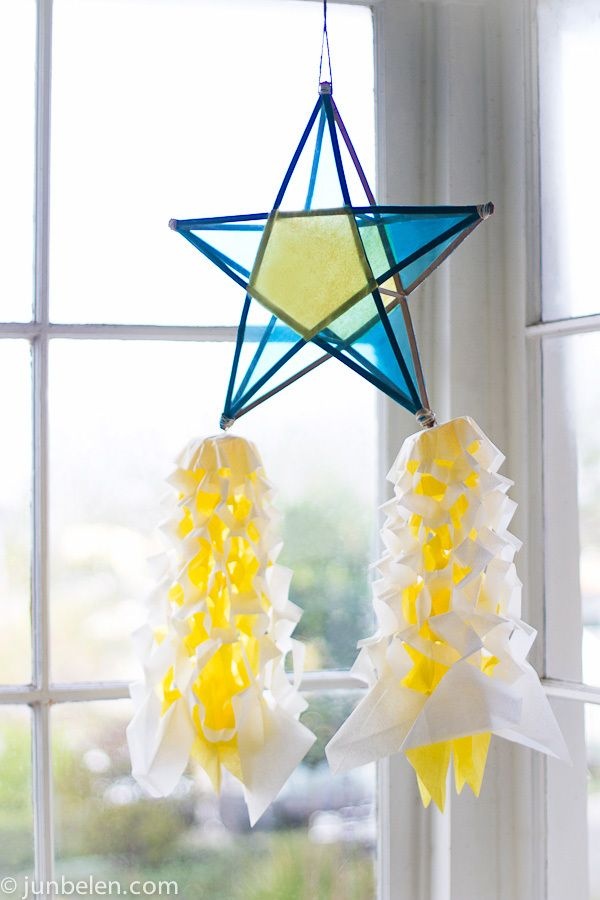 This blog will not be complete if I will not include the steps in making a simple parol. I remember when I was in grade school and in high school making a parol every December has been a school project. When the Christmas season starts and the school starts to decorate for Christmas, the students participate by making a parol as part of their school project. The students parol will be graded and after that it will be hang in their rooms or along the school campus. In some schools every year they held competitions in parol making, or some held lantern parades.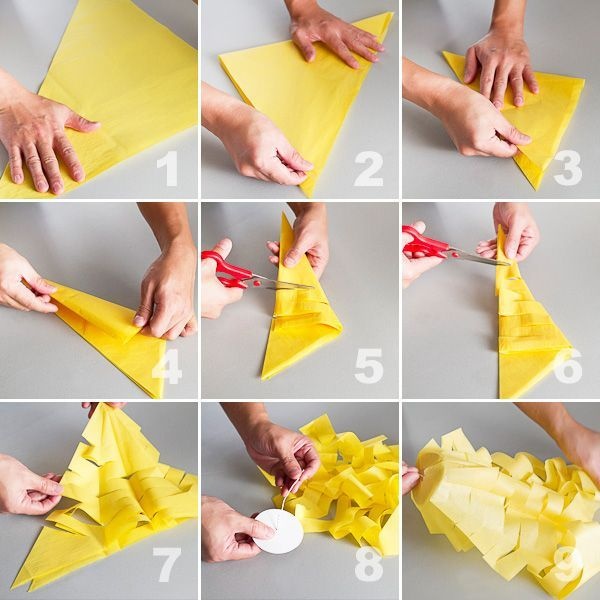 Different designs of Parol
Filipinos creativity can be seen in the art of making parols. Our star-shaped lantern comes in different sizes, designs and it is made from different materials.
Native Parol - These are the parols that are made from indigenous materials like abaca and coconut husk. Many provinces held competition with the theme of using native materials for their parols.
Capiz Parol - These are the lanterns or the parols that are made from capiz shells. This design of parol is very popular here in the Philippines. Because the shell is translucent it reflects lights, thus adding stunning colors to the parol. Capiz parols are also being exported.
Recycled Materials Parol - These are the parols that are made from recycled materials like plastic straw, plastic bottles, soda cans, coke bottles, and other materials that can be recycled and can be use in parol making. This kind of parol shows how creative and genius a Filipino when it comes to creating something from things that are supposed to be thrown in trash.
Traditional Parol - These are the parols that are made in traditional materials. This kind of parol is the original design of the parol that was crafted way back during the Spanish era. The famous star-shaped design with two tails at the bottom are made from bamboo sticks, japanese paper and crepe paper.
I'll end this blog with a Christmas song from Ryan Cayabyab and Jose Javier Reyes.
Philippine Christmas Lantern "Parol" Kumukutikutitap (twinkle/glimmer)
Thank you for reading and watching!!! =)
****************************************************************************************************
Thank you to the following!!!
For the images:
https://en.wikipedia.org/wiki/Giant_Lantern_Festival
http://www.bayanihancc.org/parol/parade.html
https://traveleronfoot.wordpress.com/tag/filipino-parol/
http://blog.junbelen.com/2011/12/13/how-to-make-a-parol-filipino-christmas-lantern/
http://amsdaily.net/2011/12/13/parol-light-of-christmas/
https://spirituality.knoji.com/christmas-parol-a-colorful-and-traditional-christmas-symbol-in-the-philippines/
Google Images
For the video: YouTube.com