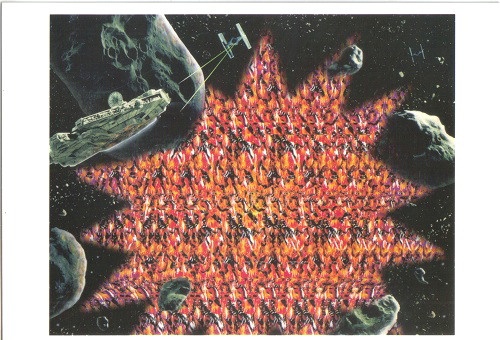 Patterns are everywhere in our lives. They are in textiles, nature, art and behaviors to name a few. Patterns can be synonymous with cycles. The film industry certainly has its' patterns as do its' filmmakers. Patterns can grow to be predictable and repetitive. It's as if the magic eye has lost its allure. And so some patterns shift over time. As a great lover of film and film history, I have watched thousands of films and continue to try and watch as many as I can. I thought it'd be interesting to have a look at film viewing patterns. I now have three young boys, a full time job, and general adulthood to contend with so my film viewing is down and has been altered as you'll note below. I have listed the last ten movies I've watched, modeled after all the enticing top whatever lists that Film Comment has.
Film, year, director:
Lincoln, 2012, Spielberg House On Haunted Hill, 1959, Castle The Croods, 2013, DeMicco/Sanders Daddy Day Care, 2003, Carr The Place Beyond the Pines, 2012, Cianfrance The Hobbit 2, 2013, Jackson Blackfish, 2013, Cowperthwaite This Is The End, 2013, Goldberg/Rogen Dredd, 2012, Travis Evil Dead, 2013, Alvarez
I attempt to watch movies I really want to see and seek out and there are times where I'll watch a film in the name of checking in on that genre at that time. My list is comprised heavily of films from the last two years but there's only 2 movies that I'd watch again ("House On Haunted Hill" & "The Hobbit 2") and most of them I can take or leave but they were all interesting in their own rights. I'm a professional gardener and I think even plants I don't like have their place somewhere. So even though 80% of the films I watch are for some mental rolodex for myself and a few others to enjoy through my lifetime, it's worth it!
The pattern of Hollywood seems to be in that overripe stage to me in some ways. As I watched "Lincoln", and even after, I ask myself, Do I enjoy this Spielbergian stuff? I suppose I do enjoy it to a point and I certainly hold the man high for his accomplishments and contributions but I get this feeling from most of his films that I've just been beaten down by Hollywood sap. It looks great but it just doesn't do it for me. Perhaps the film could've been shorter? I watched "The Place Beyond The Pines" to see what some A listers (Ryan Gosling, Bradley Cooper, Eva Mendes) could do in an interesting looking idie feature (IMDB has their budget at $15 mil) as well as get a sample of Hollywood infiltrated independent films and came away disappointed. This was a movie where I just didn't like anybody and I believe a successful story has to have a protagonist and that character has to be someone audiences can identify with, and not just the criminal members of the audience. However, sampling the mega movie market with "The Hobbit 2" was extremely satisfying and that was without 3-D. The characters are awesome first and foremost and then you get all the visual stuff. Woah.
Habitual film viewers like myself, go through binge like patterns from time to time. I have binged on westerns and horror, French and Japanese, Cronenberg and Bergman. Just a few months ago, I binged on Hitchcock for a bit! You can see lots of filmmaking patterns throughout FilmAnnex! I like to observe patterns in filmmaking from different perspectives so I'll pretty much be up for anything if I've got the time, which I don't! Enjoy the movies!
I haven't been pedalling any old public domain stuff so if you're moved to watch some classic stuff fallen into public domain, please check out BaxterMartin WebTv