bitlanders.com/July 21, 2018, Saturday. Time Check, it's 3:59 am
I was still half-asleep when I decided to check my phone for the time and the moment I saw it, I was shaking. "Yikes, I'm late!", I mutter to myself. I saw 4 messages from my office mate, telling me to wake up already, the messages were sent at 2:58 am. "Ohhh myyy". I opened my mobile data to check some messages from my other officemates but unfortunately, the last message sent was in 12 mn. Yikes so, probably they are still asleep. Then I get up and took a quick shower, fix my things and leave the house. Today is the day where we will participate in our company's Color Run.
Here's a clip of The Color Run Movement.
Source: Youtube.com
The Color Run is a one of a kind experience that is less about speed and more about enjoying a color crazy day with your friends and family. The events are all about people of all different speeds, ages, shapes, and sizes toeing the start line.

-Source: Define Body
Our company, Philippine National Bank annually conducts a fun run every Anniversary month. And this year the organizers decided to go with the theme of "Color Run".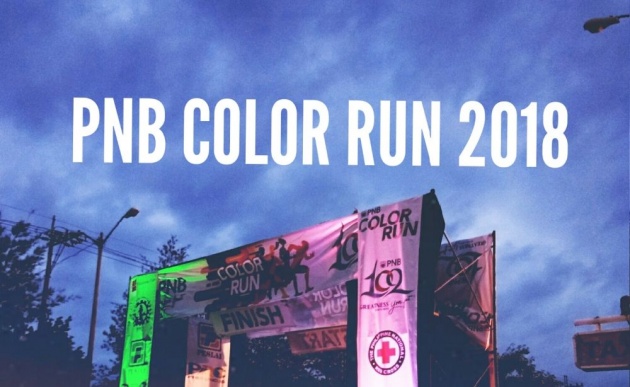 Photo credits: Yannn via bitlanders.com
It's 4:28 am
I have no choice but to book a grab, or else I'll be late and maybe won't make it in the gun start. Well, we still need to register as we arrive at the head office to get our singlet. So from my place to Macapagal Boulevard, where our head office located it took me more or less 30 minutes. I was the first one who arrived in the place. Sadly from 7 expectant attendees, there are only 4 of us who run. Maybe it's because of the weather or some fell asleep. LOL.
So I registered as soon as I arrived at the place, there were a couple of employees and guests who are also in line in the registration. Then one of my office mates, Ma'am Jade arrived. Hooray I got accompany already!! I feel left out with a group of people out there lol..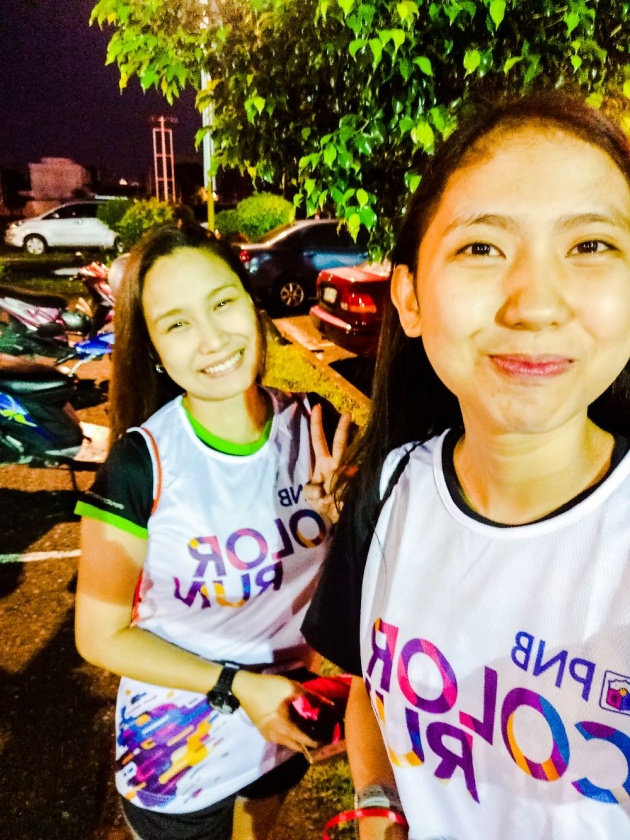 Photo credits: Yannn via bitlanders.com
So we already registered ourselves and got our own singlet. Woohoo. Now, we are waiting for Ma'am Ihna and her best friend Ma'am Marge. We're planning to ask them if we could leave our bags to Ma'am Marge's car. But the marathon already started and they are still on the way. So we got no choice but to run together with our bags, Oh lemme rephrase that. Walk, rather.
So since it's color run, at the start of the race there are people who are throwing colored powder. And AHHHHHHHHHH as much as I wanted to play with the colored powder, I cannot because I'm wearing all black. So we tried to avoid the powder by running but sadly, there is still powder that sticks our clothes. Yikes.
Okay, let the marathon begin!! The gun start starts at 5:30 am but we started at 5:50 am already. So we ran a few seconds and then we got tired so we started to walk instead. Hahahaha. The race we picked is 5k, a few minutes after we already saw Ma'am Ihna and Ma'am Marge in the line.
It was an easy flow run or should I say walk for us. Few minutes passed, we almost reached the 1st stop which is the yellow stop. Then we continued to run until we reach the 2nd stop which is the green stop. After how many minutes, we can already see the finish line. Can you believe it? Where almost there!!
6:30 am we arrived the finish line
Yay! Finally, the race is over and we've reached the finish line. A few minutes later, We saw Ma'am Marge and Ma'am Ihna approaching the finish line. Hooray!
Presenting the 5k Finishers, The teenagers, and the Adults. Hahahahahaha!!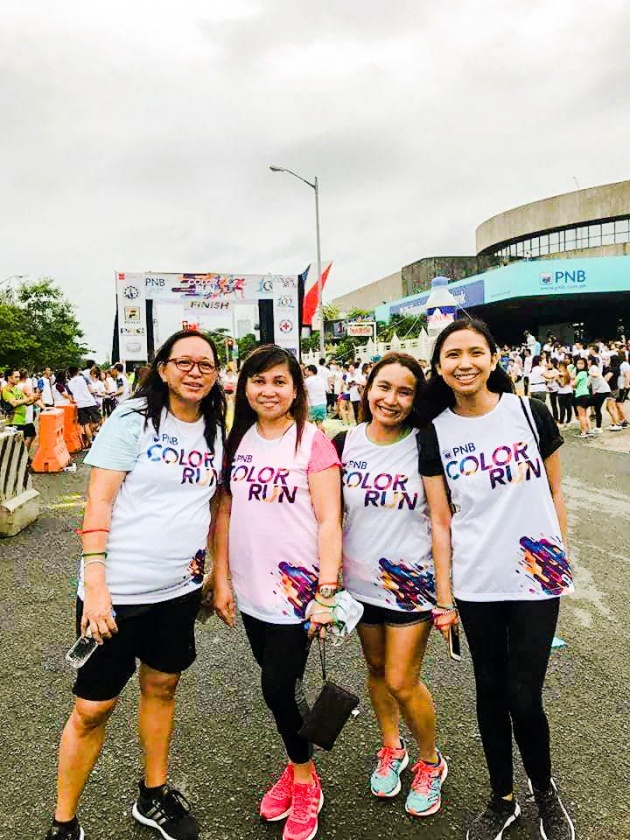 Photo credits: Yannn via bitlanders.com
Of course, we had to take a few photos as proof that we finished the race. Hahahaha!!! We had Individual photos and group photos.
Here's some photo of mine took at the end of the race. I didn't seem to look so happy right? Hihi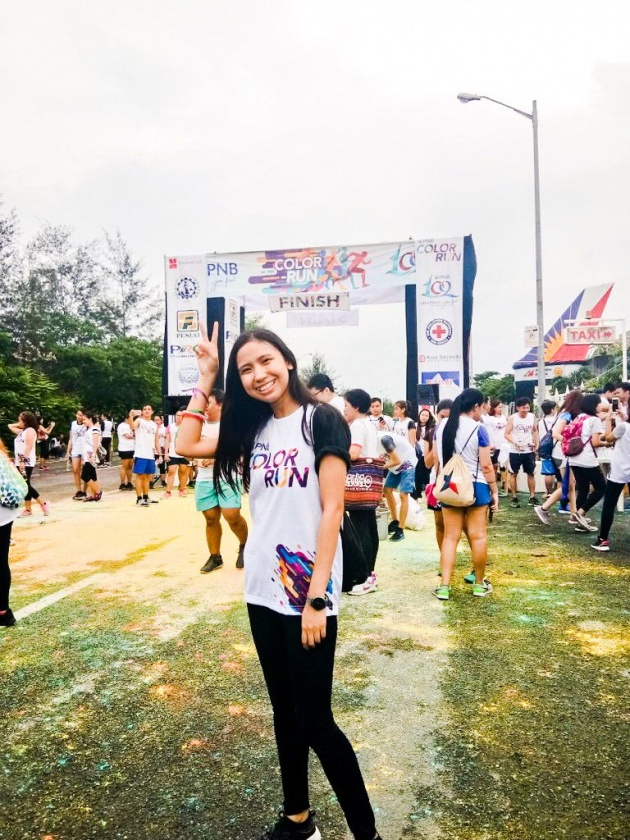 Photo credits: Yannn via bitlanders.com
After the photo shoot, there was an awarding after the Zumba. I and Judea are thinking where to eat, Ma'am Ihna and Ma'am Marge was lost in our sight. So we decided to take a cab and go to the Mall of Asia instead. Unfortunately, all cabs are occupied due to several employees who also decided to go to Mall of Asia to have their breakfast. Having no choice, we started to walk and at the same time look side by side for some restaurants that we can eat too. But as we walk, a car stopped in front of us. Surprisingly it was Ma'am Ihna and Ma'am Marge. Thank God!! We felt so lost, tired and hungry. They really saved the day! So we hopped in and we drive to get to Blue Bay, where there are few restaurants around.
BREAKFAST
8:00 am at Contis Blue Bay

Forever sharing joy through our finest culinary treasures and heartfelt hospitality.
Source: Youtube.com
The original plan was to eat in Dampa since it will serve as a celebration.
Dampa is a wet market full of all living and dead great tasting things from the sea. Stalls at the market are piled high with an abundance of ultra fresh, squirming goodness.

I went to the Macapagal Blvd. Dampa market near the bay which had an impressive amount of restaurants set up right around. Anton from Our Awesome Planet has more information on the "Perfect Dampa."

At Dampa, seafood can be purchased, immediately cooked, and lives can be changed forever.

-Source : migrationology.com
But unfortunately, those people who planned to eat at Dampa wasn't there.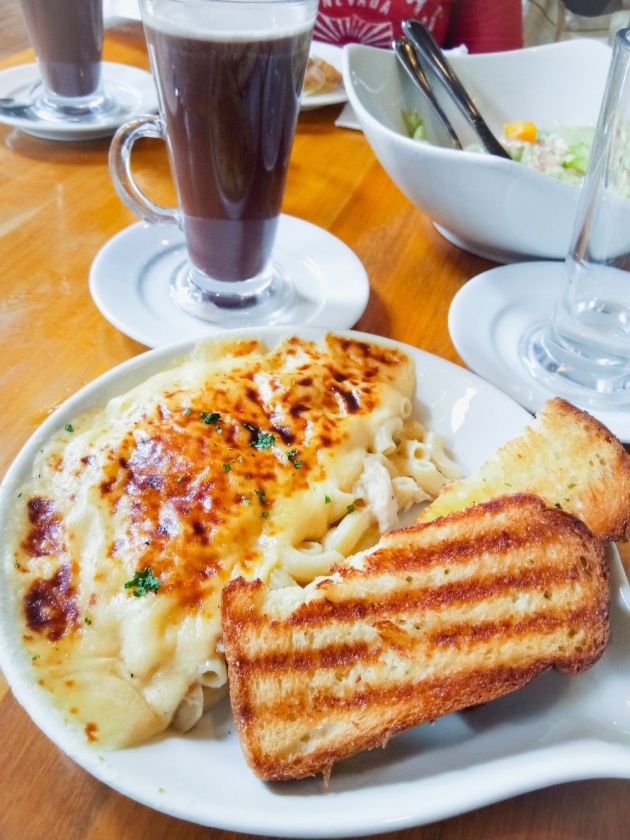 Photo credits: Yannn via bitlanders.com
Contis Bakeshop is greatly known for their mouthwatering pastries, especially their Mango Bravo cake. Yummmm! Gladly, they also have meals and since we're hungry and wanted a heavy meal. I ordered a pasta named Cheesy Baked Macaroni together with a Hot chocolate. Ahhhh it's nice to sip a hot chocolate in such a rainy weather.
We also had a Mango salad ordered by Ma'am Marge, good thing it was for sharing and the servings is huge for one person. It was a delicious appetizer and a healthy way to start our heavy meal breakfast.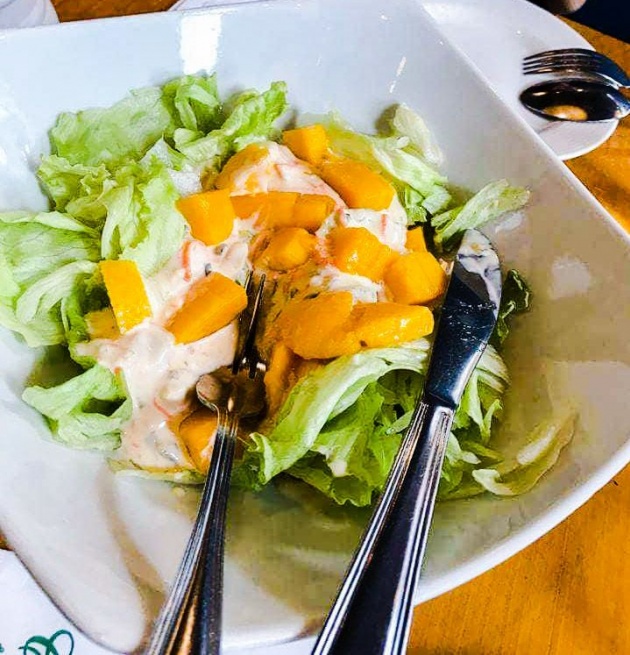 Photo credits: Yannn via bitlanders.com
As we finished eating our food, we stayed for a while and have a chitchat. Got to know Ma'am Marge and can I say that they have a crazy and funny friendship? We literally lost count how many times we burst into laughter because of their love-hate relationship. Hahahaha!!! We leave the restaurant at 10:30 am just in time when the strong and windy rain stop. They asked us if we want to grab a milk tea, specifically COCO. And with no further ado, we agreed. We billed out and headed towards SMX Convention where COCO is located. Sadly the store was only open every time there is an event at the convention. But luckily, there was an event yesterday. But another sad news welcomed us, the store is only opened from 12 nn onwards. And it was just 10:30 am at that time. They asked us if we want to stay and wait but we refused because I and Judea still have an errand to attend to. We finally said goodbye and departed our own ways.
So I and Judea decided to look for Travel and Tours Agency nearby, we've been planning to go to Hongkong by the 4th quarter of the year. But before that, she requested for us to grab some coffee because she's kinda sleepy.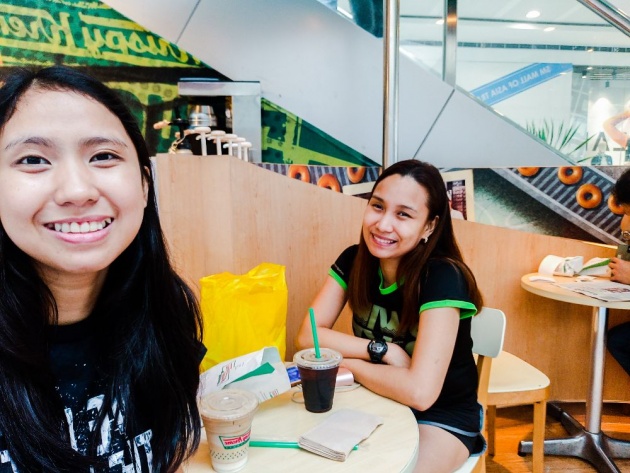 Photo credits: Yannn via bitlanders.com
So we dropped by at Krispy Kreme to get some coffee. We settled for a while and search online if there were a near Travel and Tours Agency. As we sipped our coffee, we found a Travel and Tours agency nearby and we immediately grabbed our things to Inquire. We arrived at the location and asked them for a quotation for our desired trip and activities. We got our quotation but it was a little bit expensive compared to other quotations we have in other agency. But we still put the quotation in consideration.
I don't know what got in our minds that we decided to go to Tutuban after we stroll in Mall of Asia. Well actually, our main goal is to go to the office of one Travel and Tours Agency we saw online, they got a cheap package deal which is so good to be true. So we travel from Mall of Asia to Manila.
3:30 pm
We arrived in Tutuban center, there wasn't anyone whose aware the said agency. We searched for it in google because it was stated on their Facebook that their office was near Tutuban Mall. But as we checked in google, it was near Tayuman. It's like 15 minutes away from our current spot. And it's raining hard outside, so we just decided to stay at the mall and eat our lunch first. We're exploring the place to look for a fast food or decent food to eat too. And as we walk around the mall I saw a familiar Star. I told Judea, I think I saw Dakasi Milktea shop. But I was not sure yet, so as we drawn closer, we confirmed that it was Dakasi. Yaaaaay!!! We both got excited but we've been reminded that we need to eat a heavy meal for lunch. And the only fast food chain besides dakasi is Jollibee.
LUNCH

Photo credits: Yannn via bitlanders.com
We ordered a Burger steak rice meal at Jollibee to satisfy our hunger. We didn't order anything else because we're reserving our stomach for Dakasi. Hehehe. We finished our lunch, sit and rest for a while and then headed to the next store. Hooray!
MERIENDA
Merienda is a Spanish term adapted by Filipinos that serves as an Afternoon snack. It was usually eaten during 3-5pm.
With all excitement and cravings, we headed to Dakasi and stayed there for a couple of hours. We ordered beefy chinito nachos for our snack and a drink for ourselves. I ordered Strawberry Milkshake because I am prohibited of milk tea until August. Hihi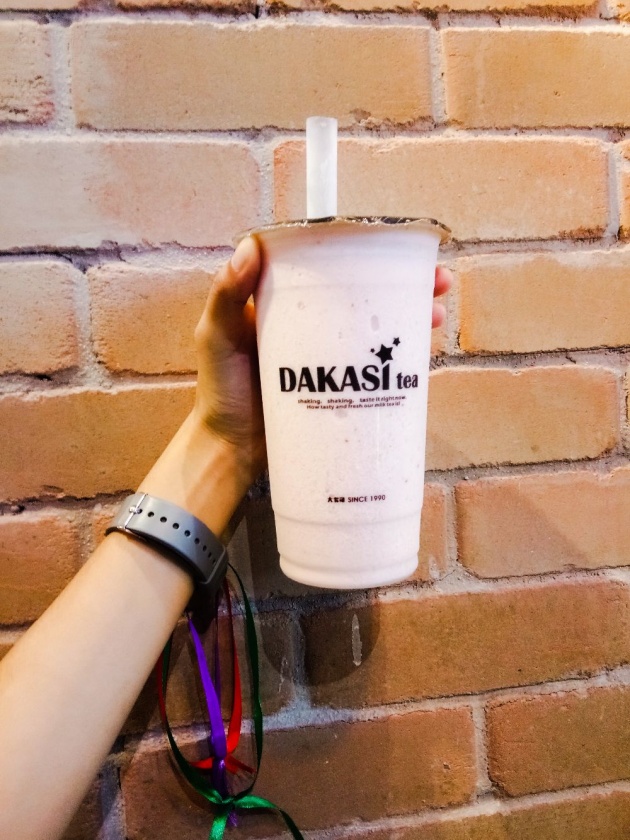 Photo credits: Yannn via bitlanders.com
It was actually my first time to try their Strawberry Milkshake but the barista said it was one of their best sellers among their smoothies. And as usual, Dakasi never failed me. It tastes great! The fresh scent and taste of strawberry and milk in one drink. Ahhhhhhh I love it so much. On the other hand, Judea had a hard time choosing her drink since it's her first time. But the barista once again suggested Roasted Okinawa with Coconut jelly and can you believe that it's amazing as well? And she said that it's already her favorite in the shop.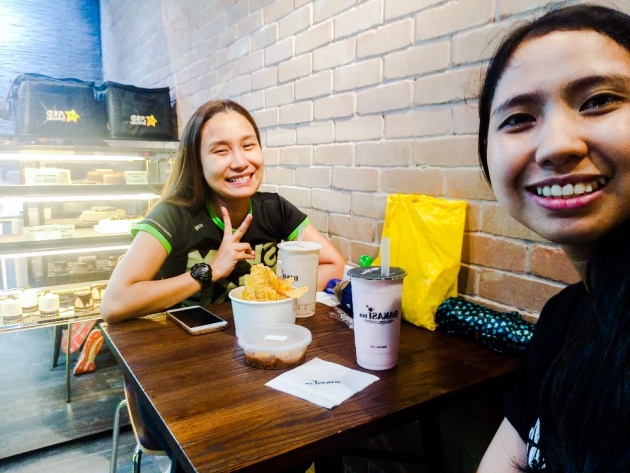 We searched and planned there from 4 pm to 7:30 pm. We actually lost track of the time because we've been so desperate to find a flight or package for our trip. By 7:30 pm we decided to go home already, it's kinda late and we still need to travel. Especially me who lives near in the south.
We departed and go in our ways. It was such a tiring but super fun and satisfying day for both of us. It's an unexpected adventure for the both of us. Good thing we still have a day to rest before works resume.
Another thing, I wanted to thank God because of the weather. I know it's stormy but the moment we went outside to travel or walk the rain stop and only resumes when we enter a specific indoor place.
Thank you for reading everyone! For the meantime here's a short querlo chat for you. Have a great day!!!!
For more of my blogs you can read it all here: