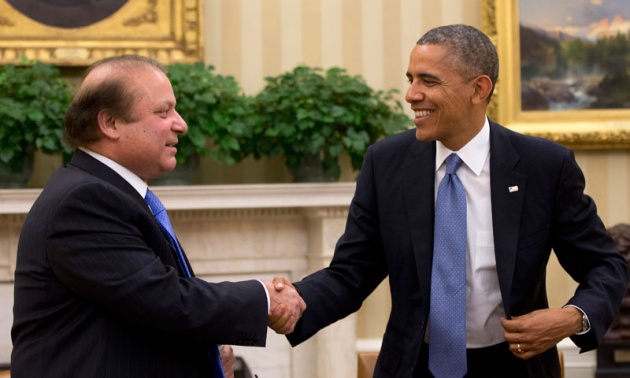 President Barack Obama on Tuesday night telephoned Pakistan's prime minister-elect Nawaz Sharif and felicitated him on his recent victory in the landmark polls, first in country's 66 years history that would lead to the country's first civilian to-civilian government hand over.
President Obama expressed his desire to meet Sharif soon while conveying his best wishes on behalf of the people of the United States. Praising incoming Prime Minister of Pakistan for his courage to run election campaign in adverse circumstances, President Obama said "America respects the mandate he has been given by the people of Pakistan." "I have heard great things about you- and I wish that we get to meet soon," President Obama added.
Sharif, who had elected twice as Prime Minister during 1990-99 is considered a pragmatist in the west despite his opposing stance on US war on Al-Qaeda and CIA operated drone strikes in Pakistan's tribal region targeting the Taliban extremists. He repeatedly called for peace talks with Pakistani Taliban.
Known as devout Muslim, patriot and steadfast nationalist, Nawaz never unfolded his agenda how he will confront the Taliban and Al-Qaeda, whose violent actions have killed thousands of Pakistanis in the past few years. Pakistan's two neighbors India and Afghanistan and the United states will be watching to see how he tackles Islamist militants as western forces prepare to leave Afghanistan in 2014.
Sharif seen by many as good administrator has little charisma as leader had developed huge infrastructure and launched several employment- generation schemes during his time in office in 1990s.
The country's business community seems to be quite contented over his economic liberalization plan. The stock exchange of country's industrial hub Karachi hit an all-time high on Monday after Sharif's strong victory in the May 11 elections, which revived hopes that pro-business agenda of Nawaz Sharif, who himself is business tycoon, could spark and economic revival
Sharif's second term in power was cut short by General Pervaiz Mushrraf's bloodless military coup in 1999. Sharif and Mushrraf developed differences over former's push for peace with India and General's Kargil misadventure that had brought two nuclear capable neighbors close to full-fledged war.
Sharif after military coup was arrested and banished to Saudi Arabia where he spent seven years before returning to Pakistan in 2007.Now in astounding turn of history Sharif's once powerful adversary (Mushrraf) is under arrest and facing trial on host of charges including treason and murder