And because Palawan once again had been named by Conde Nast Traveler as the world's best island for second straight year garnering 85.937 points and it has bested 19 other world-famous islands, including Bora Bora (84.756) and Moorea (84.656) in French Polynesia, I have to post my husband and I's seventh anniversary celebration in the best island of the world, none other than Palawan.

Palawan has been our top destination ever since and we had been longing to visit the Island years ago and finally, we made it as a treat for our 7th anniversary being together and a wedding gift at the same time.

Let me take you to the wonderful and ever beautiful island of Palawan. Our trip has been planned for more than a month, I was assigned to do the itinerary. At first i thought it would be good to ask help from a travel agency but because their prices are too high, I decided to do a DIY tour which was way way lower in cost and that we can get to do more and explore more.

Our vacation started by the time we boarded on the plane which took us to Puerto Princesa. On our first day, we did the city tour. Checking on our itinerary, we had set 400 pesos budget per person but we got a good deal with a tricycle driver offering us 600 pesos for the city tour. Of course we then took it since it will save us with the time in terms of moving from one place to another.

First stop: Puerto Princesa Cathedral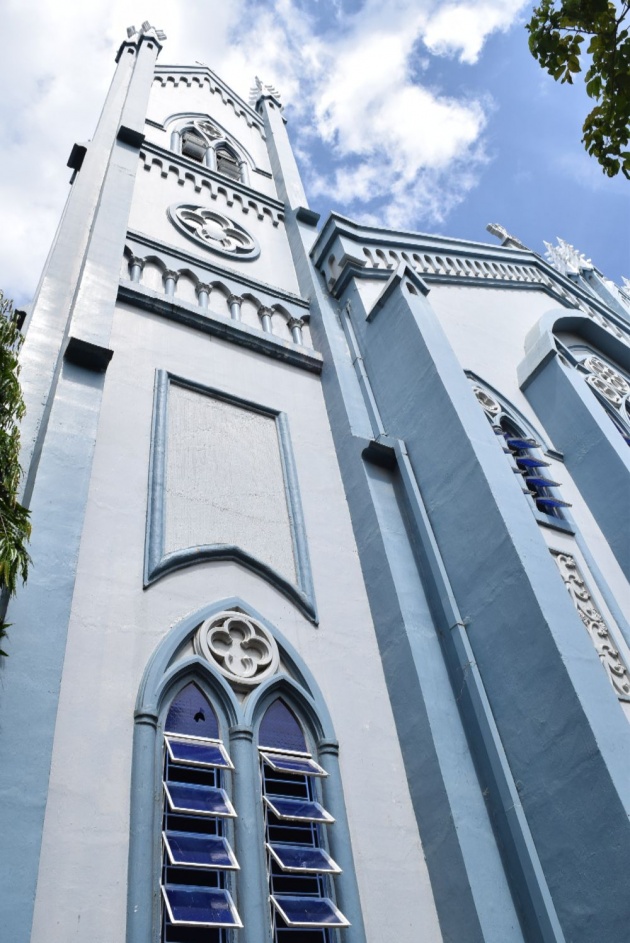 Here's a view from the church doors, the cathedral is colored skyblue which looked like it has been recently painted. Unlike the common churches which can be found in the Philippines where churches are made of limestones, the Puerto Princesa cathedral look like a modern church. Built and finished with glass windows.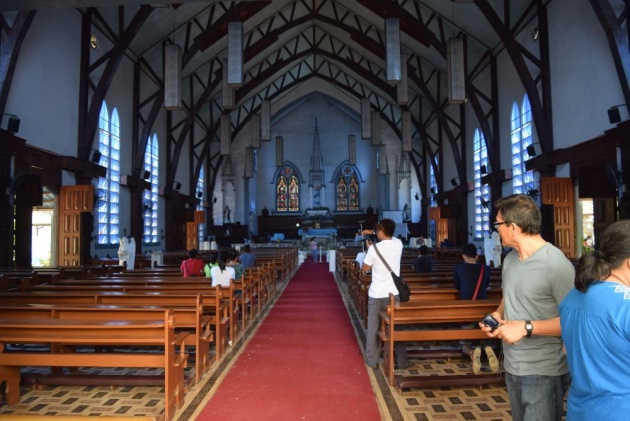 It was a Saturday and so there were only a few people around the area. There were few vendors around selling necklaces, souvenirs and other stuff which were a bit pricey actually. We only took a few shots in there and we went straight to the second stop.
Most of the people inside are visitors actually. Those who are seen kneeling are obviously there to pray. Check the video below:
Second stop: Plaza Cuartel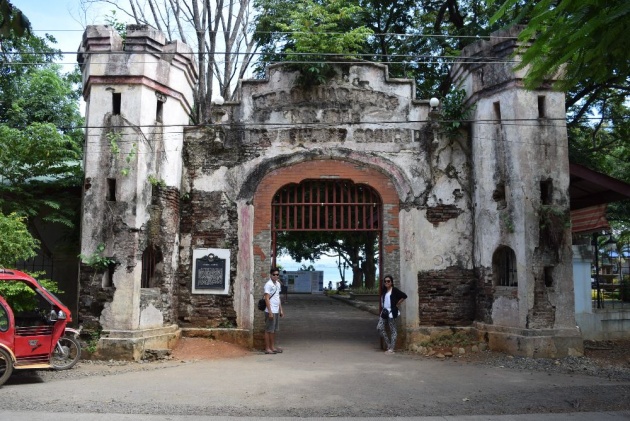 This is where hundreds of American soldiers were burnt to death by the Japanese. Because of the incident, the people of
Puerto Princesa
had built a sign monument. This signifies the heroism of the soldiers who gave their lives.
There are lots of trees and flowers too inside the Plaza Cuartel and you'll get a good glimpse of the sea view as the plaza was situated in an overlooking area.
This one below is the symbol of heroism: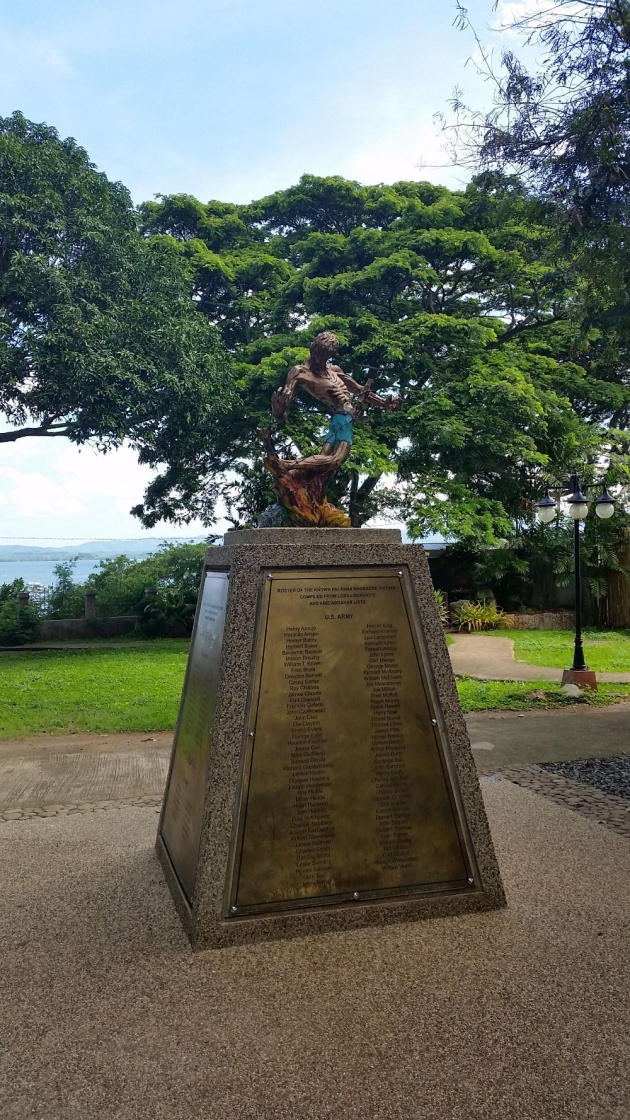 It's more than a mere plaza, it is place of brotherhood, heroism may have taken their lives but their bravery will remain. The historical importance of this area is something which we had never heard of before. It was a place of death for those 143 American prisoners.
However, at this point, the cuartel has become a standby place too where the locals enjoy a stroll in the afternoon or a quick picnic before church.

Third stop: Baywalk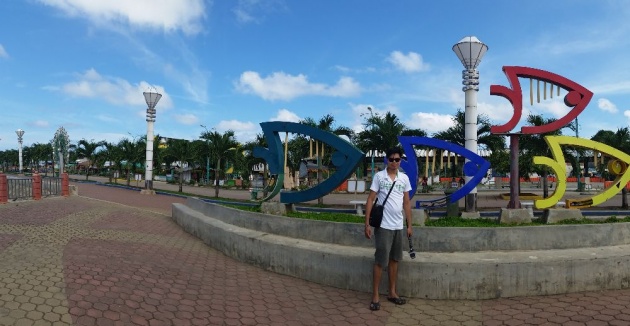 It was around two in the afternoon when we arrived there but even though the sun was shining, we still had appreciated the beauty of this place. It reminds us of the Naga City in Cebu's Baywalk area too except that this is lot bigger and the roads are longer.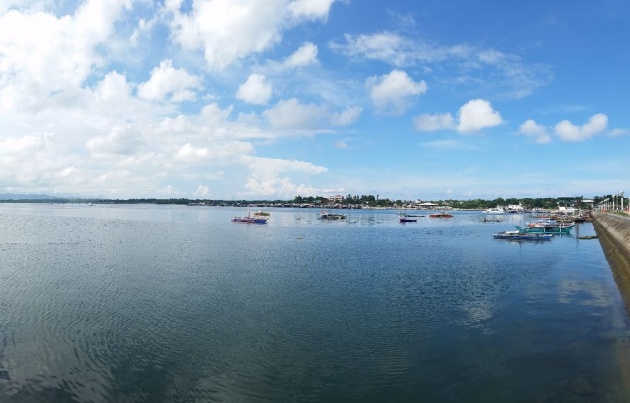 Here's a view of the still sea waters at the baywalk with the boats floating very harmoniously with the blue skies with big fluffy clouds above. We also learned that the island is rarely visited by storms so they have nice weather all year long.
So they are experiencing good weather the whole year round. There's no wonder why they have beautiful beaches.

Sometimes, my husband and i want to be Naruto so we can be multiplied twice or more and be able to get a photo like above and below.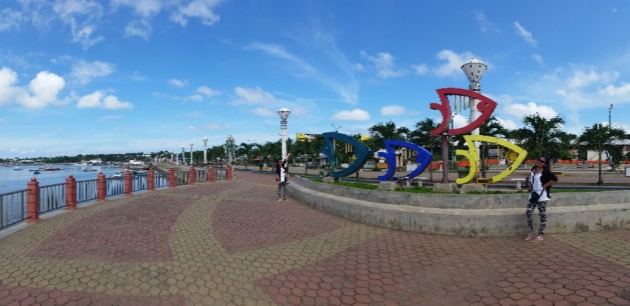 That's me right there. It looks like we own the place and I had made a duplicate of myself in this photograph. The power of panorama photography indeed.
I like the fact that their tourist spots are maintained and are cleaned by the locals themselves. I have seen residents in the area cleaning as well.

Fourth stop: Crocodile Farm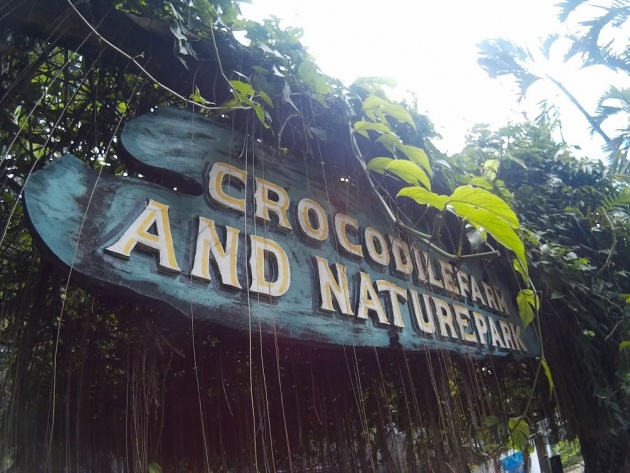 Although we aren't that excited to go over to another crocodile farm since we had gone to a lot of crocodile farms in Cebu, we thought we should just give it a shot.
Crocodile farms are now really a thing and that most of cities in the Philippines are saving crocodiles. I wonder if that is for their skin.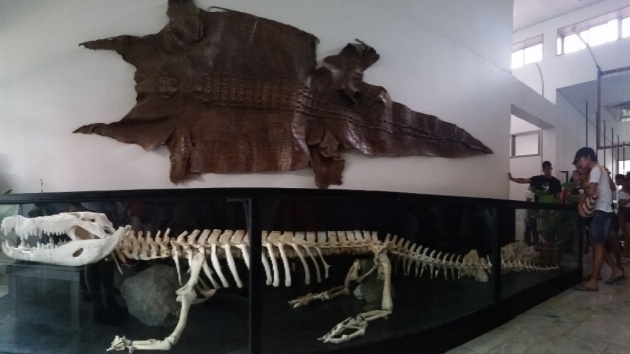 Here's what welcomed us, Rio's skeleton which was captured as it had been thought of eating a farmer. Now Rio died because of stress. Now that made us realize that stress is really a dangerous so we better become vigilant with that. Always ensure that you'll get some time to rest and be merry as well to get rid of stress. We might end up dead like Rio. That's hilarious but seriously, that's true.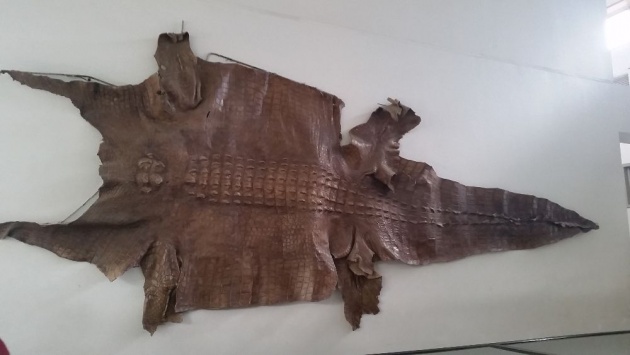 Here's Rio's skin which was not anymore useful as per the tourist guide because it is too thick to be turned into a bag, unfortunately. But then it is still good because we got to see how its skin looked like and it is just good become a wall decoration like what it is right now. It was definitely very huge.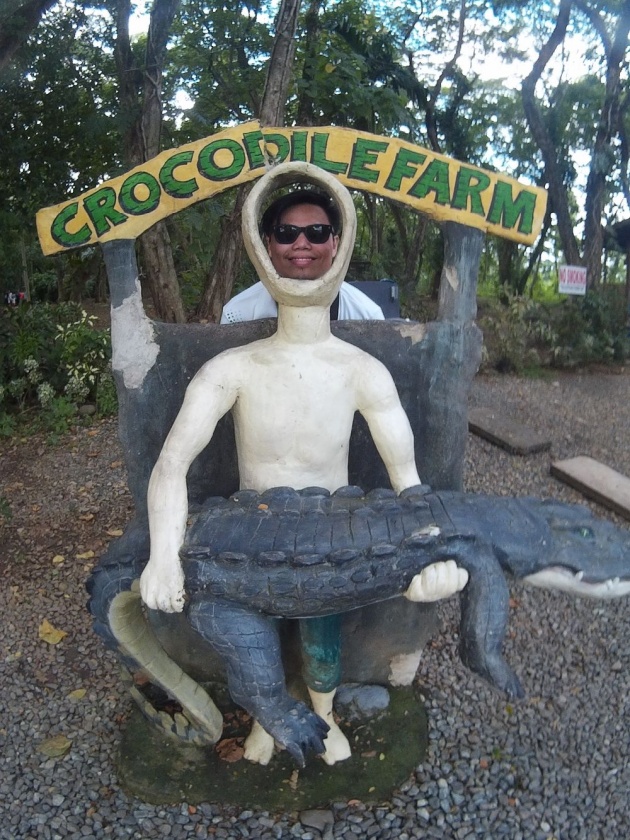 My husband trying to be cute with the statue.
Aside from that, we also had a glimpse of nature while in their nature park. It's cool that they are giving excitement to the visitors because of the routes over to other wild animals. Here's one spot where there were no other guests but us.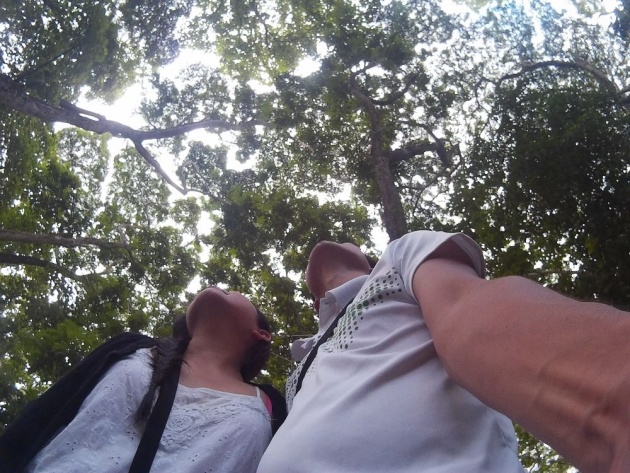 Feeling the beauty of nature around us. We could have captured nice sunrays but then it was a bit gloomy in this spot. Anyway it is still good though.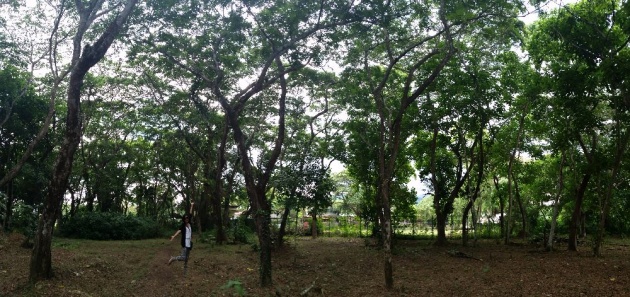 I feel like a tiny creature in the midst of the trees here in this area. It was fun to see just trees around us. The crocodile area was a bit far from this part here.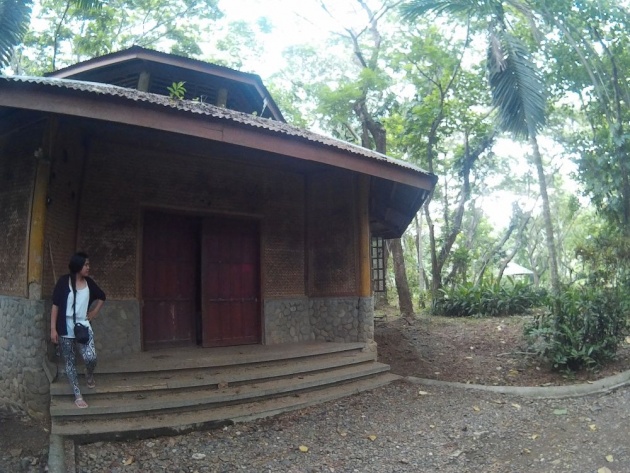 We found an empty house along our way to the house of some snake. The house looks haunted but I posed anyway.
Aside from being a crocodile farm, it has also become a place for souvenirs and other cute stuffs to be given to the families and relatives left at home. Here are some of the souvenirs which can be found at the crocodile farm: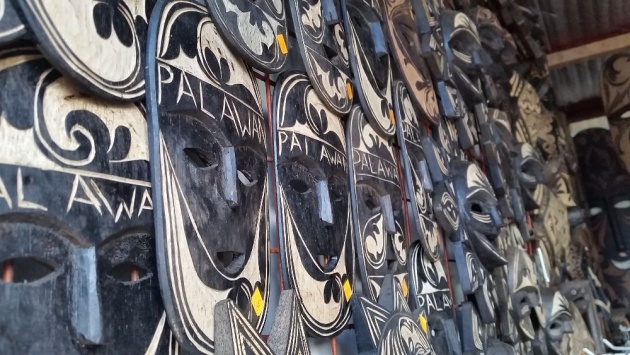 Palawan crafted masks. These can be used as wall decorations. It reminds me some colleague who had been collecting mask for her wall decorations. We had also gone to one restaurant in Ubay Bohol which has masks which were a bit scary as wall decorations too. These ones here are simple ones only. I forgot to ask the price.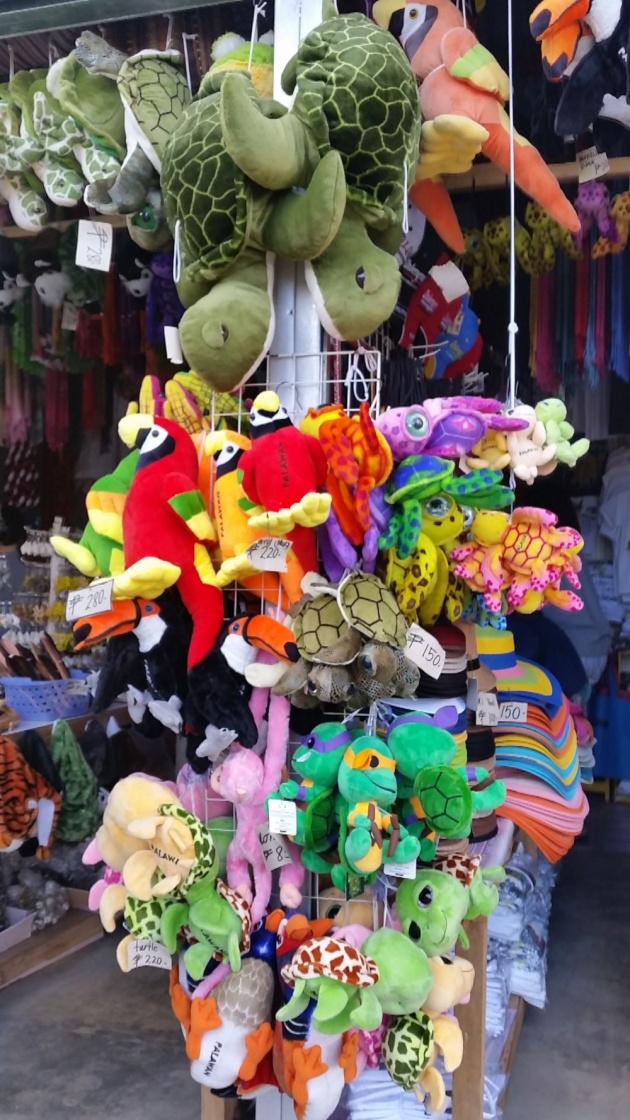 Stuff toys for the kids and young at heart. There were lots of turtles, crocodiles, birds and lot more. They were a bit pricey though and we didn't buy anything from this shop.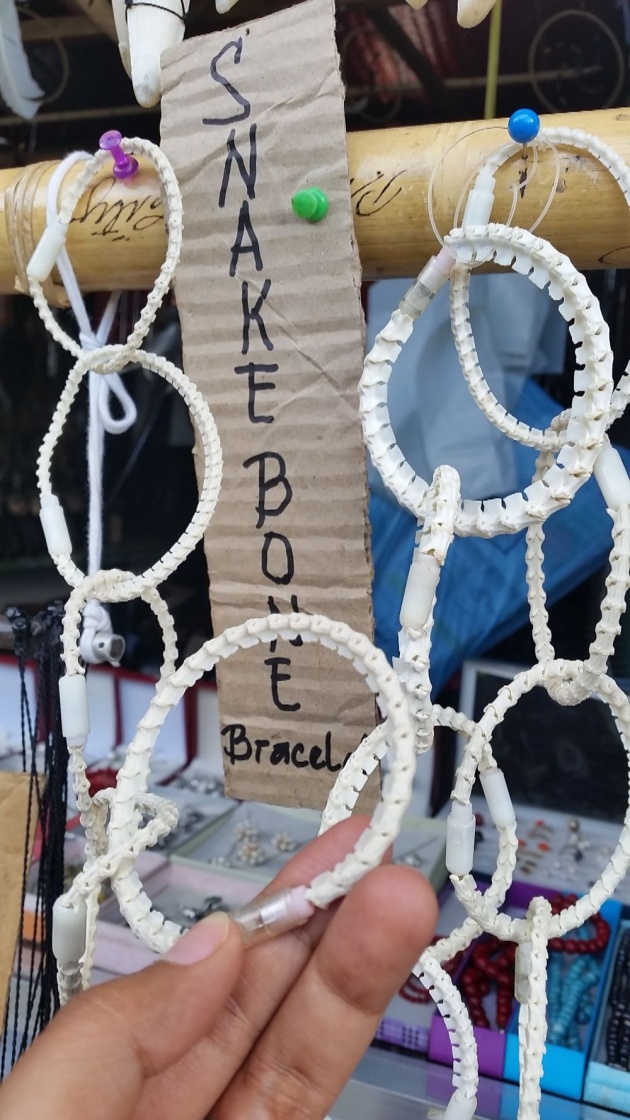 This one up here is a interesting because these bracelets are made from snake bones. Isn't that amazing? My husband and I were thinking that these ones will break easily when worn. But the vendor said it is sturdy enough and would only break if it will be pulled hardly of different directions.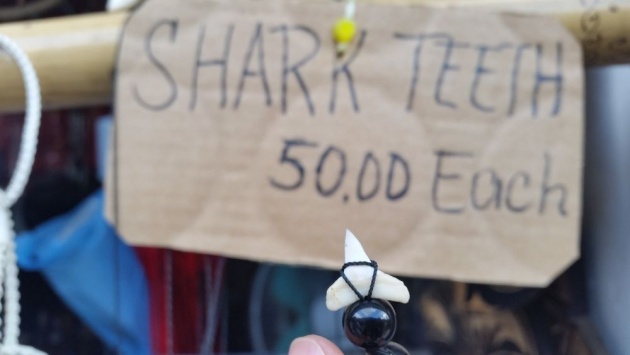 Now this one up here had definitely made us curious. The shark teeth were sold for 50 pesos each. One had been created as a necklace pendant or bracelet's pendant. We were both curious how they got the teeth. Anyways, there was no one around the shop so we ended leaving the questions right there.

Fifth stop: Palawan Butterfly Ecological Garden and Tribal Village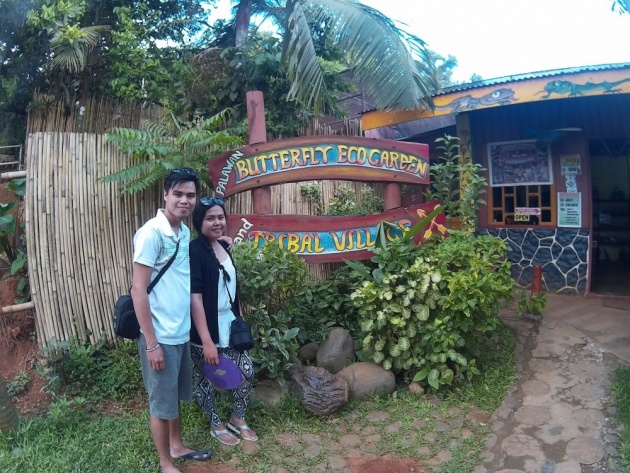 We were both very grateful for our driver and tour guide who offered to take our photos.
It was amazing to see a specific tribe in Puerto Princesa which has been kept and preserved. The Tagbanua Tribe who are the natives of Palawan had showed us how they survived in life. They only are in need of food and shelter and that's it, they are together as a family.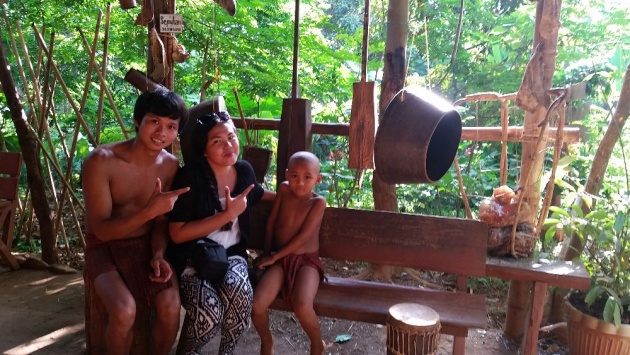 Here are some of the natives, on the other side of the long chair are their musical instruments such as the drums and some kinds of rocks which they had used for healing purposes. I am not sure if they can speak Tagalog or other languages but they were able to understand us when we ask to take photos or maybe they were just really used to it since lot of tourists are coming in everyday.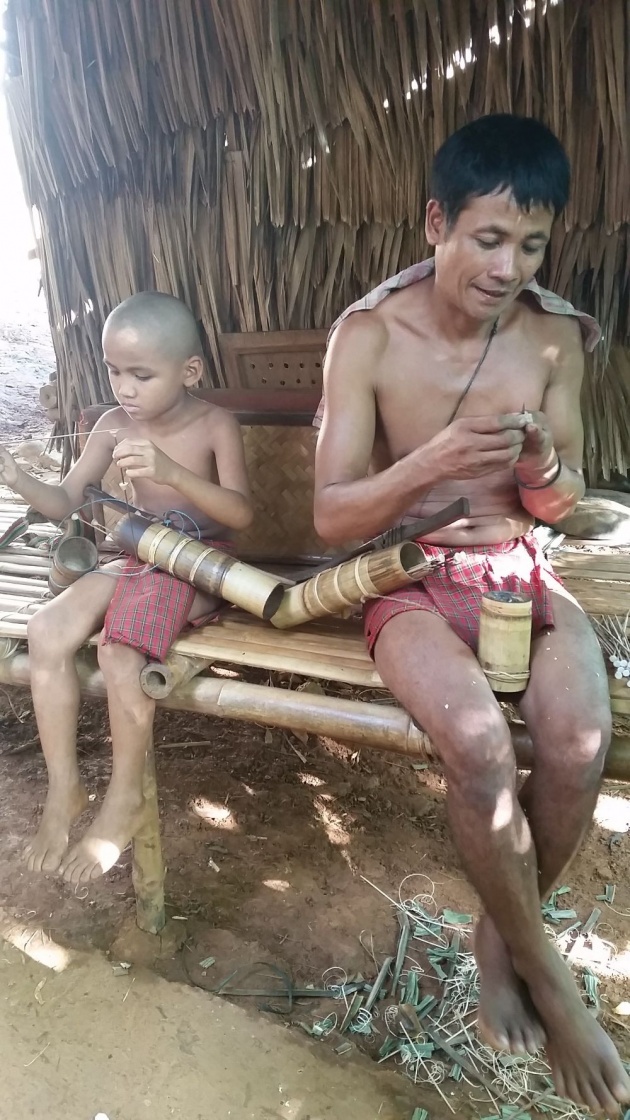 Here's one of the adult natives who was making a material they use to hunt animals. It is like a piece of arrow but it is a simplier version and that their bow is something which is only made of bamboo pole and of which they just blow the arrow towards the animal they are hunting. It was amazing to see how they do it and they can hit an animal from very far.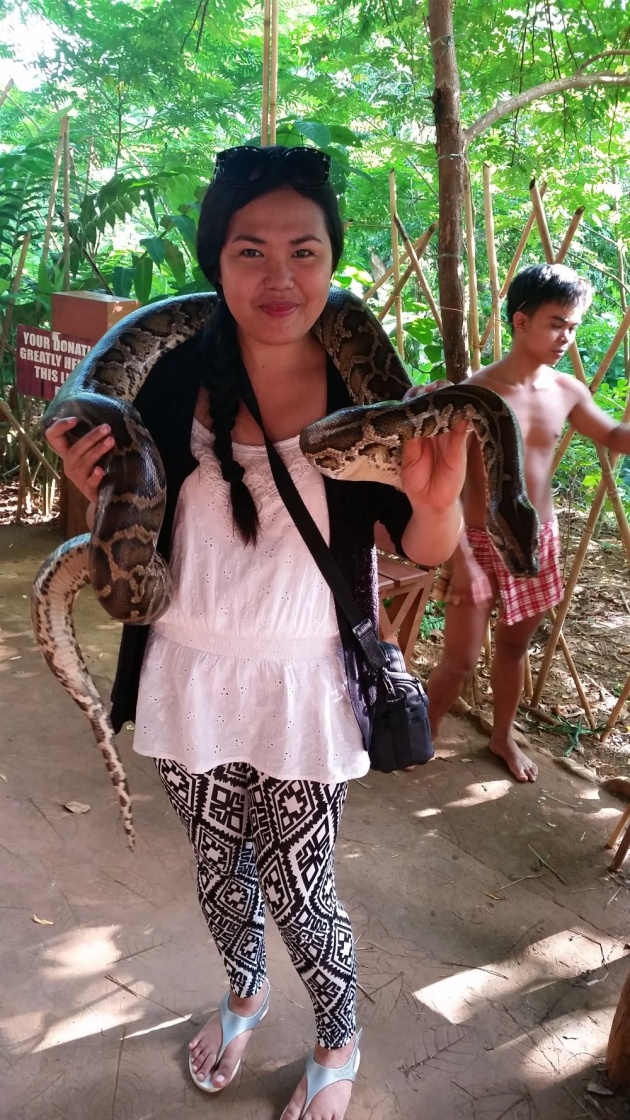 Now here's their pet which they refer to as worm. All of the visitors were thinking we will be seeing huge worms because the container or the cage which they try to take the pet from was a bit huge. But then when they were taken out from their cabins, they were actually snakes. Am I looking great with the huge snake on my back? I was just actually just holding it but the truth is I was already afraid of it. My husband didn't try though.
The snake was really heavy.
Here are some videos of the native Tagbanua Tribe: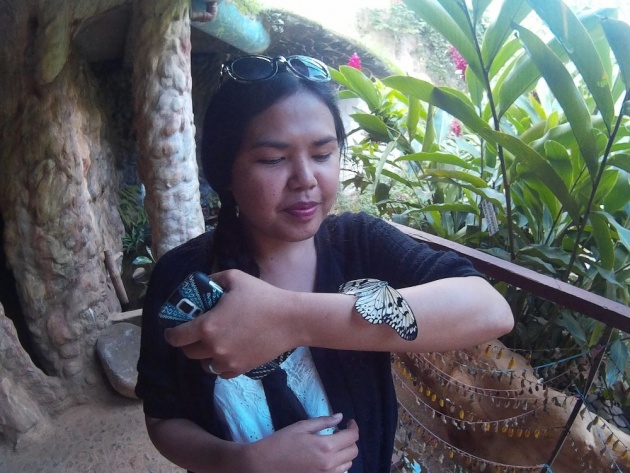 Plus we got to experience a paradise of butterflies. Here I was letting the newly hatched butterfly dry in my arm. The butterfly had just came out from the cocoon. I learned that they are still wet after hatching so they can't fly yet. The cocoons were filed up behind me.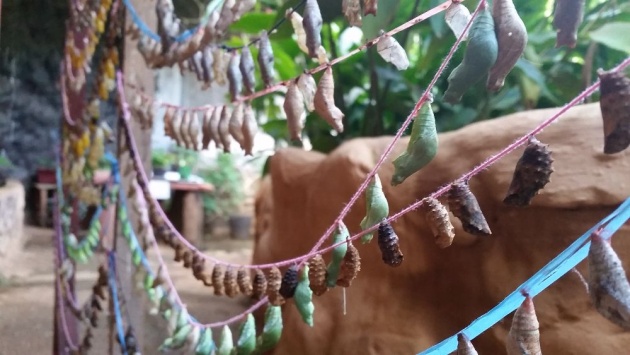 These are the cocoons which are displayed for viewing purposes of the visitors. The workers here would search the entire garden for cocoons and transfer it here where they will hatch and become a beautiful butterfly.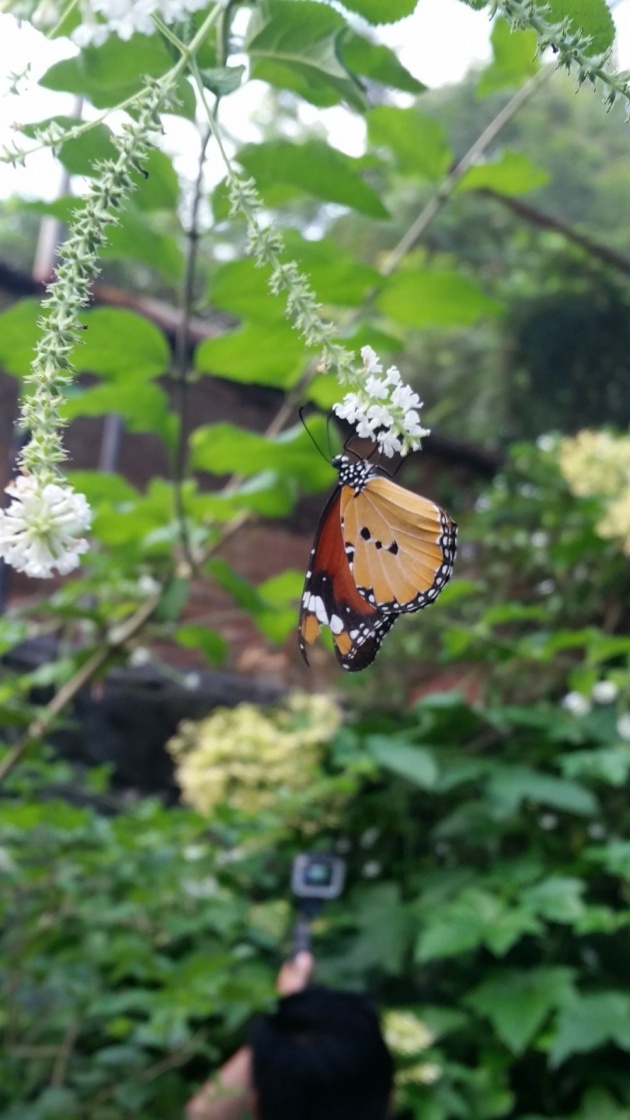 I captured one butterfly which had rested in one of the branches. Can you see my husband at a distance trying to film another butterfly?

Sixth stop: Balay Mitra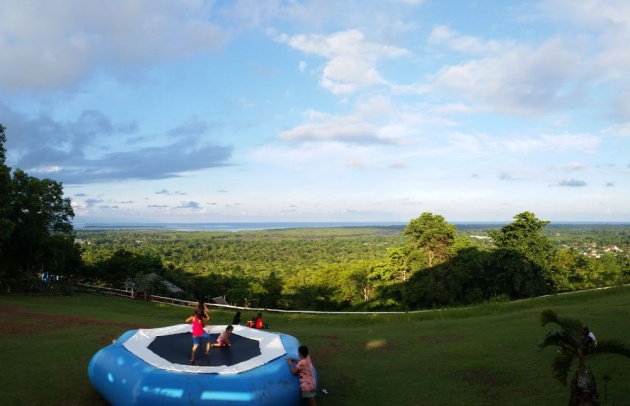 Here's a ranch of the late Senator and Speaker of the House, Ramon Mitra. We were both in awe with the beauty that this ranch has offered. There were certain activities to be done like trampolines, zip line and horse back riding. There were lots of cows, horses and game cocks too! My husband as a gamefowl enthusiast was already satisfied with seeing the Mitra Palawin breeds.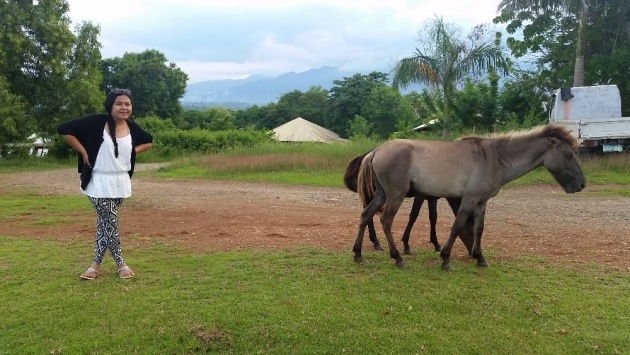 Some young horses around the mitra house. I was too scared to get near them so I just stayed a distance. I like the backdrop of a mountain covered with clouds.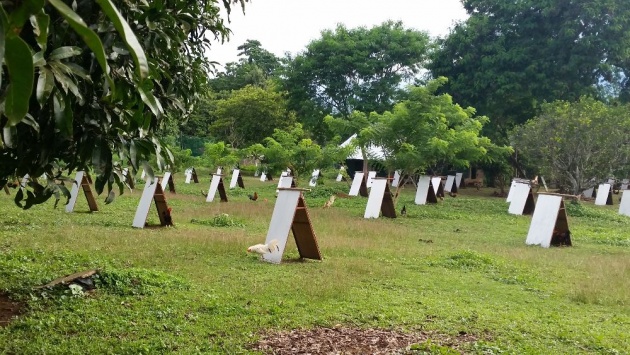 Here's a glimpse of the Mitra's Palawin gamefarm. My husband was really happy to get to see it even from a far. We had talked to one of their care takers and said they are selling them at a good price.

Seventh stop: Baker's Hill

We though we were in a different world. We were like Alice in wonderland as we got to find a lot of flowers and trees which are really rare to see. The name speaks of itself as a place for bakers but then again, it is more of a bakers' place, it also has gardens, mini park and farm. We saw lots of peacocks over there and even had captured the statues of Shrek, Captain Hook and lot more.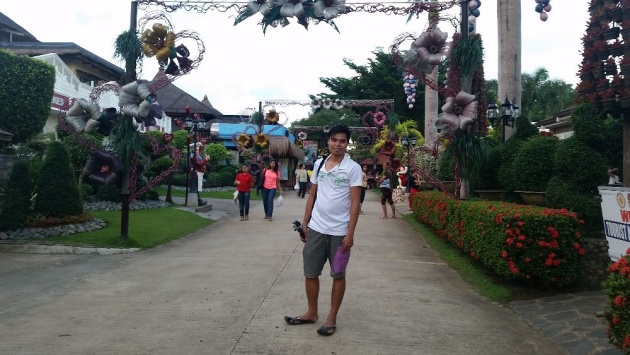 Here's the entrance part where they made some banners from indigenous materials. They look great actually.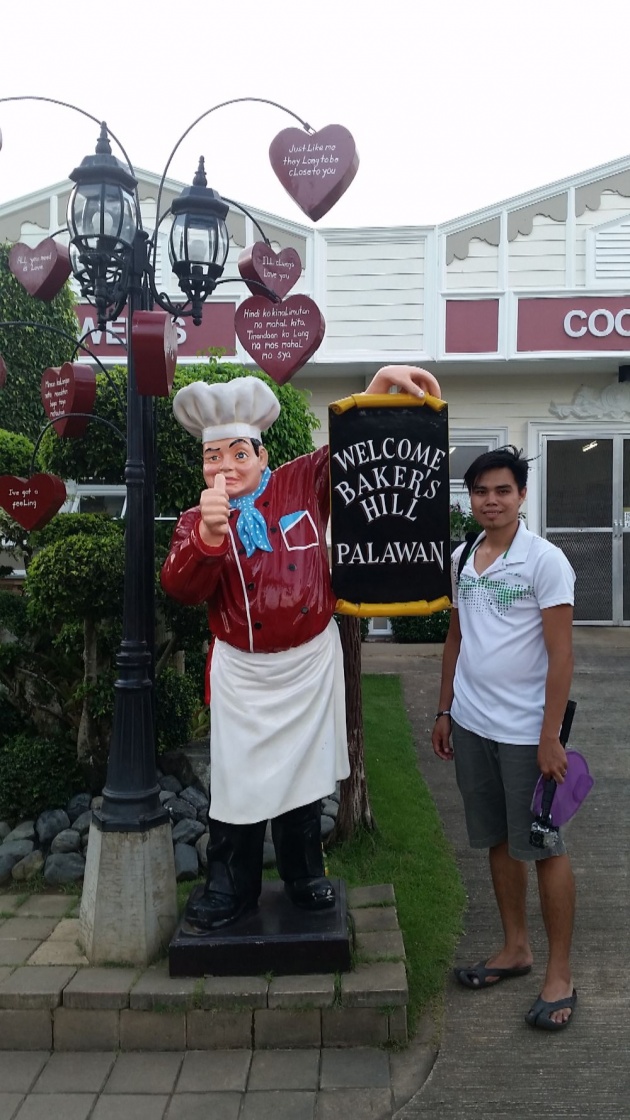 The husband with Mr. Chef Baker. This guy has been present in every shop or restaurant within the Baker's Hill area.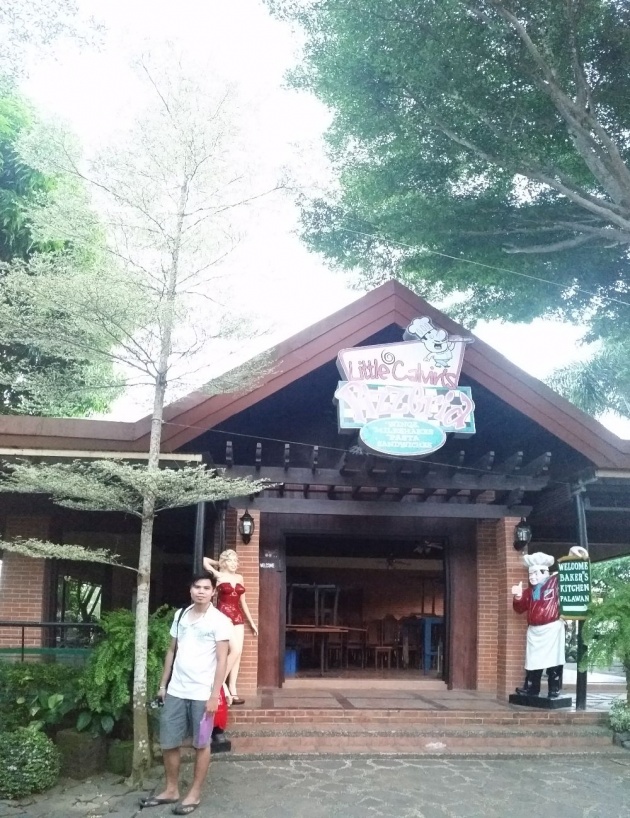 Here's a pizza parlor named Little Calvin's Pizzeria. In every kitchen or restaurant stands their Marilyn Monroe and the famous chef.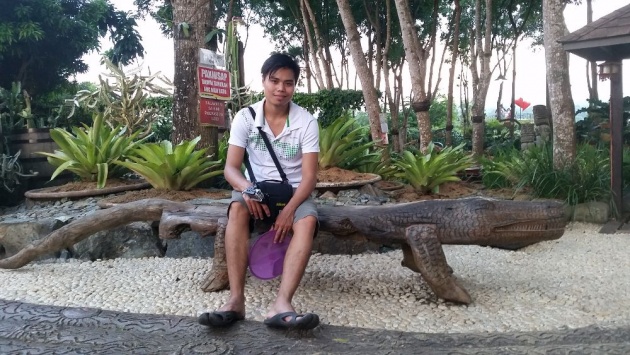 A crocodile used for sitting.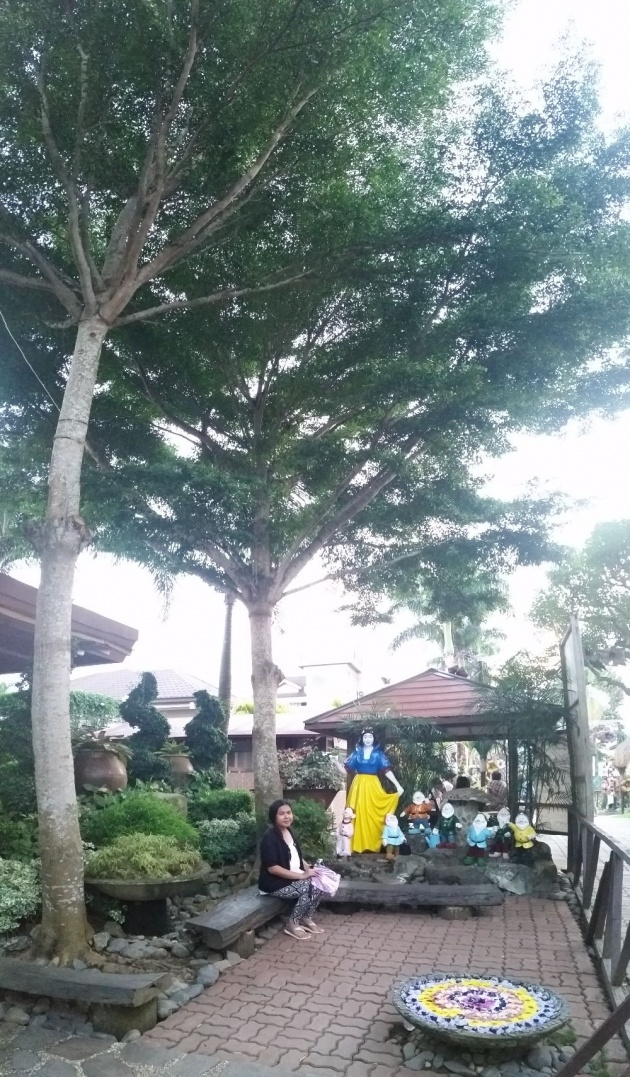 I tried to be still while in the presence of the seven dwarfs and Snow White.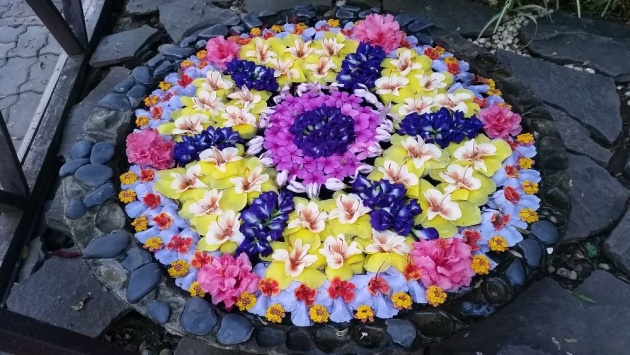 A close up of the Baker's Hill's flower pan. These flowers are taken from the garden which are planted around the place. These pans can be seen from their rest room area as well as some restaurants. So beautiful.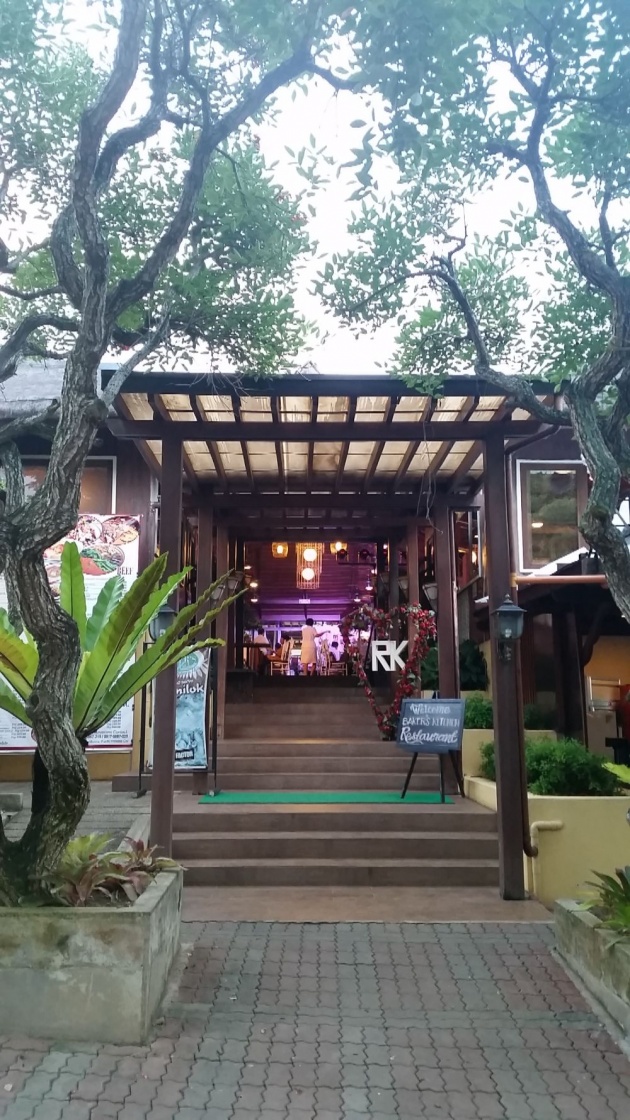 One of my favorite spots. We witnessed a wedding taking place inside while we were roaming around. That is really nice and the couple's initials are placed inside the heart shaped flower bow. It is printed as RK. Could they be named Richard and Kris?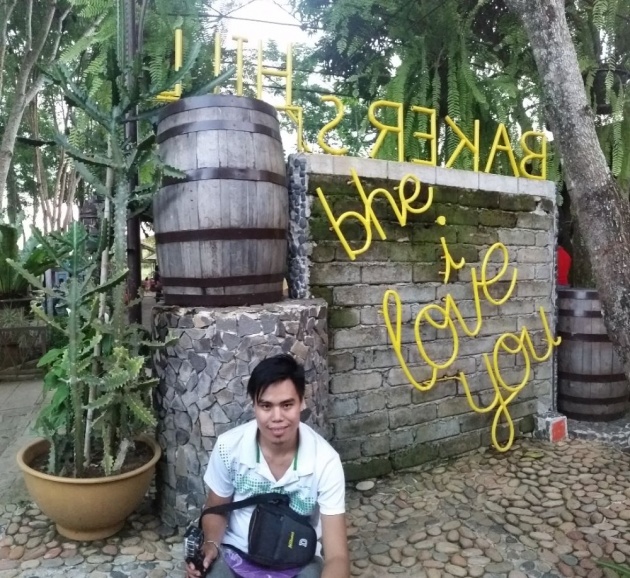 Yup they do have some sweet spots too! This one says bhe, i love you.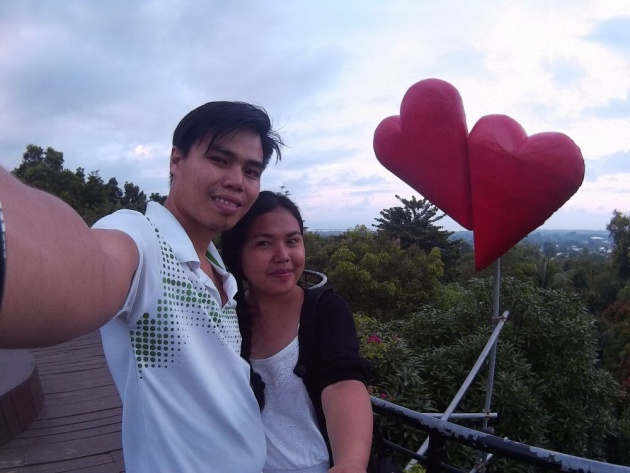 You'll definitely take a selfie with your loved one when you visit this point here since they made two combined hearts .
There were more to see but we only had limited time to dwell on a certain place. However we had a chance to go back to Bakers' Hill and Mitra House before going back to Cebu. We definitely had a great time. After the city tour, we went straight to the bus terminal going to El Nido which was around six hours land trip.

The second part of this blog will showcase the beautiful El Nido. Here's a preview:
Stay tuned.
Check out some of our adventures together: