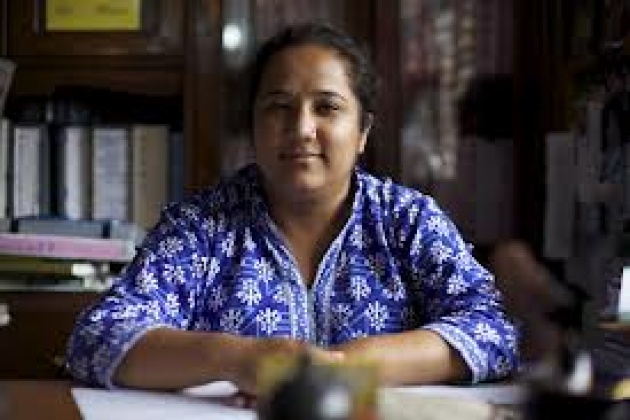 Last night CNN broadcasted "2012 CNN Hero of the Year", a television event set to give awards and monetary rewards to 10 people from all over the world who - during the past 12 months - have distinguished themselves for improving the lives of others. These individuals were introduced throughout the event, with detailed descriptions not only of what they do, but also how the were inspired to do it, and all received $50,000 as a support to continue their projects.
As for CNN, in 2004 Malya Villard-Appolon co-founded KOFAVIV, an organization that has supported - psychologically as well as legally - thousands of rape survivors in Haiti. She was a victim of rape herself. After his daughter was killed by a drunken driver 5 years ago, Leo McCarthy, Montana, created Mariah's Challenge, a nonprofit that gives college scholarships to teenagers who pledge not to drink while they're underage. Since 2007, Scott Strode's his nonprofit, Phoenix Multisport, has provided free athletic activities and support to thousands of participants in Colorado. Scott was a victim of addiction to drugs and alcohol himself. During the past 10 years, Catalina Escobar's foundation has counseled, educated and professionally trained more than 2,000 teenage mothers in Columbia. After her son drowned six years ago, Wanda Butts has implemented the Josh Project, a nonprofit organization in Ohio that is teaching children -- most of whom minorities -- how to swim. In 2010, Mary Cortani, a former Army dog trainer, started in California a nonprofit - Operation Freedom Paws - that helps war veterans with post-traumatic stress disorders train their own service dogs. Thulani Madondo's Kliptown Youth Program provides school uniforms, tutoring, meals and activities to 400 children in a South African community. Since 2006, Connie Siskowski's organization has been helping hundreds of people in the need to take care of an ill, disabled or aging family member in Palm Beach County, Florida.
A few years ago, Pushpa Basnet suddenly realized that many children in Nepal were forced to to live in prisons with their incarcerated parents. In 2005, she founded a children's center that provides support, housing, education and medical care to more than 140 children of parents who are in jail. Last night she was awarded the top price of 2012 CNN Hero of the Year, receiving an additional 250,000 to continue doing her work.
Among the top-10 CNN Heroes of the year, Razia Jan is fighting to educate girls in rural Afghanistan, where radical groups constantly threaten and attack females going to school. The organization she created - the Zabuli Education Center - is providing a free education to about 350 girls, many of whom wouldn't normally have access to school. Her work is having a huge impact not only on these young Afghan women, but also on the educational system in Afghanistan.
Film Annex is also working to improve education in Afghanistan, by building Internet classroom in 40 schools in Herat, the third largest city in the country. In partnership with the Afghan Citadel Software Company, they are implementing the Afghan Development Project, improving schooling in Afghanistan, and giving over 160,000 children more tools to professionally succeed in their future careers. This will potentially motivate the type of culture change that is needed to improve the economy of Afghanistan, and build strong basis for a more prosperous future once the situation becomes more peaceful and open for business.
Giacomo Cresti
http://www.filmannex.com/webtv/giacomo
follow me @ @giacomocresti76