Welcome to Querlo Tutorials! In this tutorial series, we will show you some basics on how to use Querlo. Today, we'll talk about the chat builder and you'll learn what are the types of node.
Step 1:
The image below is a simple chat and you can see how it is presented in the chat builder.
"Nodes" are the essential parts of a chat on Querlo.
A chat is built up with nodes that are shown as colorful blocks.
Different colors represent different functions:
(Q1): Blue color block is a Text block, and it means the flow proceeds in a straight line.
(Q2): Red color block is a Question, and it means the flow will branch.
(Q3): Green color block is an Answer, and it represents the beginning of a new branch in the flow.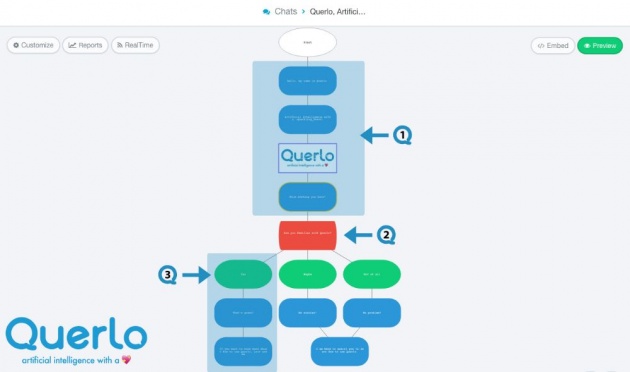 **All the images used in this blog are credited to www.Querlo.com