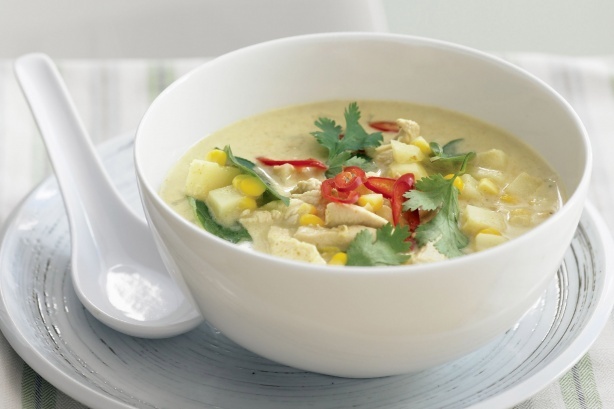 Serves 3
1tbsp vegetable oil
2 tbsp Thai green curry paste
1 × 400ml tin coconut milk
Zest and juice of 1 lime
2 medium corn on the cob, each sliced into 6 rounds
2 skinless chicken breasts, sliced into the thin strips
1× 25g pack fresh basil, leaves only
1× 25g pack fresh coriander, leaves only
1 red chilli, thinly sliced into rounds
1 Heat the oil in a large saucepan and stir in the curry paste.
2 Cook gently for 30 seconds, stirring, then pour in the coconut milk.
3 Add the lime zest amd juice and the corn.
4 Bring to the boil, then simmer gently for a couplke of minutes.
5 Add the chicken, cover and simmer for 3-4 minutes until the chicken is cooked and the corn kernels tender.
6 Season with a pinch of salt, stir in the herbs and ladle into hot bowls. Scatter with the chilli slices.