Rainy Dinner at Gerry's Grill SM Sta. Mesa
My eldest cousin came over at our place and decided to cancel our memorial park trip and Robinson's Magnolia dine out because of the heavy deluge. But because we were stranded on the road because of the traffic and flood, we settled filling our bellies at Gerry's Grill, SM Sta. Mesa.
About Gerry's Grill
The perfect place with the perfect menu for every occasion.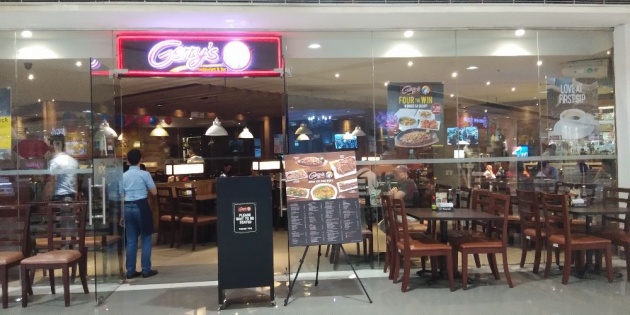 Photo credit: lapiz-lazuli
The owner's vision for the restaurant wasn't Gerry's Grill being a restaurant at all! It was humbly just an eating hub were people can relax and unwind from all the hustle and bustle of the urban jungle. It then merely functions as a small time bar.
But because of the owner's (Gerry Apolinario) passion for delicious food (especially grilled), their food selections became broader and broader, so then the start of Gerry's Grill becoming a full blown restaurant (and bar)!
The opened their first branch at Tomas Morato, Quezon City, Philippines, and since then expanded their reach not just nationwide, but also in Singapore, Qatar and the United States.
The really value their business because they use high quality ingredients and they also properly manage and take care of their staff. These are some of their proudest claims on why Gerry's Grill is well-received by both local and foreign diners.
You can read all about it at the Gerry's Grill website.
Gerry's Grill Ambience
Their Sta. Mesa branch had adequate space, even though the mall itself is small. It has even a small function room where about 20 people can squeeze in, which is good for celebrating private life events. It was dimly lit and had warm tones but a camera can still register OK quality photos from the lighting alone.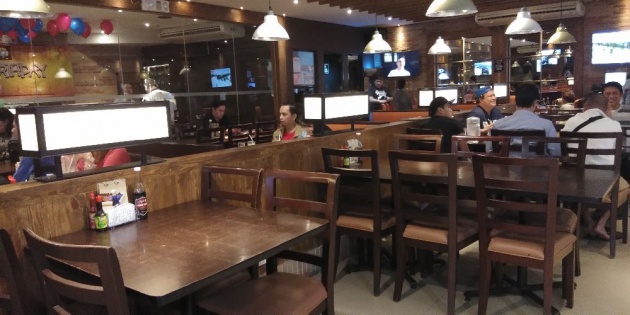 Photo credit: lapiz-lazuli
The place looked really modern and roomy for its allotted space, and the chairs and tables added a lot to it because the wood furniture were a bit bulky when viewed, but you can still have room for traversing along the walkways.
Video credit:
lapiz-lazuli
They have large TVs mounted on walls on almost every corner where you can watch manly shows like sports and other stuff. It was mainly advertisements though but I think it is functionally used when there are main live sports events like basketball or boxing.
Gerry's Grill Menu
They serve Filipino dishes (most of which can be deliciously paired with alcoholic beverages). Most of their selections are fried or grilled. You can select from their myriad of food choices which are adequate for having a full meal without ordering booze.
Video credit:
lapiz-lazuli
We ordered their promo meal (written in a separate menu) and added Crispy Pata, extra rice and desserts. It was worth every penny because it fed a group of 6 already and the portion sizes were sufficient.
Food and Drinks
Bulalo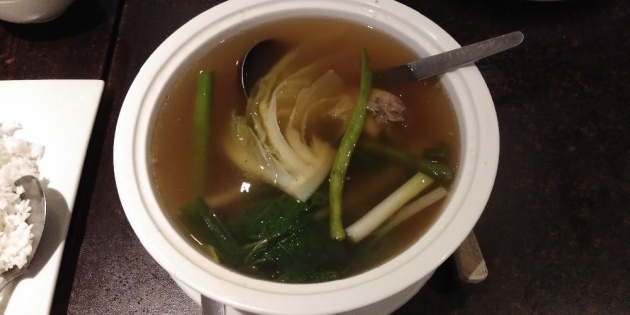 Bulalo. Photo credit: lapiz-lazuli
Gerry's Grill's Bulalo is really popular and I think I know why. This soup can be a star viand because of the large amount of beef and proper serving of greens. The broth was really good, though I found it suspiciously seasoned with MSG. I didn't became sleepy afterward though, so I guess a little MSG didn't hurt.
I was really wondering how they cooked the beef and veggies in their Bulalo because the beef was not slimy and was really soft, and the veggies were really lively green and crispy! They must be using high quality ingredients for their dishes.
Pinakbet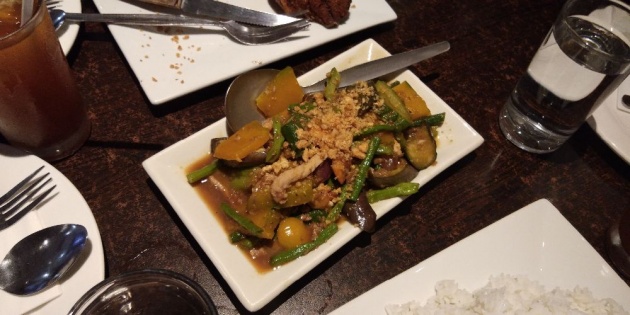 Pinakbet (pee-nahk-beht). Photo credit: lapiz-lazuli
Pinakbet is mainly squash, fried pork bits, eggplant, and string beans. It's considered a vegetable dish but because of the meat, it's a well balanced viand when paired with rice. Pinakbet from Gerry's Grill didn't disappoint. I just got myself a small portion to try out but it ran out pretty quickly on our table.
Crispy Pla Pla with Ensaladang Talong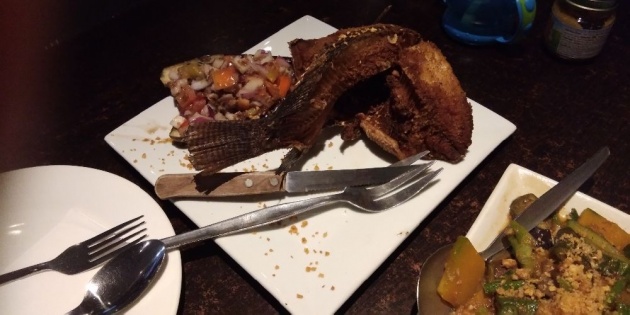 Fried Tilapia with Eggplant Salad. Photo credit: lapiz-lazuli
Pla Pla is a large Tilapia and Ensalada is salad in Spanish and Talong is Eggplant. I found their Crispy Tilapia so-so but this dish stands out because of the Ensaladang Talong! It was very scrumptious (I'm not exaggerating here). It was very tasty but you won't get fed up with it.
Sizzling Sisig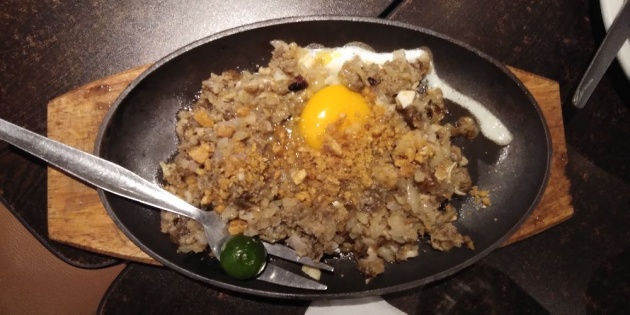 Sisig. Photo credit: lapiz-lazuli
I was really eager to eat their Sisig but I think this one was a miss in this branch. We occasionally ate at Gerry's Grill and I was delighted with their Sisig, but their was just bland, even when we added up egg for this dish (you have to pay extra for the egg...). It was not all bad as the meat and fat of their Sisig was easily chewable, not rubbery. Plus, my sister really loved it and it's one of their best sellers.
Crispy Pata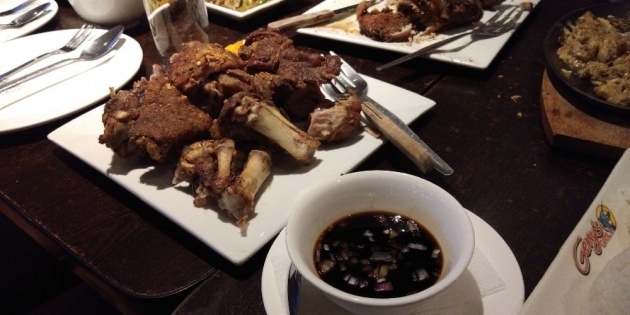 Crispy Pata (pah-tah). Photo credit: lapiz-lazuli
Their Crispy Pata was good. It had a good serving of meat-to-bone ratio. The crusty parts were really crispy and the inner parts were soft and juicy. However, the slightly charred areas of the Crispy Pata lost their taste. But what really shone in this dish was the condiment – it was superb (for my taste)!
Desserts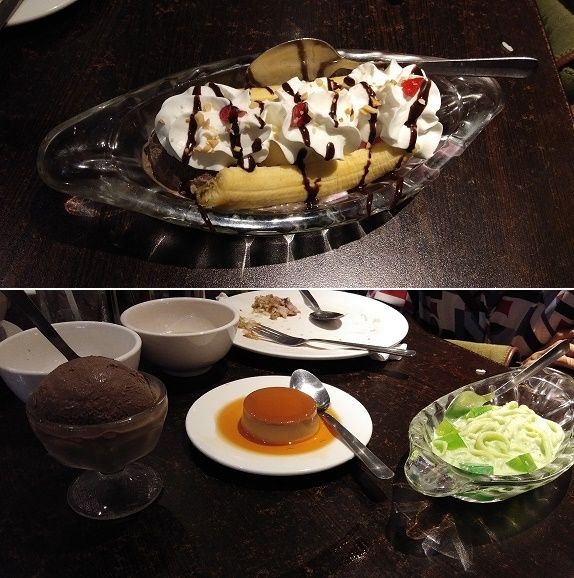 Top: Banana Split, Bottom: chocolate ice cream, leche flan and buko pandan.
Photo credit: lapiz-lazuli
I gobbled up the Buko Pandan because I really like this dish. "Buko" (boo-koh) means coconut and pandan came from the pandan leaves, which is an inedible ingredient in recipes for aroma and flavoring. I almost finished it but I shared a bit to my mates.
I never really liked their Leche Flan (custard). I thought the syrup was over-burnt so it became a little bitter for my liking. However, my mom really liked it because it's not overly sweet.
The Banana Split was OK. There were only little nuts as toppings but at least the banana was not bitter. I remembered it had a slight sweet taste (from the syrup or the fruit itself I don't really remember).
We ordered 3 desserts so it came with a free large single scoop of chocolate ice cream. It tasted like Selecta ice cream.
Iced Tea
Their iced tea had a little spunk as it had a citrus taste. It wasn't empowering and it was well balanced with the drink itself. I think mine wasn't bottomless because we ordered a promo set but I just compensated with drinking their service water when I was thirsty and for washing down.
Staff
Their staff at the said branch was really helpful in assisting us (photo op, request for high chair, etc). They were also assertive, asking if all our orders were already served. Still, they can improve their service by remembering orders on each table as they asked us more than a few times. Their staff was also polite and approachable.
Final Say
We have really eaten at Gerry's Grill a few times but this was my first documented experience regarding the restaurant. You can say that we like eating here because of good food and good service. Well, it really was.
After eating we shopped around a bit until the store was about to close. To our dismay, the roads were flooded badly. I'd like to thank the mall and other workers for providing us seats, snacks and drinks (and also for letting us charge our phones) while we waited for the flood to subside.
Disclaimer: pictures, videos and write up are originally shot/written by lapiz-lazuli, unless otherwise stated. Views and opinions on this blog post are truthful, but subjective, and are not influenced by sponsorship of any sort.