NO-BAKE BLUEBERRY CHEESECAKE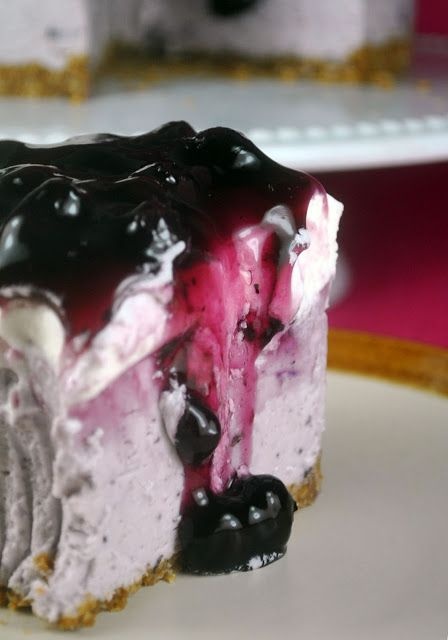 Crust:
4 1/2 sheets of graham crackers (one sheet has three squares), crushed
1/4 cup old-fashioned oats (Note1: I don't have some so I used oat bran; Note 2: Or you can use the quick cooking oats, too)
1 1/2 tablespoons (packed) brown sugar
a pinch of teaspoon salt
2 1/2 tablespoons unsalted butter, melted
1 teaspoon vanilla extract
Filling:
1/4 cup water
1 tablespoon unflavored gelatin
12 ounces cream cheese, room temperature
1 cup whipping cream
1 cup sugar
1 tablespoon fresh lemon juice
1/2 can of blueberry filling
Topping:
1 cup chilled whipping cream
1/2 can of blueberry filling
Method:
We'll be using a 7-inch metal ring to help the cheesecake hold its shape. If you don't have one, a spring form pan will also work wonders.
For the Crust: Combine 1/4 cup water and gelatin in a small saucepan. Let it bloom (or let the gelatin absorb the water). Then, stir over very low heat just until gelatin dissolves. Make sure to not let it boil. Let it cool and set aside.
In a pan, toast the oats.
Add crushed graham crackers, brown sugar and salt.
Add melted butter and extract. Mix evenly.
Press tightly into the metal ring. Set aside.
To make the filling: Using an electric mixer, combine together cream cheese, cream, sugar, and lemon until smooth.
Add 1/2 can of the blueberry filling and then add the gelatin mixture. Mix well. Note that there will still be tiny flecks of blueberries in it. It's a good thing, as Martha says.
Pour the filling on top of the crust inside the metal ring. Cover; chill overnight. Can be made 2 days in advance. Make sure to keep it chilled.
Release the cheesecake from the metal ring.
To make the topping: Whip cream until soft peaks form and spread over the filling.
Add the rest of the blueberry topping on top