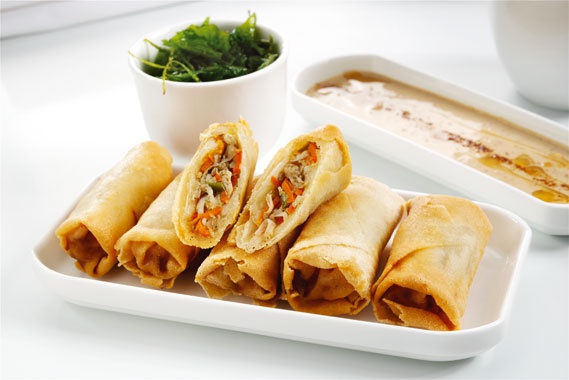 RECIPE OF SPRING ROLLS
Today I would like to share with you all the readers the recipe of spring rolls. Spring Roll is an awesome side dish that can be admirable for your dinning. These rolls are made in Chinese style. So must give them a try.You can also enjoy the rolls at the evening tea.
The ingredients which you will need for the spring rolls are:
Puff pastry strips: 12
Boneless chicken cubes: 6
Ginger garlic paste 1: tsp
Cabbage: 1 flower
Carrot: 2 (finely chopped)
Capsicum: 2 (finely chopped)
Egg white: 2
Soya sauce: 2 tbsp
White vinegar: 2 tbsp
White flour with chicken cube: 1 tbsp
Black pepper: 1 tsp (crushed)
Sugar: 1 tsp
Salt: as required
Oil for fry
METHOD:
First of all heat the oil in a pan.Add to it the ginger garlic paste and fry for 1-2 minutes.Then add chicken cubes and cook for 2 minutes.Add sugar, salt, black pepper,white flour with chicken cubes, cabbage, carrots and vinegar and cook for 2-3 minutes. Mix all these well and turn the flame off.Then take the pastry strips and fill them with the mixture.Roll the strips gently and apply on it the egg white so that it cannot open while frying.Then deep fry them for 3-4 minutes till it become golden brown.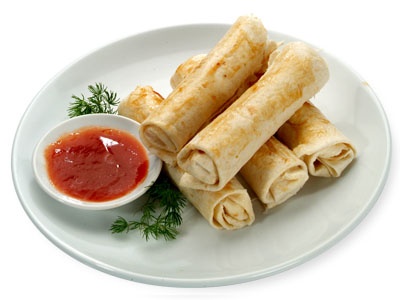 Delicious spring rolls are ready.Garnish them well and serve with ketchup to your loved ones.
Thank you.

Writtebn by: BRIGHT AQUA