ORANGE-CRANBERRY FLUFFY PANCAKES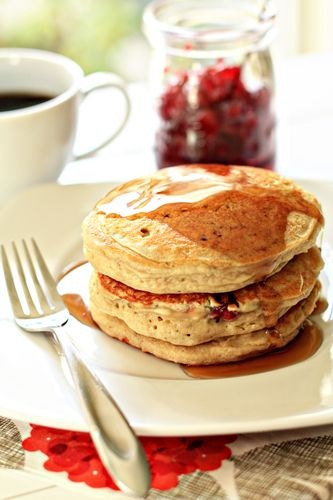 INGREDIENTS:
3/4 cup milk
1 tablespoons white vinegar
1 cup all-purpose flour
2 tablespoons granulated sugar
1 teaspoon baking powder
1/2 teaspoon baking soda
1/2 teaspoon salt
1 egg
2 tablespoons butter, melted
Zest on 1/2 orange
1 teaspoon vanilla extract
1 cup Orange-Cranberry Sauce (or any type of cranberry sauce)
DIRECTIONS:
1. Combine milk with vinegar in a medium bowl and set aside for 5 minutes to "sour".
2. Combine flour, sugar, baking powder, baking soda, and salt in a large mixing bowl. Whisk egg, butter, vanilla and orange zest into "soured" milk. Pour the flour mixture into the wet ingredients and whisk until lumps are gone.
3. Heat a large griddle or skillet over medium heat, and coat with nonstick cooking spray. Pour ¼ cup of batter onto the skillet, and scatter cranberries around the pancake and cook until bubbles appear on the surface. Flip with a spatula, and cook until browned on the other side. Repeat with remaining batter.
NOTES:
Notes: If you don't have leftover cranberry sauce, you can substitute in fresh or frozen blueberries or simply make the pancakes without any fruit.