VANILLA BEAN WAFFLES WITH HOMEMADE BLUEBERRY SAUCE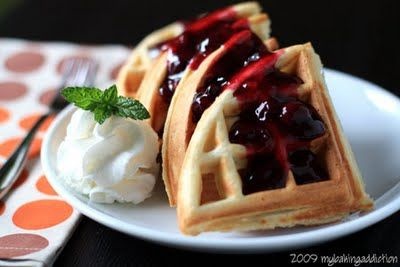 INGREDIENTS:
For the Waffles
2 eggs
2 cups all-purpose flour
1 3/4 cups milk
1/2 cup vegetable oil
2 tablespoons white sugar
4 teaspoons baking powder
1/4 teaspoon salt
1/2 teaspoon Beanilla vanilla paste
For the Blueberry Sauce
1 cup fresh or frozen blueberries
2 tablespoons water
1/2 cup orange juice
1/4 cup and 2 tablespoons white sugar
2 tablespoons cold water
1 tablespoon and 1-1/2 teaspoons cornstarch
1/4 teaspoon almond extract
DIRECTIONS:
For the Waffles
1. Preheat waffle iron. Beat eggs in large bowl with hand beater until fluffy. Beat in flour, milk, vegetable oil, sugar, baking powder, salt and vanilla bean paste, just until smooth.
2. Spray preheated waffle iron with non-stick cooking spray. Pour mix onto hot waffle iron. Cook until golden brown. Serve hot.
For the Blueberry Sauce
1. In a saucepan over medium heat, combine the blueberries, 1/4 cup of water, orange juice, and sugar. Stir gently, and bring to a boil.
2. In a cup or small bowl, mix together the cornstarch and 1/4 cup cold water. Gently stir the cornstarch mixture into the blueberries so as not to mash the berries. Simmer gently until thick enough to coat the back of a metal spoon, 3 to 4 minutes. Remove from heat and stir in the almond extract. Thin sauce with water if it is too thick for your liking.
NOTES:
- I found the orange to be a very prominent flavor in the blueberry sauce. When I make this again, I will cut back on that flavor.