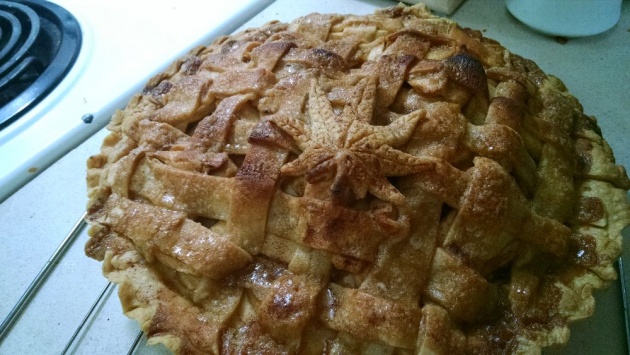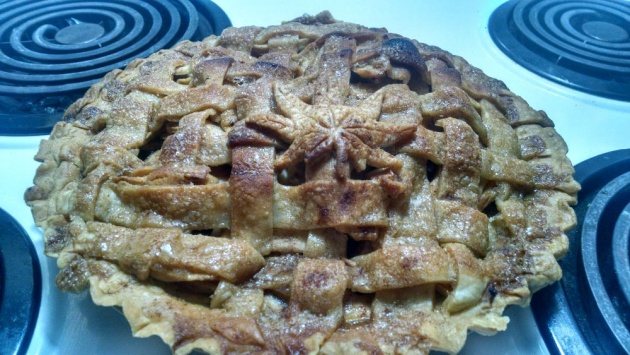 Ive decided to post recipes along with some of the things i make and today the first entry shall be for the Butter Caramel Apple Pie. Enjoy!
Butter Caramel Apple Pie
Ingredients:
8 granny smith apples; peeled, cored, and sliced to preferential thickness. ( I use Pink Lady apples in mine because of flavour preference)
2 pie crusts for a 9 inch pie plate
3 tablespoons of all-purpose flour
1/4 cup of water
1/2 cup of white granulated sugar
1/2 cup of dark brown sugar
1/2 cup unsalted butter
Preparation: 30-40 minutes
Method:
Place the bottom crust into your pie plate. Warm the oven to 425 F and place apples heaping them into the middle.
In a saucepan melt your butter. Mix in the flour till a sort of paste is made then add in your sugar water mixture. Bring to a gentle boil then reduce heat and let simmer.
Cut strips and lattice your pie crust on top and slowly pour the butter mixture on top of the apples and lattice, again slowly as to not spill anywheres. OR if you'd prefer just cover the whole pie with one crust, making sure to cut a few lines near the center. flute your edges together.
Bake in oven for 15 minutes then lower heat to 350 and continue baking for 35-45 minutes or until golden and crisp.
Remove and let stand till time to enjoy!
Post your picture and show us all how we can do!