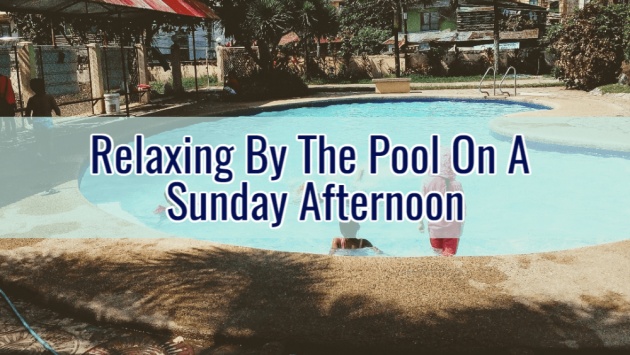 Image Credit: @artbytes via Bitlanders
Sunday. I am now sitting beside the kiddie pool watching over my 4- year old son enjoy the waters. Frankly speaking, I still have another that I haven't finished yet. However, there are no wi-fi services available here. So I decided to start writing another blog.
I wanted to make up with my lost time.
On my last blog, I shared how my schedule was messed up for the past few weeks. Too busy that I have only uploaded two blogs in the last three weeks. I was aiming to upload three blogs per week.
I wanted to make up with my lost time. I wanted to finish the other blog, which lacks 8 photos and two videos. I wanted to finish it this afternoon.
My Nephew's Birthday Celebration
However, my nephew is having his birthday celebration a day ahead. They decided to celebrate it here at the Villareal Stadium's swimming pool. They have already started eating when I arrived. I wanted to go back home and finish up my blog after eating.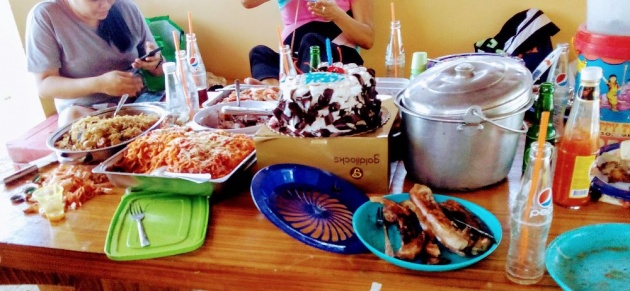 What's left of the food.
Image Credit: @artbytes via Bitlanders
Time to relax.
However, when I saw my son enjoying himself in the kiddie pool, I decided to stay and relax.
The weather is quite sunny and warm. We are just thankful that the typhoon Ompong did not bring heavy rains as expected. Under the shade though, it is quite cool. There were a few other people on the pool.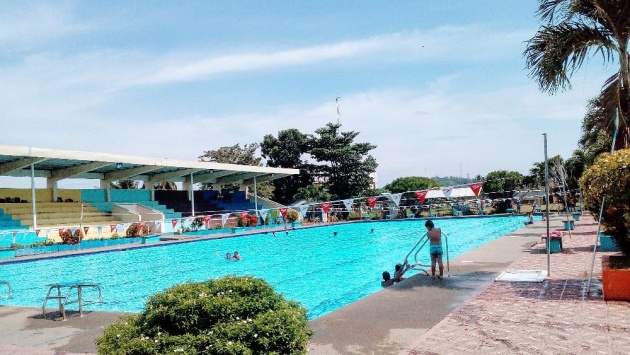 Image Credit: @artbytes via Bitlanders
Enjoying watching my son.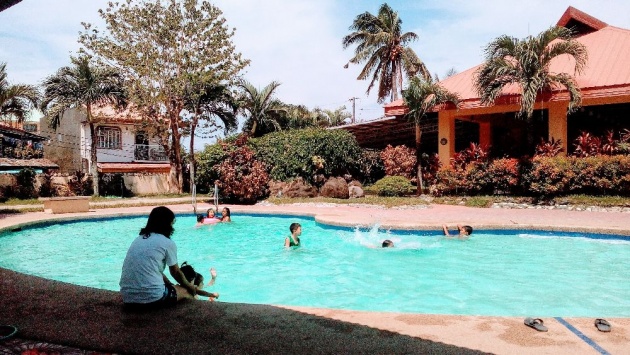 Image Credit: @artbytes via Bitlanders
My son loves to be in the water. Though he doesn't know how to swim yet. I know he really loved to swim. He would often call my attention to show me what he is doing. For an adult, it seems nothing, but for a four-year-old, it meant something to learn something new.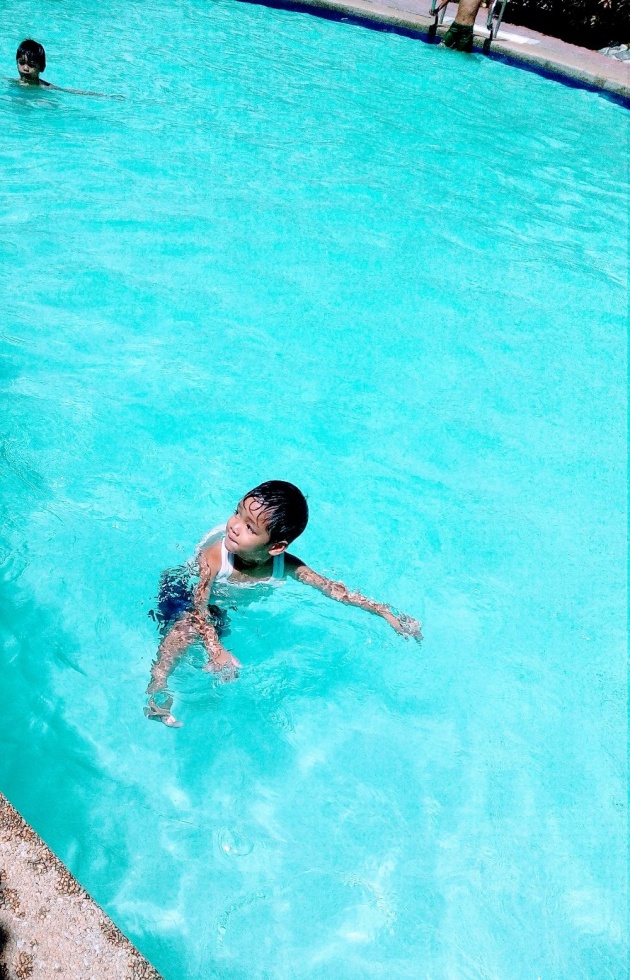 Image Credit: @artbytes via Bitlanders
He asked me if I brought a pair of goggles. Unfortunately, I did not. This morning I was planning to buy him one and a pair of floaters, but I got preoccupied with my chores.
Since there is a mall nearby, I decided to buy him a pair of goggles and floaters. Unfortunately, there were no goggles available. I just bought him the Spiderman arm-band floaters.
After donning the floaters he posed for a few photos.
Image Credit: @artbytes via Bitlanders
Learning to Float
Video Credit: @artbytes via Bitlanders
After a few photos, he went back immediately to the pool and tried the floaters. As he learned to use the floaters, he kept on calling me and showing what now could do with the floaters. He can actually float now and even trying to kick on the water. I think by instinct, he was also paddling with hands like a dog would do with its front paws. I suppose he now ready to join a swimming lesson next summer.
At one time, he asked me to call his mom so he can show what he has discovered. Proudly he showed off his new swimming skill.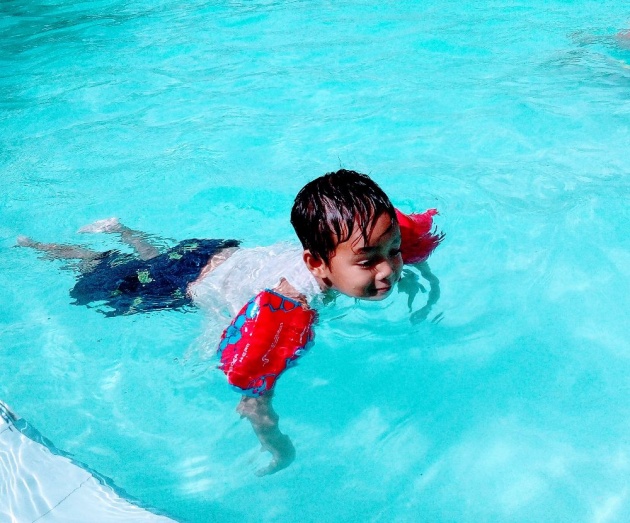 Image Credit: @artbytes via Bitlanders
A Very Relaxing afternoon.
I am glad that I decided to stay. I even wanted to take a dip earlier, but I thought I could still relax while watching over and so, and at the same time composes a new blog.
I am so glad that I decided to bring my tablet with me. With my tablet, I was able to compose this blog while sitting on the bench beside the pool. At the same time, I am glad that I did not bring my LTE modem. If I did, I could have ended up working on the other blog.
And The Little One loves the pool too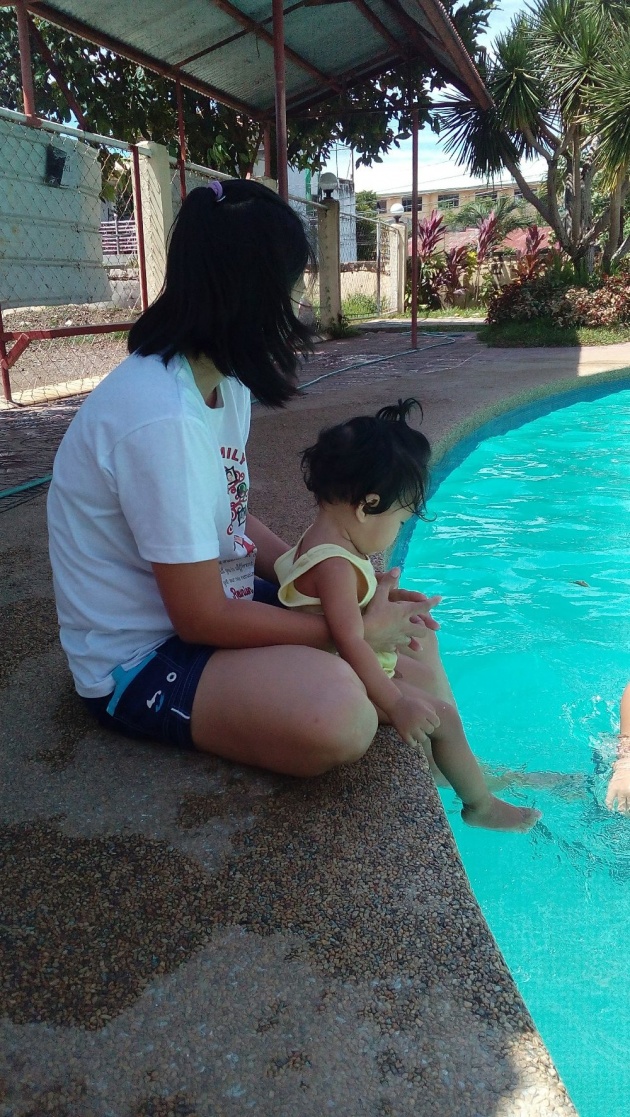 Image Credit: @artbytes via Bitlanders
My wife brought our little one on the side of the pool. She lowered him on the water. As soon as his feet touched the water, he started kicking and giggling. Obviously, the little one loves the water too.
Video Credit: @artbytes via Bitlanders
Importance of Taking A Break.
I admit that in the past few months, I have not thought of taking any breaks on weekends. Even on Sundays. Since I have a part-time job as a teacher on weekdays, I don't have enough time for my blogs. Weekends are the only days that I can sit for hours and write my blogs. Plus I also do my laundry on either Sundays.
Just this week, I finished a Bible reading plan in my Bible app titled: " Refuel: Faith-Building Pit-Stops On Your Road Trip ". The biggest lesson from that seven-day plan is we all need to take a break regularly. We need to refuel. We need to give our engine a rest, refill the water in the radiator, check the tires and the breaks, etc…
Perhaps, it is because I rarely take a break, that I got ill and I am always low on energy. I can no longer keep up with my intended schedules. Worse, I have even made my daily schedules for the past three weeks. I'm back to being a drifter.
I think I shared in one of my previous posts that we should include our health in our daily goals or to-do list. In order to maintain our good health, we must take a regular break.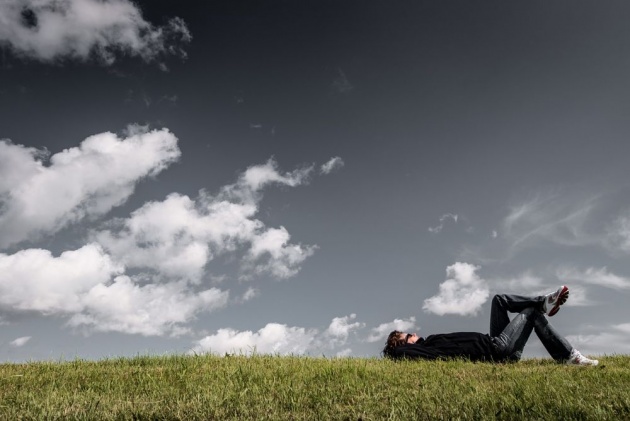 Taking a break regularly has its benefits
Image Credit: @Pexels via Pixabay
Taking a regular break would give our bodies the much-needed rest, and our brain some time to relax. Having enough sleep, our immune system is recharged and boosted.
Sundays should be spent with the family and the church with minimal work. Even God took a break on the Sabbath even though he is God.
Benefits of taking a weekend break.
Reduces Stress- Perhaps the biggest benefit of taking a break from work on a weekend is this. Taking a break and rest your body and mind (and soul) reduces stress.

No matter how healthy you are, if you work continuously, without break, sooner or later the stress on your body and mind will take its toll.

The ax gets dull after using it over and over again. It needs to be sharpened occasionally.


It makes you happier. According to Telegraph.uk.co, taking frequent short breaks make people happier than one long vacation.

I suppose this is very logical, since each time you take a break you release some stress and you gain additional happy memories.


Makes you more productive. With the stress that you have accumulated released, you will be working with a better condition and a clearer mind.

When you're relaxed, your productivity increases.
Image Credit: @Geralt via Pixabay
In Conclusion
I was thankful that I decided not to go home and go back to my work. I got relaxed. I felt refreshed. And I am able to write more again. Though I still got delayed, at least I am now writing continuously again and more Ideas keeps coming again.
I will make it a point that I will not make my daily schedule stressful again. Spending more time with my kids are actually very relaxing.
Sunday Is Family Time
Though I wanted to write, especially on Sundays, I have to keep in mind that Sunday is family time. And of course a day to take a break
Until next time…
Thanks for reading.
Reference: https://www.psychologytoday.com/us/blog/changepower/201704/how-do-work-breaks-help-your-brain-5-surprising-answers