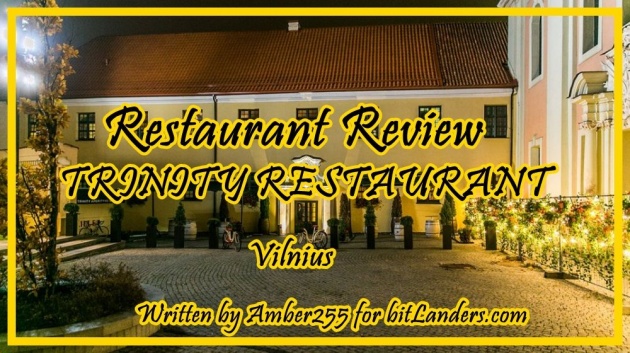 Restaurant Review: Trinity Restaurant, Vilnius - Photo credit and edition by Amber255 via bitLanders.com
Last week I have been in Vilnius, our capital. It was a work trip for two days. I have a couple of meetings there, and in the evening we were invited to the Trinity restaurant. We were eight persons, and it was a great evening that left a bunch of good impressions. The place worth attention, so I want to write a Trinity restaurant review.
It's no secret that when I go to dinner on my own or any other city, I always try to choose a new, untried restaurant. Not only did I visit out different places, but I can compare them to each other - because I wonder what the dishes different restaurants can show in the same dinner category, and how high (or not) their level of creativity and originality is.
In the long run, after visiting different places in my native city, I have chosen a list of my favorite restaurants for dinner. But I still love to explore new places, especially if I go to another not much familiar town. This time, I will present a restaurant in Vilnius with a nice name TRINITY.
The colors, the variety of food and the wonderfully beautiful presentation have really been seen, and now it is time to introduce the flavors more widely. And a special restaurant philosophy.
Trinity restaurant decor - Video credit: Amber255 via bitLanders.com
Trinity - Three Steps Restaurant
Trinity Vilnius Restaurant is located in St. Catherine Church and Baroque buildings of the former monastery, built in the 18th century. Part of the monastery is still in operation.
Trinity in Vilnius has three spaces. The name of the restaurant already tells us what is waiting for visitors. Three different spaces ensure a full and exciting evening plan.
Trinity Right - The cocktail bar on the ground floor, right at the entrance, where you can wait for your table and have an aperitif before dinner.
Trinity Up - the Mediterranean Seafood Restaurant on the second floor or on the outdoor terrace.
Trinity Left - after dinner, you will be invited to the cocktail bar on the first floor, where bartenders will offer a number of professionally-made cocktails.
Amazing restaurant! The duck meat was prepared excellent and the garnish provided a wonderful rich flavor to it. Trinity perhaps is one of the best restaurants in Lithuania when it comes to fine dine! - review from the Trinity Facebook Page

Credit: facebook.com
Trinity also invites to the day's lunch, and some members of our group have already tasted it not once. Those who live in Vilnius, perfectly know this place, but I visited it for the first time. So, my visit here was a bit special, and I wanted to calmly observe the atmosphere and to try some dishes without any rush.
In this space, we could see many foreign tourists, and that is very attractive to me personally. There are not so many places in Vilnius that will give you the illusion that you suddenly entered the space in Western Europe, but going to your home takes just a few minutes. In this case, going to the hotel, but anyway, we heard many foreign languages, and we felt like being abroad.
In a cozy space in a non-binding Friday atmosphere, we enjoyed very warm service and delicious dishes.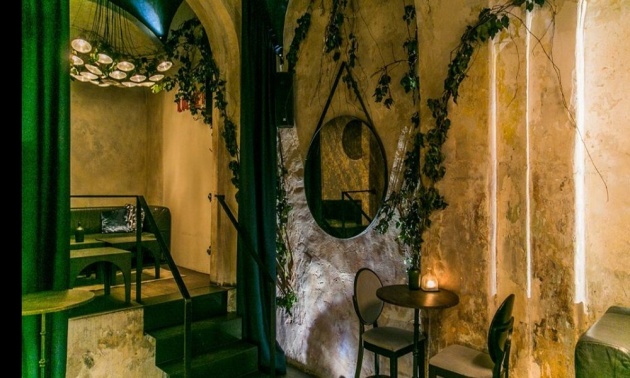 Restaurant Review: Trinity Restaurant, Vilnius - Photo credit: Amber255 via bitLanders.com
The Decor
So, there are Aperitif Bar, Restaurant, and Tasting Bar. And you sit between the walls of the 18th-century monastery, which only positively contribute to the unforgettable evening atmosphere.
Trinity - a restaurant on the day, and in the evening a bar-nightclub, combining exotic cuisine and expressive cocktails. From the street overlooking the Trinity outdoor terrace, you can expect to be a non-traditional European cuisine restaurant.
Here is a TIKI restaurant style that comes from the US and resembles a Polynesian style. Food and cocktails can also be combined with style, so you can taste the Pacific Ocean breathing and enjoy a cocktail with Rum and not only.
When the style of the restaurant was so clear, the furniture was easily selected. The light-colored bamboo frame chairs with wicker, perfectly match and enliven the space, and the tables with stone mosaic imitation complement the overall composition.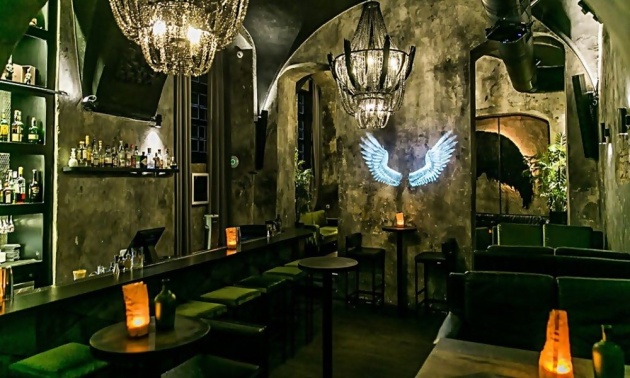 Best restaurants in Vilnius: Trinity - Photo credit: Anber255 via bitLanders.com
Delicious Dishes
Before dinner, we were offered freshly baked bread with seeds, homemade herb butter, and coarse sea salt. Have a nice palette! It pleasantly quenched our hunger.
As for what I call a good dinner, I would highlight one of the most important things - creativity. Perhaps not many of us are surprised by the fact that, for lunch, restaurants tend to offer meals that are simple and inexpensive to produce.
Check Querlo chat about other places in Lithuania:
The difference is that some of them present dishes as they are presented by many catering establishments. In such restaurants, you will find a pretty dull steak or a piece of fish with the same non-characteristic additives. But Trinity knows how to surprise you.
This is such a place where these simple, seemingly even boring products, revive your plate in completely different shapes and colors. You will surely be surprised by the taste, your plate's view, ideas, and price.
True, here you will have a few choices - what to eat for dinner at Trinity restaurant will find both those who do not eat meat and its lovers.
Delicious Dishes, at Trinity - Photo credit: Amber255 via bitLanders.com
Beef Tartar
It consisted of the matured beef cutlet, wasabi mayonnaise, fried Bolivian quinoa, white radish. Seasoned by quail eggs. The Tartar was served with french fries of young potatoes.
I got a very good impression of tartar. I could order it every time I would come to our capital. very delicious. A combination of flavors, textures, colors, and perfectly matched quantities. Quail egg - yes, yes, yes - fitted perfectly there.
The new flavors give way to playfulness, imagination, and surprise. But the taste and simplicity are also important.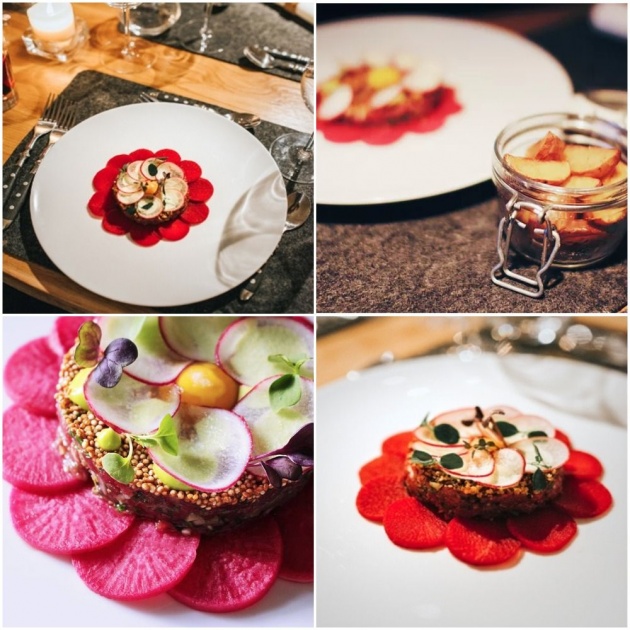 Restaurants in Lithuania, Trinity - Beef Tartar - Photo credit: Amber255 via Bitlanders.com
Shrimp Snack
It consisted of baked tiger shrimps with mango puree, the mix of mango and potatoes, lobster's chips, Radicchio.
The combination was excellent; the mango and potatoes give the dish a refreshing, juicy taste. The crispy chips of lobster playfully diversify textures, but it seemed to me, I had a little too much of them in my plate. I personally wanted a little more mix of mango and potatoes, but after all, it will never be too much of what we find delicious.
The seafood lovers will appreciate it, but the Beef Tartar left a greater impression to me than the shrimps' snack.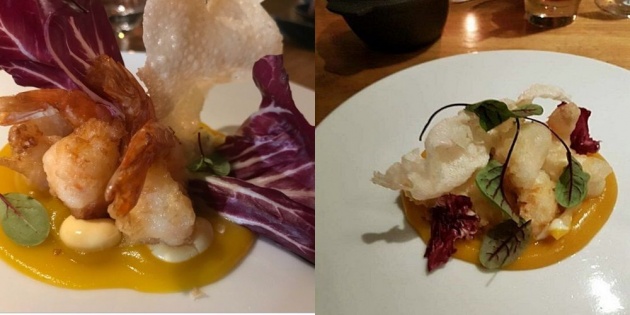 Lithuanian restaurants review: Trinity, Shrimp Snack - Photo credit: Amber255 via bitLanders.com
Octopus
Octopus was presented to me with burnt garlic puree, chorizo, young potatoes fries, home-made lemon mayonnaise. Seasoned with dried tomatoes and salmon caviar.
Octopus fried just as much as needed. Salmon caviar and black mayonnaise powdered with sepia - in itself a wonderful trio of flavors. However, chorizo, finely chopped and roasted with young potatoes are also in this dish. So unexpectedly, the two flavors meet and create a passionate novel in the mouth.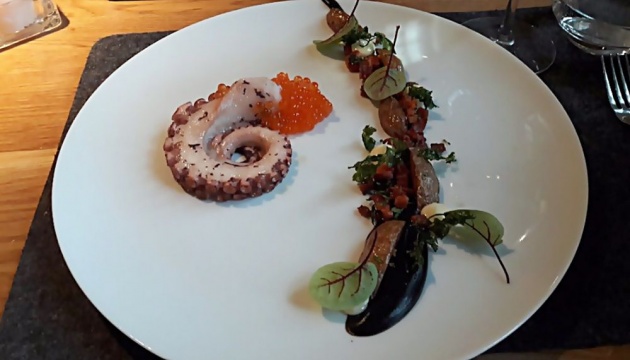 Octopus - Photo credit by Amber255 via bitLanders.com
Duck Breast
The dish consists of roasted duck breast with couscous, Apple Gastrique, apricots, Bok Choy Asian cabbage. Seasoned with truffles mayonnaise and soy caramel sauce.
It was the most delicious dish, tasted in this evening's menu.
When we left, those who ate duck breast, unanimously reiterated that we never ate more delicious duck breasts. It was perfectly roasted. We ordered fully baked, although we had a great offer to try the medium-baked. What you do, we all like a little roasted duck skin, because such a wonderful duck taste is revealed! It was easy to chew and had juicy texture and perfect dressing.
The dish is really satiated, although it may not look so at first glance.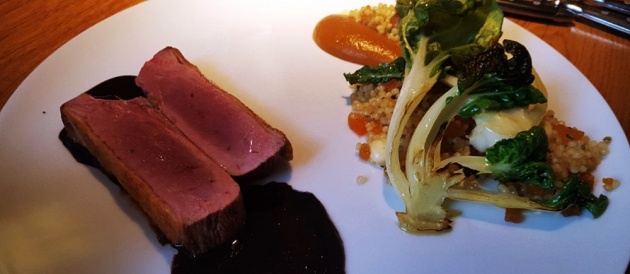 Where to eat in Vilnius - Trinity restaurant: Duck Breast - Photo credit: Amber255 via bitLanders.com
Desert - Milk Pudding
I thought that it would be very interesting to try Trinity's proposed daily dessert (their descriptions made us raise our eyebrows), but after the sumptuous dinner dishes, we hardly found more place for it in the stomach. Still, some of my friends tried it.
They enjoyed milk pudding with apricot brandy jelly, cumin ice cream, and water biscuit. By the recommendation of attentive waiters, they tasted together it with the wine Petit Guiraud, Bordeaux 2012. This combination was created specifically for the Wine and Dessert Combinations together.
It was an impressive presentation, as those who tested said that it was a wonderful feeling to taste and do not understand what and how it is made, but very delicious! The cumin ice cream was really amazing! Recommend.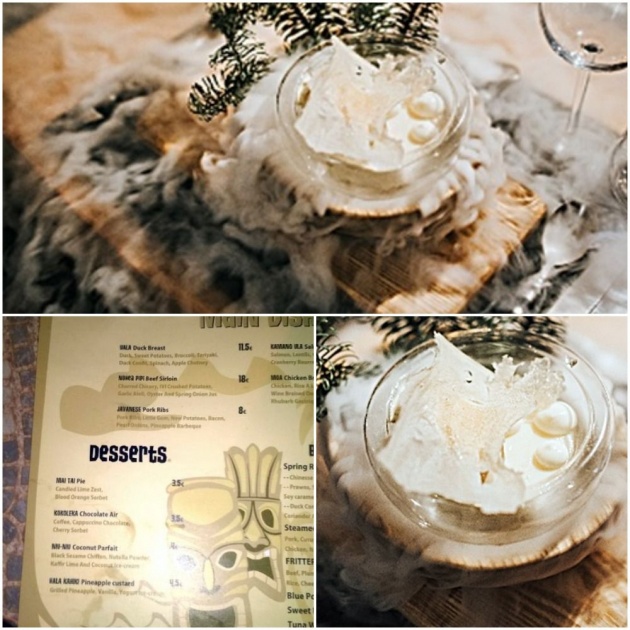 Milk Pudding - Photo credit: Amber255 via bitLanders.com
In the restaurant you will also find a selection of non-alcoholic beers and wines - we have tasted them during the evening.
My Insights
In Western Europe as much as I visited, already for a long time it is popular the restaurant has several different spaces for an aperitif and for food consumption; some spaces are even dedicated to dessert. Trinity has managed to achieve a multi-stage visit - the former monastery's premises are very suitable for that.
Lithuanians have not really used to such traditions. In fact, Lithuanians are not used to eating a snack, a hot meal, and a dessert in a restaurant, so the plan to have separate spaces for an aperitif, snack, intermezzo, main course, dessert, and tasting is intriguing. It looks like the managers of the restaurant want to accustom their guests to a full dining plan, but, I think, it will take time to achieve this.
We are used to going from one place to another in an old town, so it's interesting if they will be able to attract and hold for longer visitors? Part of the guests after dinner will surely visit the cocktail bar, but I still think that this tradition needs to be expanded.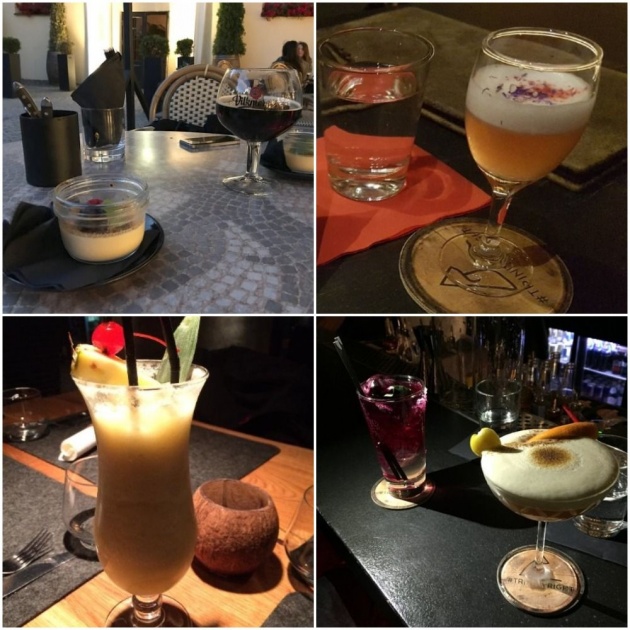 Best restaurants in Vilnius, drinks in Trinity Restaurant - Photo credit: Amber255 via bitLanders.com
I think, it is very important to have a clear self-presentation, which is necessary with three different spaces under one roof and one name. There is no need to surprise with the abundance of food flavors, but simply to create a recognizable taste.
Note about the photos: I shot not only my dishes but also plates of my friends who ordered the same dish in order to present a dish from different angles. On the Final Note
On the Final Note
Food is one of the great pleasures that combine the relationship with taste, aesthetics, presentation, and atmosphere.
The restaurant does not need to be toned in order to get even more visitors, but it would be useful to discover more sophisticated tools (it contrasts to other tableware very much) and more friendly lighting for photographers.
We tested coffee - here they can also improve.
Anyway, I invite you to Trinity restaurant as I believe you will like the time sent there.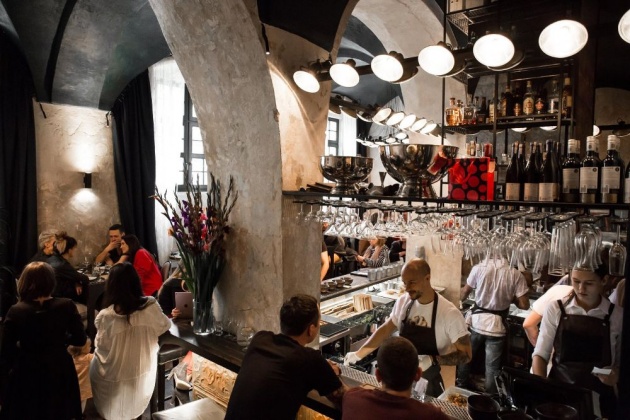 Restaurant in Lithuania, Trinity - Photo credit: meniu.lt
Separately, I should mention high-level service once again - staff actively give their recommendations, and it is useful if you came for the first time. So if you doubt what to choose, be sure to ask waiters their recommendations.
One cannot think well, love well, sleep well, if one has not dined well. - Virginia Woolf

Credit: goodreads.com
HAVE FUN!
**********************************************************************************************
Thank you for stopping by and reading my blog
2019, All Rights Reserved.
You are very welcome to join Bitlanders and share your valuable knowledge and opinion.
***********************************************************************************************