All over Cebu and perhaps in the country, there are different restaurants and eateries which offer Sugba, Tuwa or Tinola in Tagalog and Kilaw or in short STK. And because we are in Cebu and it was our anniversary last February 24, 2017, we thought we should go for a lunch date at one of these types of restaurants. Today's blog will be a review of our lunch date at KKD STK + BBQ, a review on the ambiance, the food, and its pricing.
About KKD STK + BBQ
Video credits: Jean Beltran via bitLanders
KKD stands for Koko Dine STK + BBQ, I looked online for who Koko is but I couldn't seem to find a reference, perhaps it's the owner's child's name or something like that.
Launched early in 2017, the restaurant had this niche of offering authentic Filipino cuisine and Cebuano delicacies! It is one of those restaurants that you want to dine in when in Cebu.
Ambiance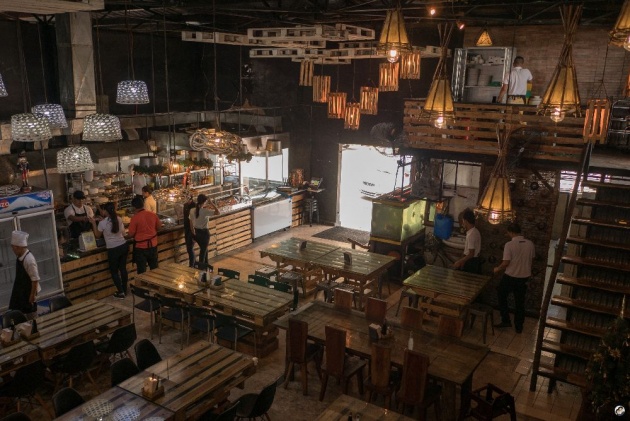 Image credits: Jean Beltran via bitLanders
Because I have seen Instagram-worthy photos of the restaurant, I had to mark it and add to my to-visit restaurants. I was excited to go there myself and find if these reviews are indeed true.
James and I were on our motorcycle and although not sure with the exact location, we easily found it right after turning to the left from the Sto. Niño street. The KKD STK+BBQ sign from the outside of the building gave us an impression that we were in the right location.
Pulled over and parked in their motorcycle parking area which was just right on the left side of the door entrance. We came inside and surprised at how high their ceiling is!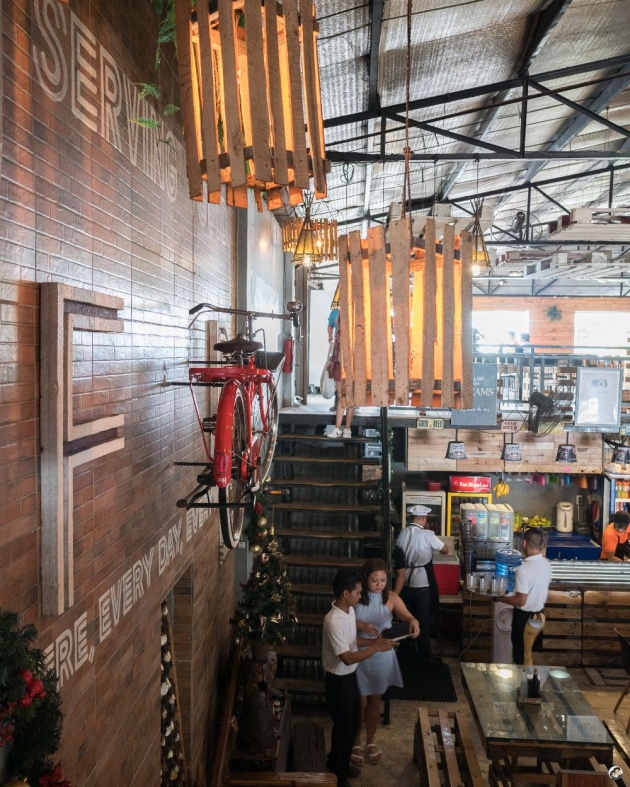 Image credits: Jean Beltran via bitLanders
Upon entry, their staffs welcome us, it was just quarter to twelve, there were a number of heads around. An aquarium can be spotted on our left while on the right are the meat, fishes and other uncooked good which are available on the menu.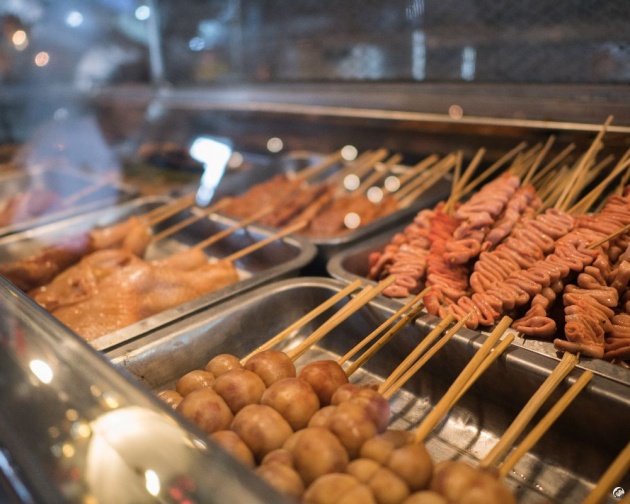 Image credits: Jean Beltran via bitLanders
The kitchen is visible from the front desk cashier, the tables and chairs are wooden, there are two stairs going to the second floor. I found their chandeliers really interesting as they are made of wooden pallets and other items which looked like recycled ones.
However, what really caught my attention was the hanging bicycle which was made into a wall decoration. The print says:
"Serving Good Food Here, Everyday, Everywhere."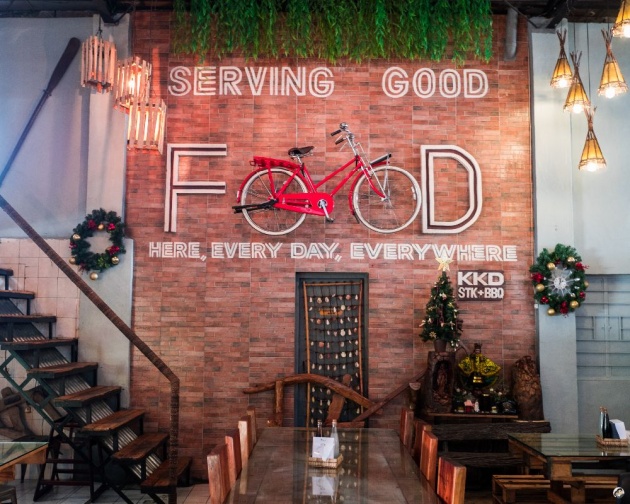 Image credits: Jean Beltran via bitLanders
We both went up to the second floor, this was actually air conditioned but for some reasons, going alfresco was more okay for us so we decided to stay there, grabbed a table and chair and set up our tripod.
Before ordering anything, I went ahead and took some photos of the second-floor interiors. There's another bicycle on the second floor with a wooden display showing the letters EAT with some artificial plants.
The balcony faces the Malacañang of Cebu and a few of the Cebu sea, we spotted a couple of ships passing by and some local boats too. There's an SM MyBus stop as well right below so for sure those who are commuting will appreciate that.
Food and Pricing
Video credits: Jean Beltran via bitLanders
Right next to us was a foreign couple, I don't know their nationality, I couldn't understand their language but they ordered the baked scallops and I know I should get that too.
Looking at the menu, I found their food very affordable! Here's a preview of the food we ordered and its respective pricing:
Garlic Butter Shrimp at Php 170.
Image credits: Jean Beltran via bitLanders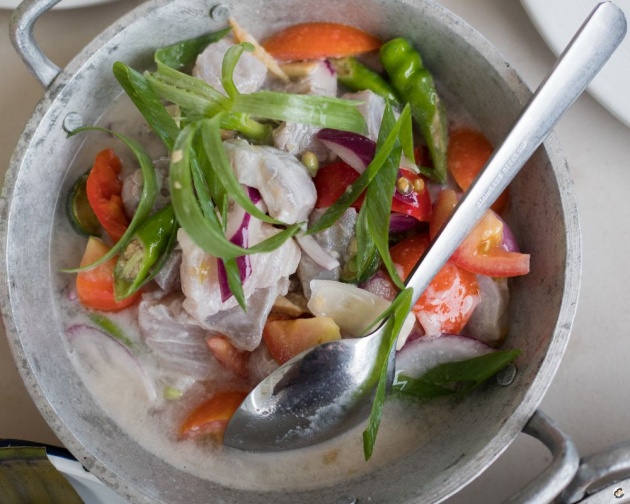 Kinilaw na Isda at Php 150.
Image credits: Jean Beltran via bitLanders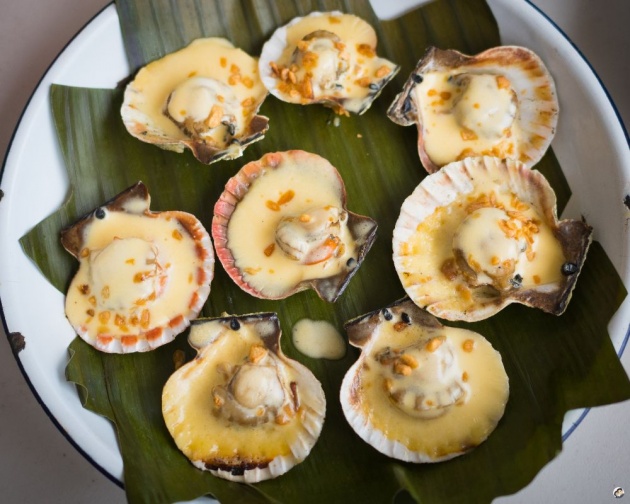 Baked Scallops at Php 130.
Image credits: Jean Beltran via bitLanders
I like their plating, the viands were all inside a mini-"kaldero" or pots which make them even more Filipino-ish. The use of banana leaves as well was really cool!
I was amazed at their ceviche, the servings were enough for more than two persons, we had a good amount of baked scallops as well as the shrimps which I could not almost finish but not because of it was not good but because of the huge amount.
They were all my good and I love all of them. But one thing that surprised me was their Choco Leche Flan. It was brown and dark but sweet at the same time plus it has mango slices on top and I love ripe mangoes so this was a hit!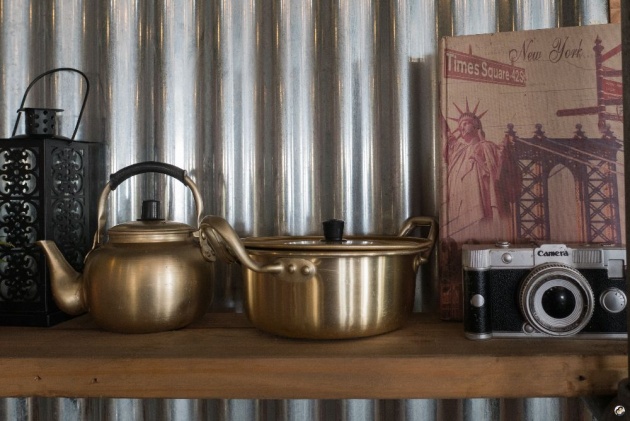 Image credits: Jean Beltran via bitLanders
Perhaps the only issue I had or we had rather was their garlic rice. It was salty and so much garlic in it. So since we still have a lot of viands available, we ordered another set of rice, this time we had the regular ones.
The drinks were nothing special though. I love the citrus feel but it seemed too simple and basic. I am still okay with paying Php 50 per glass but I guess they should have lowered that price. Anyways, those were the only two things that I feel like they need improvements on.
Service
I personally had no problem with their service, the staffs were too many that some of them were just waiting for more customers for them to serve. As soon as we got in our seats, the menu was offered to us.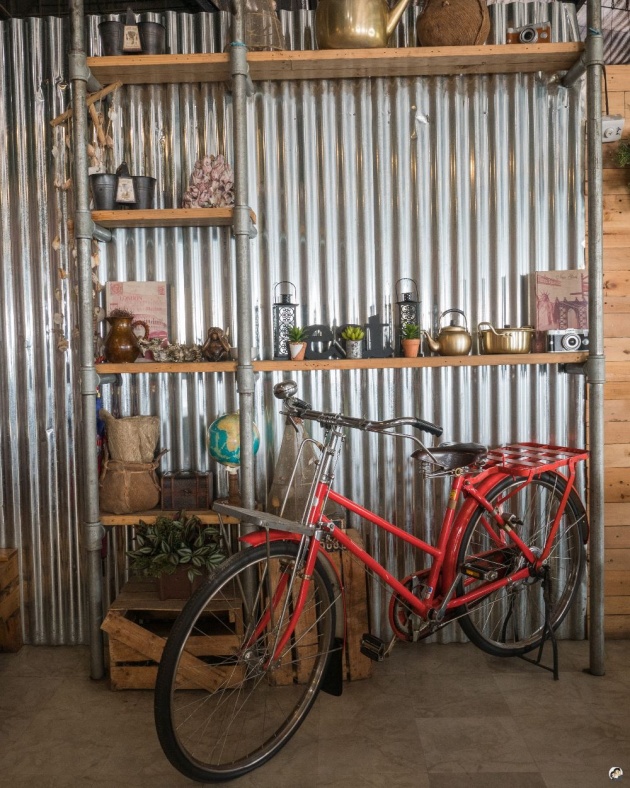 Image credits: Jean Beltran via bitLanders
When we requested for another set of rice, the staff went to our needs immediately.
Waiting time after ordering our preferred viands took only a good amount of time, in fact, we didn't really mind if that would take longer because we were not that hungry yet and we were both busy taking photos of the location.
Again, I don't have anything to complain about in terms of their service.
Indeed, Cebu's food industry has been booming and it has opened its way to various other establishments, there are diverse restaurants with different themes and surely social media will be their best friends or their enemies. Most customers would talk about their experiences online and this takes a huge part of the future of the said restaurant.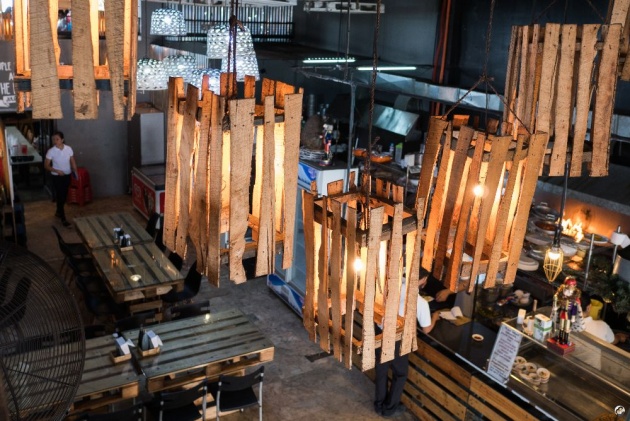 Image credits: Jean Beltran via bitLanders
---- o ----
Blog entry written and published by Jean Beltran-Figues, A Pinas traveler and photography hobbyist, find more travel blogs in my blog section, click here.
---- o ----
Check also my recent blogs:
• Celebrating Our Third Wedding Anniversary
• Half Day Tour to Sipalay Negros Occidental
• Punta Bulata Resort and Spa is a Hidden Gem in Cauayan Negros Occidental!
• 5 Reasons Why I Can't Get Over Natural Native Sea View Cottage
• We Fell in Love With The Cottage on a Hill at Negros Occidental!
• The RUINS: A Love Which Lives Through Time