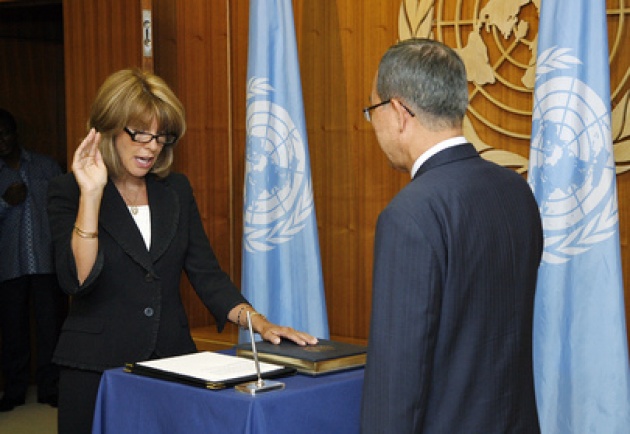 Rule of law is key to the implementation of the 'responsibility to protect' principle, "R2P", and the prevention of atrocities according to Under-Secretary-General for Legal Affairs, Patricia O'Brien, coincidentally speaking at a roundtable discussion on the R2P concept at the 55th annual meeting of the Russian Association of International Law in Moscow. (Russia is not member of the International Criminal Court and has been perceived as obstacle in the most recent cases of Syria as well as Libya in having violations referred to the ICC). "R2P represents an important commitment by the international community to protect populations from egregious crimes. The international community has a responsibility to help States meet those obligations, or to step in when States manifestly fail to do so […] These obligations are anchored in international law, and reflect obligations of humanity." See our Blog for Film – "UN Human Rights Chief Leads Syria Confrontation"
Three Pillars of R2P:
Ms. O'brien is the UN's top lawyer and emphasized that international law is crucial to uphold the three pillars of R2P:
--Pillar I is the enduring responsibility of States to protect their populations;
--Pillar II is the role of the international community to assist States to protect their populations before conflicts escalate; and
--Pillar III involves a commitment in which States are prepared to take collective action through the Security Council when national authorities are "manifestly failing to protect their populations."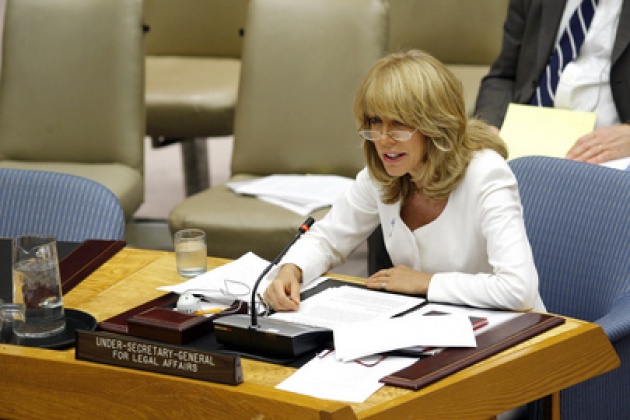 Duty is Global, Regional as well as National:
Ms. O'Brien underscored that the international community, through regional organizations and the UN, can assist States to build rule of law capacities that will make them less susceptible to R2P situations, including technical assistance, engagement on human rights, peacekeeping and peacebuilding projects. Ms. Obrien noted that laws such as those dealing with international humanitarian activities, refugees and the Rome Statue of the International Criminal Court (ICC) will provide the necessary structures to prevent large scale atrocities within a country's territory. Read our Blog for Film – "Can Annan/UN Afford to Look Away from Syria Crimes".
Partial Success of R2P in Libya & Syria?
"The challenge for the international community is to find ways to prevent further escalation of the conflict, R2P's contribution is to continue to underscore the responsibilities of States vis-à-vis their populations, and to pressure and motivate the international community to help State meet those obligations.To a very large extent, the Syrian authorities have disregarded their responsibilities. However, the international community is focused and motivated, and, while much remains to be done, the doctrine of R2P is very much engaged." Read our Blog for Film: "In Syria Invoking R2P"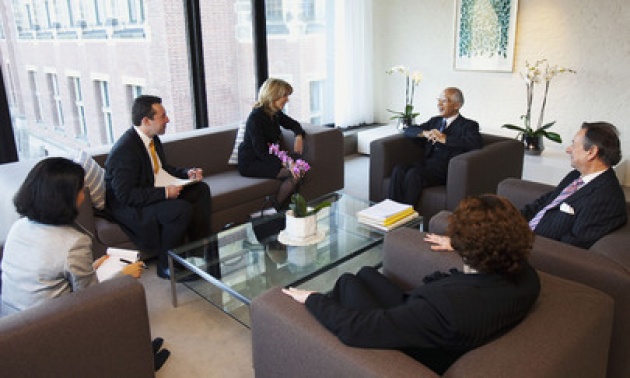 Ambassador Muhamed Sacirbey - FOLLOW mo @MuhamedSacirbey


Facebook-Become a Fan at "Diplomatically Incorrect"








Twitter – Follow us @DiplomaticallyX







See more at our Popular Video Blogs & Current News Event Articles – www.diplomaticallyincorrect.org
Bottom UN Photo: Patricia O'Brien (third from left), Under-Secretary-General for Legal Affairs and United Nations Legal Counsel, paid an official visit to the International Court of Justice (ICJ), the UN's principal judicial organ, based in The Hague, Netherlands, to meet with Members of the Court and other ICJ officials. Here, Ms. O'Brien is seen with ICJ President Hisashi Owada (centre) and Registrar of the Court Philippe Couvreur (right) in the President's office.