Mary Shelley could not know, while she was writing the tale of Dr. Frankenstein's monster one night in 1816, that she was seeing the future. In some bizarre ways, she was.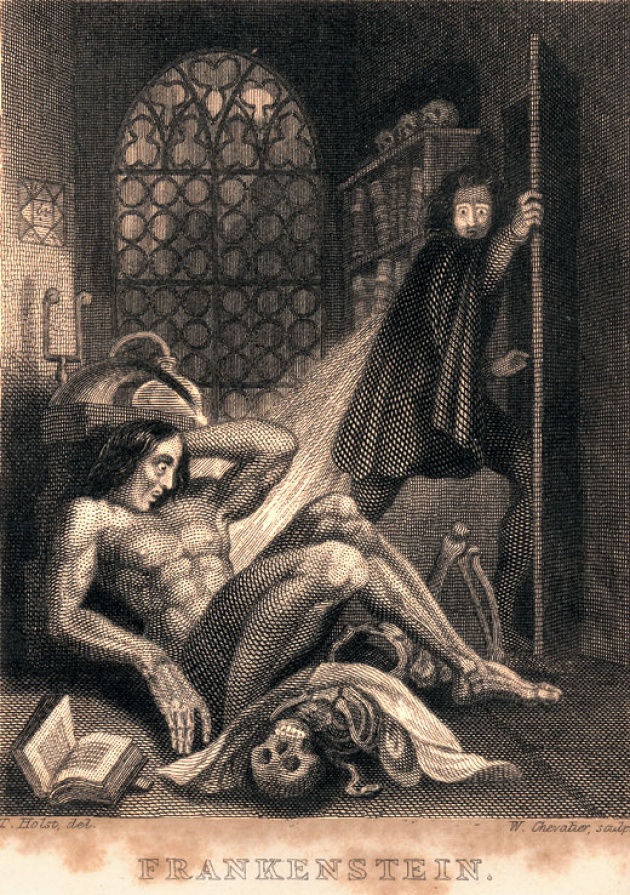 Mary Shelley was only 19 years old when she wrote the story as a challenge from the poet Lord Byron during a vacation in Switzerland. The origin of the horror story that is now such a popular genre in film, may have been a simple wish that science could restore a dear loved one who was gone.
Mary lost her first baby the year before, and she dreamed that warmth could make the baby come back to life. Published in 1818, her Dr. Frankenstein was a success, and she became a professional writer - a huge achievement for a woman in England in that time.
Did the possible realism of the story give Frankenstein's monster universal appeal? Electrical shocks bringing life back into a lifeless body were fiction in Mary Shelley's day, but they are now common practice in emergency rescues. Shock pads called defibrillators are placed on the chest of nonresponsive people and electrical shocks are given. The shocks may restart the heart's natural beating rhythm, bringing the momentarily dead body back to life.
Harvesting organs from dead human bodies and stitching them together seemed to be a macabre fiction when Shelley first told her horror story. The character Dr. Frankenstein's act appeared to violate laws of nature and religion. In Thomas Edison's 1910 silent film version, Dr. Frankenstein is depicted as the archetype of a mad scientist - an educated and confused, dangerous fool. He and his creation are labeled as evil in the subtitles.
Andy Warhol's Frankenstein in 1973, directed by Paul Morrissey showed the doctor as a cold and evil character trying to create a perfect race from combinations of the dead. Kenneth Branagh's version, produced by Francis Ford Coppola, starred Robert De Niro, Helena Bonham Carter, Ian Holm, Tom Hulce, and John Cleese - was closer to Shelley's original story. Where is the real horror in the story of Frankenstein today?
Frankenstein Today
Mary Shelley could not have known that today so many people would:
carry organ donor cards
willingly giving away their bodies' cells, tissues, or organs
But this is common place now. After death, their body parts are carefully lifted out by physicians, and sewn into the bodies of others whose organs failed. The process adds days, weeks or years to their lives if medication to prevent organ rejection is taken faithfully. People who die with no identification of the body may also meet the same outcome, donating organs to diseased living patients who would not survive without transplants. More than 100,000 patients wait on lists for healthy organ transplants in the United States alone.
The science of organ transplants that has saved lives is now woven into the fabric of our often flawed lives, reminiscent of horror envisioned in films like The Island. Transplantation extends the lives of some patients, but transplantation becomes a tragedy for people involved in human organ trafficking for illegal transplants.
Resuscitation is now expected as the rule, not the exception. Automated external defibrillators, AEDs are installed in most large worksites and public areas and using them is part of CPR training. If the heart has stopped for a few minutes, resuscitation may work. More than 4 minutes, and brain damage is likely. By 10 minutes without a pulse, brain damage is likely and may be unavoidable even if the heart restarts. In hospitals, end-of-life care has become one of the biggest healthcare expenses in the US, with billions spent on the last year of life. Hospital teams resuscitate chronically ill people repeatedly, unless a do-not-resuscitate, DNR, form is on file.
Read more about Mary Shelley's remarkable story, which spawned a genre of film, and foreshadowed practices in modern medicine at the National Library of Medicine, in "Frankenstein, penetrating the secrets of nature" at: http://www.nlm.nih.gov/frankenstein/birth.html .
Share Your Reader Reactions
Did Mary Shelley see the science in the future that she wished might become possible one day?
Which film is your favorite version of the Frankenstein story?
Please leave a comment to share with the FilmAnnex community.
For more blogs on Science in Film click on the subscribe button.
Related Articles at Film Annex
You may also enjoy: Science in Film: Forces of Nature or Science in Film: the Evil Doctor and Science in Film: Women with Klout