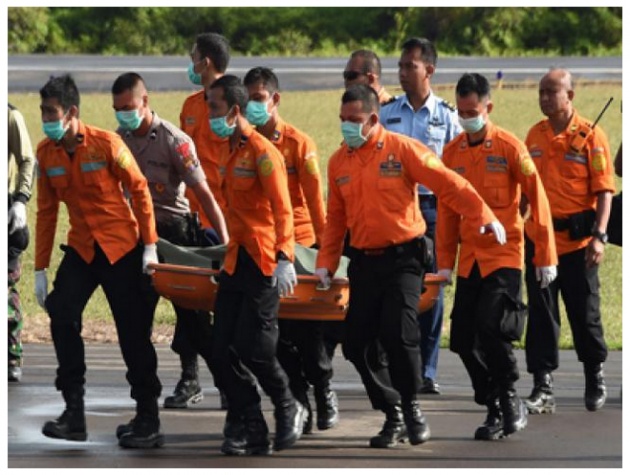 Indonesian recovery teams narrowed the search area for AirAsia Flight 8501 Friday, hopeful they were closing in on the plane's crash site, with a total of 16 bodies and more debris recovered from the sea.
French and Singaporean investigators with equipment for detecting the signal from the plane's black boxes were set to join the hunt for the Airbus A320-200, which disappeared from radar during a storm Sunday en route from Indonesia's second city of Surabaya to Singapore.
The plane crashed in the shallow waters of the Java Sea off Borneo but rough weather and high seas have hampered the search for the fuselage and the bodies of the 162 passengers and crew.
Search and rescue agency chief chief Bambang Soelistyo said Friday's search was focused on an area of 1,575 nautical square miles, with 29 ships and 17 aircraft engaged in the operation. It is a tenth the size of Thursday's search, which covered an area of 13,500 nautical square miles.
"There are two main tasks in this priority sector: First, to locate the biggest part of the plane's body.
"The second task is to find the position of the black boxes, or flight recorders, which will be carried out by the KNKT (National Transport Safety committee) which start working today," he told a press conference.
"Divers are already on standby at the navy ship Banda Aceh to dive on that priority area to locate the body of the plane," he said.
"I hope we'll get a significant result today."
'Wing flap' found
Another search official, S.B. Supriyadi, said the bodies and debris recovered so far had been found within a relatively small area, which indicated the fuselage was likely nearby.
"We found parts of the plane which could be part of the wing or the plane's interior," he said on local television channel MetroTV, displaying a white wooden structure about 1.5 metres by 1.0 metre (five feet by three feet) with part of a corrugated hose attached.
Former transport minister Jusman Syafii Djamal said it appeared to be part of a wing flap.
Supriyadi told MetroTV that they had also detected a metal structure but it proved to be a false lead, possibly a sunken ship.
There are dozens of shipwrecks in the Java Sea, both modern and from World War II when the area was the scene of a major naval battle between the Allies and the invading Japanese.
Supriyadi separately told AFP that the weather had improved to allow the use of helicopters as well as ships in the search.
"Besides the aerial search, we'll concentrate on searching for the fuselage using sonar detectors," he said.
"Hopefully we'll be able to locate it so that the victims will be immediately retrieved and brought to their families."
First funeral
Relatives held the first funeral for an AirAsia victim Thursday afternoon after her body was handed over to her family in Surabaya.
Police said she was identified as Hayati Lutfiah Hami from fingerprints and a surgery scar, plus an ID and a bracelet on her which the family recognised.
A crisis centre for identifying the victims has been set up at a police hospital in Surabaya with facilities to store 150 bodies.
Police said they would be using fingerprints, dental records and DNA to identify victims. Visual identification is likely to become difficult the longer the bodies remain in the tropical sea.
The plane is believed to be in relatively shallow water of around 25-32 metres (82-105 feet).
Before take-off the pilot had asked for permission to fly at a higher altitude to avoid a storm. But his request was not approved due to other planes above him on the popular route, according to AirNav, Indonesia's air traffic control.
In his last communication, Captain Iriyanto, an experienced former air force pilot, said he wanted to change course to avoid the menacing storm system. Then all contact was lost, about 40 minutes after the plane had taken off.
Of the 162 passengers and crew on board Flight QZ8501, 155 were Indonesian, with three South Koreans, one Singaporean, one Malaysian, one Briton and a Frenchman -- co-pilot Remi Plesel.
The plane was operated by AirAsia Indonesia, a unit of Malaysia-based AirAsia, which previously had a solid safety record.
The crash came at the end of a disastrous year for Malaysian air travel.
After the disappearance of Flight MH370 in March, en route from Kuala Lumpur to Beijing with 239 passengers and crew, another Malaysia Airlines flight -- MH17 -- was shot down over Ukraine in July, killing all 298 on board.