"You can leave Hong Kong, but it will never leave you." ~ Nury Vittachi, Hong Kong: The City of Dreams
Because of the Piso promo fare from an airline company, my sudden Second Out of the Country Trip happened. It was a sudden online booking but I was thankful enough for the time allowed for me to prepare financially for the trip. Unlike with my first, I had my parentals with me so no worries about financial expenses. Almost a year of bouncing off the wall thinking that "finally, my childhood dream will come to reality". Until the 2nd of June 2014 arrived for me to say "goodbye Cebu and see you later Hong Kong".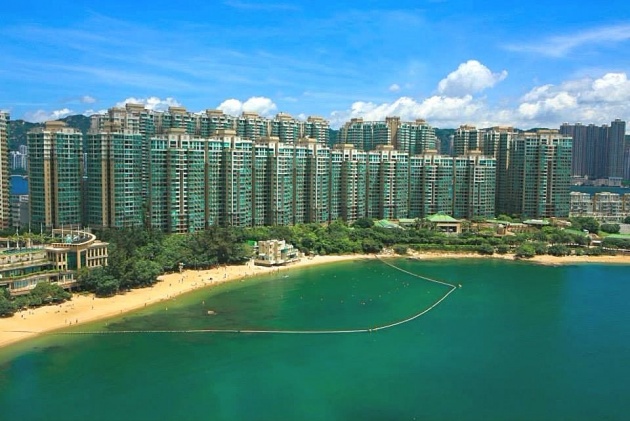 An amazing view of skyrise towers in Hong Kong while on board will greet you few minutes before landing. Seeing this view from the plane's window pane made me more giddy to see the city. Partly, I made a related article for this trip which is entitled: FULFILLMENT OF A CHILDHOOD DREAM. So let me start my writing from where I depart -- Mactan Cebu International Airport (MCIA).
IMMIGRATION INTERVIEW BEFORE BOARDING AT MCIA
We checked-in on an earlier time because it was my travel buddies first out of the country trip -- understandable. I was in their shoes back then when I had my First out of the Country Trip. It was then our turns for the interview at the Immigration Counter. Since I already knew the process, I handed all my travel documents to the officer for checking. Series of questions was then thrown at me by the Immigration Officer.
Officer: So this is your second time to travel out of the country?
Me: Yes Sir.
Officer: Are you going alone?
Me: No Sir, I am with my officemates (pointing at my back) and my team leader (pointing on the line of the next booth).
Officer: Oh so you're in a group?
Me: Yes Sir.
Officer: How many are you?
Me: (Silently counting) 7 Sir.
Officer: Stamped and returned my passport together with my travel documents.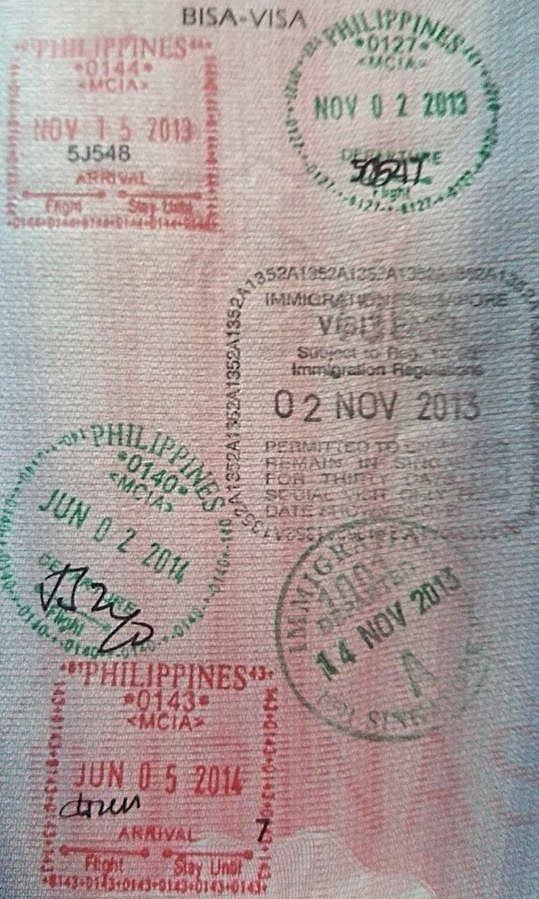 June 2, 2014 Stamp / Photo Credit: Dimpsy
No further questions asked just stamped my passport with the June 2, 2014 departure, maybe because I have been to Singapore already and I returned to the country on the expected date of arrival as you can see on the stamps the arrival and departure dates with no extensions.
Feeling so relieved but I stayed a distance from the immigration booth just enough to eavesdrop the conversation of the officer and my 3 friends queueing behind me. Personal questions were asked and the officer advised the other members to move forward to the window and made a simultaneous questioning to my three colleagues and my friend's child. After few minutes we're all done and giddily went to the boarding area. In less than 30 minutes, we boarded the plane with flight number 5J240 and off we go to my Second out of the Country Trip -- Hong Kong.
DISTRIBUTION OF ARRIVAL AND DEPARTURE CARD WHILE ON BOARD
While on board and before touchdown, the airline staff/s will provide you an Arrival Card and Departure Card to be filled out personally. An entry and departure requirement for every visitor of the country (depends on the country) for immigration clearance/s. You must legibly fill in the card and use black or blue ink for your pens not red, please. After filling in the required information in the boxes sneak it into your passport.
ARRIVAL CARD

a legal document that is required by immigration authorities in some countries for the purpose of acquiring visitor information that is not stated in the visitor's passport and serves as a record of the visitor's entry to the country. This card is retained by the Immigration Officer.
DEPARTURE CARD

a legal document that is also required by immigration authorities in some countries that provide visitor's identification and visitor's departure record/s from certain countries. You need to retain this card until the day of your departure. Upon departure for passport control clearance at the immigration counter, hand over your passport together with this card to the control officer for clearance purposes.
FILL IN THE ARRIVAL CARD AND THE DEPARTURE CARD
Here are the details that you need to fill in the boxes from left to right, top to bottom.
Family Name - should be written in capital letters
Sex
Given Name/s - should also be written in capital letters
Travel Document Number - your passport number
Place and Date of Issue - the place and date where your passport has been issued
Nationality - your citizenship
Date of Birth - should be in day, month and year format
Place of Birth - the place where you were born
Address in Hong Kong - the specific address of the hotel or the place where you will stay
Home Address - address from where you live in your country
Flight Number or Ship's Name - write down your flight number or the name of the ship if you're cruising.
From - origin of the country from where you left off (Arrival Card)
Destination - next country destination or your home country if you're going home (Departure Card)
Signature of traveller - affix your signature
The Departure Card has the same required information needed except for number 12. Instead of From in the Arrival Card, it is Destination in the Departure Card. See the respective blank sample cards below that I kept for 3 years.
Note: Please write legibly and neatly if possible no alterations please and dont fold the cards.
THE ARRIVAL AT HONG KONG INTERNATIONAL AIRPORT
Arrival at Hong Kong International Airport / Video Credit: MySX30 via Youtube
Here is a glimpse of Hong Kong International Airport at Terminal 1 (T1). An overview of T1 to provide you an idea of what I will be discussing in this blog. Who knows you will be in Hong Kong at least you know where to go.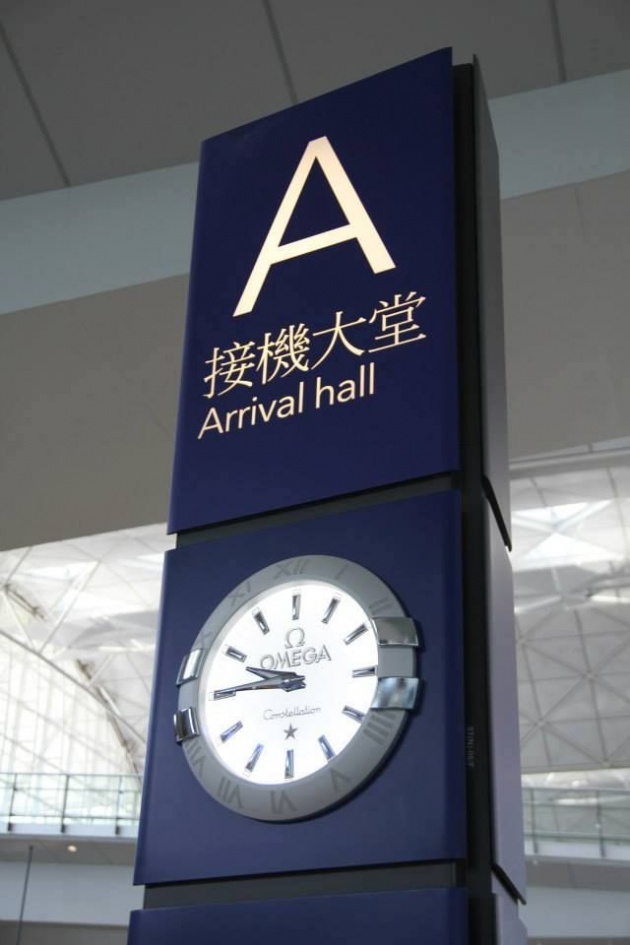 Arrival Hall A in Terminal 1 / Photo Credit: Dimpsy
Upon arrival in Arrival Hall Terminal 1 at the Hong Kong International Airport, we went straight ahead to the Immigration Counter having my passport, the arrival card and travel documents ready. To my surprise, no interrogations were made because the officer assigned to me was so busy chatting with the officer next to her booth. The Lady Officer then handed me my passport together with my Departure Card. When I checked on my passport, there was no stamped at all but instead, there's a small slip of paper sneaked in my passport.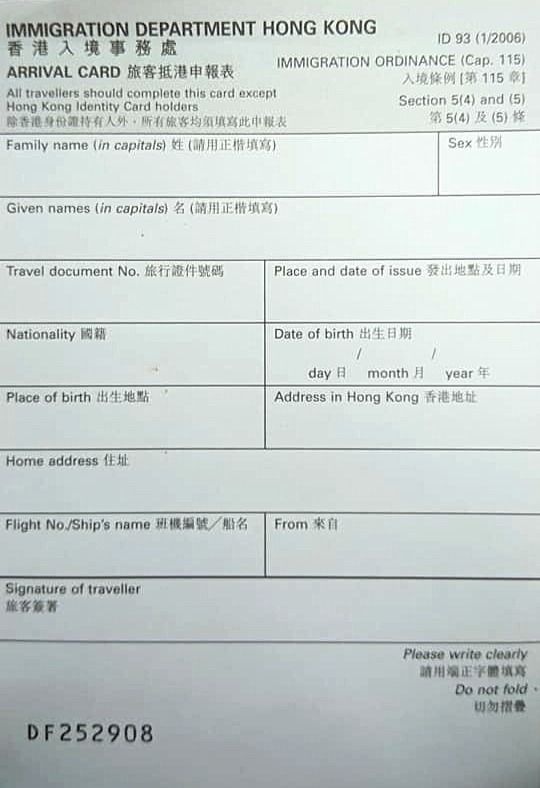 Blank sample of an Arrival Card / Photo Credit: Dimpsy
ARRIVAL CARD SAMPLE
A blank Arrival Card of Hong Kong that you need to present to the Immigration Counter Officer that is duly filled out together with your passport and other travel documents if needed. This will be retained by the control officer upon arrival for clearance.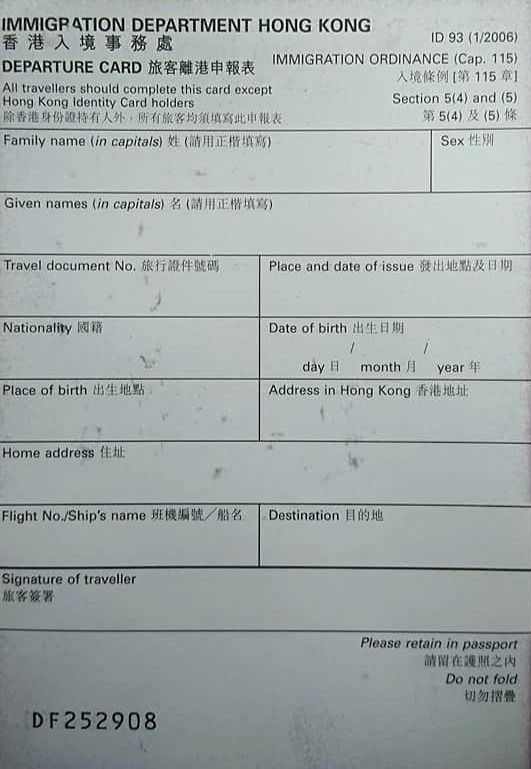 Blank sample of a Departure Card / Photo Credit: Dimpsy
DEPARTURE CARD SAMPLE
This is a blank Departure Card of Hong Kong that comes with the Arrival Card and this card will be retained by the passport holder or by you so make sure to tack it in safely in your passport because you will be needing it during departure for clearance purposes.
SMALL PAPER SLIP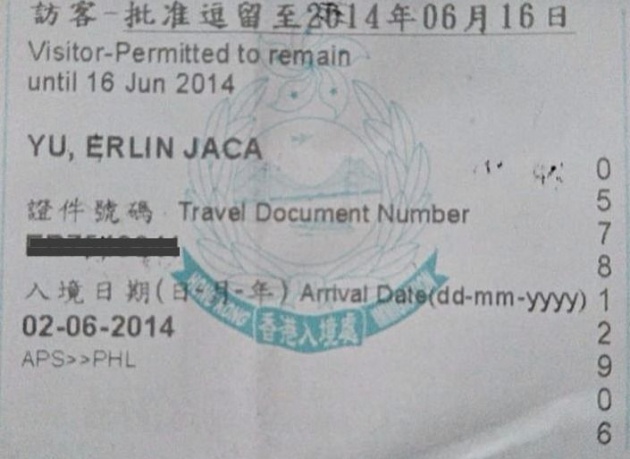 Small Paper Slip / Photo Credit: Dimpsy
The slowly fading small slip of paper that is printed out after scanning my passport served as my proof of entry in Hong Kong instead of the usual entry stamp. It's a computer-generated paper that carries the date that I am permitted to remain/stay in the country, my full name, travel document number or my passport number (shade out), and the date of arrival. The slip has its own serial number shown at the right side of the slip and security features that can only be seen with the use of ultraviolet technology.
The stamping of the passport has been stopped since 18th of March 2013. A way to accommodate millions of visitors in Hong Kong for a 3 seconds period for every visitor entering the border. And according to Assistant Immigration Director (Information Systems) Corrado Chow who once said:
"Three seconds may seem very short. But considering there were 47 million visitors last year … [much] time will be saved".
BAGGAGE RECLAIM HALL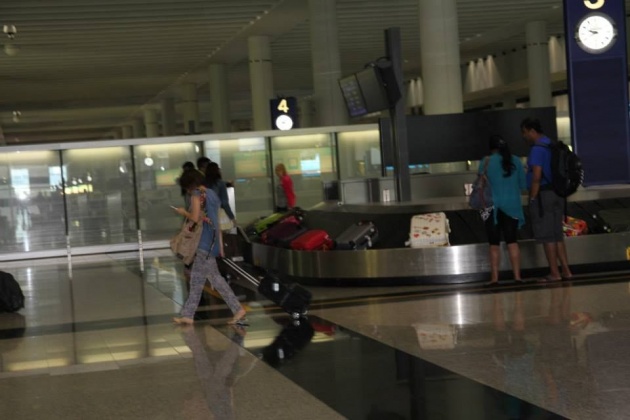 Baggage Reclaim Hall / Photo Credit: Dimpsy
Right after the clearing process from the Immigration Control Border we then head to the Baggage Reclaim Hall where we picked our luggage. Just in case your bag/luggage is missing please contact your airline and report the loss immediately.
CUSTOMS AND EXCISE CONTROL
If you have item or goods in your luggage that you need to declare, this is the place to be. Once you get your luggage go directly to Customs and Excise Control to declare the item or goods that you need to declare.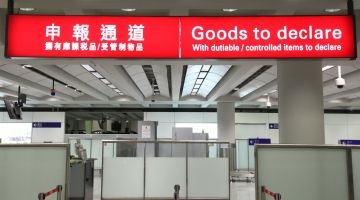 If there is one or a few goods that you need to declare at the Customs and Excise Control, you may proceed to the "red channel" board sign to process the declaration.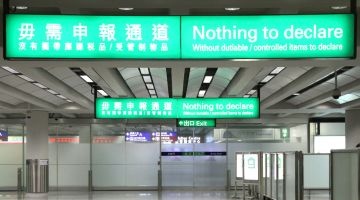 But if you have nothing to declare you may proceed directly to the "green channel" area to clear yourself out and go. Make sense, red means stop green means go. Hahaha, I just thought of it while typing.
You may visit www.customs.gov.hk for declaration guidelines.

BUFFER HALLS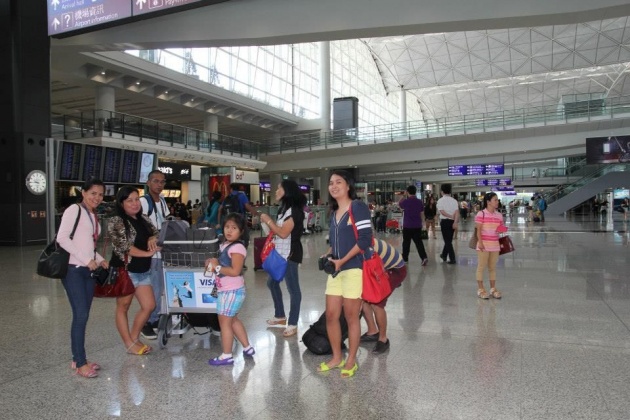 Buffet Halls / Photo Credit: Dimpsy
After all been done we went to the Buffer Halls to greet and meet the cousin and friends of one of our travel buddies. In this hall, you may find the good section of shops and food outlets (like the McDonalds as seen at our back in the photo) that will cater your needs. But we prefer to do a window shop while waiting for our friend's host.
We finally met the host and her friends for the day and as a token, she gave each and every one of us a Nike cap. We bought our Octopus Card for HK$150 that we can use for bus and train fees. We even used it at 711 shops for personal purchases. You can consume the HK$100 and the HK50 will be refunded to you as you depart or you can opt to keep it if you like.
Hong Kong Attractions / Video Credit: Aileen Adalid via Youtube
Here is a 5-day itinerary video of Hong Kong attractions that you might want to enjoy. We only have 2 days in Hong Kong and we spent each day at Disneyland and Ocean Park respectively. Unable to see the other attractions shown in this video because of the limited to stay and to do so. Maybe next time if there is.
END OF INTRODUCTION
So this is it, I will just end my introduction of my Second Out of the Country Trip. This is just a walkthrough of how I manage to leave the Philippines and made an entry to Hong Kong. I know that in every journey, we have a different story to tell and mine was all of the above mentioned. You may go through a different process once you travel out of your country but at least and somehow this blog will provide you the basic know how's in traveling outside of your comfort zone.
Thank you once again and happy reading. Keep updated for my next blog posts on Disneyland and Ocean Park. Until then, bye for now and here's a Querlo Chat for you to drop me a message.
Hong Kong related blog that you may want to read: