Senakulo 2018 - San Pablo City, Laguna, Philippines.
Senakulo (The Passion Play or Eastern Pageant), named after the upper room, a yearly tradition that is happening in many parts of the world during Semana Santa (Holy Week). This dramatic presentation shows the passion of Jesus Christ. A creative play of His trials, suffering and death.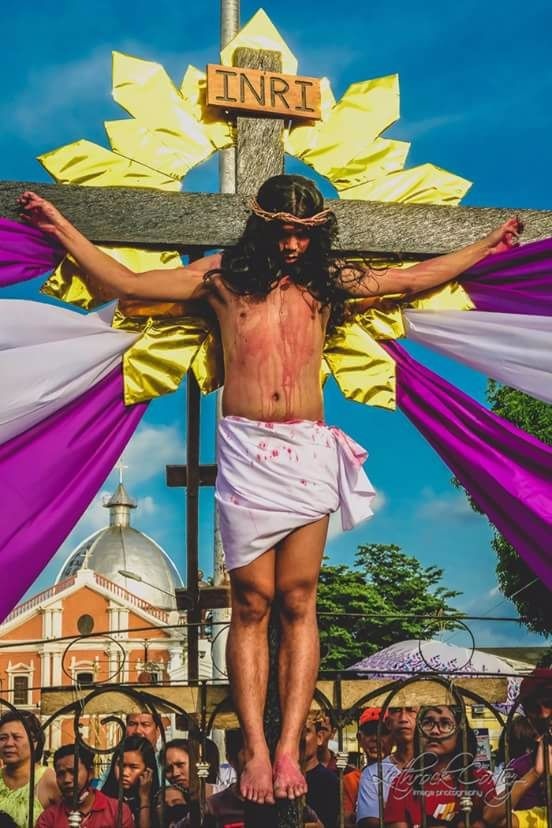 Photo Credits to Zethrock Cortez via facebook
Philippines
Philippines, in different parts of our country, this practice is very common. There are different versions of senakulo and each one uses their own script and act. A lot of theatre companies and community groups performs this play. These script are decades or even century old drawn from bible, movies or folk-tradition.
San Pablo City, Laguna
The Senakulo here in San Pablo City, Laguna, Philippines. Yearly, a group of volunteers performs this tradition, they endure the heat of the 2:00 PM sun until they finished their act. The Senakulista who participated in this tradition belongs to the group called Maskara Inc. lead by Robinson Cedre. This group performs yearly and every year their members increases. Members of Maskara Inc. are all volunteers and passionate in this tradition. They potrayed using their costume and make up unlike in other part of the world that uses mask.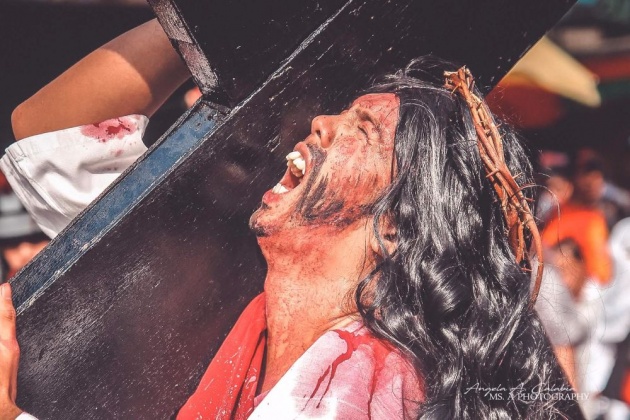 Photo credits to MS. A PHOTOGRAPHY (Angela A. Calabia) via facebook
Senakulo - Ang Daan Sa Kalbaryo
Yearly alot of people are looking forward to this, I can tell this because they are waiting before the event even started.
They start at the city's plaza, with members murmuring then stating that its the time that the someone will be arrested, then alot of things had happened.
They don't stay there!! they walk across different streets of the our city.
One of act was from Lazarus, asking, begging to take the position of Jesus and be the one on death sentence, being emotional, very well played until he was taken down, kicked and let him lay there for a while then he was picked up by the guards.
oh shoot!! Lazarus was lying down on the street under the heat of the sun and I think it was painful since the kicks was an act. hooo!! Fried Lazarus!!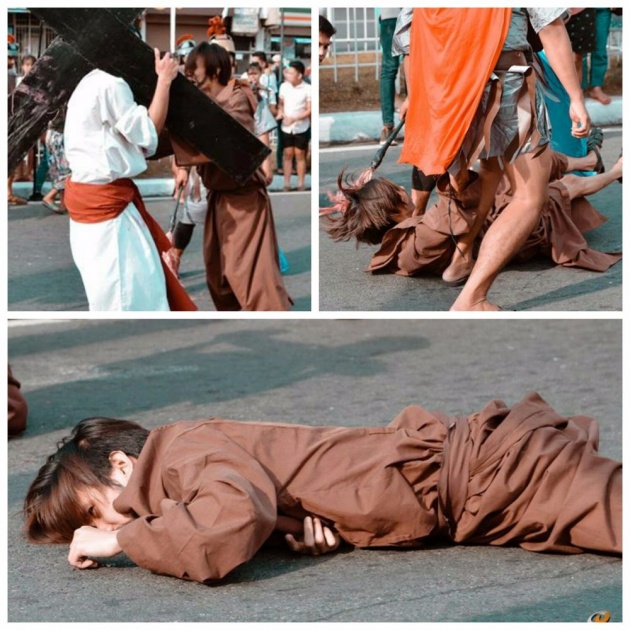 credits to the great photographer Carlo Villafane via facebook.
Oh by the way he's my cousin. XD
Pedro (Peter), in this act, he was denying Jesus then when he drop near Him, he cried and it was real!! he was really crying. His acting was awesome, you can really feel his emotion, "nakakatindig balahibo" (goosebumps or something alike I don't really know) as we describe it and my cousin said that the one acting as Pedro is one of their great actors and every year this act is always a must watched performance.
video credits to Mau Enobio via facebook
(sorry the video is not in public)
Judas, this scene of Judas, the full of regret scene of Judas. He was loud, emotional, awesome acting. This act is another "nakakatindig balahibo" scene of their play. He was asking for forgiveness, he was blaming himself, he cried and shoot!!! it was really catchy then he shouted "Kamatayan!!" (Death!!).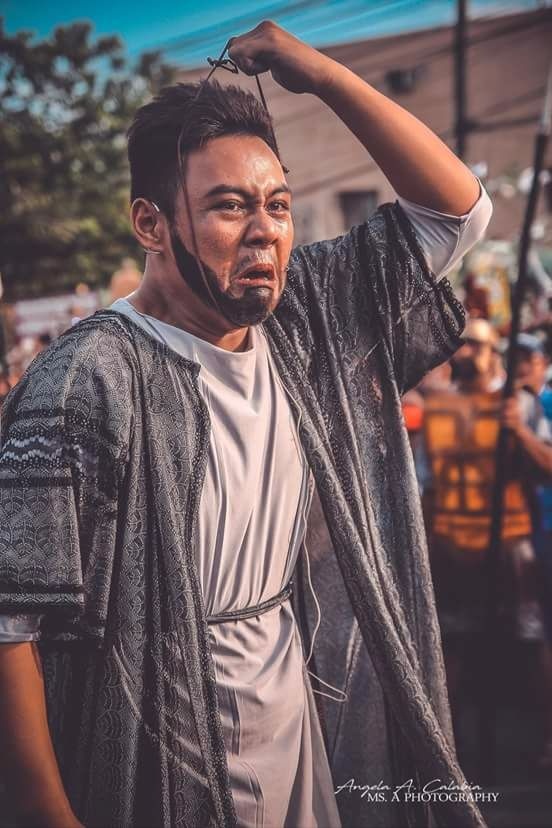 Photo credits to MS. A PHOTOGRAPHY (Angela A. Calabia) via Facebook
This scene is really awesome but look at him, he was holding a shoe lace instead of a rope, it was a bit funny but I would still give it a 5 star since you would not recognize it while you are watching, well I just realized it when I saw this picture.
Judas looked like he disappeared by running to the "taong bayan" (the crowd) and hid to them.
Very tricky move while under the audience eyes.
Maria (Mary) and others, their cries, you can feel them, as emotional as it should be. Their scene when Jesus was in her lap, oh men hands up.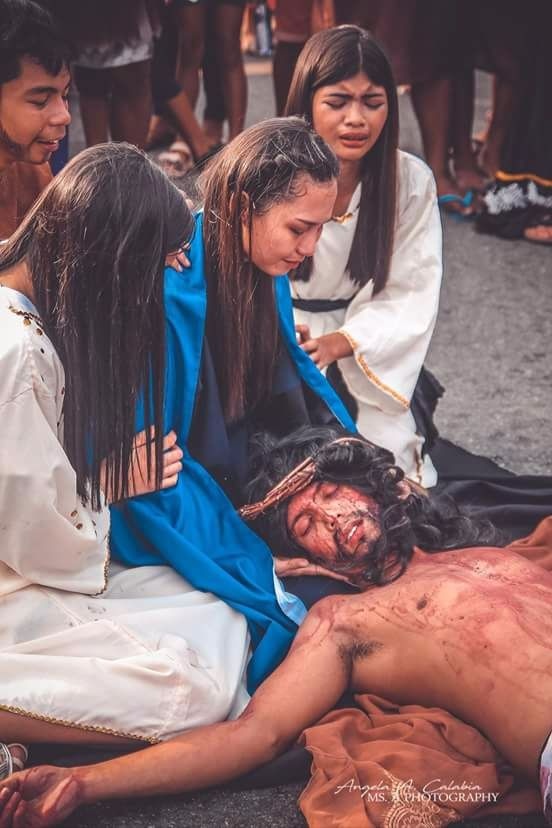 Photo credits to MS. A PHOTOGRAPHY (Angela A. Calabia) via Facebook
Even the scene of Veronica was there. She was the one who offered her veil.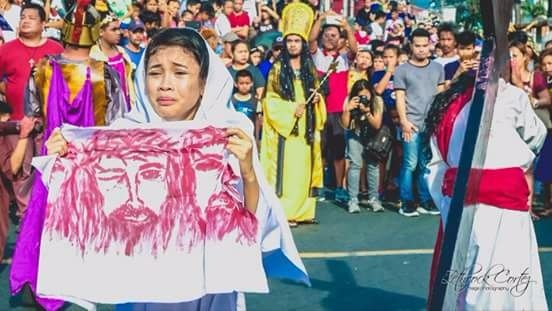 Photo credits to Zeth Cortez via Facebook
The one who was acting as Jesus, walks while having a cross, it was realistic!! oh men you wish you were there. I bet it was really tiring, under the heat having that cross even though its not that heavy, its looks tiring.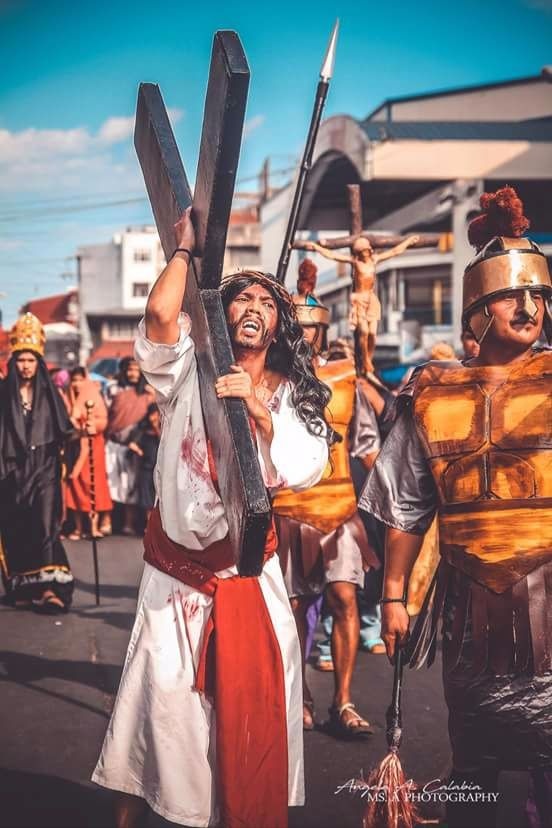 Photo credits to MS. A PHOTOGRAPHY (Angela A. Calabia) via Facebook
My cousin told me that they were supposed to push him in some parts, but they didn't do it since he was really tired.
The cross, when they are nailed at the cross, a blood like liquid are flowing, giving the effects of blood really good!!. His sorrow while he was speaking, it gave the audience chill.
Do not worry, they were not nailed, it was just another effect, very catchy and I'll really give it a plus plus!!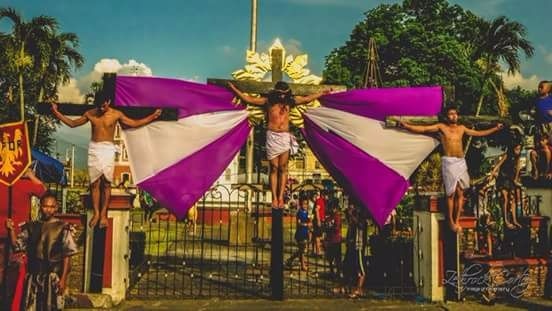 Photo Credits to Zethrock Cortez via facebook
One thing you can notice about their members, most of the "taong bayan" of their group are kids, yep!! they are kids, its really good seeing this kids join the yearly tradition of senakulo. I am hoping that they will still give time to attend their next practice and next act for 2019. I must include that 3 of their "taong bayan" are my cousins, and next year an additional 2 will be added. XD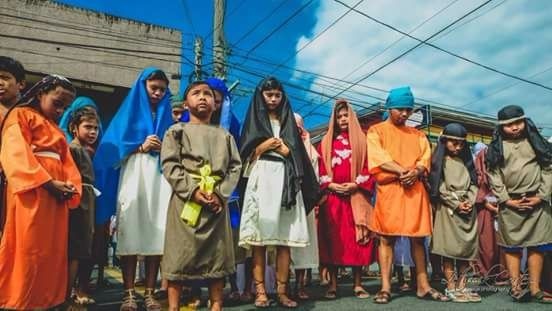 Photo credits to Zethrock via facebook
They were great, awesome, you can really hear their lines and feel their emotions. Their main characters had mic and lapel. A very satisfying act that you will not feel that you are tired, an act that you'll really need to finish, a performance that you'll bare walking under the heat of the sun and with a lot of people. I guess this is the result of their yearly performance althought some of the main cast were replaced.
Aside from a lot of audience there are also alot of photographer that sometimes block your view, but I'll still thank them because I'm using their photos instead of mine and my aunt's, you know why, better angle, better shot and not focus on my cousins, hahaha!!
A video clip of Senakulo. Credits to Tyron James Luanzon via facabook (the video is not in public)
So what do you think? Are you gonna watch the next senakulo on your place?
If you want to browse on the photographer's album here are the links:
MS. A PHOTOGRAPHY
Zethrock Cortez
Carlo Villafane
videos:
Tyron James Luanzon
Credits are given to the owners of photos and videos used.

------------
I hope you enjoyed. Buzzed up and comment.
Share on social media (facebook, twitter and instagram).

------------
Do you to earn while doing something you do on facebook or twitter or instagram?
Do microblog, upload your photos and videos and post big time blogs!!
Interact with other members and earn.
Come on join us @ Bitlanders