If you have been following this blog series, you will be aware that I am currently in the process of creating and adding sound effects to Shine. As it is an animation, all of the sound effects must be added in manually. This can be a very painstaking process which is often overlooked by most filmmakers, but given that sound is essentially 50% of your film, sound design is an incredibly important process.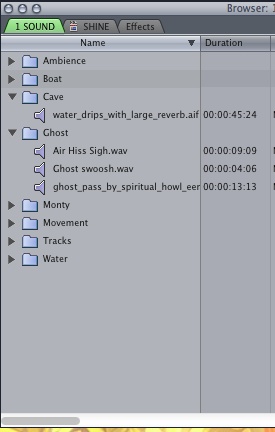 The first step I am taking with my sound design, is to gather all of the sounds I need. Each sound needs to be very specific and able to blend in well with the scene. For example, if I need a sound effect of rain for my ocean scene, the rain needs to sound like it is landing on water and is an outdoor recording otherwise the scene will sound strange and can possibly ruin the audiences immersion. This may sound like common sense, but mistakes like these can be very easy to make if you get complacent with the sound design.
So where am I getting these sounds from? Since my film production is on a very limited budget, I am first looking to find sound effects for free online. If I can't find the right sound effect, I will then try to record the sound effect myself. If I am unable to record the correct sound, I will then look to either paying a sound designer for help, or buying a sound effect. By approaching my sound design this way, I am able to place in most of my sound effects so that when/if I do give the film to a sound designer, they are able to get a better sense of the films atmosphere.
In my search for sound effects, I have stumbled across a really useful youtube channel which offers a wide array of quality sound effects for free! The channel is called Professional Sound Effects so if you are need of sound effects for your films, you can subscribe to it here. The channel has a ton of sound effects all neatly organised into playlists which are easy to navigate through. They also seem to add new sound effects daily!
I also wrote a blog a while ago detailing some other places to find free sound effects online, which you can read here.
-----
If you have your own films you would like to upload and earn revenue from, please follow this link and sign up! - here
Also be sure to subscribe if you enjoy my content!