Shola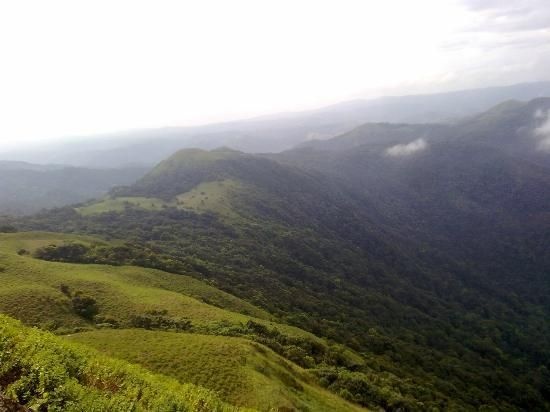 Sholas and grassland in the Brahmagiris, Coorg . Wooded bands act as ecological corridors also protecting rivers and limiting erosion. Shola forest interspersed in valleys among high altitude grasslands on the Brahmagiri Hills.
Shola forests are found in the higher altitude hill regions of the Nilgiris, Kanyakumari district, the Western Ghats and associated ranges in the states of Karnataka, Kerala and Tamil Nadu. Although generally said to occur above 2000 meters above sea level, shola forests can be found at 1600 meters elevation in many hill ranges.
Fauna
Due to their isolation, altitude and evergreen character, shola forests are home to many threatened and endemic species. Some of the species found here have close relatives only in the distant evergreen forests of Northeast India and Southeast Asia. Some others are found nowhere else in the world.
Flora
At least 25 types of trees are present in the major sholas of the Nilgiri Hills. The dominant trees in this type of forest are Michelia niligarica, Bischofia javanica (bishop wood), Calophyllum tomentosa, Cedrela toona (Indian mahogany), Eugenia (myrtle) spp., Ficus glomerata (atti or cluster fig tree or gular fig tree) and Mallotus spp. Shola forests have an upper storey of small trees, generally Pygeum gardneri, Schefflera racemosa, Linociera ramiflora, Syzygium spp., Rhododendron nilgiricum, Mahonia nepalensis, Elaeocarpus recurvatus, Ilex denticulata, Michelia nilagirica, Actinodaphne bourdellonii, and Litsea wightiana. Below the upper story is a low understory and a dense shrub layer. There is a thick concentration of mosses growing on the understory and many ferns in the sunlit narrow transition to grassland.
Conservation
Periodic fires have been considered to help maintain the grassland, however excessive burning has led to a shrinkage of forest patches and the growth of invasive species.
The shola biome have a high water retention capacity and exists as the precious source of the water for the high altitude organisms are the origin of many streams and rivers in the Western Ghats.
Brahmagiri (hill), Karnataka
Brahmagiri, is a mountain range in the Western Ghats of south India. It is situated on the border between Kodagu district in Karnataka state in the north and Wayanad district of Kerala state on the south . Brahmagiri Hill, at 1608 m height, is a scenic tourist attraction. The top of Brahmagiri Hill is well forested and has a lot of wildlife.
Brahmagiri can be reached by a trek from Mananthavady (29 km east) or from Kutta. From Karnataka side, trek to Brahmagiri from Irupu Falls is 9 km and to Munikal Caves is 7 km. Trekkers need to seek the permission of Range Forest Officer at Srimangala. Brahmagiri is about 11 km from Tirunelli.
Brahmagiri is about 270 km away from Bangalore thereby making it an ideal weekend getaway trip among tourists.
Shola, Grass and Mountain en route to Grass Hills and Konalar Hut forest rest house, Indira Gandhi Wildlife Sanctuary and National Park.
The Shola Grasslands and forests in the Kudremukh National Park, Western Ghats, India. The Park is about 600 Sq. km in area and is one of the 25 biodiversity hot spots in the world.
Kudremukh also spelled Kuduremukha is a mountain range and name of a peak located in Chikkamagaluru district, in Karnataka, India. It is also the name of a small hill station cum mining town situated near the mountain, about 48 kilometres from Karkala and around 20 kilometres from Kalasa. The name Kuduremukha literally means 'horse-face' (in the Kannada language) and refers to a particular picturesque view of a side of the mountain that resembles a horse's face. It was also referred to as 'Samseparvata', historically since it was approached from Samse village. Kuduremukh is Karnataka's 3rd highest peak after Mullayangiri and Baba Budangiri. The nearest airport is Mangalore International Airport at Mangalore which is at distance of 99 kilometres.
Viewing the Kudremukh peak from a closer distance reveals the reason for its unique name. The peak does resemble the face of a horse facing up towards the sky.
The Kudremukh range was declared a Tiger Reserve, as part of the Bhadra Tiger Sanctuary by the Union Environmental Minister, Government of India.
The wet climate and the tremendous water retentive capacity of the shola grasslands and forests have led to the formation of thousands of perennial streams in the region converging to form three major rivers of the region, Tunga, Bhadra and Nethravathi which form an important lifeline for the people of Karnataka and Andhra Pradesh. Lobo's house is an old abandoned farm on the upper reaches of Kuduremukha.
Trekking in Kudremukh
Trekking to the Kudremukh peak is permitted from 6:00 am to 5:00 pm after which you will be not allowed as per forest rules. The Lakya Dam is drained most of the time and is not of much interest for visiting. Hanuman Gundi Waterfalls is a good place to visit but you will be allowed entry only from 10:00 am to 4:00 pm. Please note If you are found wandering in the forest near the peak in the late hours without a guide or a local accompanying, the forest officers have authority to detain you.
(source:wikipedia)
(credits to wikipedia)