Video credits: TechSmartt via YouTube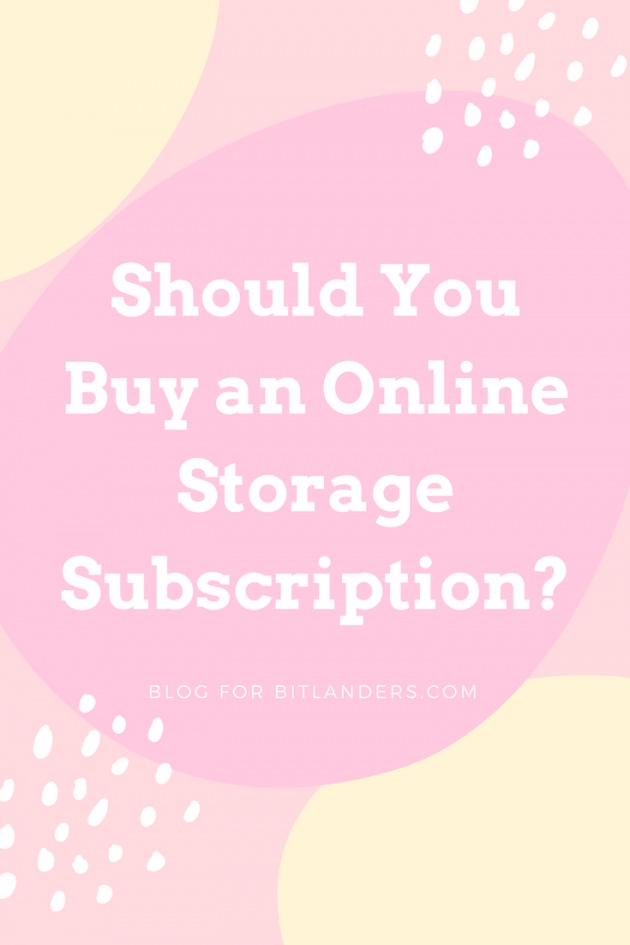 Image credits: Jean Beltran via bitLanders
Today, as I was browsing through my hard drive made me realized that I needed a new external hard disk, it's becoming full! Disk D which contains most of our documents including all the media files taken this year is close to being full, the red colored disk indicates that I have to move files to a separate storage medium as soon as possible.
Currently, we have four external hard drives, two which contains 500GB of storage each, one has 1TB and the newest member got 2TB. But aside from owning a brand new hard drive, I thought about the online storages I have. I thought I should make use of them. Then I came up with this blog idea: Should I buy an online subscription for data storage?
Image credits: urfilez
I can't stress enough how this generation has been elevating the way of life. From the old days when USB devices can only contain a few MBs to those extents when it began to hold a gigabyte worth of data until the external hard drives came into picture which allows hundreds and thousands of gigabytes of data.
I remember back in college, we were advised to buy a USB stick and what I can afford was only the 1GB which cost more or less a thousand pesos. One thousand pesos is a big amount of money way back 2006 and I had to purchase it because that's what was required! Now, 1GB of USB costs less than two hundred pesos.
Image credits: mexicanbusinessweb
But it didn't stop there because online storage joins the pack. Online servers had been evolving and popping out to provide their services.
Currently, there are hundreds of services online which provides data storage. But what does online or cloud storage really means?
Cloud Storage is a service where data is remotely maintained, managed, and backed up. The service allows the users to store files online so that they can access them from any location via the Internet.

Information: bigdata-madesimple.com
Here is also the top best online storage which. They would definitely ring a bell because they are famous in the online realm due to the fact that they provide free storage too in case one can't afford to buy a subscription.
Video credits: Nasuni via YouTube
According to moneysavingexpert, these are the top storage sites with free storages:
Google Drive

: 15GB free.


Box

: 10GB free.


OneDrive

: 5GB free (1TB for students)


iCloud

: 5GB free.


Dropbox

: 2GB free, plus up to 16GB extra.


Amazon Drive

: 5GB + unlimited photos with Prime.


BT Cloud

: 5GB-500GB 'free' for BT b'band custs.
Image credits: cnet
I believe you are familiar with the list, these are just some of the best but there will be more newborn services soon offering the same nature. Some of those in the list might even die by the next years and new ones will arise.
For me, having an online storage means two things:
1. Data Access Anywhere
Image credits: itergy
Given that you have internet access, your precious data can be accessed anywhere, anytime, just ensure that the login credentials are secured and they are easy to remember, if not just make sure you won't lose them.
I personally have different online storages and the challenging part is to keep up with the passwords I use for each especially that I have memory issues too myself. At first, I thought I should use the same password to all these online sites but I soon realize that would be a bad idea because the tendency of getting hacked is high.
Image credits: digitaltrends
Going back, having access to an online storage means having the ability to get your file in those needy times when the tangible storage is unavailable. Moreover, with the use of mobile devices, accessing the data is much efficiently better and easier too.
2. Additional Data Storage Backup
Image credits: itpro
More importantly, with an online storehouse, you are given a supplementary backup data storage. That additional backup means a lot!
This doesn't mean you will be putting all other things into the online storage, no, that shouldn't be the case, instead, it is an opportunity to be able to keep important items in the cloud just so they are available to you in cases where the original backup fails.
For professional usage, most back up their data up to three or more copies to endure that he won't be missing anything out. They would even be willing to store to a variety of storages, some may copy them to a physical hard drive, in an external one and an online, just to be assured.
Should You Buy an Online Storage Subscription?
Image credits: gcn
Having an online storage is pretty beneficial as it has usability and accessibility advantages, however, it also has its own drawbacks which includes hacking risk and internet-dependable.
But its Pros are favorable compared to its disadvantages in my own opinion, nonetheless, the real question is that if you are willing to pay extra cash to acquire the most of its functionalities.
Now the real question is if it is wise to stay as a free user rather than buying a subscription? Let's weigh the advantages and the disadvantages, let's point what are the consequences and the pros when we decide to just stay as a free one.
1. If you are using it for personal use, just take the free one.
Image credits: whatsonmypc
So if you are only using this online storage for your own individual usage, do not worry about buying a subscription at all. As a matter of fact, no one would dare to shell out extra cash just so they could get an additional Giga or terabytes of an online storehouse. Plus buying one isn't just a one-time payment! It includes a subscription basis which means, you'll have to pay every month or in some cases annually to get that drive available for you.
Though, if you are willing to cash out because you feel that having an online storage is good for you, then you go for it! It is still best to take the most out of these services.
2. For business and professional usage, buy a subscription.
Image credits: cloudhostingforbusiness
Now, the real deal comes when you talk about using this online storage for business use.
Having them for businesses such as for your online jobs, your photography business and etc, it is a nice deal to pay because aside from getting a larger storage, it opens up the other functionalities such as better security, some have the option to keep your deleted files available for a few months before it gets really removed off from the server. This is to properly guarantee that you won't be losing any data at all. That is one of the best things about keeping a backup online.

What are your thoughts? Are you with me in this or you think it is still best to keep your files on your computer? Or do you think it is wise enough to have an online backup too? Let me know through your comments below.
Afterall, the call is for the user himself, based on your needs, you may buy or stay using the free service. It's all up to you!
---- o ----
Blog entry written and published by Jean Beltran-Figues, A Pinas traveler and photography hobbyist, find more travel blogs in my blog section, click here.
---- o ----
Take care guys! Don't forget to visit the following Querlo chat: