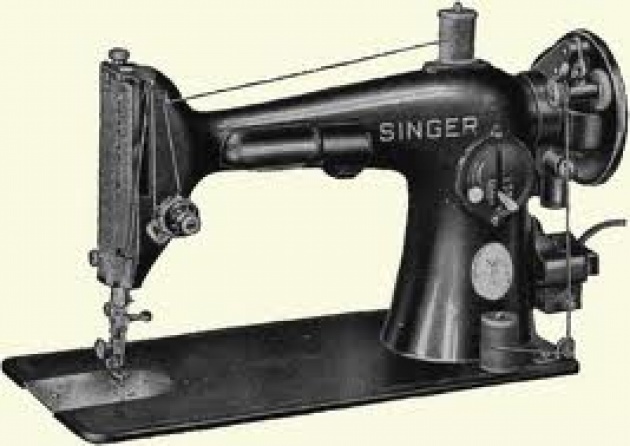 The Singer Sewing Machine was the first consumer product "Game-Changer". The invention won the first "Gold Ribbon" at the 1st World's Fair in Paris, France in 1855. This manufacturing company led the way for the American Industrial Revolution, creating the first home appliance, and company's rising fortunes ushered in Mark Twain's "Gilded Age".
Singer was the first successful international vertically integrated business model in history. The company's business plan has been taught at The Harvard Business School. Singer's management created credit in America in 1873, when the U.S. economy was in a recession, offering their best sewing machine for a mere $5. down and $3. per/week for 40 weeks.
This credit policy helped the struggling public the opportunity to make clothes for their families and even start businesses that hadn't existed before. The Singer Sewing Machine Co. supported the Woman's Suffrage Movement, and it's advertising campaign featured beautiful women in store windows behind a sewing machine/table.
Pedestrians would walk by and see the machine's power n action, and most had to have one! Singer built factories to satisfy the demand on waterfronts to ship product in their own ships. On the other side of the factory, railroad tracks were used to ship sewing machines in railroad cars. Each Singer actory had a giant clock right in front of it, so everyone knew what time it was. Employees had to be on-time!
Singer also had an in-house advertising agency that created beautiful Victorian Lithographs, Trading Cards, Prints, etc. Singer offered retirement plans for employees. Singer hired Ernest Flagg to build the first skyscraper (47 stories tall in 1906) in the world in lower Manhattan at Liberty and Broadway with an Observatory onthe 40th Floor facing Lady Liberty. Singer machines sewed the wings to the Wright Brothers first plane and the sails of the ship "The Atlantique," which won the first Trans Atlantic Race in 1905 from Red Hook, Brooklyn to Dover, England in 12 days and 4 hours (a record that held for 75 years!).
Singer Sewing Machine Co. became the world's firs international conglomerate with factories all over the world! By 1920, the company had grown to roughly 90,000 employees with 5000 stores and offices around the globe! By the time Singer was taken over in a hostile bidding war in 1987, the company made jet aircraft engines, computers, vacuum cleaners, irons, and assorted kitchen appliances. It's assests were broken-up and sold for 4 billion dollars. Today, Singer is on the rise again and is managed by the Scandanavian SVP Worldwide..
Here are some noteworthy American and European institutions and landmarks that were either directly built by or helped by the various Singer fortunes:
The Statue of Liberty in NYC Harbor...The Baseball Hall of Fame in Cooperstown NY...The Osewgo Hotel in Cooperstown, NY... Clark Museum in Williamstown, MA...Clark University in Worchester, MA...The Dakota Apartments in NYC...The NY Yacht Club...The Metropolitan Museum...The Museum of Modern Art...The Explorer's Club (and Admiral Peary's Trip to The North Pole)...The Singer Tower...TheSinger Plant in Elizabeth NJ and Montreal, Canada...The Singer Buildings in Chicago, and Richmond, VA....Singer Castle...Indian Neck Hall in Oakdale LI...Villa Strassburger in Deauville, France...Haras Des Monceaux in Chantilly, France...Normandy Farm in Blue Bell, PA...Bourne Hall at The Gunnery in Washington , CT... Bourne Meadows at Lake Tahoe...Albourne Rancho...Airy Hall Plantation...Jekyll Island Club and Hotel...Singer's Oldway Mansion in Torquay, England,...and Augusta National Golf Club, Augusta, Georgia. A pretty impressive collection of properties that enhanced culture and architecture throughout the world!
The best evidence of Singer's early great global reach is a simple set of Victorian Trading Cards created by Singer for the Chicago World's Fair of 1893 where the world's first Ferris Wheel was introduced. Each card depicts a country where sewing machines were sold in. By 1900, Singer was selling 3 million sewing machines per year. Today, Singer's sewing machines are sold in more than 190 countries!
A Stitch In Time Saves Nine...
By Jeffrey H. Sado
See Jeff at http://www.filmannex.com/webtv/historymavens/movie/jeff-sado-about-lady-liberty/30465. Jeff talks about his latest screenplay: "Lady Liberty."