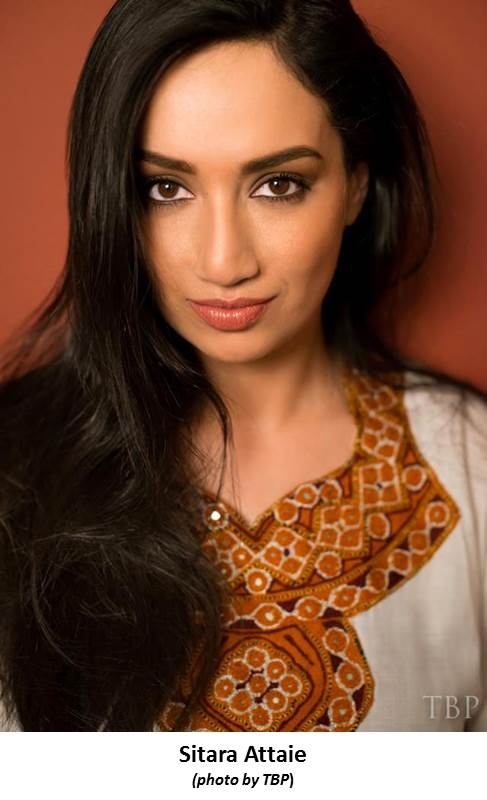 Introduction: 'Sitara' means 'star' in the Dari language of Afghanistan. And whether by chance or design, there is no better first name for Sitara Attaie. She seems to become a star at whatever she does.
I first heard about Sitara's many talents from a number of Afghan celebrities who witnessed her electrifying dance performance at last November's Rumi Awards show in Las Vegas.
They said that Sitara enthralled hundreds of the world's best-known Afghan media personalities, artists, and a global TV audience when she commanded the stage at the Rumi Awards with a stunningly beautiful Afghan-Indian dance medley that she had choreographed herself.
People who saw her perform at the Rumis say they will never forget it.
But after I was introduced to Sitara Attaie, I quickly learned that there is far more to her than an award-winning body of work as a dancer and choreographer. Well-traveled and fluent in five languages – Dari, Dutch, Hindi, English, and German – Sitara also is an actress in film, TV and theater. She is a Dutch television personality and has promoted the European shows of Bollywood megastars such as Shah Rukh Khan, Hrithik Roshan, John Abraham and Priyanka Chopra. Today, she is a rising Hollywood actress with recent performances in several award-winning films and television series.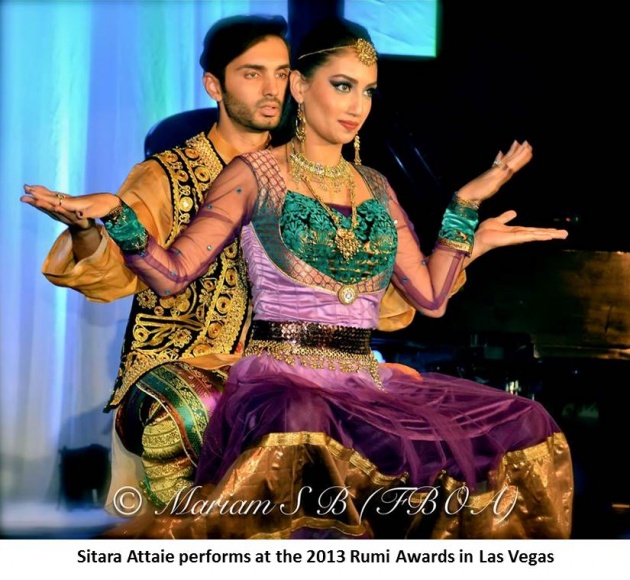 But that's not all. She has won beauty pageants in The Netherlands and Turkey. She is a sought-after fashion and runway model. She's been formally trained in Method acting at the world-renowned Lee Strasberg Theatre and Film Institute in West Hollywood. And as an actress and voice-over artist, Sitara Attaie has worked on major productions such as Showtime's Homeland (Emmy Award - Best Drama Series 2012), the Oscar-winning film Argo (Academy Award - Best Picture 2013), RED 2, and popular television shows such as True Blood, NCIS, Bones, and Nikita.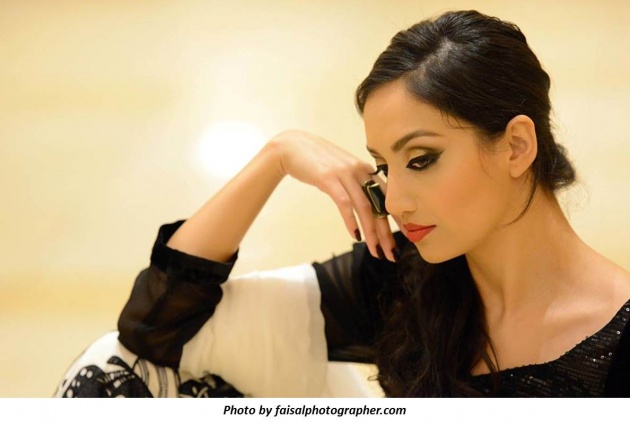 EARLY LIFE AND TRAVELS
Sitara Attaie was born in Kabul. In her early years she spent much time watching classic Bollywood films at home on old VHS tapes, and her fascination with India, film and dance began. Her father owned an electronics store (also named Sitara) that rented Bollywood and Hollywood movies to customers on the side. So Sitara's father supported his young daughter's interest in film by bringing home movies of many different genres for her to enjoy. Little Sitara grew up in a home environment filled with movies, music, video clips, and dance.
When Sitara was seven years old her family emigrated to India, where her love for that country and its vibrant art and culture continued to grow. Sitara's Indian neighbors and friends showered her with attention. Her Indian teachers also recognized her talents and were very supportive.
Even though she was an Afghan and a foreigner, Sitara says she never felt out of place in India. Her first public performance on Indian Independence Day won her a cup for singing 'Hum Hoongee Kamyaab Ek Din' - the Indian version of 'We Shall Overcome,' which is also a famous anthem of the 1960's civil rights movement in the United States. No one during the competition ever cared where she was from.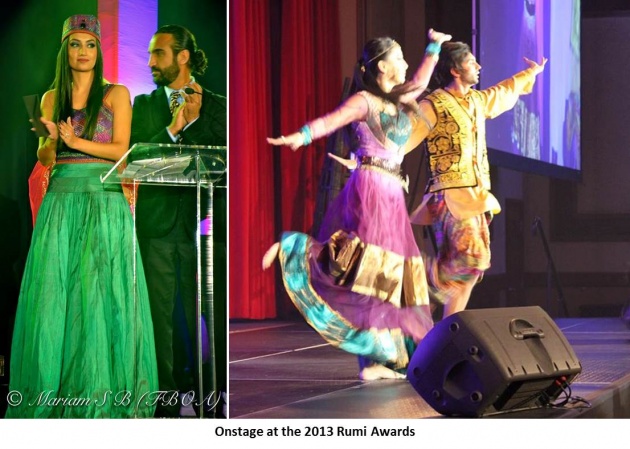 She learned Indian classical dance (Kathak) at school, started speaking fluent Hindi and English, and began to come into her own as a young artist. She fell particularly in love with Kathak dancing, the ancient art of expressing Indian epic tales through dance.
MOVE TO THE NETHERLANDS
But after five memorable years in Delhi there was another family move. After a time in Nepal and Thailand, Sitara and her family soon found themselves as new immigrants in The Netherlands. Life was completely different, but Sitara also thrived there. She learned to speak fluent Dutch and German, and soon created multiple career tracks for herself in journalism, dance, acting, modeling, and as an entertainment promoter. "Holland gave me a lot - a voice, a thick skin, and skills that brought out the best in me," says Sitara today. "Holland helped me develop into an individual who can have her opinion and express it without fear."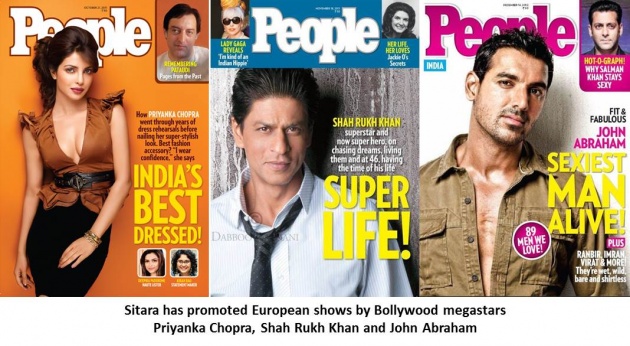 Sitara received a degree in Fine Arts from the prestigious University of Groningen, then worked in The Netherlands for several years as a freelance columnist and model. She participated in a variety of television shows and TV debates on minority issues, and during that time also became a popular dance instructor, performer and choreographer. She won numerous awards for dance and several beauty pageant titles, and established herself as General Manager of the Sekier Entertainment Service (SES Entertainment) in Rotterdam. Among other promotions in this role, she introduced Dutch readers to Bollywood stars and rising minority talents by writing for Cultuur Scouts magazine.
After deciding to permanently relocate to the United States, Sitara is now based in Hollywood and focuses on acting, modeling, choreography, and her professional dance career.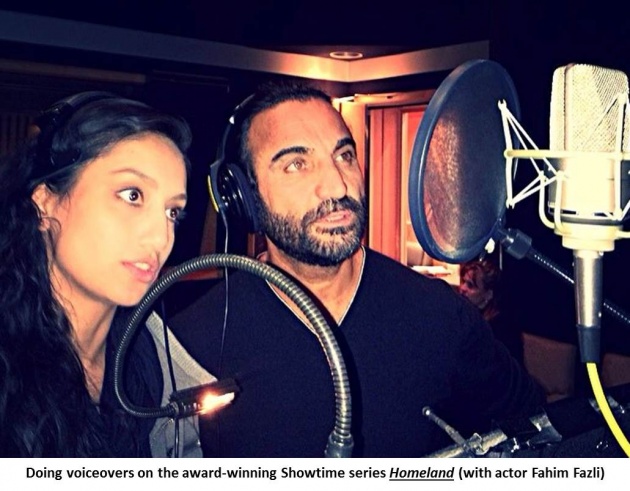 It's clear that Sitara Attaie is very familiar with success, adventure and the public eye. But I also found her to be remarkably charming, smart, and generous of spirit. She even took time from her always-busy schedule to contribute her Dutch language skills to the final editing of 'Afghaanse spreekwoorden geïllustreerd', the new Dutch-Dari edition of 'Afghan Proverbs Illustrated'.
Both I and the book's translator (Ariadne Bechthold of Afghan Voice FM radio in London) found Sitara's speed, accuracy and passion for our three-way Dutch-English-Dari translation project to be remarkable. The result was the world's first and only bilingual book of Afghan Proverbs in Dutch and Dari. And the versatile Sitara Attaie had yet another unique role under her belt.
-----

Sitara Attaie speaks here with Edward Zellem, author of the award-winning books Zarbul Masalha: 151 Afghan Dari Proverbs and Afghan Proverbs Illustrated.
-----
DANCING AND INDIA

Film Annex: Sitara, it's a privilege to speak with you. We're fascinated by your successes in the arts of four very different cultures and languages – Afghan, Indian, Dutch and American.
Sitara Attaie: Tashakur, Edward jaan. It's great to speak with you too. I'm just as fascinated in your work with Afghan Proverbs, and I was happy to help with editing the Dutch edition. There is no doubt that the arts, language and culture are vital and living things that connect us to each other as fellow humans.
FA: That's very kind of you, Sitara jaan. But let's talk about you. You've said that you 'found your passion' for dance in India. What is it about Indian dance that appeals to you?
SA: Luckily, I grew up in a family that always has had great appreciation for the arts. I absolutely love classical Indian dance styles: more specifically, the Kathak and Bharata Natyam styles. Both of these are very ancient dance forms. The reason I love classical Indian dance is because it combines the storytelling element with the particular elegant style of Eastern movements.
In India, part of my school's mandatory curriculum was to attend Kathak classical Indian dance classes, and then we would then perform the routines we learned for all the parents on Parents' Day. India has many festivals, most of which are celebrated publicly. These festivals typically have Talent Shows that encourage children to showcase their talents. I often performed in the shows because I had such a strong desire to dance and perform. India quite literally gave me both the skills and the platform to do that.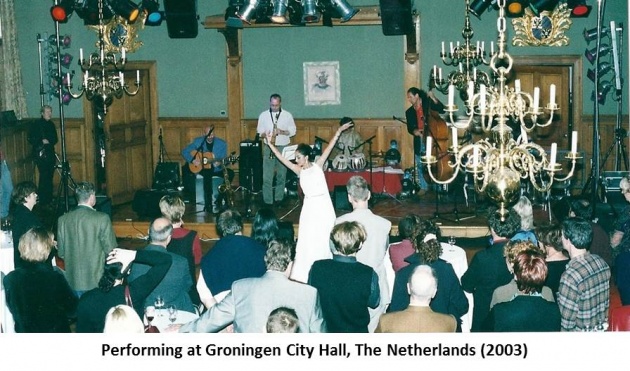 DANCING AND HOLLAND

FA: And then you brought your Indian dance experience to Holland? What did you do there?
SA: Holland gave me the chance to take what I'd learned about dance in India to the next level by entering my choreography in Dutch competitions. After winning several local championships, I competed at the national level in The Netherlands and won there as well. That opened many doors for me to continue performing and working on my own choreographies, as well as to teach dance.
I particularly enjoyed working with the Stichting Jungle Warriors, an educational team of international artists led by Jan Kuiper. Their purpose was to help teenagers learn more about international forms of arts. We performed at schools and educational festivals in Holland, Belgium, Luxembourg, and Germany. After that I started teaching students at Dansschool Klaassens in The Netherlands, which was great fun. I love helping people learn how to dance, because I want them to experience the same joy that I have when I dance.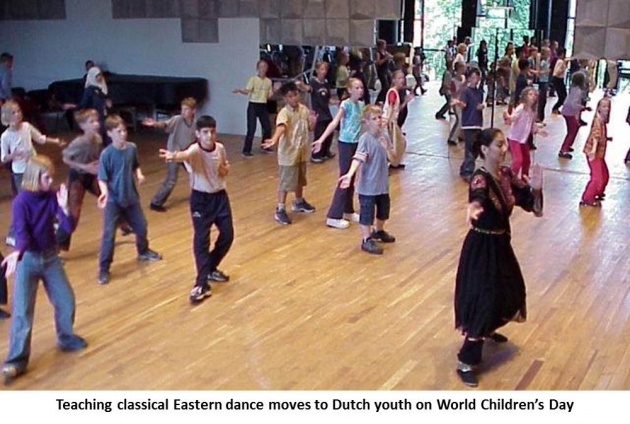 Now, my goal is to somehow showcase our Afghan national dance: the Attan. It saddens me when I see that Attan is usually only performed in private and family settings. Other countries and cultures promote and showcase their culture, music, and dance, but we Afghans unfortunately tend to hide ours. I want to change that.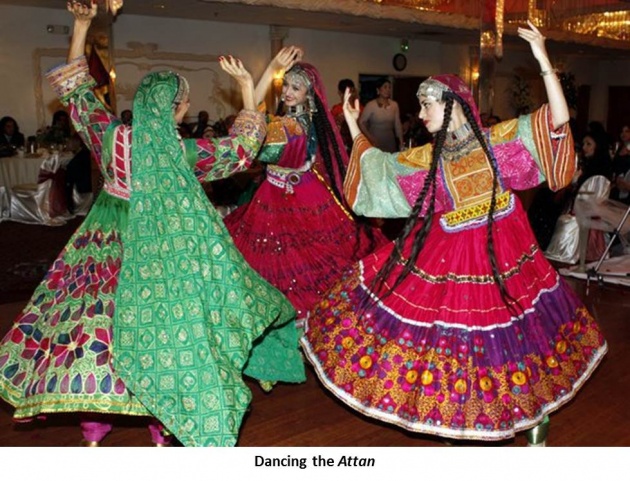 "DANCE IN THE MIDDLE OF THE FIGHTING"
FA: It is well-known that the Taliban oppose dance. They even made music and dancing illegal when they were in power. What would you say to someone who says that you should not dance?
SA: I believe dance is a form of art. Art is an expression of the soul. And the Soul is our connection to the Divine. Many Muslims around the world do not oppose music or dance. In fact Sufism, which is the mystical dimension of Islam, actually encourages both music and dance. For example, during the Sufi practice of the Ceremony of Sema, the whirling dervishes whirl to the sound of music. This formal ceremony is performed to reach religious ecstasy.
When dancing, you disconnect from the physical world. There is a moment in which you feel elevated and exalted to a glorious state of being. I don't believe there is anything wrong with that. Many Afghans love and enjoy the art of dance and also enjoy dancing themselves. Afghan parties typically have a lot of music and dancing.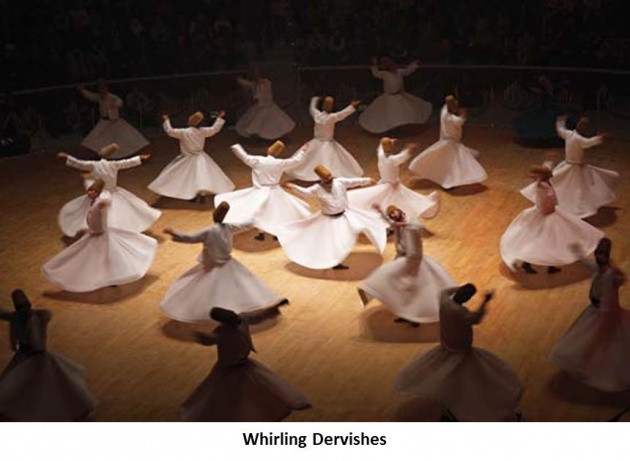 The reason why a few people still consider dance to be sinful has its roots back in the historic association of dance with palace courtesans. Several centuries ago, only the courtesans would dance publicly to entertain powerful kings and lords. Some people still hold those ancient beliefs and consider dance a taboo.
Obviously, times have changed. We have learned to appreciate the art of dance in our modern world. While dance previously was practiced only by women, we now have amazing male dancers and choreographers too. I was thrilled to see an Afghan dancer, Meysem Noori, as one of the two finalists on the hit show So You Think You Can Dance in Holland.
This proves yet again that dance is dance. National, ethnic or tribal prejudices have no place in the world of dance. I reject them if I see them.
To people who would say that I should not dance, I would like to use two of my favorite quotes. The first is from the German philosopher Friedrich Nietzsche: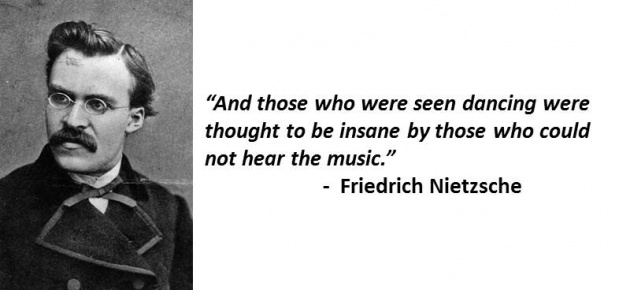 The second quote is by our treasured Afghan poet Mawlana Rumi, who said:

And dance, I shall!
FA: Tashakur, Sitara jaan. This is an inspiration for us all. We look forward to hearing more soon in Part 2 of your Film Annex interview.
#----------#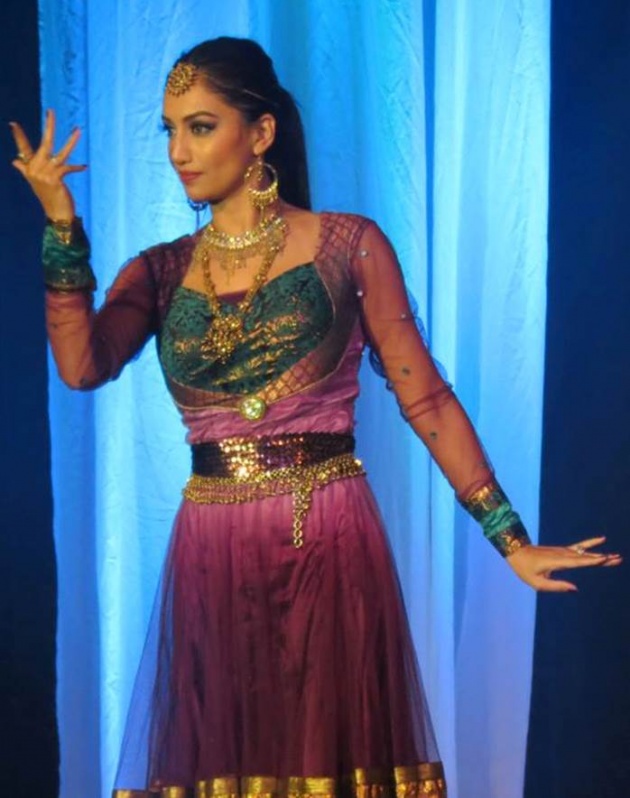 In Part 2 of our exclusive interview, Sitara Attaie discusses the Afghan Diaspora…her career in the entertainment industry…her interest in Afghan Proverbs….and much more.
Read Part 2 of the exclusive interview with Sitara Attaie

To be notified of new Afghan celebrity interviews with Edward Zellem,
click the green button at the top of this page.