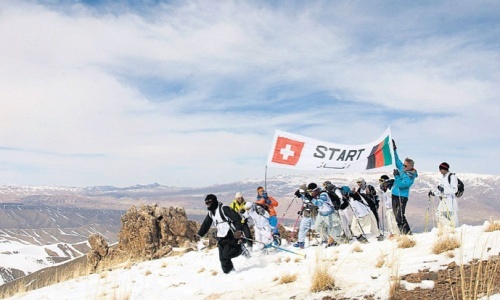 Last night, my good friend
John David Layton
shared his thoughts on an interesting
topic about Afghanistan
, based on an article by Charles Levinson
published on the WSJ
.
For years, all I read were
Afghanistan war articles
. Now we are finally hearing of positive stories that will
help Afghanistan
move forward.
From this article, I noticed the determination of Swiss skier and journalist Christoph Zurcher in the organization of the Afghan Ski Challenge.
But I also loved the enthusiasm of Italian mountain guide Ferdinando Rollando:
"There are 5,000 engineers in Kabul. They do not spend every day skiing with beautiful women. My job is obviously better."
As Mr. Fernando, the Italian ski instructor, had once assured the young Afghans, Mr. Reza believed his win should improve his chances with women. "This victory will help my marriage prospects," he said.
We are now getting in touch with Mr Levinson, Mr Zurcher and Mr Rollando to get some further insight into the project and possibly pictures and videos to document the event.
We also hope they can join our
Video Blogging Site
and share updates on the developments in the region.
Building schools in Afghanistan
and
creating Internet points in Herat
stay our priority, but those are the positive stories we need to fuel our enthusiasm.
Francesco Rulli
follow me
@rullifrancesco