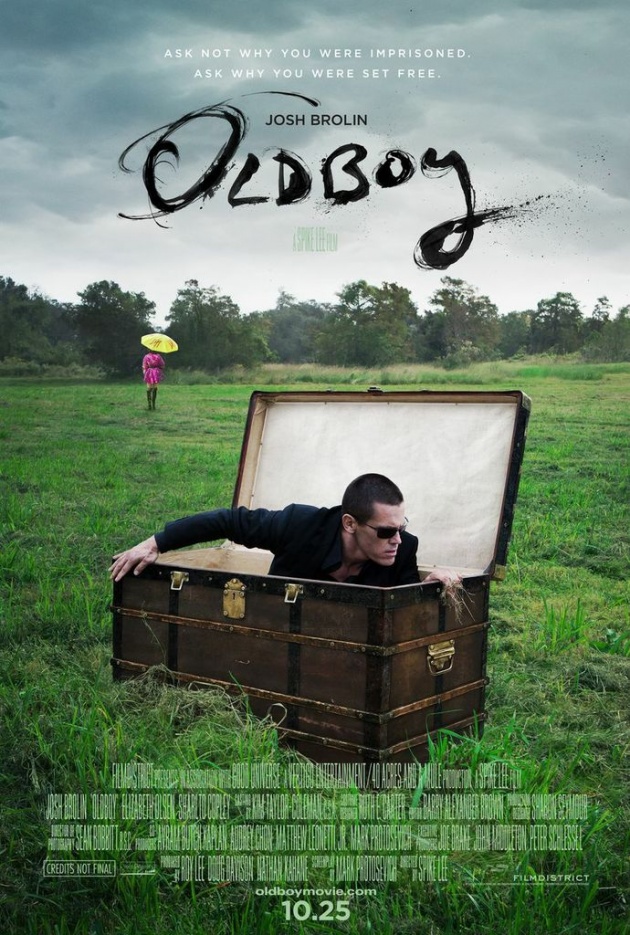 Film District has released the first official one-sheet poster for "Oldboy," Spike Lee's American remake of the popular Korean thriller. Josh Brolin, Elizabeth Olsen, and Sharlto Copley star with the script written by Mark Protosevich ("I Am Legend," "The Cell," "Thor").
Lee is promising that this version will be darker than Chan-wook Park's 2003 original called "Oldeuboi." The Korean art-house hit was based on a Japanese manga series and won the top prize at the Cannes Film Festival. The film eventually became a part of Park's Vengeance trilogy which included 2002's "Sympathy for Mr. Vengeance" and 2005's "Sympathy for Lady Vengeance."

The remake will be released by Film District on Oct. 25. And if you look at the poster, the "Oldboy" logo itself is Brolin's handwriting inspired by the letters his character writes to his daughter while imprisoned in the film.

Here's the complete plot line from Film District:


OLDBOY is a provocative, visceral thriller that follows the story of an advertising executive (Josh Brolin) who is abruptly kidnapped and held hostage for 20 years in solitary confinement. When he is inexplicably released, he embarks on an obsessive mission to discover who orchestrated his bizarre and torturous punishment only to find he is still trapped in a web of conspiracy and torment. Co-starring Elizabeth Olsen and Sharlto Copley, OLDBOY was directed by Spike Lee, from a script by Mark Protosevich (I Am Legend, The Cell, Thor). The film was produced by Roy Lee, Doug Davison and Nathan Kahane.

By the way, Samuel L. Jackson also appears in the film for a small but critical part. According to the LA times, the actor will play a man who is being tortured by Brolin in a "key revenge scene."