From battle field to the Stadium of Olympics, a tremendous and explosive change came in Afghanistan. The war affected country started again taking parts in world events. Unfortunately, Afghanistan could nor participate in Olympics help in 1999; this is because Taliban regime does not allow Afghan Women to take part in games. Not only this, they banned every kind of sport in Afghanistan, and this decision demolished the field of sports. As a result, Afghanistan did not find chance to take part in Sydney Olympics, 2000 . After the fall of Taliban, the sport ministry became successful to send five representatives to the Athens Games in 2004. Robina Muqim Yaar and Fariba Razayee were the two afghan women athletes, both of them appeared in in Olympics from Afghanistan.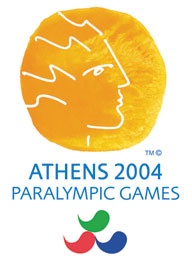 Afghan taekwondo star Nesar Ahmad Bahavi showed his talent to won two silver medals in World Taekwondo Championships in 2007 . Before this great achievements he also took part in Asian Games and won bronze medal . Afghanistan prepared one women player and three men players to show their talent in Beijing Games of 2008. The talent of Afghanistan appeared before the world for the first time and won their first Olympic medal during Beijing games in 2008. Rohollah Nikpai ranked third in taekwondo and won a bronze medal.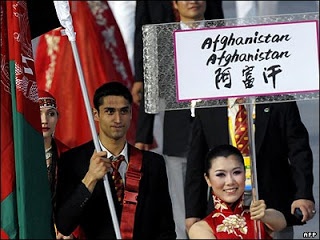 Afghanistan appeared in 2012 summer Olympics of London. Six olympians of Afghanistan were selected for the games, participating in four different sites of Olympics. This time Afghanistan won Bronze medal once again in the form of Rohullah Nikpai at 68 kg taekwondo event and defeat Great Britain Martin Stamper. The joys of Afghan nation were endless after winning bronze medal in London Olympics. Half of Kabul stayed at the restaurants and ice- cream stalls and shops with generators to watch the end of fight. On the next day the people gathered to celebrate that memorable event in Kabul. There was joy across every corner of the country, and an explosive excitement on social media.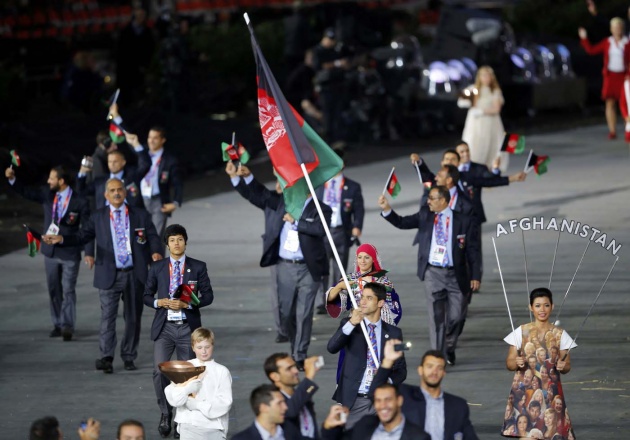 After all these events the world realized the true picture of Afghans that they are peace loving. They love sports rather war. These worlds' events brought a concept of unity and peace to Afghan nation. The flag of Afghanistan shocked the world at the opening ceremony of London Olympics, 2012 because three decades war affected country jumped into the field of world competitions once again.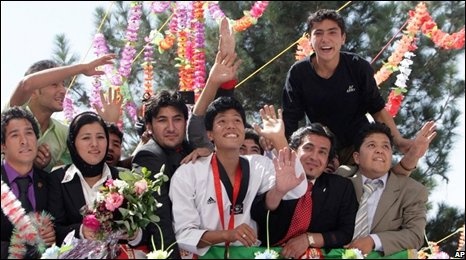 The country's second hope to win medal was Nesar Bahavi, a taekwondo star, unfortunately lost his bronze medal bout. He was injured severely in the fight and he was taken to hospital after the match, his bravery and boldness wins the heart of Afghan nation.
The world has to support war affected Afghanistan in every field of life, so that the more talent grow up. The track and direction of Afghan people needs to turn out from the field of battle, because Afghan's are peace loving people. They do not want fight and make war against the world, but the world put in war on beloved Afghanistan and compels the people to fight. The whole world should take pity on this innocent nation and give pen rather guns and bombs. So that the appeared as an exemplary nation in front of the whole world.
But we cannot ignore to say: Sports in Afghanistan "A Beacon of Peace".
Writer: Masood Khan.