This is my 34th attendance in Paris. Oh my God... It sounds like I'm getting older and older! During this trip, Lilia Di Lauro (a great help during every show) and I had a few targets and we tried our best to accomplish them. First of all, Paris' shows are the best to connect with new and old contacts starting from suppliers and of course customers in the textile sector.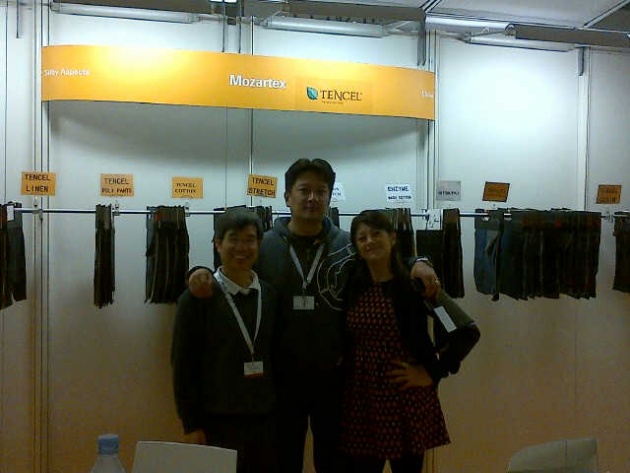 The news of this year is that Texworld show (only Asian or Turkish fabric mills and garment makers) started the same day as Premiere Vision (mostly European suppliers) on Tuesday, February 12. I strongly criticize this decision as the majority of the customers needs to attend PV to see the trends and the best fabric mills and collections in textile manufacturing (most of them Italian, Japanese or French), even if they can not afford them. In the past, Texworld always started one day earlier and most of the customers would come to Texworld that day before going to PV. Another strange point is that Texworld lasted 4 days against 3 days of PV a (bigger show and also more important). I wish one day, all my mills will be in PV. It would make it easier for me and for the customers!
The attendance was a bit disappointing, with a very slow rhythm at both shows. But let's keep in mind two factors: the world economic crisis and the traveling budget which much lower during Spring/Summer season compared to Winter/Fall presentation. I had the opportunity to meet great clients like Club Monaco, Eileen Fisher, Opening Ceremony, The Row and many more. One interesting conversation I had was about ecological fabrics and one of the questions that will raise attention is : what is ethical fashion? Basically, it's growing the importance of developing eco friendly fabrics that do not pollute the environment or minimize the impact with it, starting from the raw materials going to the dyeing and finishing process.
Now it's time to go back to NY and organize the next 2-3 weeks of full meetings, keep chasing good customers to show these lines and make sure we can get stronger sales and make our suppliers happy too!
As a final note, I had the chance to screen two Turkish mills and one Italian knit mill. This is another target that I always have at every show: trying to find new ideas and products and bringing them back to New York to enrich our fabric library.