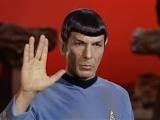 Star Trek's main cast Leonard Nimoy just passed away at the age of 83. I remember this movies as one of the best movies for 80's kid like me. I like the movie and I write this blog as a tribute and to remember the captain of the ship "Leonard Nimoy".
The actor, who played Mr. Spock in the "Star Trek" TV series and films, died Friday at his Los Angeles home.
This is one of the best movies of my generation. I like to pay him a tribute and he may rest in piece. As of this time, there are claims that Mr. Nimoy is still alive but I don't really now. Just want to make tribute to him.