Oslob started to makes its own name placed on the map or Cebu or perhaps in the entire world when it started the whale shark watching early 2012. But way before Oslob's famous "Tuki" was the beautiful island of Sumilon which offers white sand beach and a sandbar. Today, I am sharing an impromptu blog post regarding our immediate adventure to Sumilon Island. The best thing about this is that it is FREE!
Here's a video taken all via a GoPro mounted on a dome. Video is mine.
I believe I had mentioned this before but let me say it once again, I am a sucker of Free stuffs and would definitely grab every opportunity to gain something for free. This Sumilon adventure is just one of them and I am truly grateful to my sister-in-law for tagging me and James along with her.
HOW DID WE GET FREE tours?
Early afternoon on Friday while I was at the office, James sent me an image with a certain label that goes "congratulations" to Charlene Figues! My sister in law just won an all expense paid tour in Sumilon Island on March 18, that's the next day, Saturday and I was advised just that point. Actually James and I had already set up our Saturday schedule way before hand. Here's our hectic Saturday schedule :
8:30 - Appointment with the Dentist at Fuente Osmena
13:00 - FICCO Annual meeting at the San Carlos GYM
16:00 - To SM City Mall for some electronic shopping
That should have been our Saturday but because of the short notice, we cancelled everything and nodded for a summer getaway. Yes, I am considering this as our first summer 2017 get away and it is just perfect since it will be in the town where my husband was born and raised.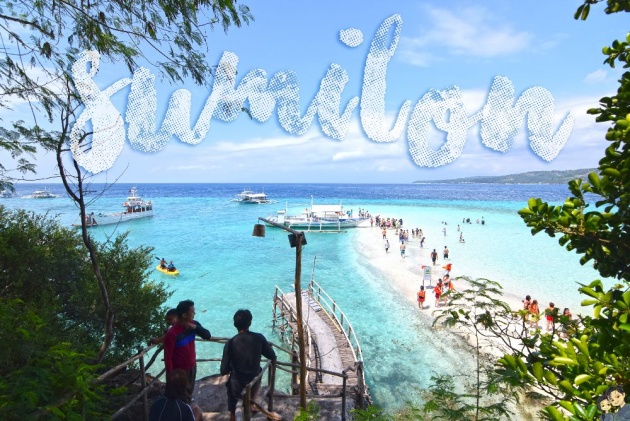 Photo is mine.
It is just funny that he had lived an his life in Oslob and that we have been planning to go there but couldn't do so. Each and every time that we are in his hometown, we would often plan in getting to Sumilon but just couldn't make it into a realization due to many reasons but this time, we will surely be able to do this. At last our ultimate Oslob dream location will be made into a reality.
LATE TRIP to OSLOB
Due to the short notice, James and I had to adjust our schedule. We were still at work when we made up our minds and say yes to the invitation. We originally planned to stay longer at James' office but we instead shortened it up to 8:30PM. It was supposed to be 7:30 but he had to finish his codes so we ended up getting out of the more an hour after, he didn't eat his dinner just yet so we had to buy him a meal first.
Got a meal from Tiktilaok for Php 85.00 and also stopped at the grocery store to buy a few snacks for the tour. At 9:00PM, we were finally home and I got our essentials prepared in just 10 minutes ! I needed more time getting our house cleaned up since I don't like to leave the house dirty and unorganized.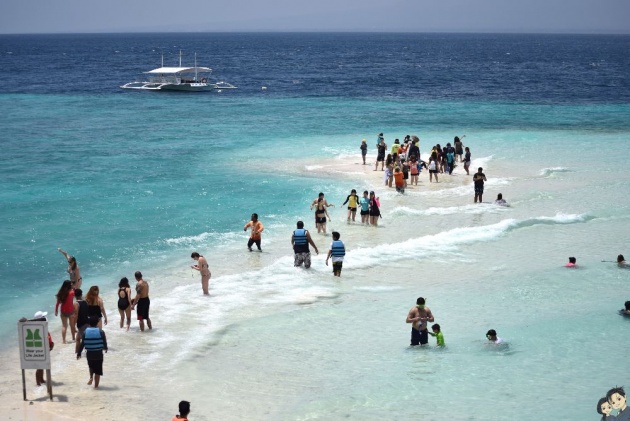 Taking a photo from a distant. Photo is mine.
At quarter to ten, we got out of the house and got ourselves a motorcycle which brought us to the Cebu South bus terminal and boy, we were surprised by the numerous passengers lined up going south, using a motorcycle is faster and way more cheaper than hiring a cab though. We were on a hurry because of the time. It was already 10 in the evening yet more and more passengers were still coming! We secured our spots in the line and waited patiently for our turn to get on the bus.
It took a good two hours of waiting at the terminal before we finally got our seats. I commend the Ceres bus management for arranging the seats inside the terminal waiting area so that we have fair way of getting bus seats while I see some passengers who are trying to get away and insert in the line, the management had made sure these guys won't succeed in their goals.
And so 12 midnight was our actual time of departure from Cebu South bus terminal and travel time to Oslob normally run for three hours, that made our very late travel back home. It was three in the morning, very early and we only have three hours to sleep as the tour starts at six in the morning.
BRIEFING TIME
The supposedly six in the morning briefing time was moved to eight in the morning. Actually there was no briefing that had occurred while we were at the Whale Shark Watching area, we didn't receive any briefing and the real score is that there's no briefing needed for anything because we are just going for a Sumilon Island tour.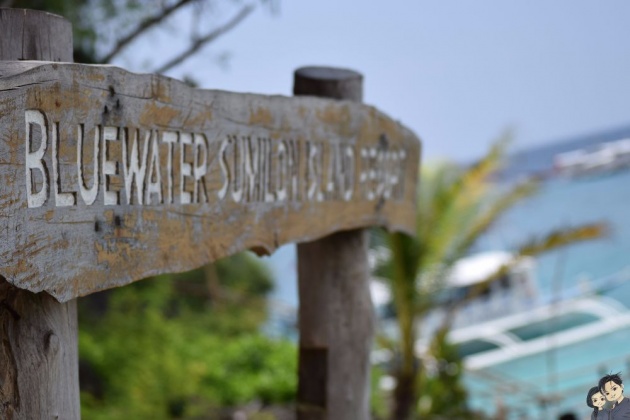 Bluewate Sumilon Island. Photo is mine.
The early morning request was made so that we can catch up with the sand bar at the Sumilon Island but since we were late, we only had a little glimpse of the sand bar but it was still great.
But before anything else, I have to mention how we got to the island.
From the Briefing area, we waited for the other group whom we will be in company going to the island. While we thought that was the only group, we realized that there were more that we would be waiting. While waiting, we had taken that chance to also eat a light breakfast at the restaurant near the briefing area in Tan awan. We had vegetarian pizza and Pepperoni as well.
A multicab vehicle brought us from the briefing area and we were at the Bangcogon section of the town where the boats going to Sumilon are situated.
One of the things that I didn't like about this trip was the waiting time. We waited at the briefing area for the other group and at the Bangcogon shore, we again waited for another set of groups who were coming with us too in the boat. The waiting time took around two hours too!
EN ROUTE SUMILON ISLAND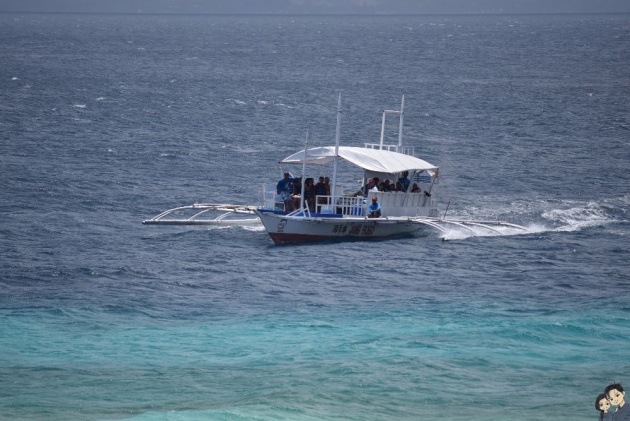 Boat approaching the island. Photo is mine.
The sea was a bit harsh while the sun was shining brightly. There were only makeshift huts available in the Bangcogon shore so while we await the other companions and the boat as well. We had to entertain ourselves with whatever things we have in that shore. There was a cat which we played with, we counted the number of other passengers going in and out as well as buy whatever available in the area.
After the long wait, we finally had a vision of the boat and we stood on our feet and went to the docking area. The water crashes into the rocks in the docking area and we have to make sure to run towards the boat before one wave would go crashing into the docking area where the wooden stair towards the boat is dropped.
It was a smooth transition and it looked like the sea allowed us to be and we sailed towards the next island. Since it was a big boat, there were around 20-30 passengers seated with our life jackets on, it was actually required to do so except for the workers. Bangcogon shore to Sumilon Island only took less than 20 minutes.
When we were on our way halfway through the boat trip, I was able to see the same kind of boats docked at the distant shore in the Sumilon Island. It was a sign that we were almost there.
SUMILON ISLAND FIRST IMPRESSIONS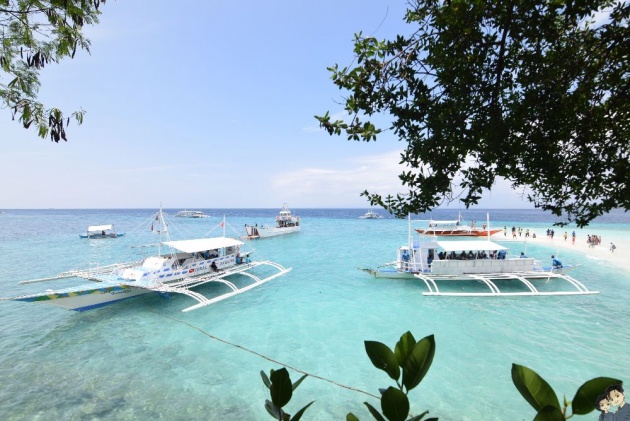 Natural framing at Sumilon Island. Photo is mine.
Looking at the distance, I had concluded that this island is indeed stating what is true in the private resort's name - Blue Water! There's an unexplainable (if there's such a word like that) kind of beauty, the colors of the water changes from being a dark dark blue green to a lighter green then there's white and tortoise blue, a variety of blue shades exists in the island.
As the water was still in low tide, it was still obvious to see the sand bar showing. Later on the day, the water went up to almost hip high that we were having issues getting to the boat and the waves were really playing with us as well.
But as we were approaching this rock island, I couldn't help but appreciate the beauty of its waters and the! I hopped into the water, several tourists were at the island. There were local ones while there were also foreigners, most of them basking in the sun and enjoying the clear waters while there were some who were just chilling at the corner, perhaps protecting themselves from the sun while more were moving towards the rock island, looking for spots where to place their stuffs.
ENJOYED SUMILON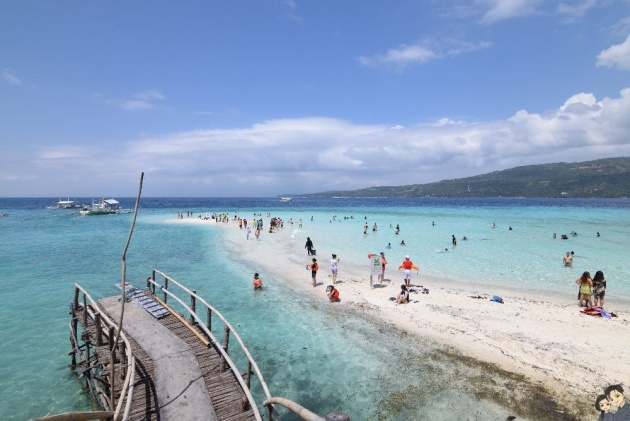 Photo is mine.
This is it! Our all time dream of getting to this island had finally been realized and the best thing about it? We didn't pay for anything to get here, thanks to sister in law and George Whale Shark Watching agency for making this possible. Although there were lots of waiting game before arriving here, we can't really complain as this tour was given to us for free. So there, I stepped into the white sand of Sumilon Island and I knew right there that this is going to be a great sea day!
How to enjoy Sumilon Island?
Swimming is a given but there are other things you can do to fully enjoy this small and limited island.
1. Bask under the sun.
If you are one of those light skin gifted individuals and you love to have tan lines and such, basking under the sun would be perfect for you but you'll have to be quiet early in going to Sumilon as the sand bar gets covered by water by noon time.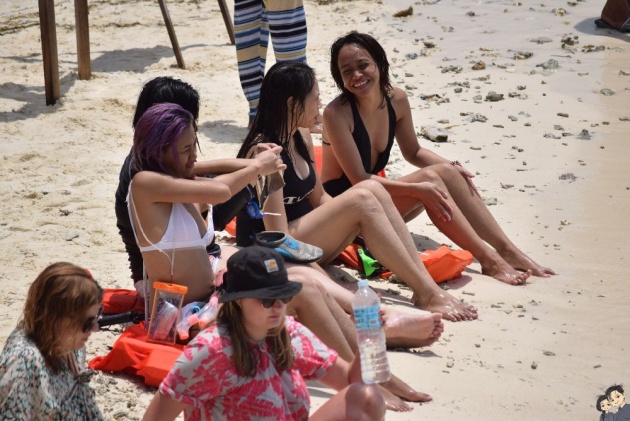 Photo is mine.
Before that happens, you can get your skin tanned by the mighty sun in the sand bar. There are lots of people moving here and there, you just ignore them and enjoy getting a body service from Mr. Sun himself.
There were some who were sun bathing when we arrived and I had the chance to take a shot of them.
2. Catch waves.
One of those times where I had enjoyed the waves. I never thought that getting myself drifted here and there by the waves was still actually fun! It reminds me of my childhood days, those moments where I had to just face the waves and let myself be caught up with it.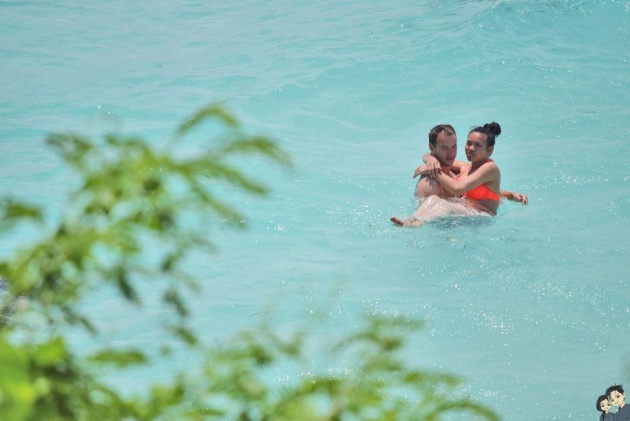 Photo is mine.
There were other tourists too who were catching waves and boy it was what made them really enjoy the waters aside from swimming. See, the waters was not really calm at that time anymore and so swimming isn't really that ideal anymore. Instead, standing there waiting for the next big wave was an alternate thing to do and I don't regret getting into the water.
I appreciate that the waters of Sumilon is very clear that videos on my GoPro were also clear, it definitely has one of the best waters.
3. Explore the island.
If you are one of those fortunate ones who have allotted specific amount of money for a great overnight and day tour in the Sumilon Island itself, you can check in at Bluewaters Resort which is standing in this rock island itself.
Doing so, you have more options of exploring the island. They have infinity pool in the resort and you'll get unlimited time of the sea and the entirety of the area.
I know the resort offers great service and they also have specific great offers to the visitors.
4. Go underwater.
I didn't have the chance to explore the deeper part of the Sumilon waters but my cousin in law who was with us borrowed our GoPro and boy, he found Nemo! I was glad he borrowed it and I have my own footage of these lively fishes!
I had added those fishy coverage on the first video above. Check it out!
Finding Nemo. Video is mine.
4. Act like a Paparazzi.
My husband is a sea junkie but there are times when he would prefer not to swim, he'll just enjoy the scenery, take lots of photos of the location and has the tendency of becoming a paparazzi.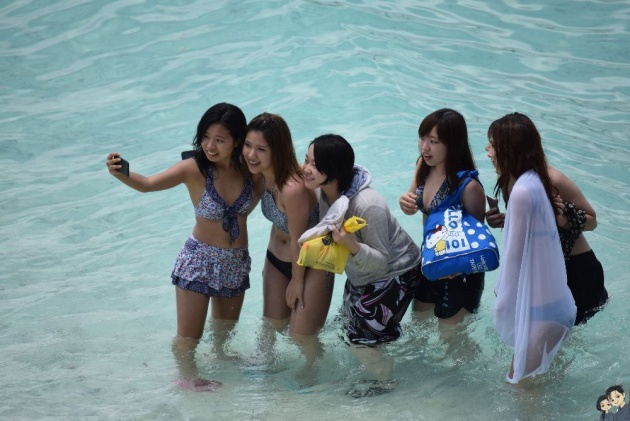 Photo is mine.
While my sister in law and I had been enjoying the waters, he was enjoying taking photos and videos of the island. This is something that I appreciate of him. My photos and videos used in this blog was mostly taken by him and I am thankful for him.
He took also photos of random guests and visitors. Glad that we have a new zoom lens this time which enables us to take photos from a distant without getting noticed.
BACK TO OSLOB
By around two in the afternoon, we got bored because of hunger. While the tour was free, there was no food included and although we had hoped for it, it was not given to us, what we only have were the chips which James and I bought from Cebu. Bringing of anything for lunch was not made so we ended up eating chips and junk foods for lunch. That was my mistake and I take full responsibility for that so I agreed with them that we should go back to Oslob by two in the afternoon, as soon as a boat is available.
However it was a struggle getting back to the boat as the water was already hip high and the waves were also strong and raging at the same time so we have to keep our bags secured so our cameras won't get wet. Unfortunately, I was not able to take a video of the struggle, it was not my priority at that time.
But at the end of the suffering, we got into the boat with our bags dry and intact. But the challenge was still not over. The waves back to the main land was really huge and would look like it's gonna get us. Multiple times, we have to shout to the top of our lungs whenever a huge waves comes and the water splashes into the boat.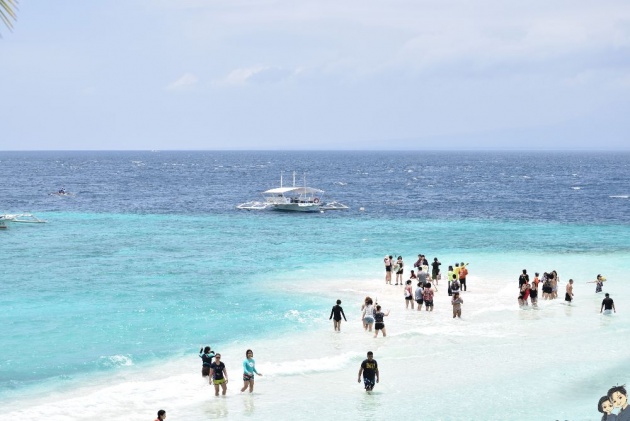 Photo is mine.
Going back was longer than getting to the island due to the strong waves so we were all thankful that we got back to the island safe and sound, in one piece with stuffs dry specially our camera bag.
OVERALL
Overall, I had fun, I finally had gone to Sumilon Island and had gone through a little bit of challenging experience with the waves going back to Oslob. I also learned my lessons of always preparing something to eat for Free tours like this and to make sure that I have dry bags available in case things like this occur. With that, I had a pleasure of buying our second 20 Liters dry bag.

All photos and videos are mine.
Jean Beltran-Figues
bitLanders user since 2015