As in many blogs I previously wrote about OUR BEACH, I still take much pride in "promoting" my hometown waterfront, here in Sorsogon City, Bicol Region, Philippines. Since my country has only two seasons -- the dry and the wet, the best time of the year to enjoy our beautiful beaches are from the months of February to May.
Actually, March is the onset of Summertime in the Philippines. By the beach where I live, one can marvel at the calm and crystal clear waters and the pristine sandy seashores that can rival the high-end beach resorts my country is noted for. Who foreigner wouldn't know of Boracay, Amanpulo, El Nido, Pagudpud, Bolinao, Panglao, Siargao and Puerto Galera just to name a few. AMANPULO is the most expensive of the lot. It is the favorite hideaway of many famous Hollywood celebrities and royalties worldwide.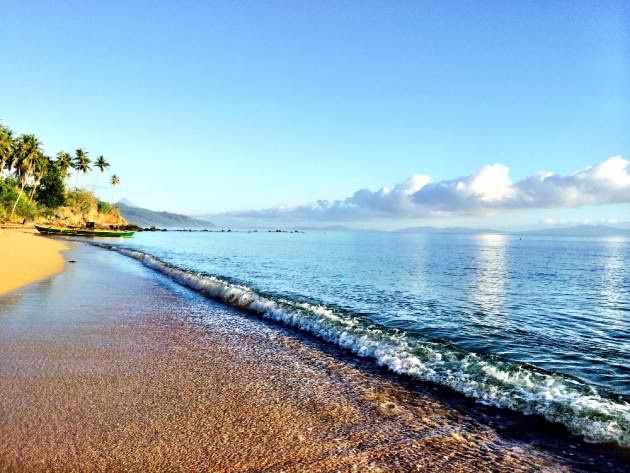 Image Credit: My Own
Of course, our local beach do not have the amenities of these high end resorts. Yet for me, our beach is the perfect place for fun, relaxation and solitude. Visitors rarely come to our place. It has remained an untouched and uncommercialized marine sanctuary for all those years before I was born. There are no tourist crowds, hotels, night life and vendors to bother you. The beach and the sea is all for yourself.
While our waters remain very clean, there are times, particularly during the rainy season when it becomes quite murky and littered with floating debris coming from neighboring villages. That's a normal occurrence brought about by TIDAL CHANGES of the southwest monsoon.
But come SUMMERTIME, our waters are so clear, you can count all the fish and corals you see. This is the best time to go for swimming, snorkling, fishing or simply getting a good sun tanning while enjoying a good book or sipping your favorite lemonade.
I observed that even the waters of our popular Boracay beach resort isn't spared from unsightly rubbish at sometime of the year. But mind you, Boracay remains a favorite hustling and bustling national beach habitué all year round. I guess the same goes for other well known beaches of the world.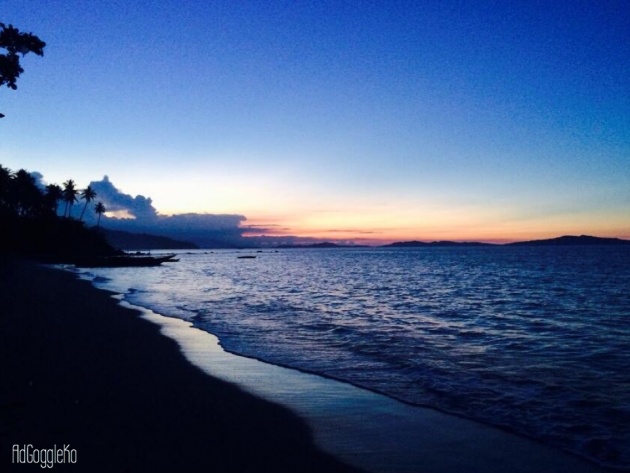 If you are a shutterbug like me, the best time to take photos of our beaches are from 7:00 to 10:00 a.m. That's when I do my photo shoots and get excellent results. The sunlight is just right to obtain clarity and high resolution pictures. Dawn and dusk photography are quite tricky. Although I did manage to get good shots at times. :)
Sorsogon in its entirety, has several clean and wonderful beach resorts that are unfrequented by local and foreign tourists. I guess that's why our waters remain unspoiled by humanity. If you want a perfect place with peace and quiet as its main amenity, come visit Sorsogon.
Aside from our "own beach" from where I live, I do remember during my younger years of the one and only popular beach resort our Sorsogon ever had. It is called Rizal Beach Resort. But because our province is blessed with several immaculate beaches, many enterprising province mates established modern beach resorts wherever possible.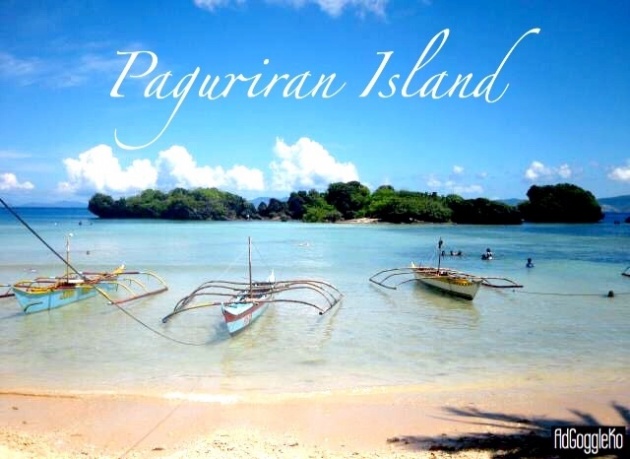 A view from the seashore
One beautiful resort that comes to mind is the Paguriran Island. It had small islets right in the middle of the sea. It provided an awesome view seemingly depicting swimming pool in between those islets. On a clear and cloudless day while at the Paguriran beach, one would be awed and captivated by the beauty of our very own, Mt. Mayon, known to have the most perfect cone in the world. I don't know where else in the Philippines can you find such a fantastic resort!
For me, the Paguriran islets are a MUST to see. I had the chance to climb the top of an islet and geez, it was totally exhilarating and breathtaking. From up there, the entire Paguriran islets looked like a prehistoric volcano that blew up thousands of years ago and created this wonderful work of nature. The panorama is picture perfect! That's what kept my camera clicking away non-stop. Check out my gallery.
Yes, I fell in love with the alluring view of Paguriran BUT... I don't think I'd enjoy the swim. There, I saw a kid who plunged into the water all the way from the top of the islet. That's less than a hundred foot drop to the sea. Oh my gosh! I'd die of a heart attack even before I hit the water. NO WAY! LOL!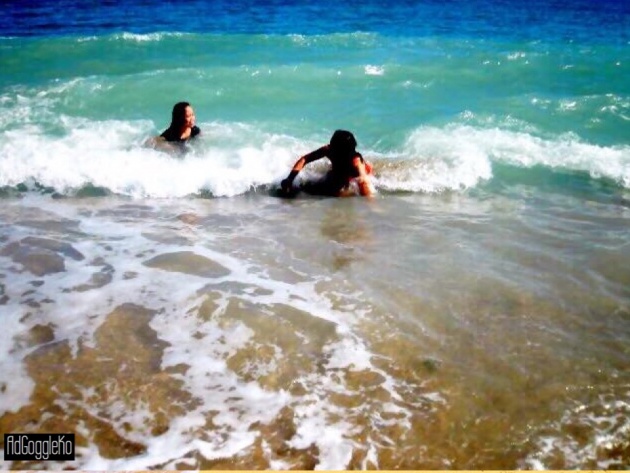 One thing with me is I don't dare swim on unfamiliar waters other than the beach where I grew up on. I know every inch of "my beach" like the palm of my hand. That also goes for any sea level beach that I've never been before. Sometimes you would encounter unexpected dangers that lurk beneath the waves.
Honestly, I am afraid of black sea urchins and sea snakes. But on "my beach" where I swam since I was a kid, I know exactly WHEN and WHERE these venomous critters abound. I know how to play hide and seek with them. LOL! Sea snakes by nature avoid humans and so far no one from our locality was ever bitten by one. A bite can be very deadly if not medically addressed at once.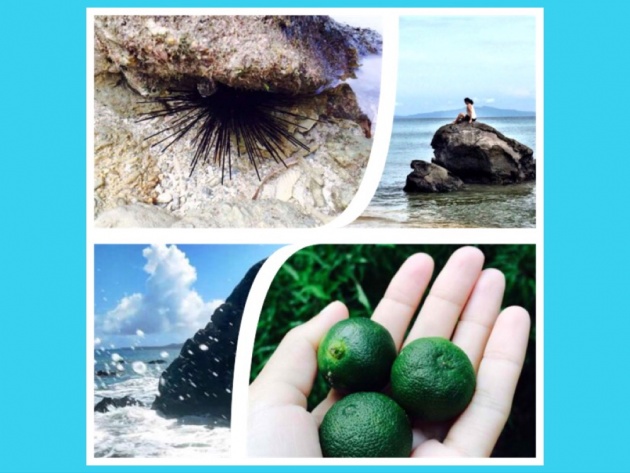 Image Credit: My Own
Spiny black sea urchins dwell in shallow water by the shore all year round, blending with the rocky sea floor. Its spines are quite venomous, but not life threatening. Grilled "Kalamansi" (native lemon) is a very good cure for this painful prick. Squeeze the hot "kalamansi" on the affected part in order to remove the imbedded spine usually from the foot.
Aside from sea snakes and black urchins, watch out for sea wasps which you may find hovering by the seashore especially during the rainy or MONSOON SEASON. But do you know that coconut cream with brown sugar is a very good remedy once stung? Apply coconut cream with sugar to the affected area and drink one spoon as well. For me, the best and sure fire remedy is to simply avoid the beach during this time of the year.
Image Credit: https://c1.staticflickr.com
When I was still in high school, I remember visiting Rizal Beach (Gubat, Sorsogon) for the first time. I've never been to a beach like that before. Imagine walking from the seashore toward the sea of more than two kilometers of knee deep water. And mind you, I was walking on fine sand all the way. No stones whatsoever. Amazing! I could have gone further and the depth would have remained unchange.
Unlike on the beach where I grew up, you'd be stepping on sea grass just a few meters from the shore while wading towards the sea. Then it gets deeper and deeper as you go along. During low tide our seashore turns into a virtually dried up "sea of grass". LOL!
Image Credit: http://wynk.biz
Another local beach in Sorsogon is the Subic Beach. While I haven't been there, I came to know about the place from my cousins who were planning to go an outing trip. When they said Subic, I got so readily confused thinking they were going to the former U.S. Naval Base in Subic Bay Zambales. Whoa! That's way up in northern Luzon -- several hundreds of kilometers from Sorsogon City. I thought they must be nuts. I never thought we also had a beach called Subic in Matnog, Sorsogon.
I may not have covered the other nice beach resorts of my province. There are more places to see and I suggest you google Sorsogon and take a good look at the wonders mother nature has bestowed upon us.
Of course, our beaches can't compare with those high-end ones of Seychelles, Maldives, Bora Bora, Lanikai, Fraser Island, Pattaya and the Caribbean to name a few. These are the "millionaires row" of beaches, reserve only for the jet-setting rich and famous. If you have a thin wallet, Sorsogon is the way to go. LOL!
For the filthy rich, Sorsogon is the paradise lost of your dreams. Your Dollar or Euro can get you a hundred fold more than you'd ever expect. Our waters are clean and calm, a mecca for snorklers and scuba divers, weather is tropical and invigorating, our air unpolluted, our sandy beaches pristine, our native food so delectable and exotic, our people polite, respectful and fun loving, English is our second language, our native hospitality unrivaled, and our smiles so captivatingly warm! :-)
Where to Stay When in Sorsogon
Every time our Manila relatives and friends come to visit us, they usually stay at The New Seabreeze Beach Resort because it is cheaper than the rest. Seabreeze is situated at Tolong-Gapo Beach in Bacon. It's just a few minutes drive from Sorsogon City proper. Tolong-Gapo Beach is the oldest and most accessible beach in our province. Unfortunately, that's the downside. I find that beach always filled to the brim with tourists. And since I have "my own" beach for myself, why bother?
Image Credit: https://mw2.google.com
Personally, I would prefer the reasonably priced, Fisherman's Hut, simply because it allows a guest to live in an honest- to-goodness nipa hut that you rarely find at this time and age. LOL! I really like its native ambiance. Adorned with authentic nipa palm leaves covering the entire hut externally, the interior on the other hand, is made of concrete and is fully airconditioned and neatly set up. It's a unique blend of old and modern architecture.
But if you have more mullah to splurge, I suggest you billet at Sirangan -- our finest hometown luxury hotel resort. It's top of the line and first class. I can vouch for that! Ironically, I can't find and I am still searching for its website at this writing. Must be there somewhere! Help! LOL!
Our local resorts like Seabreeze, Fisherman's Hut, and Sirangan are only a stone's throw away from each other. They are likewise situated near the Caricaran Baranggay Hall that provide peace and order and tourists assistance for those resorts mentioned.
Paguriran beach on the other hand is in Baranggay Sawanga, Bacon, Sorsogon. That's approximately 14 kilometers from Tolong-Gapo Beach. The amenities include adequate individual cottages there that are reasonably priced. Though, I wouldn't venture staying overnight by myself in an unfamiliar place. Perhaps it would have been different if I had personal acquaintances living there. Travelling there by road can also be tedious. Am not getting any younger. LOL! I'd rather take a motorized boat or "banca" from Tolong-Gapo Beach to Paguriran Beach instead. I enjoy boating with our local and friendly fisherfolk while I relish the invigorating sea breeze as we speed along and feast my eyes with the spectacular wonders of nature ahead of me. Going by road can be dusty and bumpy at times. Not good for the lungs. You can't go wrong by boat.
How to Get to Sorsogon
From Manila or from any part of Luzon:
Sorsogon is about 375 kilometers (233.4 miles) south of Manila. Estimated travel time by car, from Manila is around 8 to 9 hours. By bus, 12 to 14 hours. By airplane to Legazpi City, 4 hours and 44 minutes (including wait times).
Image Credit: http://philtranco.net
Bus terminals are located at Cubao, Quezon City or at Pasay City. They offer fully airconditioned buses on express trips to Sorsogon City. Other bus companies go up to the Matnog port, Gubat, etc. From Matnog you can take a ferry boat to Samar Island. If you happen to take a bus whose driver thinks his bum is on fire, you'd get to Sorsogon in 10 hours. Hehehe! But mind you, these drivers are skilled and knows the road by heart. He would limit passengers to only 2 stop overs thereby reducing travel time significantly.
I really don't understand why there are no aircon buses going to my hometown in Bacon, Sorsogon. From Bacon, one has to take a tricycle ride to reach Seabreeze, or Fisherman's Hut, etc.
For those who'd rather fly, you can take a flight from Manila International Airport to Legazpi City. From there, you can either take a commuter bus, a rental van or a jeepney to Sorsogon City. Thereafter, another jeepney or tricycle ride to Bacon.
Image Credit: https://upload.wikimedia.org
For those with a fat wallet and want to travel in style, you can take a chartered
private airplane or helicopter from Manila direct to Sorsogon! No more connecting bus or jeepney rides. Sorsogon has an airstrip that caters to light aircraft.
Come visit Sorsogon. It's the next best thing to shangri-la. Most often than not beach resorts and hotels here offer motorboat service. Well, I can arrange a good round trip boat rental for a day should you come by to visit. Boat all you can from dawn to dusk for an introductory offer of only US$5,000. Hahaha! Just kidding, guys!
Since I grew up by the beach, I have many fishermen friends who own motorboats they use for tuna fishing. They always invite me occasionally to join their families whenever they go outing to far flung areas. I've been used to boat rides since I was a kid. That's why you can't take the sea away from me. But, I don't think I can request my friends for a freebie ride to go resort hopping for a full day, not unless I pay the equivalent amount of a day's tuna haul. I know what they will tell me... "Friendship ends when business begins." LOL!
RELATED ARTICLES:
• Boracay is Beautiful BUT... by @jean-beltran
• Sta. Ana, Cagayan by @ako-eto