Afghanistan is a traditional country with an old history. Women have always played a very important role the society through decades, like Malalai Meyvandi during the Afghan-England war. However, they spent their darkest time during the Taliban regime. Since they started the new government a decade ago, women now take part in social activities, although there are many people arguing against women's presence the society.
Most of Afghan women stay home to be a housewife and also take care of their children, especially in rural areas and villages. Being a wise mother who can train her children is really valuable and requires many sacrifices. On the other hand, there are women who study and work, while they are facing many challenges. But compared to years ago, there is a considerable growth of women's participation in many aspects like in education, politics, economy, health, arts, etc.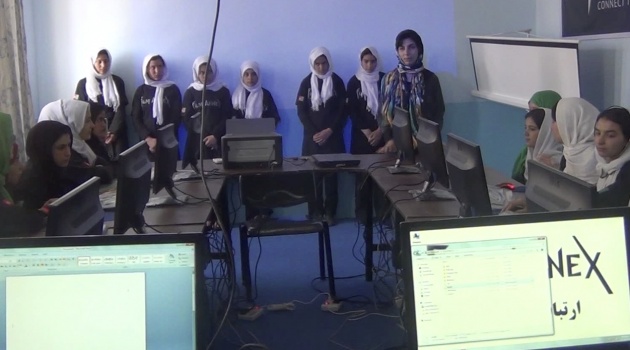 Entrepreneur Roya Mahboob is one of the incredible example of Afghan girls who started her business in 2008 and beside facing challenges and difficulties in her way toward women's education and empowerment in Afghanistan listed in 2013 TIME 100 influential people in the world.
Building Internet Classroom in Afghanistan is the actual and live combination of technology and education together which enables Afghan girls at school toward establishing their presence in the virtual world.
This video was created by Tomas Schats, an animator who has been collaborating with Film Annex for several years. He also provided some illustrations for the Internet classrooms built in high school in Afghanistan.
Education is the key for developing countries to guarantee their future. To ignore women who are the main part of a society and putting them down is not the solution as they are doing mostly in traditional societies like Afghanistan.
Both women and men need to be changed to ensure equality; it is not only a process for men. For men they have to believe on women's skills and abilities and trust working with them, they should look at empowering women in way to share the duties and responsibility and build a trustful relationship which lead their society for a better future.