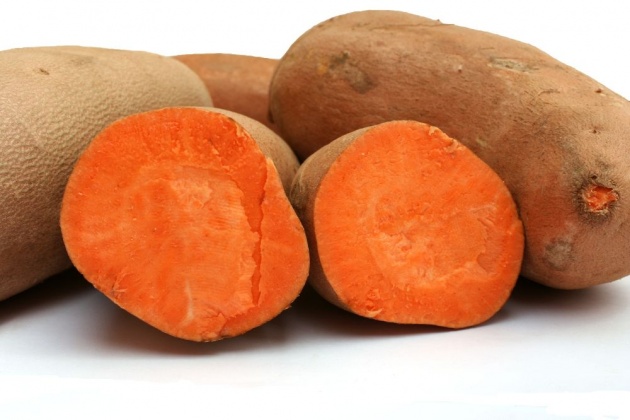 SWEET POTATO

A buff body isn't built by protein alone. Carbohydrates provide energy you need to work hard and play hard. Sweet potatoes provide that oomph without overdosing your system with simple, fast-acting carbs. They're often used precontest by bodybuilders looking to fill out depleted muscles, but even if you're not getting ready for the stage, they're an excellent part of any dieting or mass-gaining strategy.

Buy It: Sweet potatoes come in two varieties: the white kind are like regular baking potatoes; the dark ones have a dark skin and orange flesh and are packed with nutrients. When choosing a sweet potato, make sure it has a smooth, firm skin with no bruises or blemishes. Stick with smaller or medium-sized sweet potatoes, which tend to taste better than jumbo ones.

Prepare It: Preheat oven to 350 degrees F. Scrub the potato under cold water using a veggie brush, making sure to remove all dirt. Pat it dry, then prick it 5-6 times all over with a fork. Place directly on a lower oven rack and bake about one hour (for an 8-12-ounce potato), or until it's soft when pierced with a fork.

Nutrients: An 8-ounce sweet potato has 240 calories, 4 g protein, 55 g carbohydrate, 1 g fat, 7 g fiber.