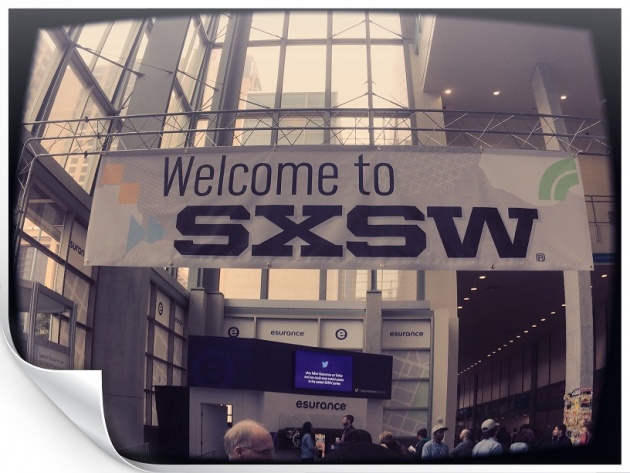 In the words of Matthew McConaughey.. "alright, alright, alright!" -- SOUTH BY SOUTH WEST HAS BEGUN!
SXSW is one of my favorite events.. well, ever. I've never really participated in the music or interactive parts, but the film portion has been outstanding as long as I can remember. 10 days filled with screenings, panels, key notes, parties, food, drinks, networking.. how can you beat that? You really can't. There's a reason SXSW is one of the most sought after festivals in the world. It's big, its loud, its in an amazing city and you can't not have fun.
My Day 1 was eventful. Very eventful. Like, I didn't know I was capable of doing that many things in one day, and it was only the first day. It's like that every year, you'd think I wouldn't forget, but it's always that "holy cow, I have soo many things to cram into the next 10 days" feeling as soon as it starts up.
It started out in the Convention Center where I acquired my SXXpress passes for the day. This is a new thing (I think?) for South By: each badge holder (Film and/or Music) is allowed to obtain an express pass for up to 2 screenings or music events for that day, so you get to go to the front of the line for those events. It makes things a hell of a lot easier, and you don't have to spend HOURS in line.. just like 30 minutes. If you're reading this, and you're at South By and didn't know about this.. look into it. The Express line opens at 9am every day and people get there early, so be prepared to wait for that and plan your day around it. But it cuts your wait time for events later in the day down by at least half. So worth it.
After figuring all that mess out, I ended up at a BBQ and Beer event. Really, I just stumbled into it. No warning. Free BBQ and Beer? HELL YEAH. Best. Surprise. Ever. I'm from Texas, so I know how rad that is. Not only was I super excited to try BBQ from about 10 different vendors from surrounding areas (Opie's BBQ from Spicewood, Texas, kicked everyone else's ass.. even Lockhart's.. with their mouthwatering jalepeno sausage and brisket. I really wish I knew what kind of rub they used on that damn brisket.) but it made me super happy that people from around the globe attending South By were able to try a cuisine we are proudly famous for in Texas. God Bless Texas, y'all. And by Texas, I mean Brisket. MMM.
ANYWAY, after that, I attended a panel about sound design for film, which I found incredibly helpful and enlightening. Pete Horner from Skywalker Sound presented about his unique approach to sound design. He believes that you must explore the unique language of a film to find the emotional weight and ultimately use that to score and FX your film. He encouraged filmmakers to engage an audience through sound, and how important sound really is for the emotional level of a piece. One thing I found particularly interesting about his presentation was his use of specific sounds throughout one film for audience emotional recall -- sometimes without having the audience even realize that's happening. Now that I think about it, that is such a "duh" thing, but I had never thought to do it with actual FX or Foley sounds. The mind immediately thinks to do this with score, which he also does, but the FX element was a surprise. He showed an example of how he used a rattlesnake sound throughout a film he sound designed, Francis Coppola's "Hemingway & Gellhorn" to enhance fear and masculine energy. This film is "a drama centered on the romance between Ernest Hemingway and WWII correspondent Martha Gellhorn, Hemingway's inspiration for For Whom the Bell Tolls and the only woman who ever asked for a divorce from the writer" (IMDb). In one scene, Gellhorn ran through the woods where there was an actual rattlesnake, which we heard. In the very next scene, Hemingway, on a fishing boat, starts reeling in a huge fish and the rattler's sound comes back as he's reeling in his line. Later in the movie, we see Hemingway slap Gellhorn and as he crosses her face, the rattler's tail sound comes back. Without even realizing it, that emotional recall from earlier in the movie becomes present and the audience feels this complete circle of events, even subconsciously. Horner presented several examples such as this all very moving and thought provoking.
After that panel, partying began. We went to the registrant's lounge and got our free daily drink (just another SX perk!) and then headed to the first Filmmaker's Happy Hour where we sipped on (free) Gin&Tonics and discussed film with a filmmaker from San Antonio and then a couple of composers who have a film in the fest (who also work on Bob's Burgers) which was pretty cool. A short and sweet networking event for us.
Then we headed over to our first screening, a Texas film called "Thank You A Lot." It was a film shot locally which had several people I know in it, and a couple more that I know of. I personally didn't love the story and thought the editing was particularly poor, but thought it was cast well and had interesting potential. Not everything was gold, but I was very happy to support local film.
We ended the night with two parties: the first, a private party our agency threw where we got to mingle with fellow Heyman Talent, do some more networking (we talked to an investor for a while and gave him our card, cross your fingers for us!) and get some face time in with our agents. We then finished out the night with the Filmmakers Opening Party on Dirty 6th where the bartenders were slingin' free beers and well drinks.
All in all, it was an eventful and successful first day. I already feel like I learned a lot and met a bunch of nice people and can't wait for the rest of the week. On today's docket: A Conversation With Jason Bateman, From Dusk Till Dawn, Fort Tilden and an unofficial SX Screening of one of my films. Stay tuned for musings on all of that tomorrow.