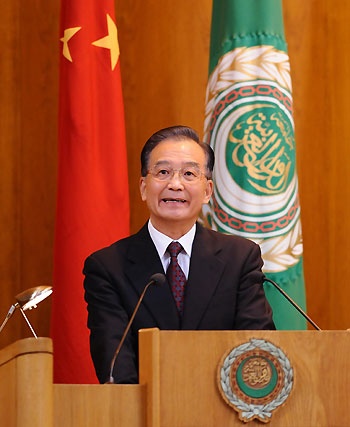 UN Security Council debates new draft resolution behind closed doors focused on the dire humanitarian situation
-UN Relief Operations Chief "deeply disappointed" prevented by Regime to visit Syria to assess the humanitarian situation and meet with some of the country's top officials. Valerie Amos, the UN Emergency Relief Coordinator and Under-Secretary-General for Humanitarian Affairs, issued a statement voicing her disappointment and noting both her "repeated requests" to meet with top Syrian officials and the need for unhindered access by aid workers to people affected by the violence. China appears now more willing to at least consider pressing Assad regime after high-level consultations with Arab League Chief Nabil ElAraby. (Beijing has placed much effort on building relationship with Arab League members -See Above Photo - and realizes because of Syria may lose influence with rest of Arab World, including critical oil exporters). Both ICRC & Humanitarian Efforts Blocked "Given the rapidly deteriorating humanitarian situation, with an increasing need for medical assistance, food and basic supplies, improving access so that assistance can reach those in urgent need is a matter of the highest priority," Ms. Amos said. The Under-Secretary-General also echoed support for the call by the International Committee of the Red Cross (ICRC) for a daily pause in hostilities so that aid organizations can evacuate the wounded and deliver supplies of food and medicine.
"Every day that we are not able to reach people, especially in the towns where there is heavy fighting, prolongs their suffering.
" Kofi Annan Mission to Syria? The UN and the League of Arab States have appointed the former UN Secretary-General Kofi Annan as their Joint Special Envoy to deal with the Syrian crisis and to try to help broker a political solution. However, we have not yet witnessed any direct effort by my old colleague Kofi Annan.
Read our Current Events Video Blog on "Kofi Annan & Lessons of Srebrenica"
-
diplomaticallyincorrect.org/films/blog_post/kofi-annan-srebrenica-lesson-to-syria/46416
In Geneva this week, the Human Rights Council has also been holding an urgent debate on the situation. Read more at
www.diplomaticallyincorrect.org
as we update through our
video blogging websites/political blogging site
s. Our previous
Current News Event Article on Syria
-
diplomaticallyincorrect.org/films/blog_post/saving-homssyria-kofi-annan-now-srebrenicadiego-arria-then/46437
By Ambassador Muhamed Sacirbey – Follow @MuhamedSacirbey Facebook = Become a Fan at "Diplomatically Incorrect" Twitter – Follow us at DiplomaticallyX