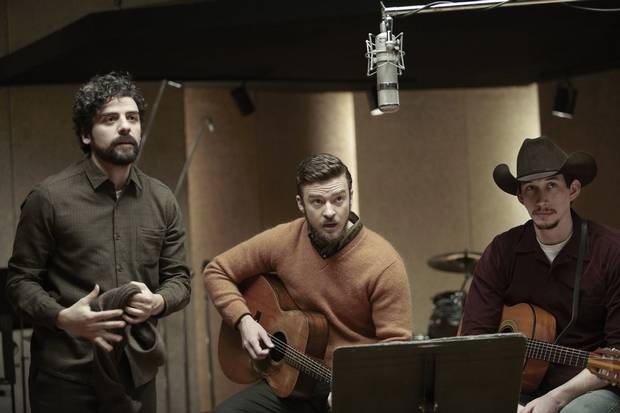 Whenever the Oscar nominations are announced there are inevitably protests that this film (BLUE IS THE WARMEST COLOUR), that performance (Julianne Moore in WHAT MAISIE KNEW) or the other costume design failed to get a nomination. I mean, how much do Oscar voters get paid? Given the cold shoulder this year is INSIDE LLEWYN DAVIS, Joel and Ethan Coen's folk drama about a singer-songwriter (Oscar Isaac) who is trapped in a cycle of loserdom – the film has a Moebius strip structure. Given the consolation prize at Cannes last year was, in retrospect, the highest award it is ever going to get, which is no bad thing. The problem, when you look at some of the nominations – Julia Roberts cited as potential Best Supporting Actress for not being Julia Roberts – you think why?
So I tugged my beard – sorry, I shaved it off – in contemplation to ponder the reasons for this unjust omission.
There is only room for one downbeat tale of a loser in the Best Picture list and this time it's NEBRASKA. I am sure the list of Best Picture nominees is agreed by a committee. The list runs as follows: AMERICAN HUSTLE, CAPTAIN PHILLIPS, DALLAS BUYERS CLUB, GRAVITY, HER, NEBRASKA, PHILOMENA, TWELVE YEARS A SLAVE, THE WOLF OF WALL STREET. Each one has a unique characteristic: bad comb-overs; Somali pirates; weight loss; weightlessness; a voice in my head; an end of life journey seemingly doomed to failure; another end of life journey that is not necessarily doomed to failure; a devastating portrayal of slavery; a fun portrayal of financial misdeeds. So where does INSIDE LLEWYN DAVIS fit in? You want a scene that defines it. 'I don't see any money in it,' says F. Murray Abraham at one point. With that line is a condemnation of the movie: a Best Picture nomination won't help box office. Voters don't see money in it.
Llewyn himself is not an iconic character. OK. So some of the Coens' characters are grouchy, like the Dude in THE BIG LEBOWSKI but they score big when they have a character whose reactions are compelling. 'What's the most you've ever lost on a coin toss?' is a formidable line delivered by an even more formidable villain. INSIDE LLEWYN DAVIS doesn't have that – and why should it?
No one knows who Oscar Isaac is so they cannot marvel at his performance. Oscar voters like to know that actors are acting. That's not his accent. She's playing an older person. Actors can't just be. Did Isaac spend six months learning to play the guitar for the role? If the voters aren't aware of this extra information, it won't sway them.
The script has to be clever in a way that is obvious. INSIDE LLEWYN DAVIS has a clever structure. It appears to be chronological, but at least one scene is shown early. We have also not heard of Dave Van Ronk so we have no idea of the life story that inspired the film.
When Carey Mulligan sings, her performance should be devastating. Yet this simply isn't required in INSIDE LLEWYN DAVIS. Mulligan, who played a singer in SHAME, can hold a tune, but does not perform a song that serves as a character point, a statement of defiance. The Coens aren't that obvious.
It is no fun seeing a drug addicted John Goodman when we know that the actor off-screen battled with alcohol. If he overcame it, that's different, but again the performance does not represent a struggle or a personal page being turned.
There is only one original song in it – 'Please Mr Kennedy', a fantastic pastiche and a show stopper. It should have been nominated for Best Original Song, but it isn't exactly 'Blame Canada'. You could imagine the staging on Oscar night leaving viewers could.
There already is a perfect opportunity for Ellen DeGeneres, the host, to come on stage dressed as Llewyn Davis, with a beard and a cat. Cue the line: 'this is the closest I'll get to an Oscar'. Mr Isaac won't be in the audience to enjoy the joke; but he doesn't need to be.
Coen films about creativity are liked at Cannes – witness Palme D'Or winner BARTON FINK – but leave Oscar voters underwhelmed. 'We'll get them next time.'
It's not their year. Coen films peak in '7s'. RAISING ARIZONA in 1987, FARGO, Oscar winner in 1997, NO COUNTRY FOR OLD MEN a success in 2007. By my reckoning, they'll strike big in 2017.
Reviewed at Soho Hotel (screening commenced 19:15) Thursday 23 January 2014; with thanks to Studio Canal and Beyond Retro