Video credits: Jean Beltran-Figues via bitLanders.com
I can't help but make yet another blog entry about where we spent our company Christmas Party this year. The two previous blogs were all about the Christmas Party program and what we did at the resort. This time, let me share to you my own personal review of our room, the resort and its services, and oh the food too!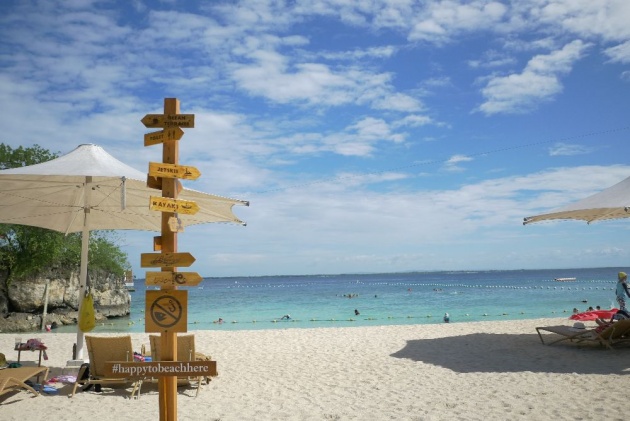 Image credits: Jean Beltran-Figues via bitLanders.com
So this blog will be cut into several sections such as:
- ROOM
- AMBIANCE
- SERVICES
- FOOD
First and foremost, let me set a disclaimer that this blog is my own personal point of view in terms of my stay inside Shangri-la Mactan Resort & Spa but I didn't pay for my accommodation thus, I can't personally disclose any information with regards to pricing.
THE ROOM
At the lobby, while waiting for our room, I was already imagining what our room would look like. I imagine a huge bed with white bedding and comforters. This day dreaming ended as soon as the resort staff approached us and provided us with our room keys and towel cards.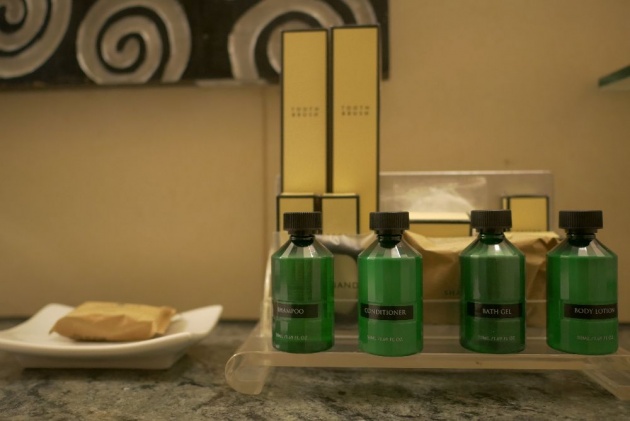 Image credits: Jean Beltran-Figues via bitLanders.com
Of course this isn't the normal key, I am referring to the card type technology where you just swipe or hover the card and the door unlocks right away. The towel cards are of course used for borrowing towels. I'll explain it more in details later.
Third floor, room 3007 was the room assigned to us. My room mates were Charo and Chris, yes we have a guy in the room, we are always the room mates when we go out and have team buildings as well as parties like this.
I had to take videos to make sure we capture the entire room. Charo hovered the RF card into the electonic lock at the door, it poped open as soon as it detected the compatibility. Our room was already cold when we came in. Another door is showed at our right which was the comfort room. The lockers were at the left with around four to six drawers with transparent fronts. By the way, there's a security box too which we tried using but ended up ditching the idea as I was getting errors while setting up the password.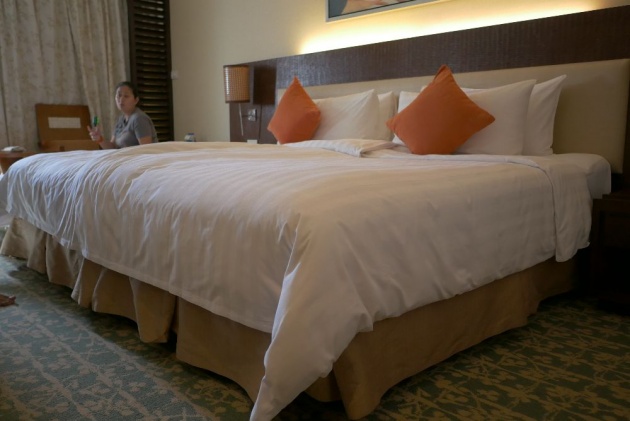 Image credits: Jean Beltran-Figues via bitLanders.com
Another section next to it has the bath robes and other hangers plus the electric iron and ironing board. We also spotted the laundry bags available but it was interesting to find no slippers!
A little hallway is in betweent the comfort room and the lockers. Next to them was the mini bar at the left side. We opened the drawers and found sets of two wine glasses, two cups and two water glasses. There were tea bags too and instant coffees provided, sugar and creamer were present as well as spoons and forks. I was really surprised to realize that I the coffee they provided was only an Nescafe 3 in 1 instant coffee. I was really expecting something more expensive than that.
A mini fridge is below the counter, it has cold drinks and liquors provided. All of these were free to consume but the second batch would cost us already. We were not able to drink them during the entire stay because of course we had buffet and flowing drinks but we brought it at work after check out.
A television rack with a flat screen tv is in the side center of the room. It has cable in it which we stayed open up until early morning. The drawers don't contain anything though. The working table however was interesting. There's a note pad and pen available. The electricical plugs were available and a telephone is there too. A comfortable computer chair is provided which I really want to take home.
Video credits: Jean Beltran-Figues via bitLanders.com
Then the beds! This was what I have been waiting for. The white bed linens and comforters as well as the comfortable white pillows were something I had always look forward to when staying in a resort. The queen sized bed was enticing, I had to drop my body into it as soon as we came inside, felt the smoothness of the comforters and smell its fragrance!
AMBIANCE
With such expensive hotel comes great ambiance too! Let me break these down into parts as the resort is composed of huge area.
SWIMMING POOLS
The resort offers three huge swimming pools. Our rooms were located at the Ocean Wing View area thus we have easy access to the swimming pool dedicated to it. This has the perfect spot for the sunrise but unfortunately, I missed it!
The tropical coconut trees gave it an added summer feels but also provided shade for the afternoon heat protection. Plus there are collapsible beach chairs surrounding it. Some cabanas are also accessible from the pool if one needed a windy massage!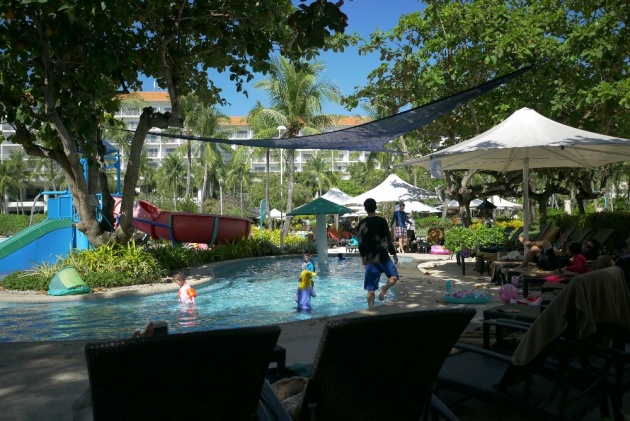 Image credits: Jean Beltran-Figues via bitLanders.com
Aside from the Ocean wing pool, there's another huge swimming pool at the distant. This one offers a huge area plus a view of the resort's buildings. It is perfect for evening swimming too!
Next to it is the kiddie pool! It is shallow than the others and it also has volleyball net as well as basketball ring for the kids to play and even those who are kids at heart. My colleagues had fun there actually!
BEACH
I didn't expect much about the beach before arriving because I guess it is not that spectacular. But I was wrong. As a matter of fact, I had enjoyed the beach rather than the pool!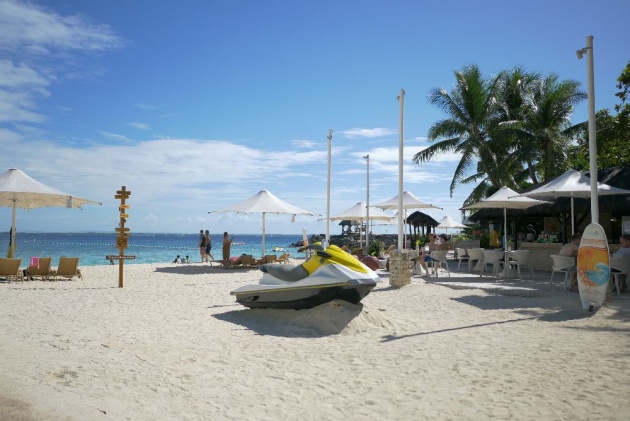 Image credits: Jean Beltran-Figues via bitLanders.com
And the great reason behind that was because of it being a marine sanctuary. It is a protected one which means no fishing is allowed!
Included in our room package is free usage of snorkeling goggles as well as kayaking. While I had done kayaking before at Moalboal, I thought I would just stick to snorkeling and I was not disappointed!
There's a healthy marine life underneath! There were different kinds of fishes as well as of different sizes swimming together with the guests! They weren't afraid at all, I had even met one which looked at me in the face, like we were just inches away. I got scared because of its teeth as if it was about to bite me!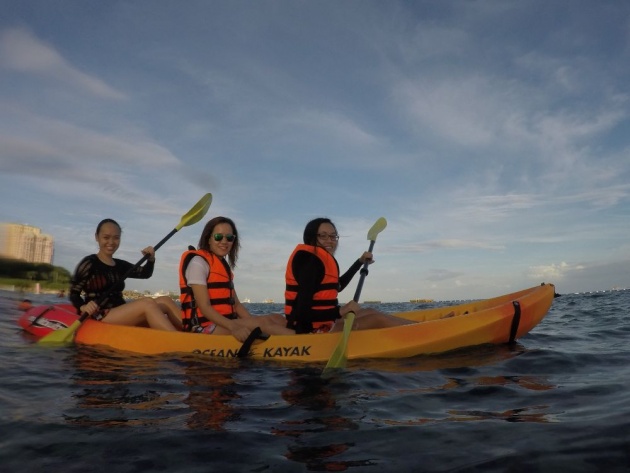 Image credits: Jean Beltran-Figues via bitLanders.com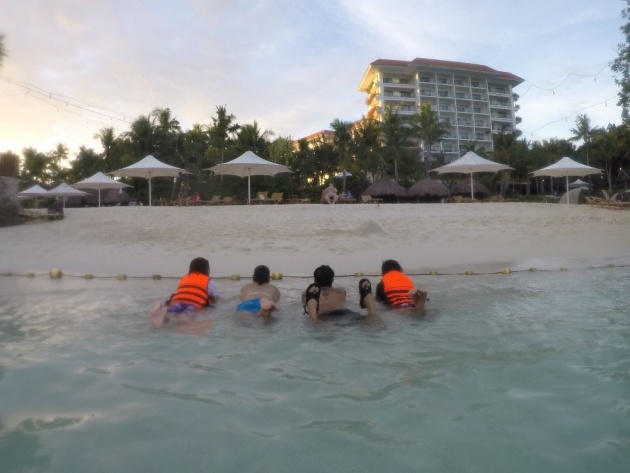 Image credits: Jean Beltran-Figues via bitLanders.com
Aside from that, there were nice beach chairs at the shore. They have covers beautifully designed and positioned at the shore line. There's a bar too as well as towel bars and snorkeling goggle attendants to assist guests with their needs.
My colleagues had fun too kayaking. I would have liked doing the parasailing as well as the jetski ride but those were expensive.
OVERALL AMBIANCE
I have been to different resorts, but I must say, I like how Shangri-la Mactan Resort & Spa had designed their landscape. They have a huge area for their green lawn where guests can enjoy sunbathing away from the sand. There's also a lot of cabanas randomly distributed and so if one is tired from all the walking, he or she can just stay at one of the cabanas. I spotted around five while waking around the resort. They all have this bamboo chimes which creates relaxing sound!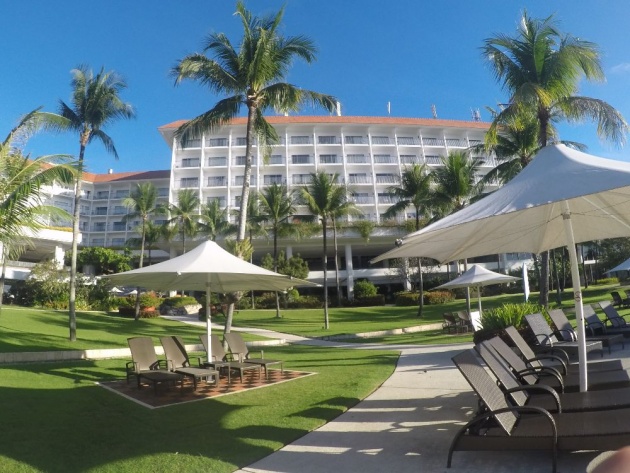 Image credits: Jean Beltran-Figues via bitLanders.com
One of the things I like as well is the fact that the resort was definitely clean even if there were still parts which were under construction!
SERVICE
I greatly appreciate the professionalism showed by every single staff I dealt with while staying at the hotel. First, from the lobby of the Ocean Wing View, they had provided us with welcome drinks and had even given us cool treats when the check in process took awhile.
Image credits: Jean Beltran-Figues via bitLanders.com
Miss Jomay from the front desk who was really charming and had made friends with the guys as well as became their facebook friend too! The workers at the lawn who were cheerful as well as the guys at the beach.
The only complain I had though was the prolonged check in and check out procedure. I don't know if the issue was with our side or their side, only our boss had been talking with the front desk.
FOOD
I had shared my own statement with the previous two blogs where we were given two buffet challenges by our boss at the Tides, in house restaurant of Shangri-la Mactan Resort & Spa and it was a challenge so hard to resist.
It was the first time that I had tried unlimited Wheat Grass juice which I definitely loved. There were sushis and makis which I greatly adore! The cheese plates were great plus the desserts and fruits too.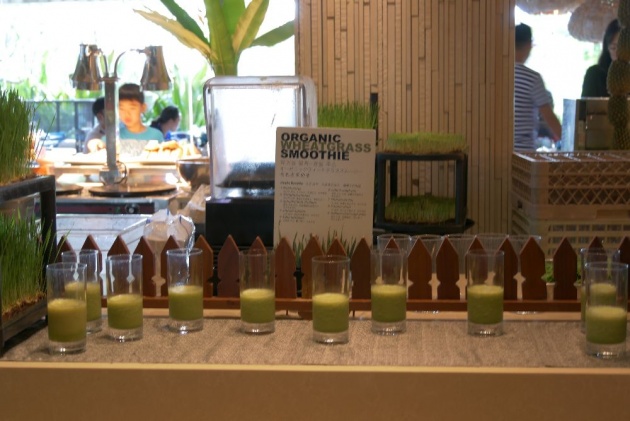 Image credits: Jean Beltran-Figues via bitLanders.com
However, I was looking for the steak which the boss had been boasting about but there was none. I also thought they have more Japanese food like the tempura but there was none as well.
Although, I enjoyed the wine and champagne which were both unlimited in supply. We even asked for more glasses of wine before 10pm so we can still drink while the entire crew were cleaning up the tables.
That's it! I guess it would take years before I can come back! Thanks boss for the treat!
Blog entry written and published by Jean Beltran-Figues, A Pinas traveler and photography hobbyist, find more travel blogs in my blog section, click here.